See more Rat & mouse control
Karlsten Spider Killer 5 Litre Fast and Effective Spider Killer Lasts 6 Weeks On Surfaces Kills All Types of Spiders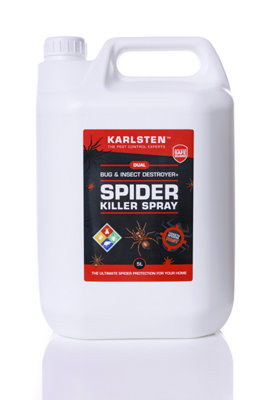 Product details
Product information
The ultimate Spider Killer - Stay in a Spider Free Home Does your family or you suffer from Arachnophobia? Are spiders building their web nest in your home and need to get them out? Well, Karlsten spider killer spray is the best product you can rely on to kill and keep all types of spiders away from your home. Up to 6 weeks of protection Our spider spray will instantly kill all the spiders in area of spray and stay on your surfaces for 6 weeks killing any spider that comes in contact with that surface. After spray, you will be guaranteed 6 weeks of protection until the next spray. Kills in 60 - 120 seconds On spraying those spiders building their web on your home, witness them dying in just 60 seconds after spray. The guaranteed killer of any type of spider that is living in your home. Keep your home safe for your kids, pets, and even you. 5 Litre Drum No more regular purchase of those ineffective spider killers stocked in the market. With Karlsten spider killer spray, you are guaranteed the best results and lasting quantity that will take you through months if not a year depending on your occasional use and size of your home and need. More reasons why this is the best spider killer spray Kill in 60 seconds Lasts 6 weeks on surfaces Kills all types of spiders Ideal for indoor and outdoor use The best quantity for months, 5 Litre Keep Those Terrifying Spiders Away from Your Home, Click Add to Cart for This Fast Killing Spider killer!!
Features and benefits
Karlsten Spider Killer 5 Litre - Fast and Effective Spider Killer | Lasts 6 Weeks On Surfaces | Kills All Types of Spiders | Ideal for Indoor and Outdoor Use
Large Coverage - This spider killer is a long-lasting 5 Litre drum. After treating it leaves a residue that lasts for 6 weeks creating a residual barrier to keep spiders from living in your home anymore. An economical killer 5 litre drum for spiders
FAST-ACTING - Karlsten spider 5 Litre kills every kind of spider in 60 -120 seconds of contact. Witness the efficiency of this spray in seconds and you will be glad to use it. Use our spider killer drum and cover large areas., The ultimate way of keeping your home spider-free.
GENEROUSLY PACKED 5 Litre - To ensure that we minimize regular unnecessary cost, our spray for killing spiders comes in a 5 Litre |drum which will last for months. The most convenient spider spray to keep spiders away from your home.
SAFE AND ODORLESS - Unlike other bug killer sprays, our indoor spider spray will safely stay on the surfaces for 6 weeks, and it is harmless to humans. Moreover, this spider spray for home doesn't have an odor thus it will not introduce a chemical stench n your home. Use confidently.
Specifications
| | |
| --- | --- |
| Brand | Karlsten |
| Pack quantity | 1 |
| Suitable pests | spiders |
| Product code | 5060492790983 |