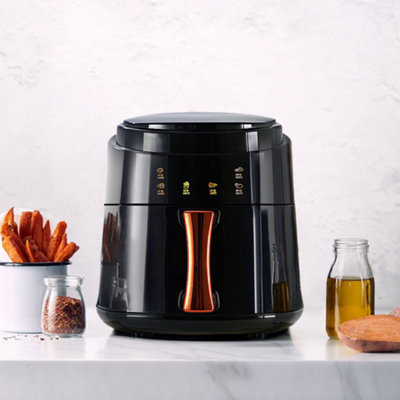 Livingandhome Black 5.5L Digital Pannel Air Fryer with Timer
Sold & shipped by Living and Home
Available online only and not stocked in B&Q stores
Product details
Product information
Introducing the game-changing 5.5L Mid-Sized Capacity Air Fryer Oven, a culinary powerhouse designed to elevate your cooking experience while optimizing your kitchen space. Unleash the potential of modern cooking techniques and health-conscious choices without sacrificing convenience. This air fryer oven is not just an appliance; it's a statement of culinary innovation and efficiency.Embrace the balance between size and functionality with the 5.5L mid-sized cooking capacity. It's the perfect fit for those who crave cooking versatility while keeping kitchen space optimization in mind.Revolutionize your cooking routine with the streamlined single basket design. Enjoy the convenience of preparing an array of dishes without the hassle of multiple baskets, allowing you to focus on the creative process.Immerse your ingredients in the precision of 1400 watts, delivering a symphony of textures and flavors that tantalize your taste buds. Experience consistent perfection in every dish you create.Integrate healthy frying into your lifestyle with our innovative approach. Savor the crispiness you love with up to 85% less oil, making each bite a step towards your well-being.Bid farewell to post-cooking cleanup stress. The air fryer's non-stick surfaces and detachable components simplify cleaning, giving you more time to savor your culinary creations.The 5.5L Mid-Sized Capacity Air Fryer Oven is more than just a cooking appliance; it's a catalyst for culinary creativity and kitchen efficiency. From delectable appetizers to hearty main courses and delectable desserts, this oven opens up a world of possibilities.Invest in the future of cooking with the 5.5L Mid-Sized Capacity Air Fryer Oven. Embrace innovation, health-conscious cooking, and space optimization in a single package. Add this exceptional appliance to your cart today and redefine the way you approach cooking.
5.5L capacity
Not dishwasher safe
Features and benefits
This air fryer was made of safe plastic material, its shell is non-toxic and heat-resistant.Digital screen included, easy for controlling temperature and time.Hot air cooking method without oil, healthy and delicious.
Overall Dimensions: 260mm W x 250mm D x 300mm H
Color: Black
Material: PP, Metal
Power: 1400W
Capacity: 5.5L
CAUTION:1.Keep liquids away from the product.2.Never add oil or liquids to the basket.3.Flip food regularly to ensure even heating.4.Always attend to the product during use.5.Keep children away from the product and cord.6.The air outlet will become hot during use. Do not cover it.7.Avoid connecting the product to an external timer switch.8.Maintain a minimum 10cm distance from walls and other products.9.Before the first use, set the maximum temperature and preheat for 10 minutes.
Package Content: 1 x Air Fryer
Voltage: 220V/50Hz
Specifications
| | |
| --- | --- |
| Wattage | 1400W |
| Product width | 260mm |
| Product depth | 250mm |
| Brand | Living And Home |
| Capacity | 5.5L |
| Timer type | Digital |
| Colour | Black |
| Manufacturer guarantee | 6 months |
| Product height | 300mm |
| Product code | 0735940236447 |
Documents
Product Instruction Manual