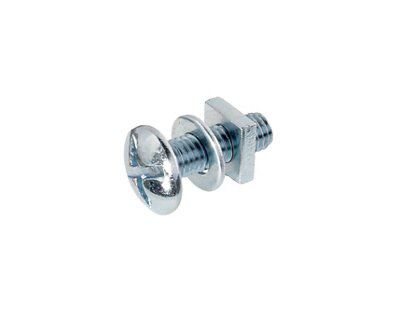 SKIP19B ROOFING BLT ZINC PLATED 10PC M8X
Product details
Specifications
| | |
| --- | --- |
| Product code | 5020789859380 |
Bolts and nut set
Just what I needed to reattach my wheelbarrow basin to the frame
Bolts! More fun than you think!
Dozing Sloth - 4 years ago
I simply couldn't believe it when I saw this product, and wondered why I had never come across it before.

For most of my adult life, and for that matter some of my childhood years, I have been a fan of attaching one ting to another thing. In the past I have used many, many different objects too attach one thing to another thing. Screws? Used them. Nails? Used them. Glue? Used it. Blu-tack? On occasion. Soggy Corn Flakes? Better for joining things together than you would imagine... However, in all of my adventures attaching one thing to another thing I had never thought of using a bolt. Which is strange when you consider what I have tried.

So I said to myself 'David, why don't you give this a whirl? but don't splash out, you don't know if you will like it'. Well, imagine my disappointment when I discovered that you had to buy a pack, and I couldn't get just the one bolt. What a dilemma I was in, but I threw caution to the wind and bought a whole pack! And am I glad I did!

Over the last couple of weeks I have been busy bolting one thing to another and then, just for fun, unbolting it and doing it all over again. What fun!

If you, like me, want a new fun way to attach things together I recommend bolts. they really are the future.
The size I needed
AloysiousZimbabwelongname - 4 years ago
Just what I needed to reassemble a steel garden seat after a house move. They do what it says....