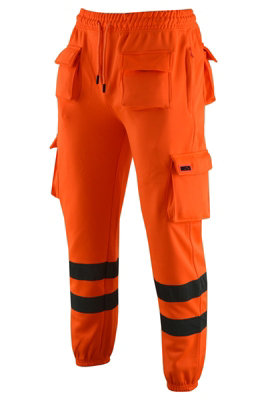 MS9 Mens Hi Viz Vis High Visibility Fleece Cargo Work Trousers Joggers H1 Orange, XXL
Sold & shipped by MS9 LIMITED
Available online only and not stocked in B&Q stores
Clothing size description
Product details
Product information
MS9 high vis mens cargo pants are the perfect choice for individuals who require both comfort and visibility in their workwear. These workwear trousers mens feature bright colors and reflective strips to ensure maximum visibility in low-light or high-traffic work environments.
Constructed with durability in mind, these work cargo trousers men are made from 100% Polyester and can withstand rugged work conditions and provide long-lasting performance. These hi vis joggers offer a comfortable and relaxed fit, allowing for ease of movement during work activities. The elasticated waistband and adjustable drawstring provide a customizable fit for added comfort.
Ample storage space is provided by the cargo pockets, allowing you to keep your tools, equipment, and personal items within reach. The pockets are strategically placed for easy access and organization.
These hi vis work trousers men are designed to be easy to clean and maintain, with materials that can withstand machine washing without compromising their high-visibility properties.
Whether you're working on a construction site, roadwork, warehouse, or any other work setting that requires high visibility, these hi viz joggers for men offer a versatile style that meets safety standards. They not only prioritize your safety but also provide the comfort and functionality needed for a productive workday.
Guarantee - Statutory
Made from 100% Polyester
Features and benefits
100% Satisfaction - All our items come with 100 percent Satisfactions Guaranteed and if for some reasons you do not like the product or want to exchange to different sizes we feel Happy to Exchange Size or Refund you fully without any Arguments and Additional Postage Charges and this is the reason All our Items comes with 90 days Money Back Guaranteed
100% Polyester
Ample Storage - These work pants for men feature cargo pockets that provide ample storage space for tools, equipment, and personal items. The pockets are strategically placed for easy access and organization, allowing you to keep essential items within reach. These high vis trousers can be worn for all Kind of Works i.e. from highly professional industries to simple domestic household jobs
Comfortable Fit - These work joggers men offer a comfortable and relaxed fit, allowing for ease of movement during work activities. The elasticated waistband and adjustable drawstring provide a customizable fit for added comfort
Enhanced Visibility - MS9 Hi Viz mens cargo trousers are designed with high-visibility features, such as bright colors and reflective strips, to ensure maximum visibility in low-light or high-traffic work environments
Durable Construction - These cargo pants men are made of 100% Polyester and stretch croch fabrics, ensuring long-lasting performance even in rugged work conditions. The sturdy construction and triple stitch seams contribute to their durability
Specifications
| | |
| --- | --- |
| Waist type | Elasticated waist |
| Material | Polyester |
| Gender | Men's |
| Machine washable | Machine washable |
| Colour | Orange |
| Number of pockets | 8 |
| Age group | Adult |
| Clothing size | XXL |
| Product code | 5060910366448 |