See more Indoor climbing frames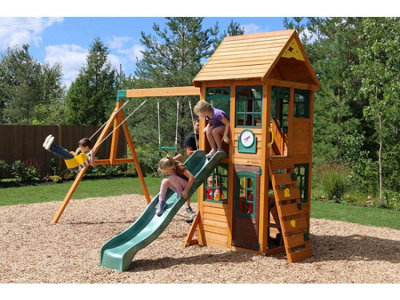 Next Generation Boss Climbing Frame With Monkey Bars, Swings and Slide
Sorry, this product is currently out of stock.
---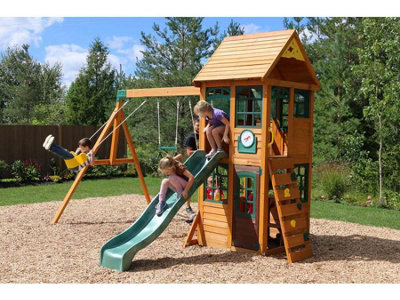 Next Generation Boss Climbing Frame With Monkey Bars, Swings and Slide
Currently unavailable
This item is not available at this time.
Product details
Product information
The Boss climbing frame will enable you kids to enjoy swings slide and playhouse from the safety and privacy of your garden. A strong structure constructed using our new panelised system ensures a solid, long lasting climbing frame.
Features and benefits
The Boss comes with 2 yellow belt swings and a green trapeze aerobatic bar. Our swings are manufactured from high-quality injection moulded EVA (Ethylene Vinyl Acetate) plastic, with PP welds on the ropes ensuring they're safe and secure. They are also secure and comfortable due to the flexible design and grippy seat surface. Our swings are fixed to our strong swing beam (13cm x 7.5cm) by heavy duty swing hangers. Our Swing hangers are quick and easy to fit with correct spacing because we have pre-drilled mounting points. Our swing beam is mounted using discrete but extra strong metal clamps.
Why Our Climbing Frames? We develop affordable and high quality garden play equipment. Enabling children to play, be active and develop socially and physically with friends and siblings. Our unique play features help expand their imaginations, and improve body strength and coordination, all in the safety of your own back garden. We aim to supply the best possible value to customers. We work hard to provide high quality at affordable prices throughout every aspect of our company, from product development, material sourcing, quality testing, through to our amazing customer service team.
Kids Climbing Frames Our climbing frames are ideal for kids of all ages. Our climbing frames include a treehouse fort with all our top accessories. As standard these include swings, combination rock wall ladder and lower cafe counter. Some of our sets also include monkey bars, playhouses with doors and kitchens and two slides.
Treehouse Fort & Play Cabin Constructed using our unique post-in-panel design. Our forts have extra strength and rigidity. This results in a longer lasting and more durable climbing frame. Our forts are also larger than most, with ample room for many children to play at once.
Swings, Slides, Monkey Bars & Playhouses With a selection of top accessories, you'll be spoilt for choice with our play equipment. Choose from straight, tube slides or a climbing frame with two slides. As standard we include two swing seats and a trapeze aerobatic bar swing. You can add extra swings to your order if you wish, and swap them as your kids desire. Monkey bars provide a fun challenge, especially for older children. Our playhouses are fantastic for younger kids, providing hours of creative play. Our exclusive play kitchens are especially popular!
Kiln Drying is a process where the Cedar Lumber is put into a giant oven over a period of several days, removing moisture from the lumber. This makes the lumber more dimensionally stable so the wood will stay flat and straight, making it perfect for building an outdoor project.
Pre-Made: Saving You Time & Hassle! Not only do we use premium cedar lumber, we also pre-prepare your playset for you. We pre-assemble wall and roof panels to save you time and hassle. All lumber is pre-cut to the correct lengths and angles. We pre-drill all bolt holes. This ensures that it's easier to assemble and ensures durability. We even factory apply a coat of stain, ensuring our sets look great in any garden.
Some of our customers ask why Cedar Lumber feels lighter. There are two reasons for this. Firstly, Cedar is a soft wood so it is naturally lighter when compared to hardwoods. However, t he primary reason is that the Cedar in your Yardistry product has been Kiln Dried.
Specifications
| | |
| --- | --- |
| Slide length | 2200mm |
| Product weight | 75000g |
| Colour | Red Cedar |
| Product code | 5060222216417 |