Hurry! It's your last chance to get 10% off everything online* | Ends midnight tonight
Norway spruce Pot grown Christmas tree 120-150cm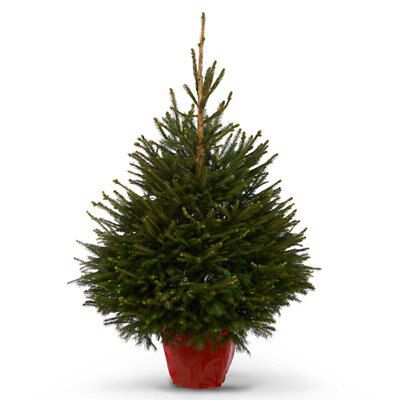 Product details
Product information
Lovely tree in a traditional shape comes with the convenience of being in a pot. Perfect for any room in your home or outdoors.
This natural product can vary in size, Height 3.9ft-4.9ft.
Features and benefits
This tree produces a fresh scent reminiscent of a traditional Christmas
This Spruce Christmas tree has excellent needle retention when cared for correctly
Complete your tree with lights and decorations for the perfect Christmas look
Specifications
| | |
| --- | --- |
| Genus | Picea |
| Location | Internal & external |
| Needle retention | Good |
| Safety information | Use gloves when handling. Christmas Tree foliage may cause skin irritation. For use as a decoration only. Not to be used by children as a toy. Keep out of reach of small children |
| Product code | 3663602556152 |
Not worth the money !!!
I got this tree delivered today, wasn't home when it arrived it honestly looks as if it's been through Storm Arwen last weekend and already half baldy, doubt it will even last to Xmas day, usually buy one from A supermarket which is cheaper & much better quality but because B&Q delivered thought it would be more convenient, never again !!
Utterly disappointing
ChristmasLover - 9 days ago
If you can drive, it's best to go and fetch your tree. I feel like I've been given the tree no one wanted. It's just not worth it. I hid it somewhere in the garden not to see it
hacked roots, how can this be pot grown?
As soon as I took the pot out of the wrapping,I saw that two of the big roots had been chopped;If this is pot grown why have the roots been cut??
Optimistic fool that I am, I changed it into a bigger pot,hoping that it will still survive but now 2 weeks before christmas,despite regular watering, it is shedding so badly that it won't survive till Christmas and I will have to buy another one - very disapointed! don't waste your money on this!
More like Norway Sparse!
The picture is not representative of the product. It was due for delivery in the PM and turned up in the AM and so just as well someone was in to take delivery. It was bone dry when it arrived and has not stopped shedding needles, I am not sure it will last the weekend at this rate let alone until after Christmas. Not good value considering the price.
Very poor.
I bought this tree 2days ago and the needles are just dropping off. I doubt it'll see next week never mind Christmas. It is totally pot bound and planted to one side. It looks awful. I ordered it Click and Collect.