Hurry! It's your last chance to get 10% off everything online* | Ends midnight tonight
Norway spruce Pot grown Christmas tree 150cm+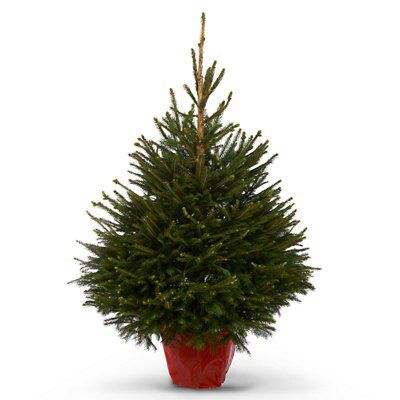 Product details
Product information
Lovely tree in a traditional shape comes with the convenience of being in a pot. Perfect for any room in your home or outdoors.
This natural product can vary in size, Height 4.9ft+
Features and benefits
This tree produces a fresh scent reminiscent of a traditional Christmas
This Spruce Christmas tree has excellent needle retention when cared for correctly
Complete your tree with lights and decorations for the perfect Christmas look
Specifications
| | |
| --- | --- |
| Genus | Picea |
| Location | Internal & external |
| Needle retention | Good |
| Safety information | Use gloves when handling. Christmas Tree foliage may cause skin irritation. For use as a decoration only. Not to be used by children as a toy. Keep out of reach of small children |
| Product code | 5059340130750 |
Don't waste your money
Justwantedarealtree - 11 months ago
Brought it less than a week ago and needles were falling off it in the car potted it and watered as the instructions stated the first day it looked perfect over the next few days the needles were dropping off at a crazy rate. We watered it every day but they just kept falling. By the 4th day we took it back and complained to the store who refused to refund it. The woman there was adamant it needed to potted outside. Do not waste your money get a freshly chopped one will not be using B&Q anymore. We are really disappointed in the customer service received and would not recommend Clough Road, Hull.
Poor quailty
I bought this product on Saturday and by Monday its looking bare have tried to contact b and q and I am still waiting for a response by the looks of it we are going to have to fork out for a second tree. I would appreciate it If someone could get in touch with me
disappointing tree
Elizabeth1234 - 1 year ago
I bought this tree yesterday. I have watered it but even though it is in a pot it is losing needles more quickly than any cut tree I have had previously. The lower branches are already almost bald. I feel as though it is in a pot too small and probably hasn't been watered for some time. I wold appreciate someone contacting me about this disappointing tree.
Branches cut, poor quality
I bought six of these to create a magical outside display, which I hoped I could plant in the garden after. What I have received are trees that are sparse and bedraggled half as someone has cut off their branches. I would appreciate it if someone could contact me regarding this matter as it would appear from the reviews I am not the only person to have had these issues.