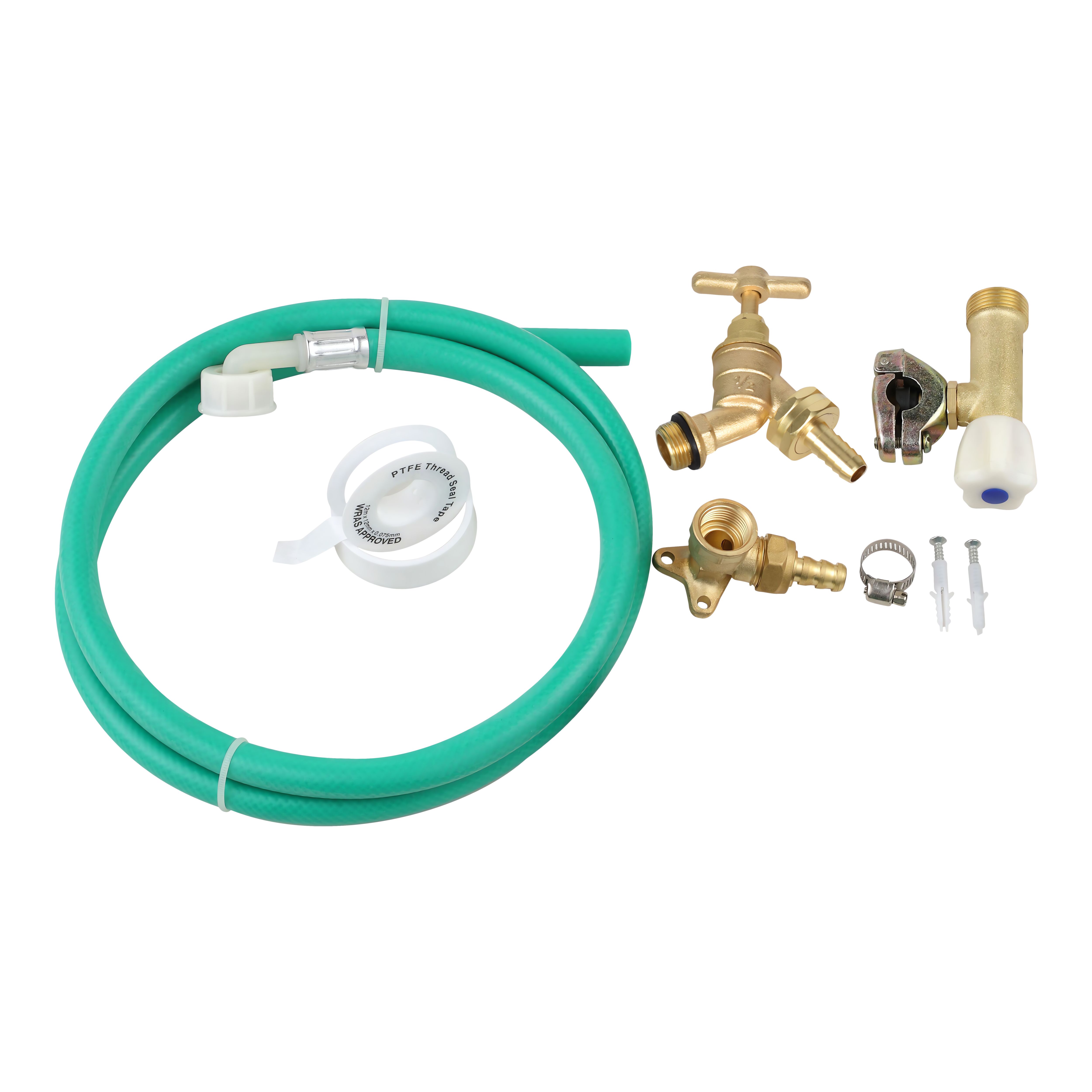 Plumbsure Brass & PVC Outdoor tap
Product details
Product information
Simply fix to interior piping, feed through wall, and fix to exterior
Features and benefits
DZR brass self-cutting internal tap body
Easy DIY installation
no need to isolate water supply
Integral double check valve protects your drinking water
Specifications
| | |
| --- | --- |
| Product weight | 910g |
| Durability | Heavy duty |
| Material | Brass & PVC |
| Model name/number | H58 |
| Product code | 5052931320172 |
WHY OH WHY ???
I used this kit to replace an older one that had previously been installed as I needed a quick fix . What a huge mistake within days the plastic collar broke on the PVC pipe and flooded the kitchen thank God I was in the house at the time !! The laminated floor in the kitchen is now ruined!! I have since changed all the pipework to copper. I certainly wouldn't recommend this product to anyone very flimsy and cheap avoid at all cost
Good outdoor tap kit - almost!
Bought this to replace a very similar setup that I already have, so I didn't need to cut into the cold water feed again. I used the existing valve and found that the hose connector had a slow leak. I believe that a thicker rubber washer may do the trick. Apart from that, it's a decent tap kit. Contrary to other reviews, the hose is robust and the tap can actually be turned to the right orientation with bare hands on if you give it a bit of reasonable force (and I am not exceptionally strong). Again, referring to another review, I cannot believe water pressure would shear off a plastic hose fitting. However, weakening the fitting by impact will have this effect. For this reason, take care in how you position it.
Shattered brass tap
It worked until it didn't, when the tap on the self-cutting part decided to shatter and flood the garage (on Christmas day, when all the shops were closed...)
Don't buy!
I purchased this kit to replace a dripping tap in the garden. It was impossible to fit the hose to the tap without a slight drip. I tried twice incase it was my mistake! Also the hose began to bubble and burst. In the end I had toget a plumber out and fit it with a copper pipe. I would avoid this kit.
It's OK, but caution...
The supplied hose isn't fit for purpose as the plastic connection to the check valve just isnt of sufficient quality to withstand high mains pressure. Fortunately for me as my washing machine hose is adjacent and it makes the one with the tap look like absolute tat. I've bought a quality washing machine hose and will use that. Why not supply a decent hose for a few extra quid??? Crazy considering the damage that can be done with flooding. You also need to be careful that you align the rubber washer correctly against the pipe before using the self cutting tap to get good pressure. Also ensure that you ptfe your threads. I also had to feed the hose supply under the outside tap otherwise when you screw it in, it will be upside down. Other than this, decent product let down by a totally inadequate flexi hose. Do NOT fit with supplied hose, use a quality washing machine hose that is up to the job and pressure.