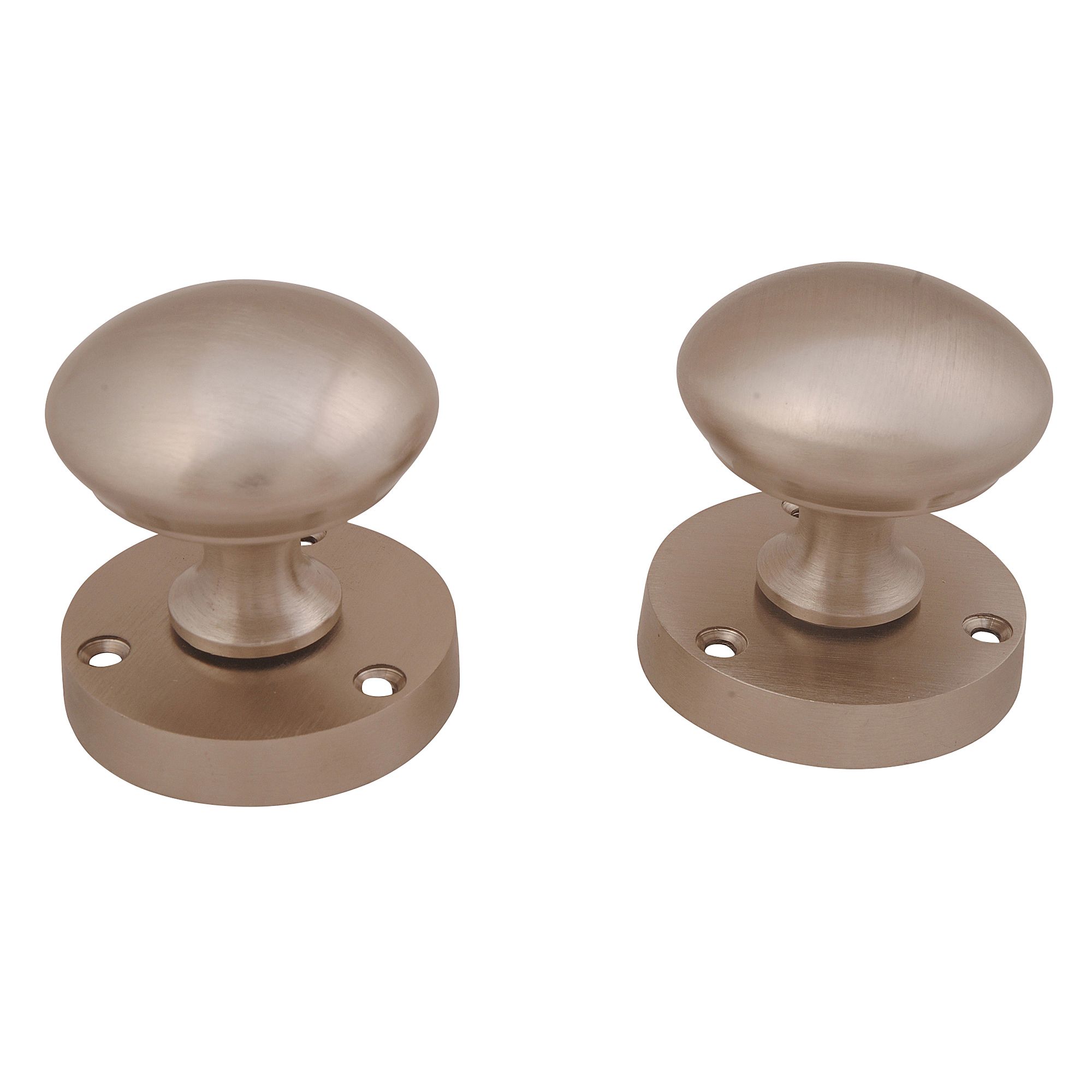 Satin Nickel effect Zamac Round Latch Door handle, Pair
Product details
Product information
Compatible with doors between 35-44mm thick
Only fixings included
Comes with Includes 2x door knobs , 1x spindle & fixing screws
Features and benefits
Great for internal doors
This satin nickel effect mortice knob adds an attractive finish to your home.
Easy to install
Horrible
Bought these in the shop without looking at reviews. I spent 30 mins (longer than I planned for the fitting) getting the knobs out the cardboard packaging due to the plastic screw all over them. Could understand all the plastic fittings for an iPad or something. Not some cheap door handles. Such a waste of my time.
Annoying design and fitting
I wish I'd read the reviews of this value item before it was purchased. At least I don't feel like I'm the idiot for struggling to fit it.

The door knob part is wider than the screw holes so you cannot screw them straight into the door (and the design is not such that they're meant to go in angled).

The supplied screws are slot-head. Have you tried screwing in slot-head screws at an angle? It's near impossible. I swapped them out for some similar Philips screws which at least let me get a decent grip with the thinnest screwdriver I owned.

The latch mechanism works, but sticks. From reading various forums with door knobs having this kind of problem, I think it's because the screws are angled and the mechanism becomes very slightly misaligned.

Disappointed, although it does the job for the moment. I'd advise to spend more money on a better quality product which will ultimately save your time and sanity.
Don't bother
Bought these knobs as I liked the look of them the best out of the selection on show and thought £23 was expensive enough for a "Value" item.
The knobs are fine but the mechanism is dire. Very unsatisfactory to use and requires a special technique to ensure the latch extends fully !
Also a circlip was off when I opened the packed but I managed to get it on at the expense of leaving a washer off.
Maybe I need to revise my expectations about the cost of door knobs ??
Will replace very soon !
does the job
i like the colour and have now changed my others to match but i had to buy extra separate spindles as they were far too long
Knob bigger than fixing rose !
Stumped , the door knob is bigger than the rose for fixing handle to the door ! Unless your prepared to put the screws in on the scunt ( i wasn't ) you have no chance of getting the knob fastened , waste of money .