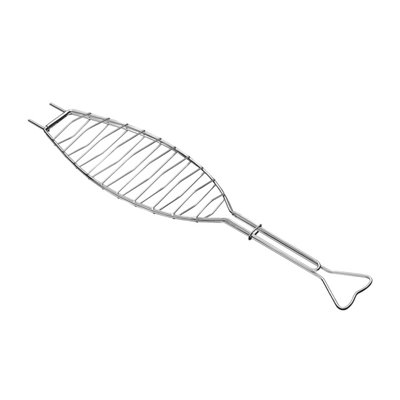 Tramontina Barbeque Fish Grill 71.3cm x 16.5 cm
Product details
Product information
Barbeque fish grill with 71.3cm x 16.5 cm overall size. Cooking section of 44cm, and handle is 30cm long.
Wash the grill using a sponge and mild soap or detergent.
Features and benefits
The renowned Pampas region of southern Brazil is the home of the Brazilian barbeque, and it is from here that Tramontina bring their Brazilian hospitality to the global market with their Churrasco collection – a comprehensive range of knives and other essentials for enjoying authentic barbeques. Juicy cuts of meat aside, barbequing some of your other favourite foods such as fish and vegetables can be quite a daunting thought for some, but with Tramontina accessories it is easier than you think. This stainless steel fish grill offers an array of options as well as giving you the confidence you need to barbeque like a pro! Made from strong, durable stainless steel with a locking latch to keep it firmly closed, the grill is a generous overall size of 71.3 cm x 16.5 cm. With a cooking section of 44cm it can comfortably accommodate a sizeable fish, either whole or filleted, and can also be used for a variety of other foods such as thinner cuts of meat, burgers, sausages, vegetables and more. It is indispensable when cooking soft fish and more delicate foods as it keeps everything intact. The handle is almost 30cm long so you can use the grill a comfortable distance from the barbeque, and not have to get too close to the heat.
Long handle allows you to keep a comfortable distance from the barbeque
Made in Brazil
Stainless steel barbeque grill, durable and strong
Generous 71.3 cm x 16.5 cm with a cooking area of 44 cm long
Perfect for cooking fish, meats, vegetables and more, safe in the knowledge that especially soft or delicate foods with be kept intact
Specifications
| | |
| --- | --- |
| Manufacturer guarantee | 3 months |
| Product weight | 545g |
| Brand | Tramontina |
| Material | Stainless steel |
| Product code | 7891112131590 |