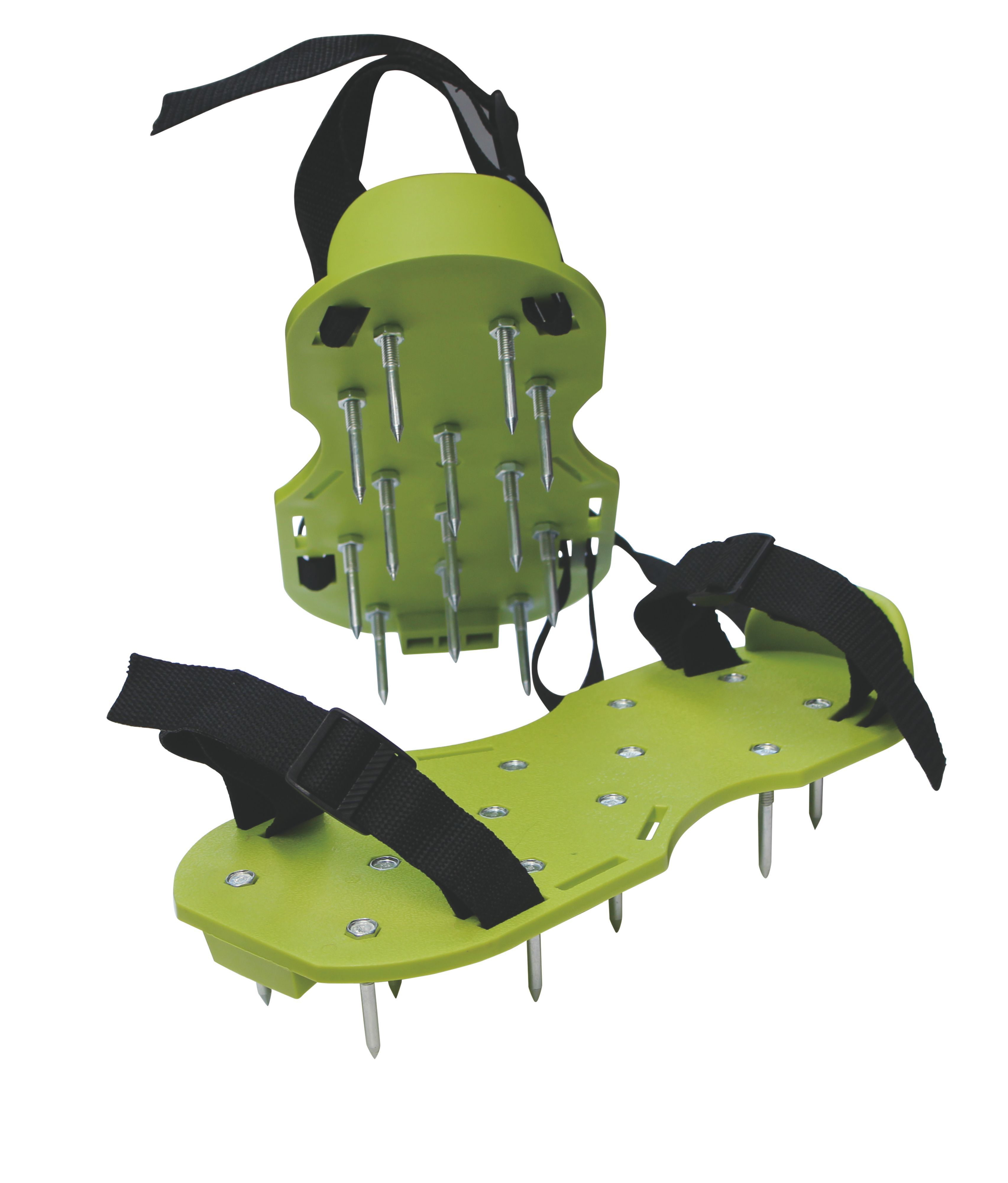 Our stores do not stock this product
Product details
Product information
This Verve Lawn aerator shoe is ideal for loosening the soil to allow for air, water and nutrients to reach the lawn's root system.
Features and benefits
Attach spikes to the plastic base & strap onto your shoes
Store in a dry sheltered location
Working width: 82 mm
Working depth: 135 mm
Specifications
| | |
| --- | --- |
| Product weight | 0.76kg |
| Material | Metal & medium density fibre (MDF) |
| Assembly required | Assembly not required |
| Product code | 3663602896647 |
A Truly Dreadful Product - Avoid
Badly designed (the straps do not go in-between the spikes) and every time you take a step the straps come loose- nice colour though
This product is rubbish a waste of money
I bought this item yesterday and tried to use it said item would not stay on my feet so I improvised and used cable ties which helped stay on my feet so my ratings are zero and a wase of money
Assembly most definitely is required!
Lockdown Larry - 2 months ago
Before you use them you need to fit 26 screws and bolts which takes forever as some of the threads are the wrong size. Make sure your ground is soft, otherwise you've no chance of pulling them out without dislocating your knee! I wish I'd done more research before buying, just as well they were cheap
Read the instructions...
I was due to throw these in the bin as I couldn't get teh straps to fit right. After looking at teh instructions again (mainly the pictures :) I realised I had the back heel strap on incorrectly. Even the pictures on this site have them done incorrectly - might be okay for size 5s but for size 10/11 feet you need to have the straps on correctly.

If you use the buckles correctly too, they will stay on your feet, but does come loose over time. But it takes a second or two to tighten.

I'd say its not ideal for big lawns. Unless you but a couple of packs and have an aerator party! Just don't stand on anyones feet!
good price, but...
Looked at other sellers, B&Q suprisingly was the cheapest.
Webbing straps with cheap plastic buckles tend to come loose straight away as you pull the spikes back out of the ground, can work better if you make sure buckles are lying as flat as possible.More expensive shoes may have better buckles fitted.
The thread that secures the spikes in place is too long, making the spikes hard to extract as it tends to collect earth.I removed 13mm of thread on a lathe, which made them slide in & out of the ground easier.
These do work, but not very well out of the box, most people would probably either return them or put them in the shed to gather dust.