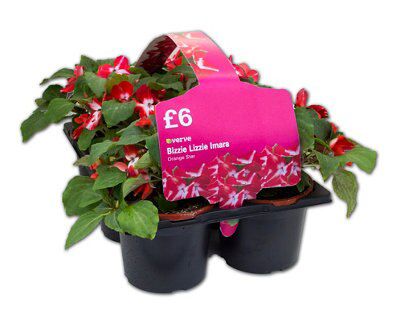 Verve Summer Bizzie Lizzie 6X10.5Cm Bizzie lizzie
Our stores do not stock this product
Product details
Product information
Introducing "Imara", the new strong & resilient Bizzie Lizzie plant, named because of the Swahili sword for strength and power. Working with Syngenta we have created a variety of Bizzie Lizzies that are highly resistant to the disease "Impatiens Downy Mildew". Available in 6 different colours. They grow very well in both shade and sun, have long flowering periods and provide exceptional colour to any garden.
Ideal for sunny areas in Sunny areas
Ideal for sunny areas
Flowering period - May - October
Due to the perishable nature of this product, if you have purchased this for one hour Click & Collect in store, we recommend collecting your order within 24 hours of purchase.
Please note this product comes in an assortment of six colours. Store staff will choose one colourway at random when they pick your order. They will be happy to swap this for you once you arrive in store
May - October
Water frequently, especially during the summer months.
Features and benefits
Brighten up your garden with this beautiful bedding plant which will provide continuous colour
Quick and easy to grow colour for summer enjoyment
Deadhead as required to prolong flowering
Water well before planting. Gently loosen plants from their pots or trays by pushing them up from the base, plant so that the top of the rootball is just below the surface and firm them down. Water well
Imaptiens
Water frequently, especially during the summer months
This plants flowers between May & October
Specifications
| | |
| --- | --- |
| Container size | 10.5cm |
| Eventual growth height | 200mm |
| Flowering period | May - October |
| Variety | Summer Bizzie Lizzie 6X10.5Cm |
| Watering instructions | Water frequently, especially during the summer months |
| Product code | 3663602522980 |
Excellent.
I was late in the day (end July) planting out a trough in a slightly shady spot, and these plants were reduced to half-price as a result. I wasn't expecting much, given that they weren't going to get a huge amount direct sunlight and the lateness of the season, however they have surprised me and have stormed ahead. Within a couple of weeks they were putting on a great display which is still going strong and I anticipate will last several more weeks until the autumn frosts. Delighted with the purchase.
Perfect
Great value, last all season even in a shady spot.
Good quality
Good quality and value for money, great in hanging baskets