See more Multi-purpose compost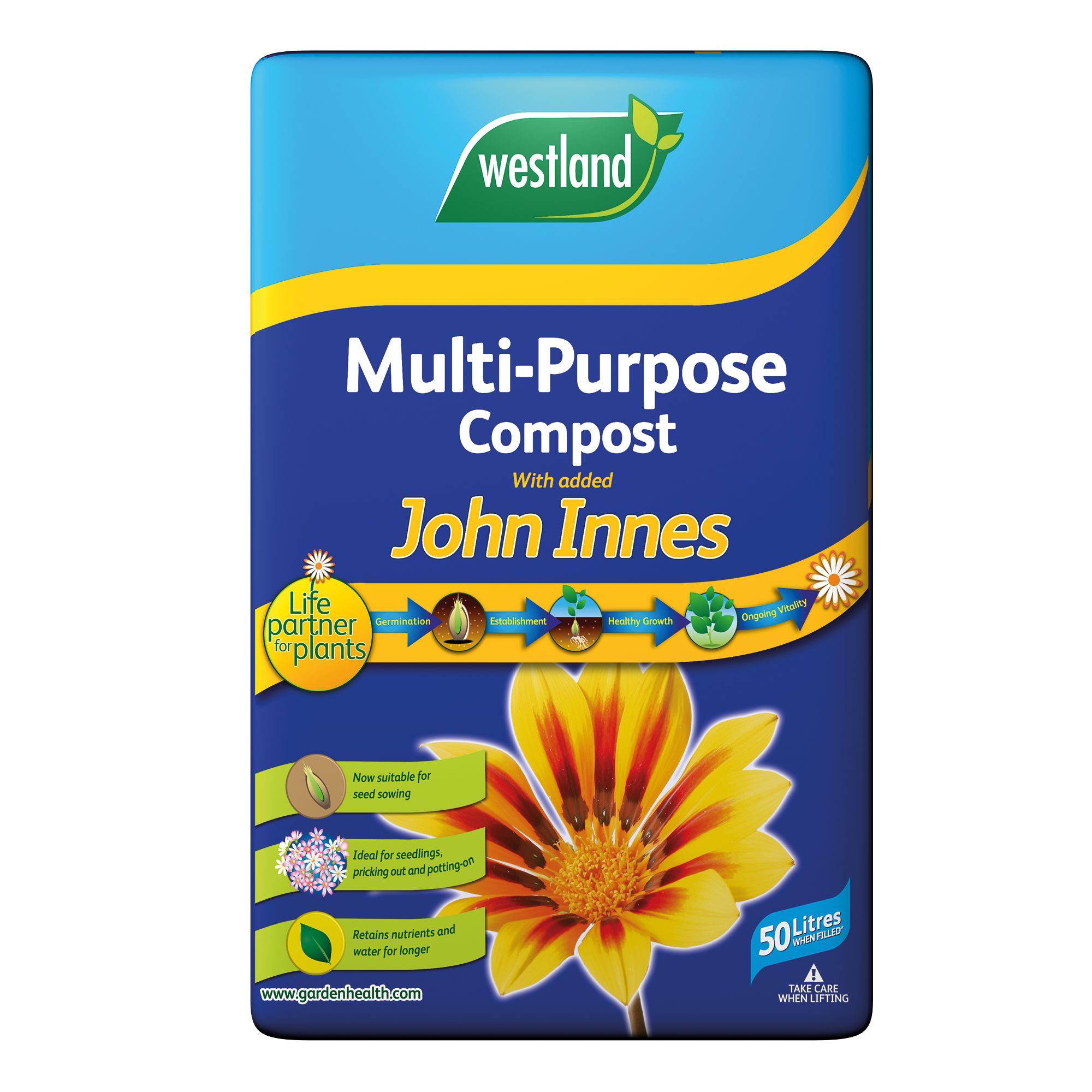 Westland Multi-purpose Compost 50L
Product details
Product information
This is suitable .
Perfect for use all around the garden.
45% peat
To make beds and border dig a hole twice the size of root ball diameter and add a layer of compost. Place plant in hole and back fill with compost. Firm compost around plant and water well. Water plant well and allow to drain before potting. Allow enough space to accommodate roots. Remove from pot and plant in container, firming the compost gently around the roots. Once fully planted water well. Choose container with adequate drainage holes. Place layer of grit in container and fill with compost. For hanging baskets, line basket with moss or liner and fill with compost. Plant with trailing plants around the edge and upright plants in the middle. Water well,. One bag fills approximately 70x 10cm pots, 4x 25.5cm pots
Features and benefits
Ideal for use all around the garden this premium compost contains nutrients to feed your plant for up to 5 weeks. The added John Innes formula retains and releases nutrients and water for longer, providing your plants with all they need. It contains our unique ingredient West+ producing our best ever formula.
Perfect for all life stages of plants
Now suitable for seed sowing
Stronger plant development
Specifications
| | |
| --- | --- |
| Brand | Westland |
| Litre capacity (L) | 50L |
| Product code | 5023377855559 |
Why mixing sand in compost??
Previously when I hold a bag of compost it is quite light. This bag is very heavy. When I opened it, I can sand mixed in the compost? Why?? I suspect this is a bad practice to increase the weight of the product.
Poor compost
Potted my seedlings into this compost and now they are starting to die. It's sticky, claggy rubbish full of wood. Don't waste your time and money. It's the worst compost I have purchased.
Beware: Sprintails
Bought this compost from two suppliers, both introduced springtails to my plants. Rubbish
Rubbish
Rabthebruce1 - 1 month ago
All this is is sand. These companies are getting away with selling trash. Don't buy it.
Worst compost I ever used
Just Say No - 8 months ago
I brought this product as it was the only one available at my local store during the covid gardening madness. Now that I've had a chance of using it, I'm not surprised. It's so fibrous that it's more like vintage furniture stuffing than compost, and contains actual rubbish - bits of string, burnt sticks, you name it. Not only it doesn't hold moisture, but it actively prevents moisture from percolating, so that water is overflowing over the top of the pot while the compost a mere centimetre below is bone-dry - and no, I didn't compact it too much. Maybe the issue was caused by poor storage in store, and the product was allowed to dry to the point that it cannot be "revived". All I know is that I had hundreds of seedlings I'd spent weeks growing on from seed, I potted them on in this rubbish, and they are all dead now. I would have been better off digging a hole in the garden and using soil instead.