See more Multi-purpose compost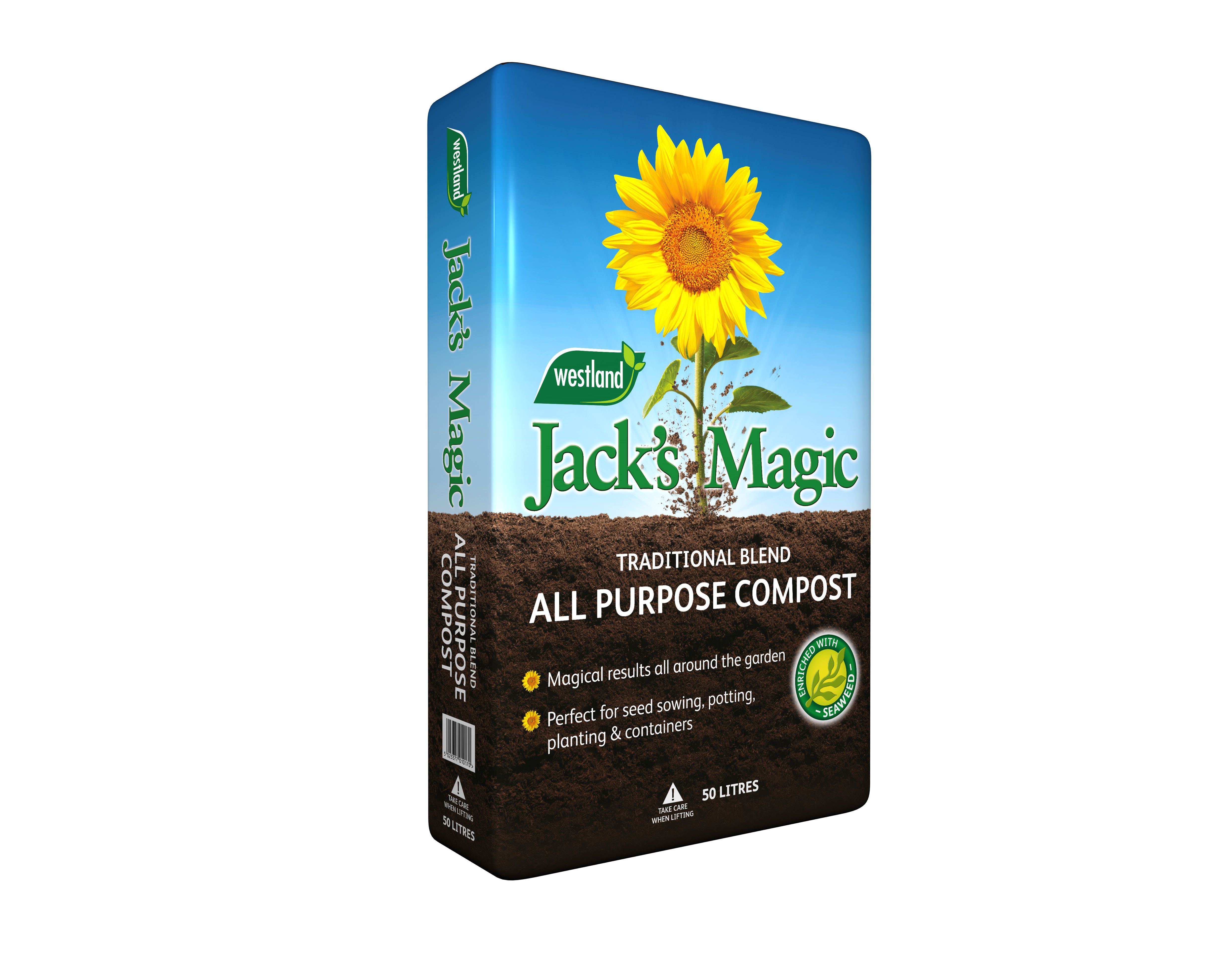 Westland Multi-purpose Compost 50L
Product details
Product information
Perfect medium for flowers, fruits & vegetables
90% Peat
Rework the compost between your hands, so it regains its intended structure. Then you're all set! Sowing seeds: Fill a seed tray with compost and firm gently, sow seeds to the depth and spacing mentioned on the seed packet. Many seeds have specific germination advice which should be followed, water compost after sowing seeds. Covering the seed tray with polythene or glass will help to stop the compost from drying out, keep trays in a warm area, away from direct sunlight until seeds germinate. Once seeds have germinated, remove the polythene/glass and keep soil moist. Seedlings/Pricking out: Prick out seedlings once large enough to handle. Hold the seedling by the leaves to avoid damage and gently tease the roots from the compost using a dibber or pencil, space seedlings to allow for vigorous growth. Water regularly until the seedlings are ready to be potted on. Potting: Before potting, water plants well and allow to drain, choose new containers that are clean, have good drainage and enough space for root growth, put the plant in the new container and fill the space with new compost, water well and allow to drain. Take cuttings: Fill a pot or tray with compost and firm gently, prepare the cutting according to the specific needs of the plant, generally, removing the bottom leaves and creating a sloping cut in the stem close to the joint will make a good cutting, make a hole in the compost with a dibber or pencil, place the cutting in the hole and firm the compost around it, place in a warm spot away from direct sunlight. Container and hanging baskets: Line the basket and fill with compost. Plant with trailing plants around the outside the upright plants in the middle, water well.
Features and benefits
Jack's Magic All Purpose Compost is a specially formulated, peat-based compost enriched with organic fertiliser to feed your plants for the first 4-5 weeks of planting
Rich peat based compost
Great for seed sowing & potting on
Use in beds, borders & containers
Perfect medium for flowers, fruits & vegetables
Specifications
| | |
| --- | --- |
| Brand | Westland |
| Product weight | 18.66kg |
| Litre capacity (L) | 50L |
| Peat content | 90% |
| Product code | 5023377010170 |
Disappointing
Turned to mild powder not good killed peas and otherthings
Global warming is a myth
For more years - 8 days ago
I bought this product because everyone said it's bad for the environment but it's not…… people are bad for the environment
Best compost
Greenfield21 - 22 days ago
OK so it contains 90% peat which is not environmentally friendly. But until someone produces a viable alternative I'll continue to use it. When the substitutes use coir (which has to travel half way round the world!) and other inferior rubbish one has to question the "green" credentials of these "friendly" products.
This product carries hidden costs
By purchasing this compost you are actively releasing CO2 (as the peat decomposes) and contributing to catastrophic climate change. Peatland is also a threatened wildlife habitat - mining peat bogs destroys them and the threatened wildlife that they support.
Jacks Magic Compost
This is the best compost for all uses, seeds, cuttings potting on and seaweed added to give good nutrients to veg and flowers well in to flowering.