See more Multi-Purpose Compost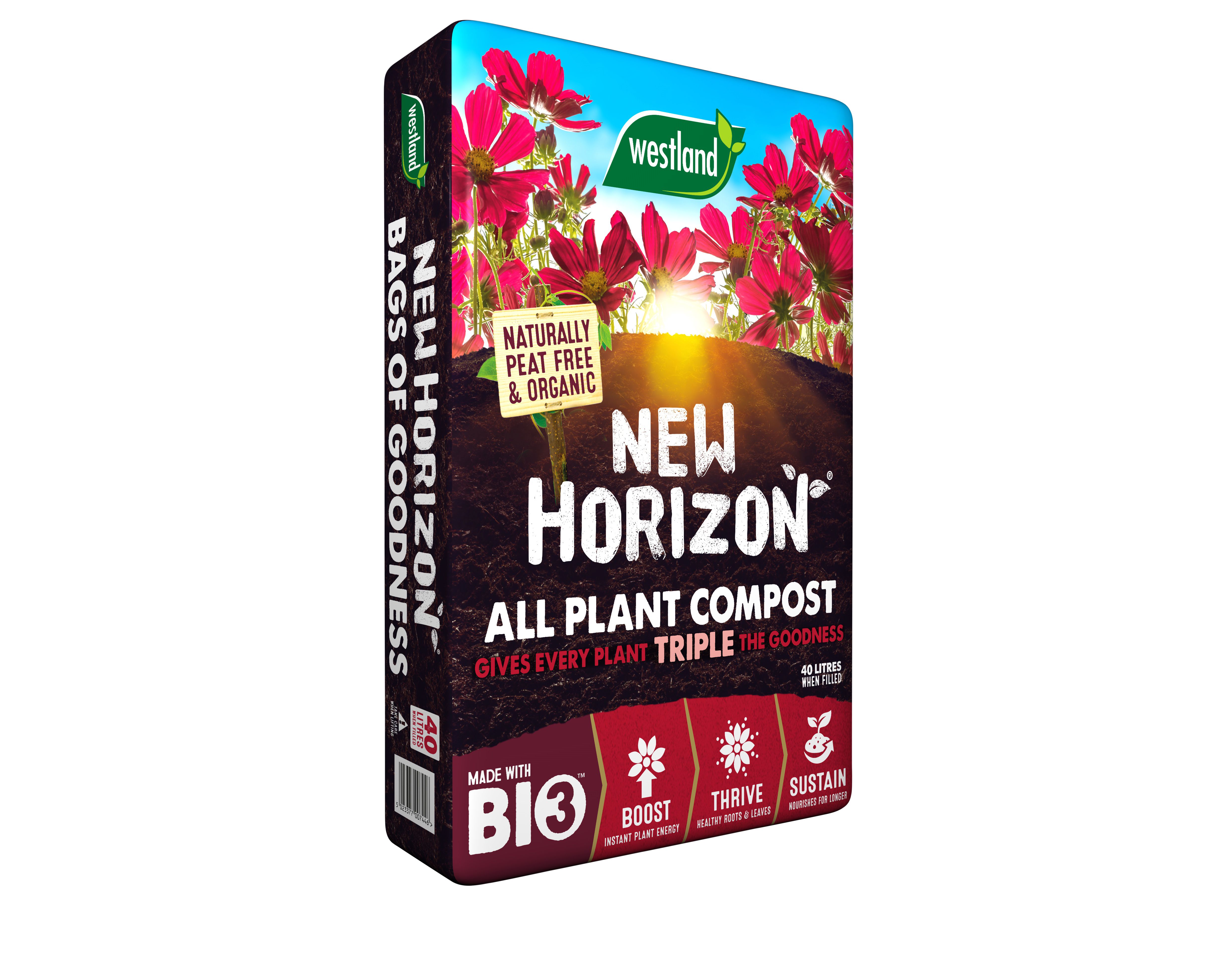 Westland New horizon Multi-purpose Compost 40L
Product details
Product information
0% peat
Seedling/pricking out: Hold seedlings carefully to avoid damage. Gently tease the roots from the compost using a dibber or pencil. Space seedlings to allow for growth. Water regularly until ready to pot-on. Potting: Thoroughly water the plant, gently tap the pot to remove, shake off loose compost. Place plant in new pot with new compost, fill gaps with new compost, firm down and water. Planting out: Dig a hole approximately. twice the depth and diameter of the root ball. Place plant in hole with new compost, fill gaps with new compost, firm down and water. One bag fills approximately 57x 10cm pots, 3x 25.5cm pots
Features and benefits
This compost feeds for 5-6 weeks after planting
This compost can be used in pots, planters & hanging baskets
This compost helps to reduce garden maintenance by retaining moisture in your soil
Specifications
| | |
| --- | --- |
| Brand | Westland |
| Standard | FSC certified |
| Litre capacity (L) | 40L |
| Product code | 5023377007446 |
brilliant
Commercial Gardener - 2 months ago
I used this on my micro greens and had great success
Good compost
I have now bought a few of these bags of compost and have had no problem whatsoever with them. I shall continue to buy them as they are better than many others, good value and peat free.
Terrible stuff
Cardiff Gardener - 3 months ago
I first bought this a number of years ago when it was one of the first easily available peat-free composts, but found it to be rubbish - literally - contained flakes of plastic and painted wood. So I avoided it for a few years after that. However this year after lockdown and needing to buy compost, this was the only peat-free I could get hold of so thought I'd give it another go. How disappointed I am. Whilst it no longer seems to consist of bits of flaky plastic and painted wood, everything I have potted into it has really struggled. Growth has been very weak and everything is now looking sickly and yellowing, despite feeding with a well-respected fertilizer. I know it's the compost because in lockdown desperation I had planted a couple of things in the remains of a two-year old bag of (another make) of peat-free compost lying around at the back of the shed, and these plants are thriving. They have experienced exactly the same growing conditions and feeding regime as the plants potted in this stuff. The tomatoes have totally failed, it's August and I barely have any flowers, let alone tomatoes, and the plants are now so weak that they are beyond producing anything. Same story for the herbs and flowering container plants and hanging baskets, total disaster. I will be consigning the rest of it to the compost heap. Do not touch this stuff with a barge pole.
Not great
Seedlings that I pricked out into this compost have failed to thrive. Turns an unpleasant grey colour when dry. Wouldn't buy again.
Great quality!
Jawad Plants - 6 months ago
I bought this product in May 2020 for general purpose planting and one thing I was really impressed with that how well it drains. It also very light in weight compare to john innes. I used it pots and hanging basket along with Vermiculite. In my opinion, its also well suited for cactus plants as well. I am very happy with my purchase and will buy it again.