See more Robotic lawnmowers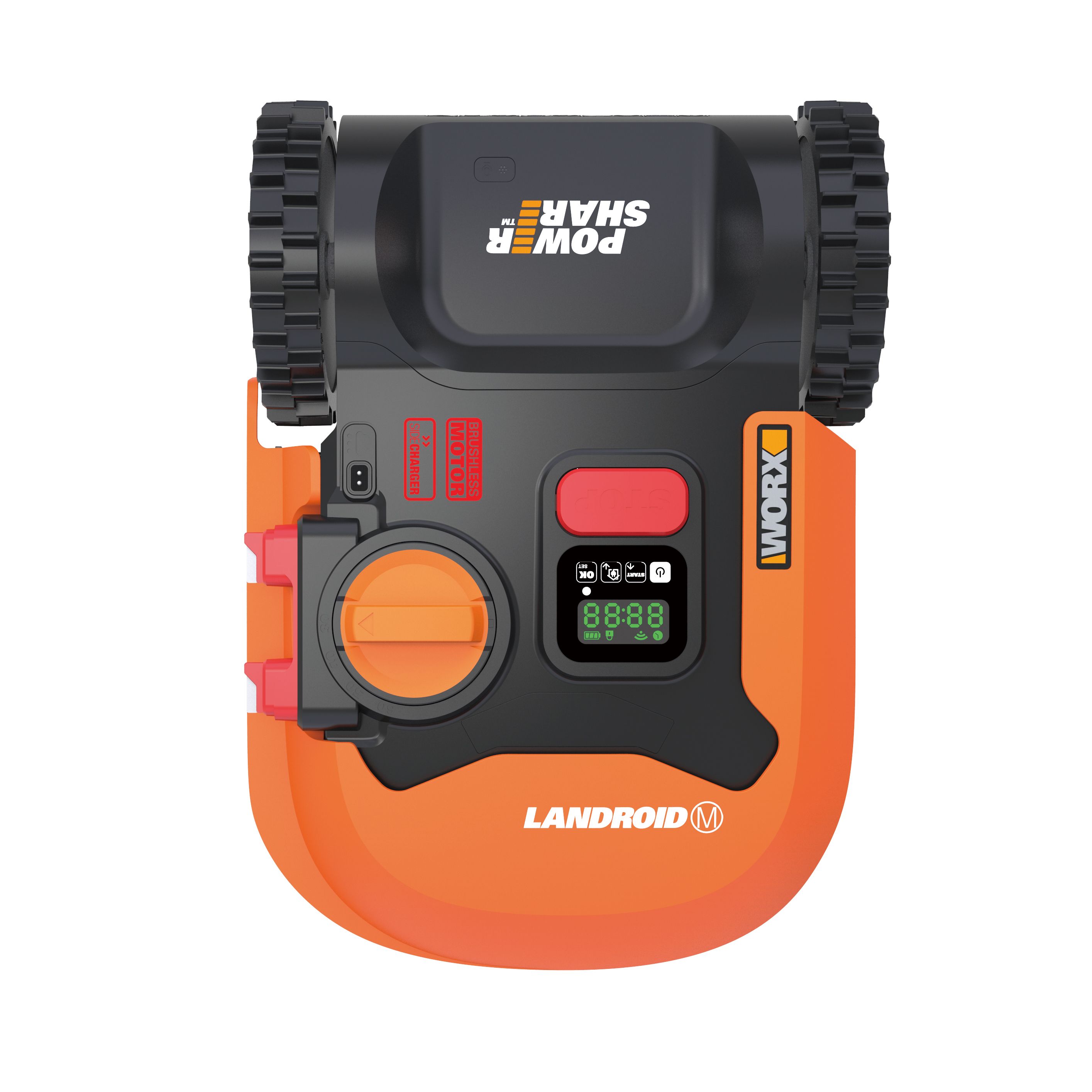 Worx Landroid M500 Cordless Robotic lawnmower
Product details
Product information
Suitable for use on lawns up to 500m2, based on the lawn size, the Landroid will create an optimized mowing plan for your garden
Suitable for use on lawns up to 500m2, based on the lawn size, the Landroid will create an optimized mowing plan for your garden
Battery pack, charger (1.5Amp), charging base, hex key, 130m boundary wire, 180x staples, 2x measurement gauge, 8x nails for securing the charging station, 9x blades and screws
30-60mm
Features and benefits
The Landroid is designed to mow often, maintaining a healthier and better looking lawn than ever before. Depending on the size of your lawn, Landroid may be programmed to operate at any time or frequency with no restrictions. It has optional extras including voice control, ACS obstacle control, anti-theft and digital fence which make the robot mower more intelligent and works more efficiently
App control – program and control Landroid enables you to remotely operate through your smart phone
Power ShareTM 20V battery is interchangeable with other WORX tools
Patented mowing AIA cutting technology ensures it can navigate and mow narrow spaces easily
Plug-N-Play feature ensures there is no programming needed. Starts mowing at a press of a button
Mulching function to maintain your garden, the clippings will serve as a natural fertilizer
Specifications
| | |
| --- | --- |
| Manufacturer guarantee | 3 years |
| Battery chemistry | Li-ion |
| Battery power | 2.0Ah |
| Battery voltage | 20V |
| Blade type | Double-sided |
| Cutting width | 180mm |
| Model name/number | M500 |
| Product weight | 8.2kg |
| Coverage | 500m² |
| Product code | 6924328319979 |
Great mower, has my lawn looking amazing
I bought this mower two weeks ago, after 10 years of using a Mountfield petrol mower, to take care of my back lawn. The lawn roughly measures 20sqm, with some of that taken up my a brick workshop, flower bed, and small trees. It isn't the flattest of lawns either, and has a fair bit of moss in it. It used to take me approx an hour to do, usually over two sessions.
Installation was fairly simple – I set the base up beside my workshop, as this has power ran to it. I laid the wire around the border using the pegs (tip picked up from Youtube) to make sure the mower didn't have any trouble with the route. I downloaded the app to my phone, but had to input the mowers serial number manually, as I couldn't get my phone to scan the QR code under the lid of the mowers battery compartment. The serial is on the box the unit comes in however.
With the app installed, to get it to pair with the mower, I had to bring the mower indoors to where my wifi router is, even though I have a range extender in my workshop. Once paired though, it now connects to the wifi extender in the workshop. It took a firmware update via the app while it was charging up for the first time, and also set the correct date & time on the mower automatically.
I had recently cut the lawn with the petrol mower, set on the second longest cut setting. Starting the mower off for the first time, I set it to the highest setting initially. It was able to travel across the lawn with no issues, apart from getting hung up on a couple of low branches of some of the bushes, which I then removed. I found that the 2.0ah battery that comes with the unit is good for an hour of mowing, and when the battery charge drops below 10%, the mower will head back to the base to recharge.
I progressively lowered the cutting height over the past two weeks, and it is now set at the second lowest setting (40mm). The lawn looks amazing – tighter than I have ever cut it with the petrol mower, and no signs of any cut grass on the lawn either (I used a mulching attachment previously). The best thing is, that the lawn looks perfect every day, not just for the couple of days after cutting previously – and all with no physical effort on my part!
All in all, I am very happy I went ahead and purchased the mower, and would highly recommend it. Be prepared to spend some time watching it do its thing initially – it's sort of hypnotic!
Brilliant Tech
Stratman59 - 7 months ago
Quick review.
Positives = brilliant piece of tech that actually works really well. Incredibly quiet. Cuts to the edge..almost!
Negatives= a weekend to set up and you need to be tech savvy.

Long review.
We don't have a huge lawn but I still spend perhaps 2-3 hours a week during the summer months mowing. If like me, you have a busy life you'll be tempted to do one low cut each week rather than the recommended 'no more than a third' cut twice a week. I also fill half a brown bin each week with clippings. Because of the way I cut, my lawn isn't in the best of health.
Being a tech lover, a robotic mower seemed like a good option so I spent days researching exactly how they work and finding the best one for me at the best price point. The Landroid model are the best selling mowers in Germany and as we all know our German friends like quality. I also wanted a mower that would trim as close to the edge as possible and most don't. The Landriod models M500 and above all have offset cutting decks so fulfil this requirement. Another reason for the Worx is the app control which is superb.
My local B&Q had Worx models in stock and at a special sale price, excellent.
Setting up the mower with the App. The first issue you are likely to come up against is connecting to Wi Fi. The Landroid connects through 2.4 GHz wi-fi and not the standard 5 GHz. This is where some knowledge is needed, it's pretty simple, certainly on BT routers, to make sure you wi-fi is broadcasting on both.
2.4 GHz gives a better signal at longer range than 5 GHz which is why Worx use this option. My garden is about 35 M long and I confirm I have no issues at that range.
Second problem will be you will need to update the firmware, this of cause can be done via the downloaded app but… there's always a but! You can't connect your mower to the app via wi-fi unless the mower firmware is updated, Joseph Heller eat your heart out! Worx have a simple solution, in the back of the mower is a USB a socket, simply download the firmware update to a USB and plug it into your mower, follow the instruction found on their website and it's dead simple, you'll then be able to connect you mower to the app.
Setting up the wire.
On the app is a great little tool for working out your lawn size, just walk around your perimeter with you smartphone camera and it'll draw a plan and tell you your square meterage. Mine worked out at only 240 m sq. (you can download the app and do this before you buy) of actual lawn so the M500 is more than adequate. My lawn, although not a huge area, is a very odd shape, at one end we have different levels and a retaining wall, a grass ramp to one side, the second area, separated by a narrow passage about 900mm wide and 2m long, has many curved flower bed borders with wood edgings.
You need to stake out the wire according to the instructions with the little pegs supplied, I won't go into details as you can read these on their web page. My advice is to make a plan, work out where you're going to install the charging base, has to be with in 10m of a mains plug and on a level surface with enough access at the entry and exit points. I put mine on paving slabs but it can go direct on to grass. I also bought a special house made for robotic mowers.

Once you're happy everything is working I strongly recommend burying the cable an inch or two down, a bit of an laborious task but only took me an afternoon with a lawn edger, considering you'll never have to mow again, a reasonable trade off. Be very careful not to cut your wire when doing so, a quick tip, do 4 or 5 metres at a time and then check you still have a solid green light at the base station, if it turns red you'll likely have cut the wire, this will help you pinpoint the stretch where this might have occurred. The mower works in a completely random fashion, the idea being that it cuts for a set time each day and eventually gets everywhere. It only cuts a small amount so keeps your grass healthy and you have that just cut look all the time.
To sum up, I think this is one of the best bits of tech I've ever invested in, believe me, I've bought a lot over the years! Tech that actually does a really good and useful task for you, what more could you ask? As I said at the beginning, you need some patience and to put in a bit of effort over a weekend and degree of tech knowhow. This really isn't something you take out of the box, switch on and away you go. Having said that, once set up, apart from a bit of cleaning now and then it just does its thing and does it really well.
Buyer beware
Daniel Cambridge - 7 months ago
I purchased this mower hoping to never to cut my lawn again and also because I go on holiday a lot. You have to put a wire around the lawns edge to stop the mower going into a wall or the flower beds.My experience is that the wire must be buried as I originally did as the instructions said but the mower cut the wire 3 times within a few weeks of installation so I then buried the boundary wire. I purchased the accessory which mounts on the top to stop the mower bumping into large objects as shown in the video, the only problem with it is that it does not work for several seconds after coming from the boundary wire so I experienced it climbing up the side of my kids tent and fighting with my deck chairs! This was resolved partially by an addition of a magnetic sensor attached to the underside of the mower and a Plastic coated metal strip with joining clips. You put the
metal strip around the tent for example and the mower should stop and turn away from the tent however this is not always the case as the clips work loose and now my tent has many holes where the blades have cut into the material. The app is great so easy to use however the mower cannot be re set from it as it constantly says gone outside the wire and you manually have to reset the mower , very frustrating if you are away. Overall would I buy it if I didn't already own it, maybe if I was stuck at home with nothing better to do.
Don't bother
Easily one of the worst products I have ever purchased. Set up is appallingly paintstaking and the reliability is awful.

I have had multiple problems;

digging up the lawn
not detecting the wire
constant error messages
Amazing product
Amazing bit of kit but wasn't big enough for my garden. I wish I had checked online for the WR153E model 1500M version which you can get on e bay for 949. The technology is more up to date. It's the same price as a 1000M on here. Oh well, I should of checked first. I can't believe it does the edges without driving off the edge. I'll never have to cut my lawn myself again.