How to create your own spa shower experience
Soothe your mind, body, and soul
The shower - what is it that makes it so special? It's where we pamper, preen, and polish ourselves. It's where we briefly shut ourselves away from the world and find a moment of calm. It's even where we come up with those wacky inventions and "million-dollar" business ideas (which we usually forget about as soon as we grab our towel).
Lavender and chamomile will create a relaxing atmosphere, while vibrant scents such as lemon or ginger will awaken your senses and set you up for the day ahead. The colours, scents, and accessories we use in our bathroom can all help to shape the shower experience. Whether you want a restful night's sleep or want to feel psyched up for a hectic day – we'll help you create the ideal environment for a dreamy, spa-like shower.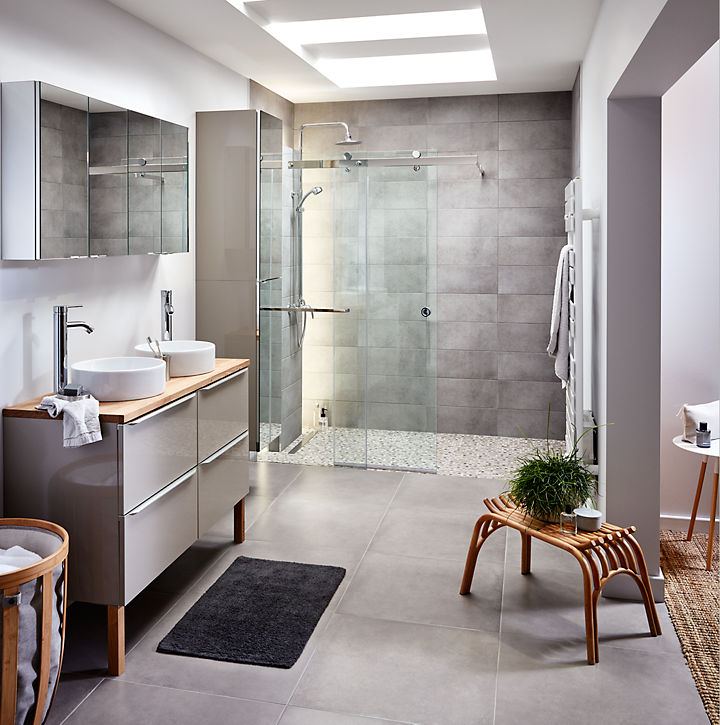 Back to basics
For many, the daily shower is a quick jump in, wash and go. Did you know, a shower does a lot more than just leaving you squeaky clean? There are countless other benefits that come with a daily wash. It can help ease the stresses of daily life, stimulate the mind, and even boost circulation.
The first step to creating your spa shower experience is making sure the main elements are right for you. Is your shower enclosure spacious enough? Does your shower tray feel sturdy beneath your feet? Are you happy with the size and pressure of your shower head?
Shower kits
When it comes to a truly indulgent shower experience, a mixer shower is the perfect candidate. With temperature control, easy-to-clean nozzles, and a sleek design – you can bring five-star opulence to your home.
Step straight into showering perfection with Mira Beacon. It boasts five indulgent spray modes and two generous shower heads. The innovate Mira HydroGlo™ warm-up technology indicates when the water's at just the right temperature. With a 250mm overhead and 110m handset with four spray modes – you'll be lost in luxury.
Or why not wake up in style with our Cavally black thermostatic shower kit? Not only is it totally luxurious, but it's also bang on trend. The curved design of the overhead and handset helps to create a contemporary look in your bathroom. Thanks to the integrated diverter, you can easily switch between the two shower heads for the perfect shower.
Shower trays
Shower trays, also known as a shower base, provide the foundation for your enclosure. The bigger the shower base, the bigger your enclosure will be and the more space you'll have to relish the benefits of your shower. Choose from square or rectangular shower bases in a variety of sizes. Our Cooke & Lewis Piro shower tray will create a contemporary look in your bathroom. It's made from slip resistant black stone resin and is compatible with our Beloya and Onega shower enclosures.
Shower enclosures
If you have more space to play with, a rectangular or walk-in shower enclosure will offer more showering room. Walk-in shower enclosures are simple, luxurious, and undeniably practical. Unlike conventional styles, they have no runners or hinges to trap dirt and grime. If you have a small bathroom, a quadrant or square shower enclosure is a better fit for your space.
For the ultimate in luxury, add some style to your bathroom with our Naya enclosure range. With a built-in towel rail and a soft closing door, you'll feel like you're stepping into a deluxe hotel shower every morning. Made from durable 8mm thick glass, the high screen helps reduce water splashes, plus the glass has been treated to reduce limescale.
B&Q Loves: Sleek shower panels
Splashwall shower panels help to create a luxe look in your bathroom without the harsh price tag. Pick from acrylic, composite, and laminate in a range of patterns and colours. Splashwall panels are waterproof, easy to clean, and the fuss-free installation doesn't require any grout.
The latest addition to the trend-led portfolio; Splashwall elite. Elite panels are one of the quickest ways to transform a bathroom. Their lush designs make them a stunning alternative to tiles. They're cleverly installed without trims or joints for the most seamless finish. Choose from a variety of effects, such as marble, antique pine, or mosaic. Natural elements like stone and wood help to create a high-class feel in your bathroom.
Harness the power of colour
Colour has the power to influence the mood in any room. Use neutral tones or subtle shades of blue and green to create a sanctuary designed for ultimate relaxation. If your morning shower is a necessary pick-me-up, use vibrant shades of yellow and orange to kickstart the day. White paint, tiles or wall panels will open up your space and make it appear bigger. Don't forget, you're not limited to paint. You can also add drama with bathroom wallpaper. Take your pick from geometric patterns and floral prints to artistic 'under the sea' oceanic designs, we've got something to suit everyone.
Set the mood
When creating your own spa retreat, getting the mood right is key. Now that you've got the basics sorted, it's time to add those final touches.
Bathroom lighting has come a long way since the days of flickering fluorescent tube lights. We've got a range of statement lights that will liven up your room. From swanky chandeliers to smoked effect glass balls – there's something to suit every style. Create a decadent feel in your bathroom with multiple light sources. Dot a few candles around the room, not only will they bring extra light, but a delicate aroma too. Why not make your bathroom glow by installing a couple of wall lights, or even an illuminated mirror? The extra light will make your bathroom perfect for pampering routines and the LED lights will add a touch of Hollywood glamour.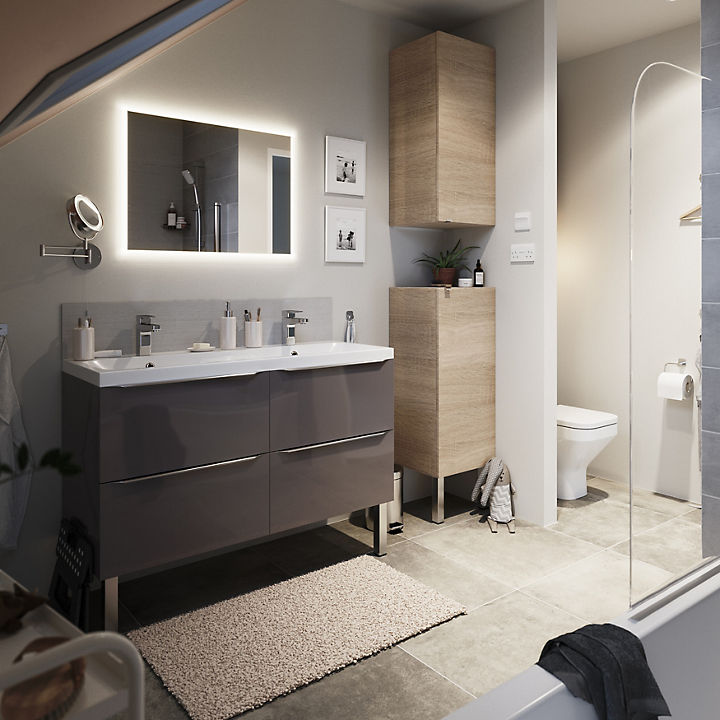 Let mother nature in
No spa bathroom is complete without plants. They bring texture, colour, and vibrancy to a room. Not only are they lovely to look at, but they also purify the air around them. Houseplants are known to lower stress, improve moods and boost productivity. Tending to plants is a therapeutic process. We find pleasure in pampering ourselves, it's only natural that we find the same satisfaction when tending to our plants, right? Place a few humid-loving plants around your bathroom to bring it to life.