How to organise kitchen cupboards and drawers
8 kitchen organisation ideas for a clutter-free kitchen
Looking for advice on how to arrange your kitchen cupboards and drawers? You've come to the right place. Keeping your kitchen storage in order can be hard work – especially when you're tidying things away in a hurry or guests help clean up after a dinner party. It doesn't take long for everything to end up in the wrong place! In this article, we'll show you how to organise your kitchen – and keep it that way.
Carry on reading to find out the best way to organise your kitchen cupboards and drawers…
Make cooking a breeze with these kitchen organisation tips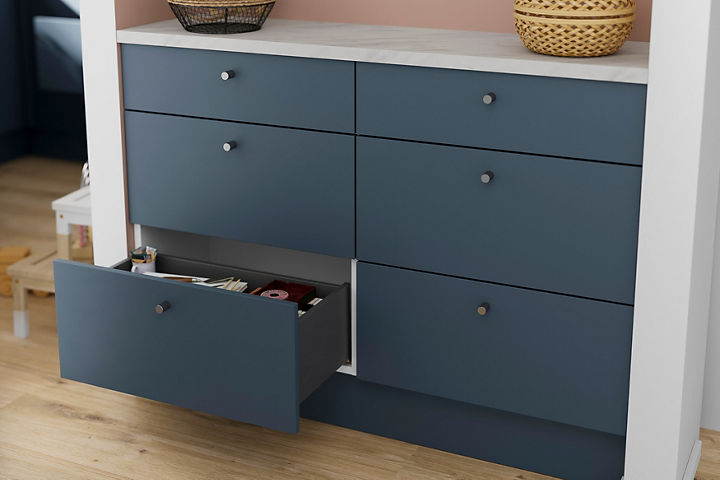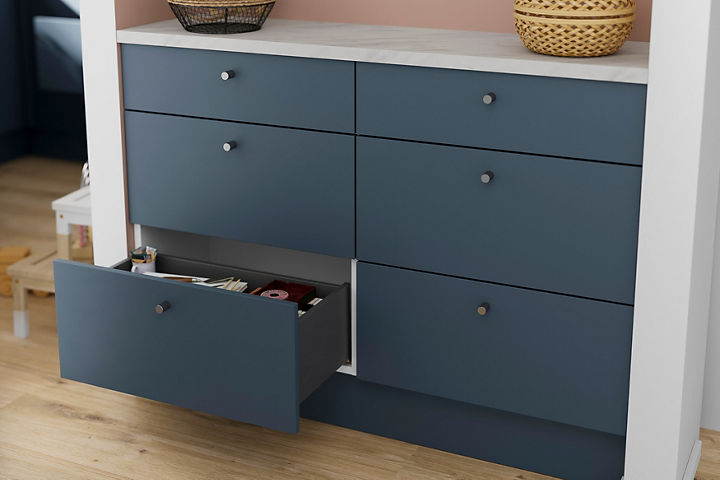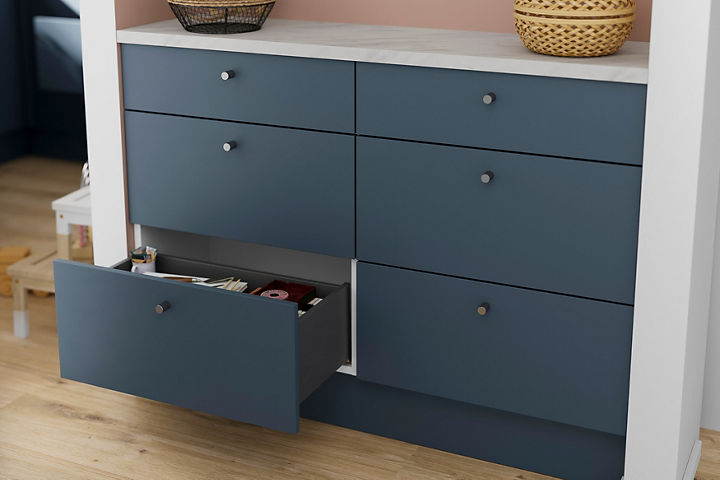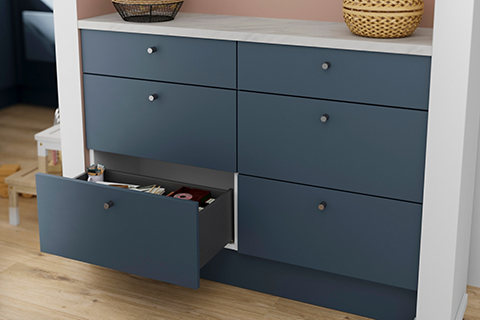 1. Declutter and purge!
Start by getting everything out of your cabinets and drawers. Spend some time sorting through it all and decide which items you want to keep or get rid of. Be ruthless, if you have a toastie maker or dinnerware set that you haven't used in three years – is there really any point holding onto it? By having a kitchen declutter, you will instantly create more space and make it easier to organise what you do have.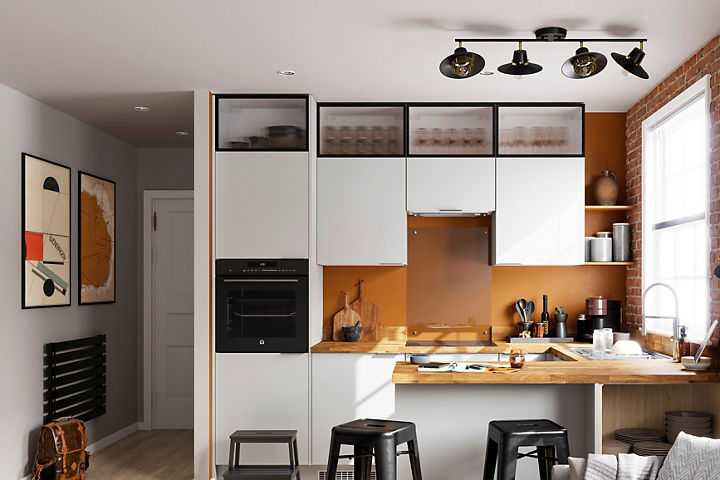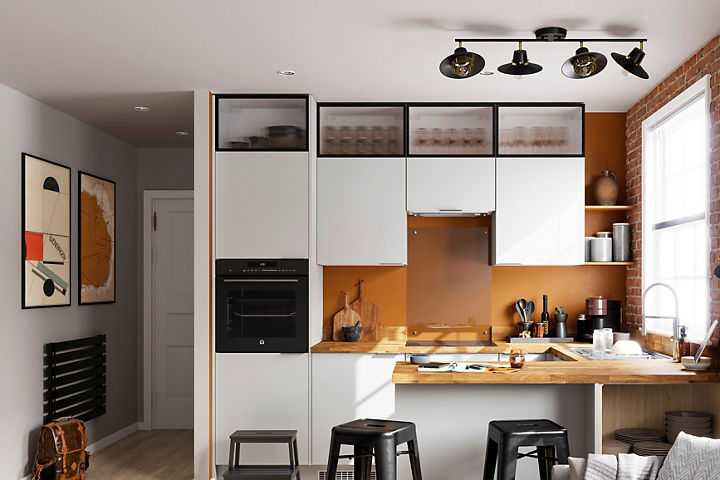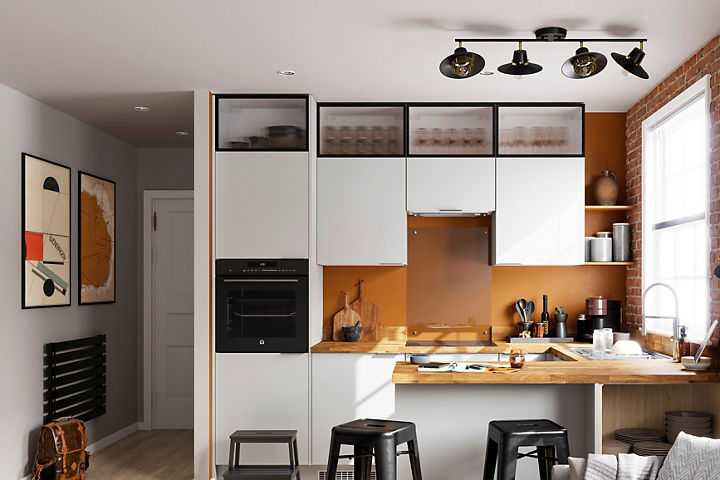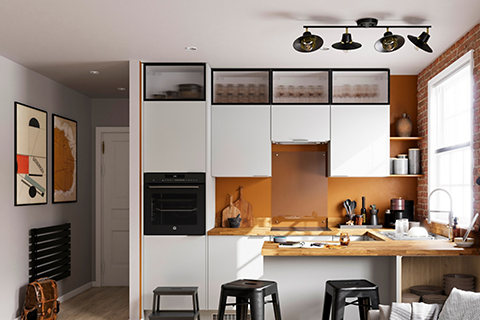 2. Group items together
Make it easier to see what you have and avoid buying duplicates by grouping items together. Store herbs and spices in one location, this will stop you rummaging through cabinets for the elusive paprika. Group canned items together to make it easier to plan meals and keep an inventory of staple items. Keep all the baking ingredients like flour, sugar, and baking powder together, this will allow you to quickly grab what you need for a recipe. If you have certain crockery or appliances that you only use at a specific time of year, such as Christmas or during the summer, group those together too. Grouping similar items together will save you time and reduce clutter.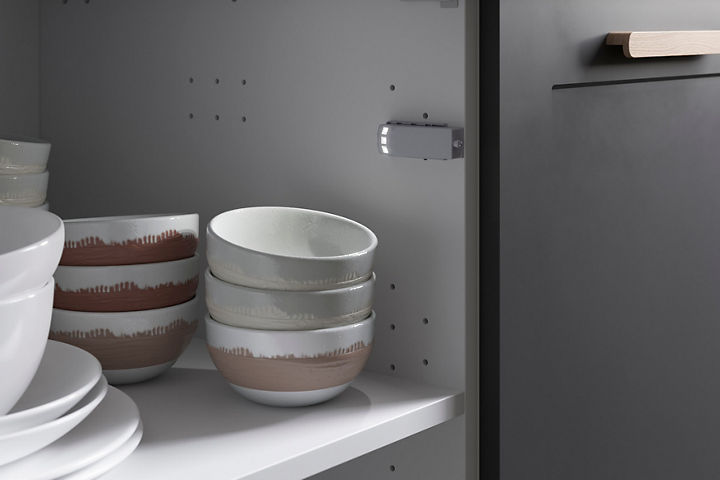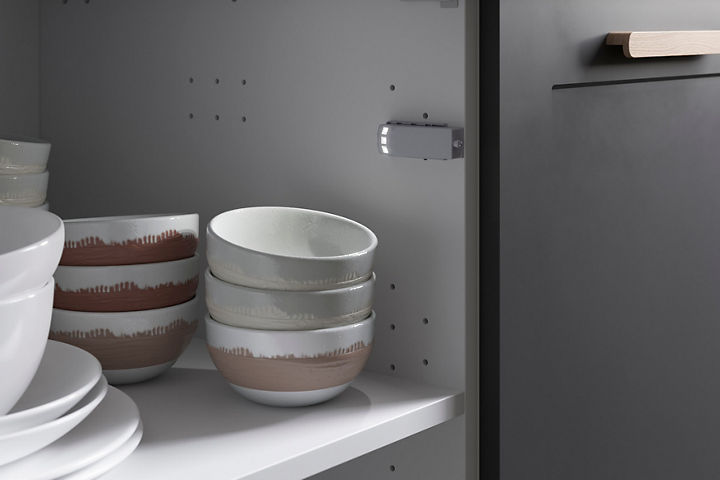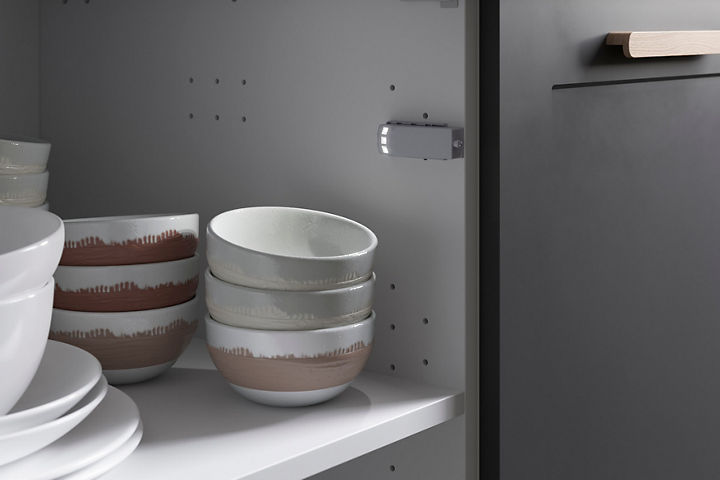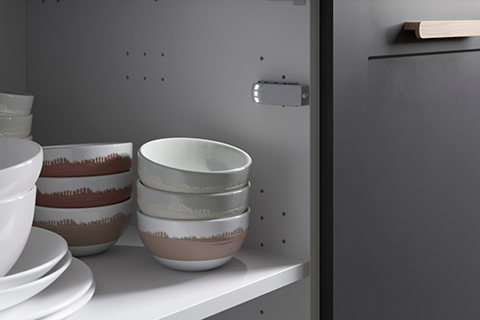 3. Create a logical layout
When it comes to organising your kitchen cupboards, creating a logical layout can make all the difference. The best way to do this is by storing items based on their purpose and the frequency that you use them. For example, keep baking tins and cooking utensils close to the oven and hob, while cutlery and serving dishes should be stored near the dining table. Keep food items that you frequently use in easy-to-reach shelves, while infrequently used items can be stored in harder-to-reach cabinets. By creating a systematic and organised layout, you can save time, frustration and keep your kitchen cabinets clutter-free.
Below is a general guide for organising your items. Sort them into different 'zones' according to what they're used for:
Food preparation - wall and base cabinets
Small appliances and utensils - wall and base cabinets
Cooking - above and below appliances
Washing and cleaning - below the sink
Food and perishables - in full-height cabinets
For the most-used items, store them closer to the centre (at the top of base cabinets and bottom of wall cabinets) so you can access them easily. Items that you don't use as often can be stored at the top of wall cabinets and bottom of base cabinets.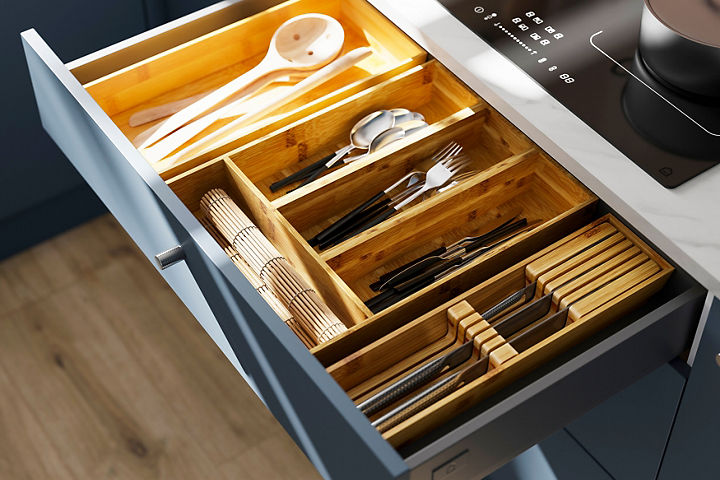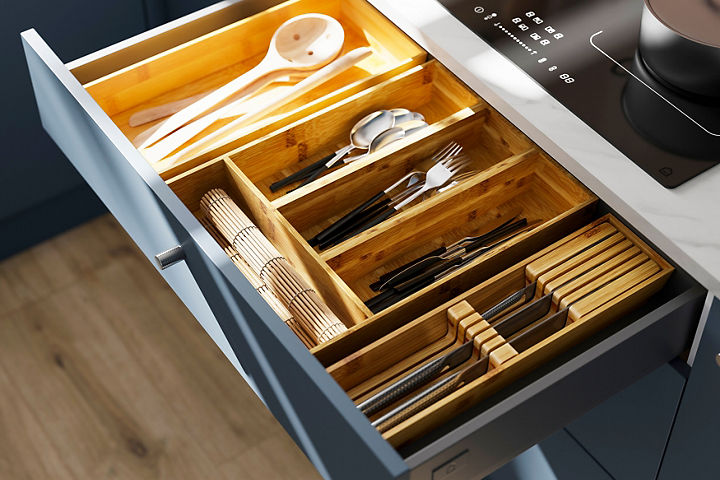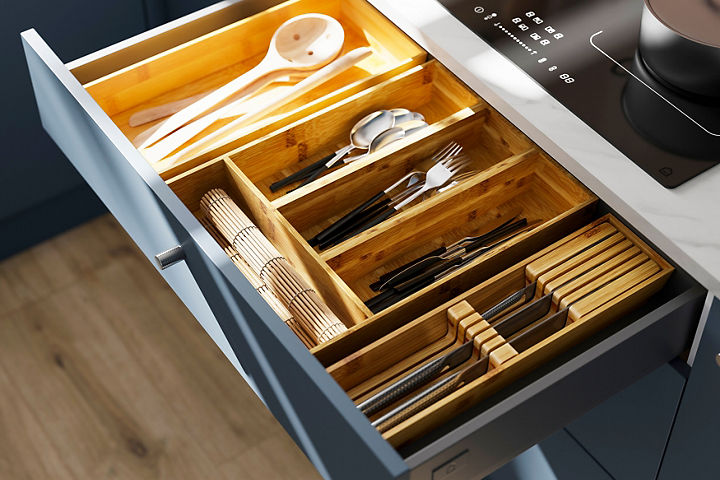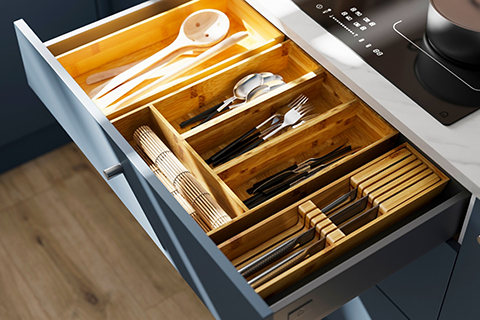 4. Use cabinet and drawer organisers
Cabinet and drawer organisers will help maximise space and keep everything in its place. Consider using drawer dividers, and storage containers to separate and organise different items.
Drawer dividers are especially useful when storing utensils and cutlery, as they keep everything neatly separated, making it easier to find what you need. Storage baskets can be used to organise everything from spices to canned goods to snacks, keeping your cupboards tidy. Trust us – they'll make a world of difference!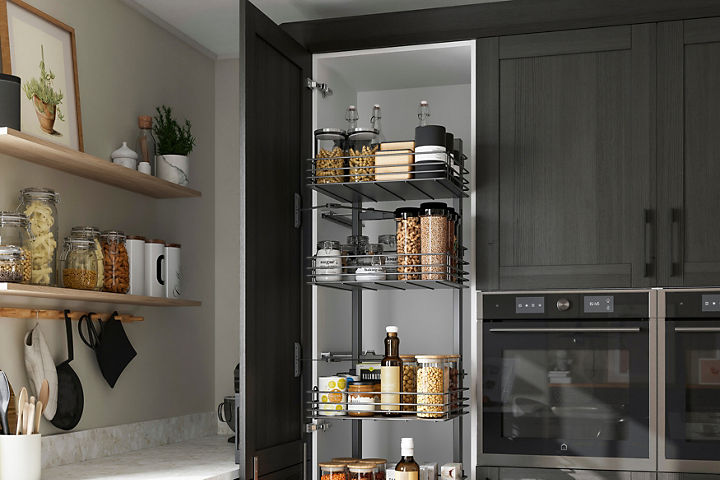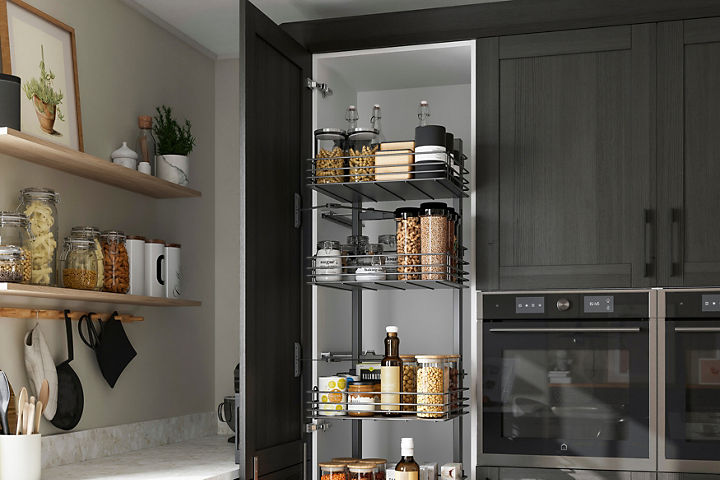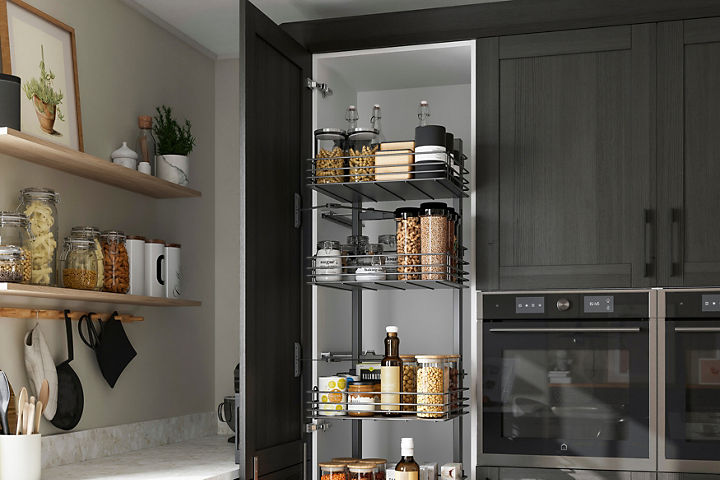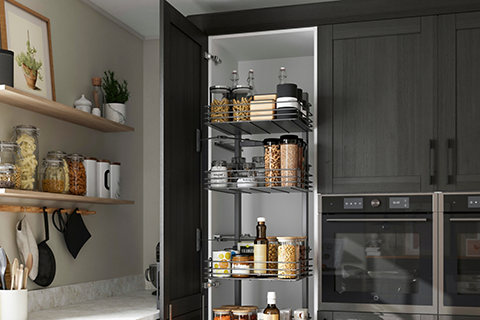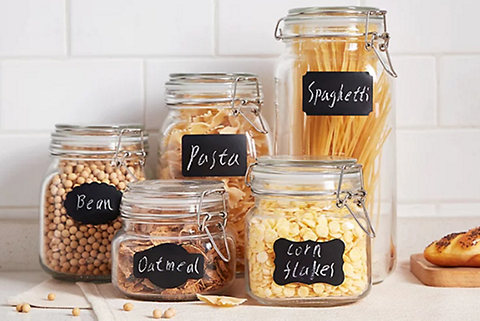 6. Label your storage containers
Clearly label jars and food storage containers. This makes it easier for everyone in the household to keep the kitchen organised. By labelling containers everyone will know where items are stored, and ensures that everything goes back to its rightful place.
Labelling your jars and containers helps to avoid confusion, especially when looking for specific items when cooking or baking. Use clear labels that are easy to read and placed in a visible location. You could use a marker pen on a glass jar, or use sticky labels. As well as writing the contents of the container, you could add the expiry date to help keep track of when food expires and avoid unecessary food waste.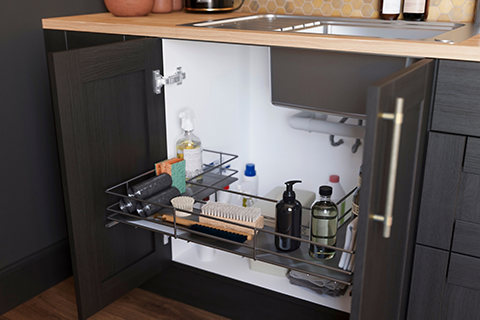 7. Don't forget about underutilised spaces
Make the most of the space under your sink by adding pull-out shelves or storage baskets. Our GoodHome pebre undersink pull-out storage has been designed to fit perfectly around your under sink waste. You can adjust the height to suit you and it has removable shelves for easy cleaning. You can also attach hooks to the inside of cabinet doors for hanging cleaning supplies or oven mitts.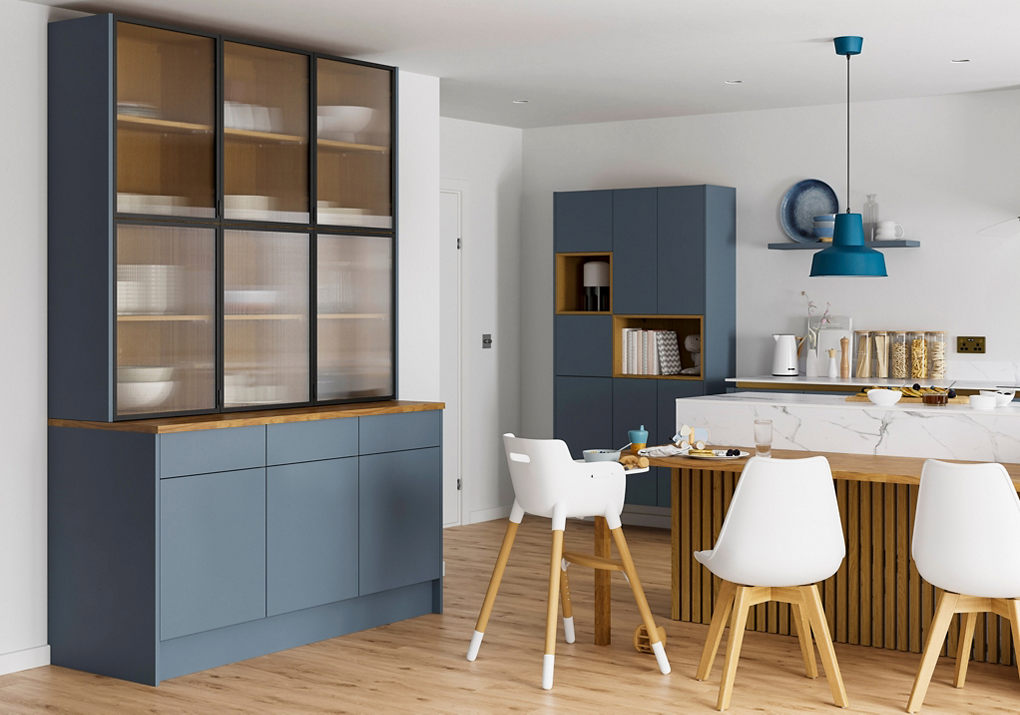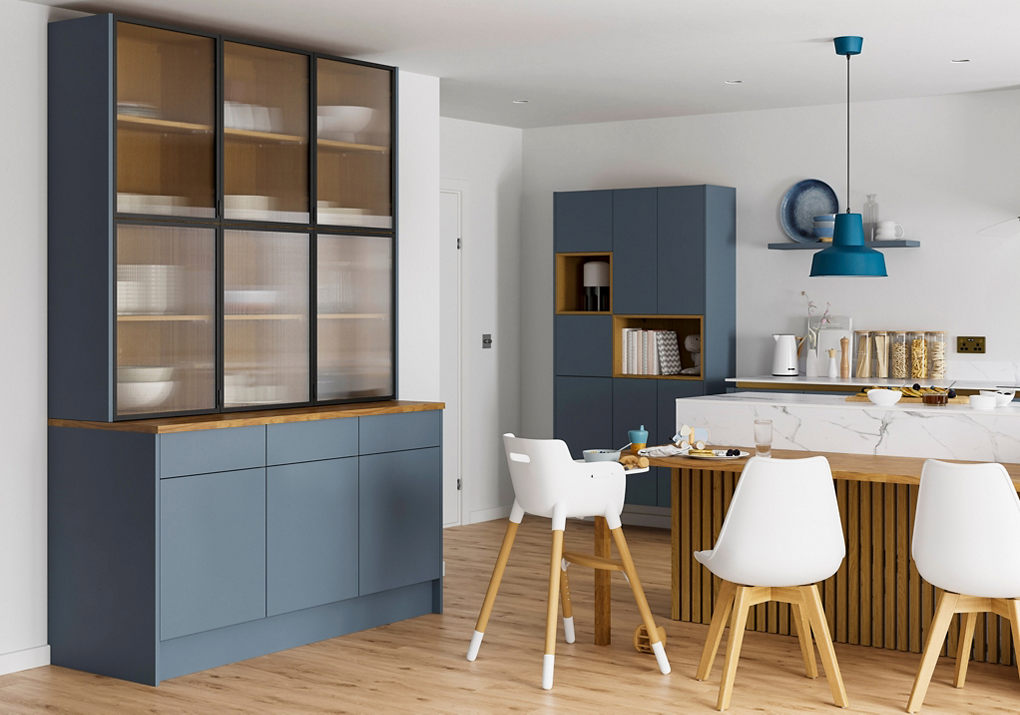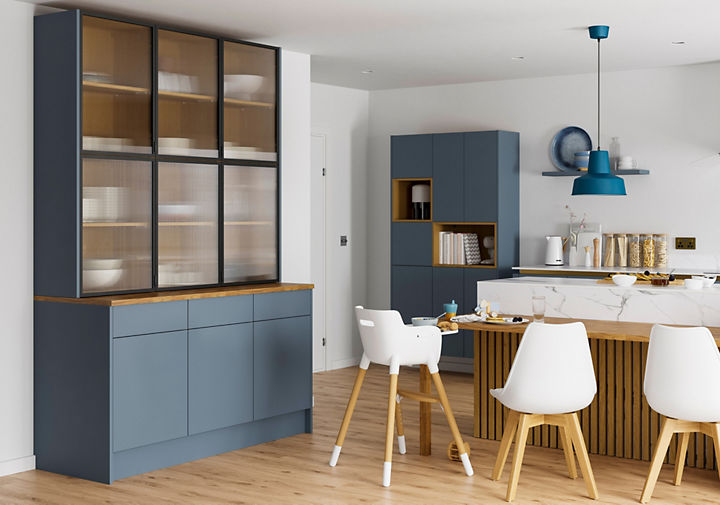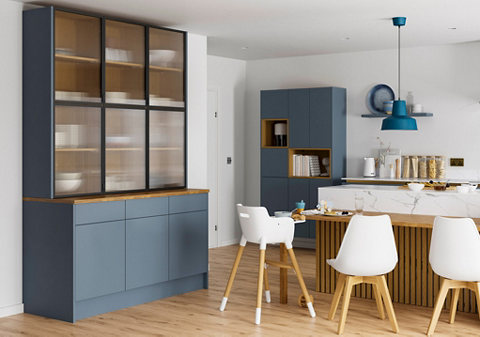 8. Regularly review your organisation system
Set aside some time to assess and reorganise your kitchen cupboards and drawers. As your needs change, so will your organisation system. So, it's important to review and adjust as necessary to keep your kitchen running smoothly. If you're using certain items more frequently than others, are they conveniently located? Rearrange items based on their usage patterns and make changes to improve accessibility.
Your cooking habits and appliances will evolve over time, which will mean you'll need to update your organisation system. Perhaps you've been gifted a new set of Crueset cookware, or you've finally invested in an air fryer and need to find somewhere to store it. Every three months is a good time to review and assess your organisation system to make sure it works for you.
Reviewing and reorganising your kitchen cabinets and drawers every few months is crucial for maintaining an efficient cooking space. Read our kitchen storage ideas for more advice on keeping your kitchen tidy and organised.