Why it's important to personalise your kitchen project
Create a kitchen that meets all your needs (and more)
Have you ever found yourself with too many appliances, but nowhere to plug them in? Or are you always navigating your way around family members when all you want is to make a hot cuppa?
Then you're most likely suffering from a kitchen that isn't personalised for you. Don't worry, we've got the remedy. With our expert advice you can find out how to make sure your kitchen doesn't just look the dream, but functions like one, too.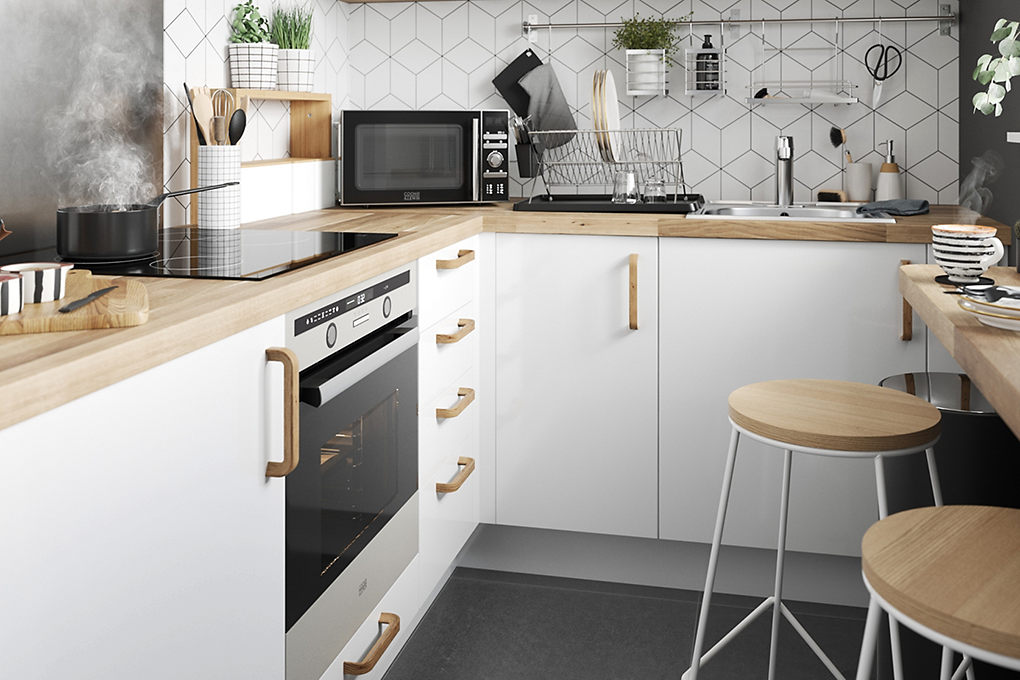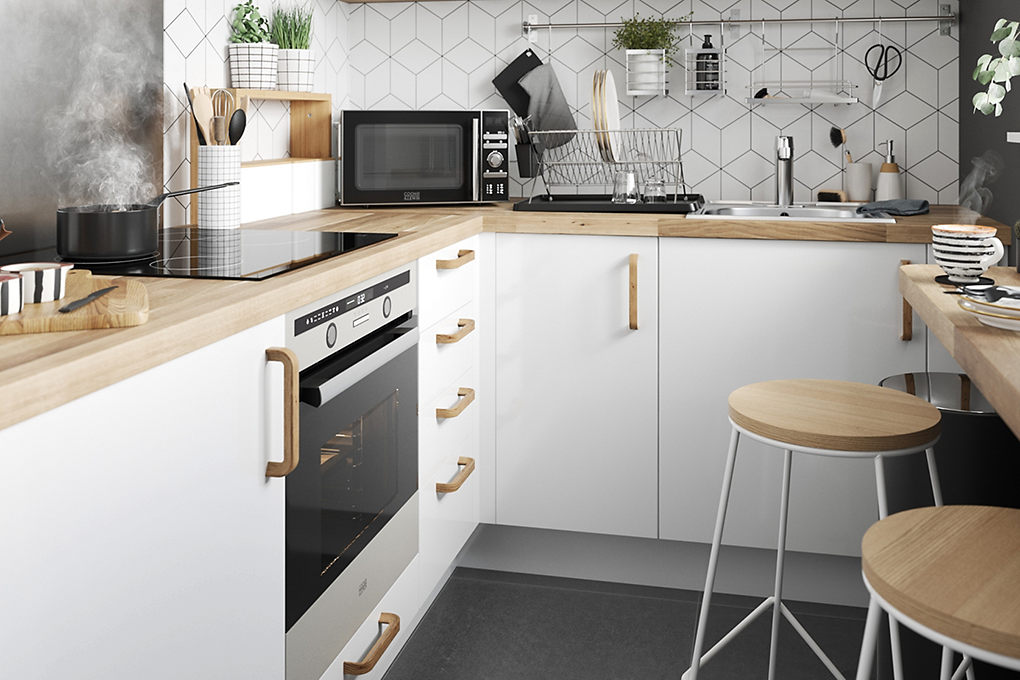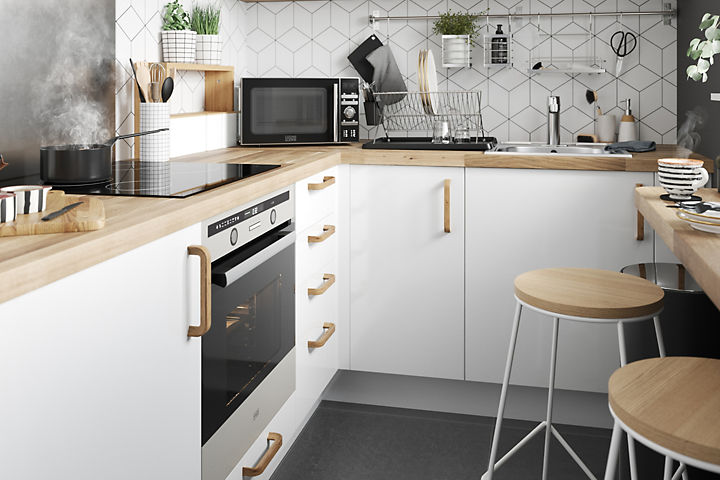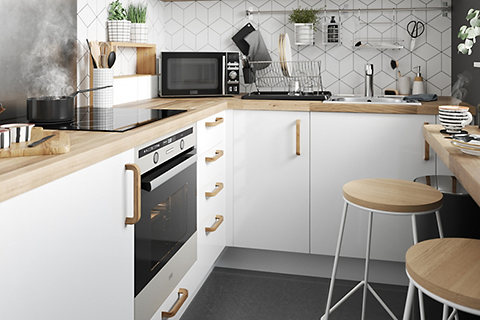 Find your storage
First off, think about how you use your kitchen. Are you a gadget geek who likes to have all the top-of-the range appliances available? Or do you love to cook up a storm the more traditional way, with pots and pans galore?
If you have enough kitchen gadgets to start your own MasterChef spin-off, take a look at the GoodHome pebre range. Our internal storage can help you to create an organised space that allows for easy access to deep cupboards. This means you can quickly pull out what you need for the specific task at hand, without having to re-organise your entire kitchen.
Lost in a pile of pots and pans? Then the GoodHome Soto drawer might be just what you need. We have dozens of drawer options, from under-sink and under-oven to plinth and larder drawers. They're sturdy and reliable, don't just take our word for it – we've tested them by opening and closing them 100,000 times. Most importantly, our drawers have been built to carry everything you use and hold up to 35kg. Perfect for holding everything you need to make even this year a success.
Cabinets and doors
Our range showcases the latest trends in door styles and finishes. Designed with durability and quality in mind, our kitchen cabinets and doors come with a 25-year guarantee. You can utilise all the linear space in your kitchen by offering the right cabinet width, and we have adjustable legs to allow for easy levelling on any surface – your kitchen can be entirely customised to you.
Don't forget to consider your materials. For those with smaller kitchens, gloss doors are a smart choice as they reflect light, whereas matt doors are particularly useful for hiding grubby fingerprints or dog tail splatters, so you don't find yourself having to clean up every few minutes.
Work those worktops
If there's one element of your kitchen that has to work harder than all others, it's most definitely your worktops. From cooking splatters to spillages and hot pans - your worktops have to endure a lot. Make sure you pick hygienic, heat and scratch resistant as well as easy-to-clean surfaces that can handle day-to-day life.
With a 25-year guarantee, our worktops are designed to last through 1,300 weekly roast dinners. What's more, our laminate worktops undergo rigorous real-life stain testing, so they're pretty forgiving!
Choose the right appliances
Finding it hard to juggle timings for cooking? The Candy Wi-Fi connected oven might be just what you need. It can be turned on remotely via an app, meaning you can start pre-heating your oven while you're busy on an overrunning Zoom call!
For creatures of habit, the GoodHome Bamia oven could be your saving grace. It automatically switches to 180°C at the touch of a button, for easy pre-heating and feature pre-sets to help you remember familiar meals. And if you tend to run a little bit behind on timings, our Bosch 4 zone black ceramic glass induction hob can help you out by providing you with up to 50% more power for faster heating.
Maximise your sink space
If you don't have the luxury of a huge kitchen, space can come at a premium, which means you have to maximise the space that you've got as best as you can. And with mountains of veg to wash, chop, and prepare, you can quickly find that you've run out of worktop room.
If that's the case, the space-saving integrated accessories of the GoodHome Romesco sink means you can turn sink spaces into an efficient, multi functional work area. You can chop, wash, and dry all in one place. So, now you can have a go at rustling up even the most complicated recipes without any obstacles getting in your way.
We all use our kitchen slightly differently, which means that we all have varying needs. With these ideas on how to personalise your kitchen – you'll find that cooking, cleaning, and day to day life will soon become a breeze. For more inspiration on planning and designing your kitchen to match your needs, read our article, Finding the perfect kitchen to suit your room shape.