How to decorate your front garden for Halloween
Get stuck into spooky season
Halloween is becoming bigger and bigger each year in the UK, as more autumnal and spooky decor appears in people's homes during October. From pumpkins to witches, there are a number of ways you can get into the spirit of Halloween and all things spooky.
If you want your home to be inviting to trick-or-treaters, a great way to start is by decorating your front garden for Halloween. At B&Q, our experts have compiled this guide to help you, from low-budget DIY decor to more extravagant Halloween decorations and garden furniture.
DIY Halloween decor
If you don't want to spend too much money or simply enjoy indulging in crafts, you can make plenty of DIY Halloween decorations. Here are some of our favourites:
Cutouts - simply using paper or card you can make spooky shapes (think ghosts, spiders, witches etc.) and stick them in your windows facing the front of your house. You can also cut out creepy patterns and stick them on your front door.
Cotton cobwebs - If you have bushes or trees in your front garden, a cost-effective way to transform them into something spooky is to use cotton balls or a white cobweb decoration. Simply stretch the cotton out so it resembles spider webs and drape them over your front garden fence, trees, bushes or porch.
Mason jars - You can decorate your mason jars by cutting out spooky shapes and faces, and then illuminating them with tea lights or candles.
Black string - You can use black string to easily create spider webs on your front door, making your entry extra creepy.
DIY wreath - using a wire frame you can make your own Halloween wreath and add whatever you fancy! From autumnal acorns to fake spiders, you can make your wreath as spooky as you like.
Balloon decoration - you can purchase plain black or orange balloons and decorate them yourself, or get some already decorated Halloween balloons.
Outdoor Halloween decorations
If you want to take your front garden to a whole new level of spookiness, we have a range of Halloween decorations that can do just that. Here's some of our frighteningly good decor: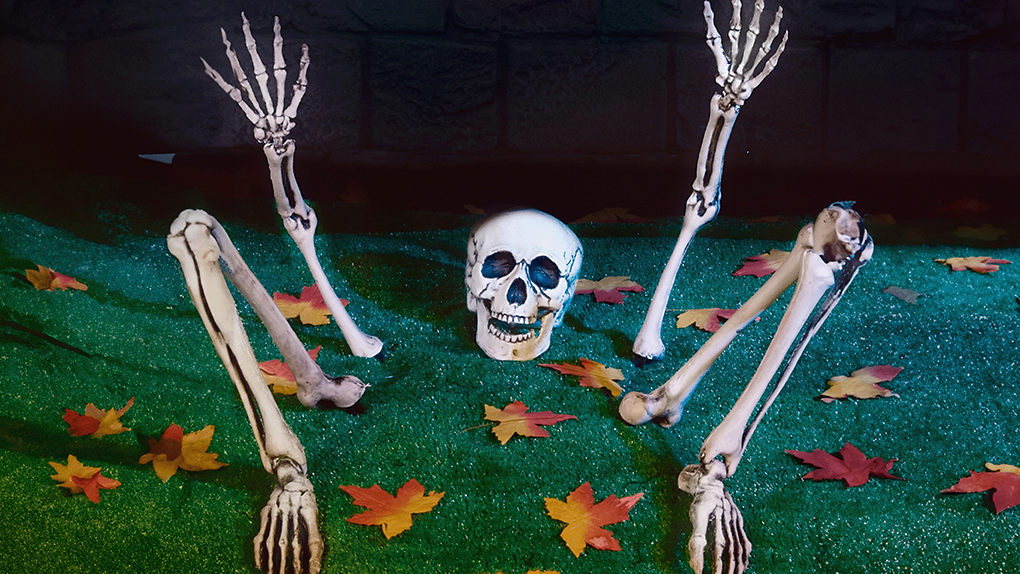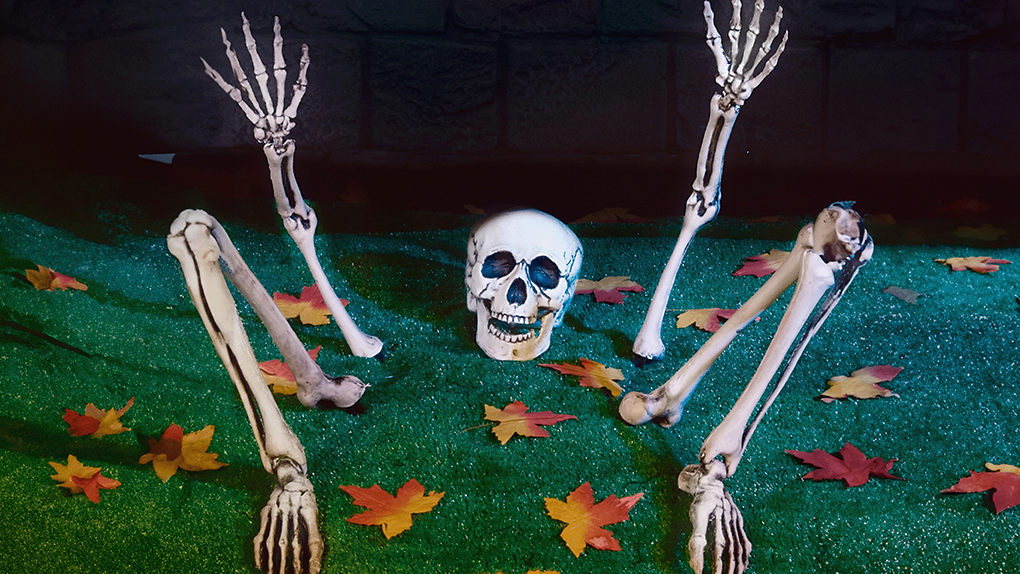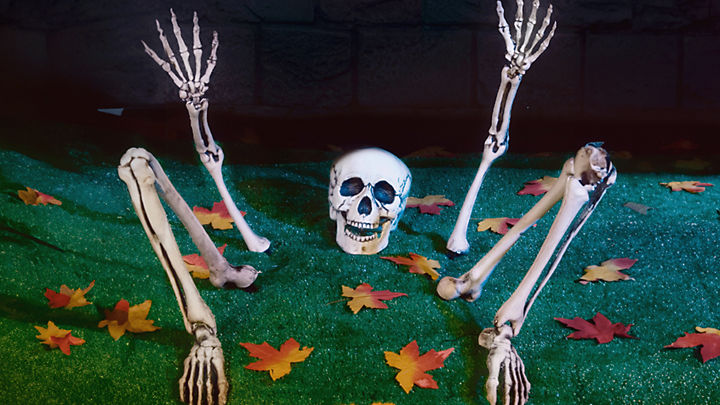 Outdoor Halloween lighting
Outdoor lighting is a great way to illuminate your home for trick-or-treaters, as well as make your front garden perfect for the festivities.
Themed lighting - from pumpkin LEDs to sets of lights with ghosts and bats, you can truly immerse yourself in the spirit of Halloween with our themed outdoor lighting.
Outdoor lanterns - lanterns are perfect outdoor lighting for Halloween as you can decorate them for the festivities with plastic spiders, faux cobwebs or stickers and return them back to normal once the season is over!
Red lighting - red just screams Halloween and a great way to incorporate this into your outdoor lighting is with RGB LEDs or smart outdoor LEDs, you can change the colours so you can have ominous red during Halloween night and change them back the very next day with ease.
Orange lighting - orange is to go-to colour for Halloween, so adding a touch of orange outdoor lighting to your front garden can create a Halloween effect (that also looks just as good year round!).