How to make the most of your living space
Details to transform your home
Our worlds have gotten smaller. From trips abroad to big birthday bashes, we're spending less time outside and more time in our own homes with family. Sometimes it can feel like the walls are closing in, so it's important to make the most of your space. Use every inch of your home to suit what your family needs. Whether it's a place to workout or a home cinema, some easy updates can keep you happy and healthy at home. 
1. Feel the burn
A workout isn't just about the gains, it also keeps your mind in shape. Creating your own home gym will give you the perfect place to get away from the chaos and focus on your wellbeing. All those excuses are out the window when the gym is right in your own garage. A little investment up front will save you from months of gym memberships too.
Whether it's just a yoga mat and some kettle bells or a fully equipped weight bench, it's all about what works for you. 
2. Have your cake and eat it
So many family moments happen in your kitchen, whether it's the brief goodbye every morning before work or a date night you'll remember for years to come. Making the most of your space with a kitchen diner is a great way to use every inch of your space and really turn it into the hub of your home.
A breakfast bar isn't just extra surface space, it's a homework station or a lunchtime coffee spot. A dining table isn't just somewhere to put your plate, it's an arts and crafts area or place to catch up on the gossip. We can help you design your dream kitchen, with everything from inspiration to planning.
3. Netflix and chill
The rustle of the sweet packet, the crunch of the popcorn, the arm rest battle, who doesn't love going to the cinema? Whilst we might be missing out on those usual trips out, there's no reason why you can't bring the movies to your own home. And you don't even have to worry about the awkward shuffle down the aisle when you need the toilet. 
Pack the sofa with cushions and throws to make you cosy, pick some soft low lighting for atmosphere, and frame some of your favourite film posters to immerse yourself in the movies. 
4. Bring the zen
Locking that bathroom door and taking a few peaceful moments to reflect on your day is sometimes hard in a full house. Wash away the stress, put those feet up, close those tired eyes and sink into the steam with your very own spa style bathroom. 
A rainfall shower head can add a touch of luxury or go the whole way with a jet air spa bath. Even just a few touches like scented candles and some refreshed ceiling lighting to set the tone can help you feel calm and relaxed. ready to take on the world.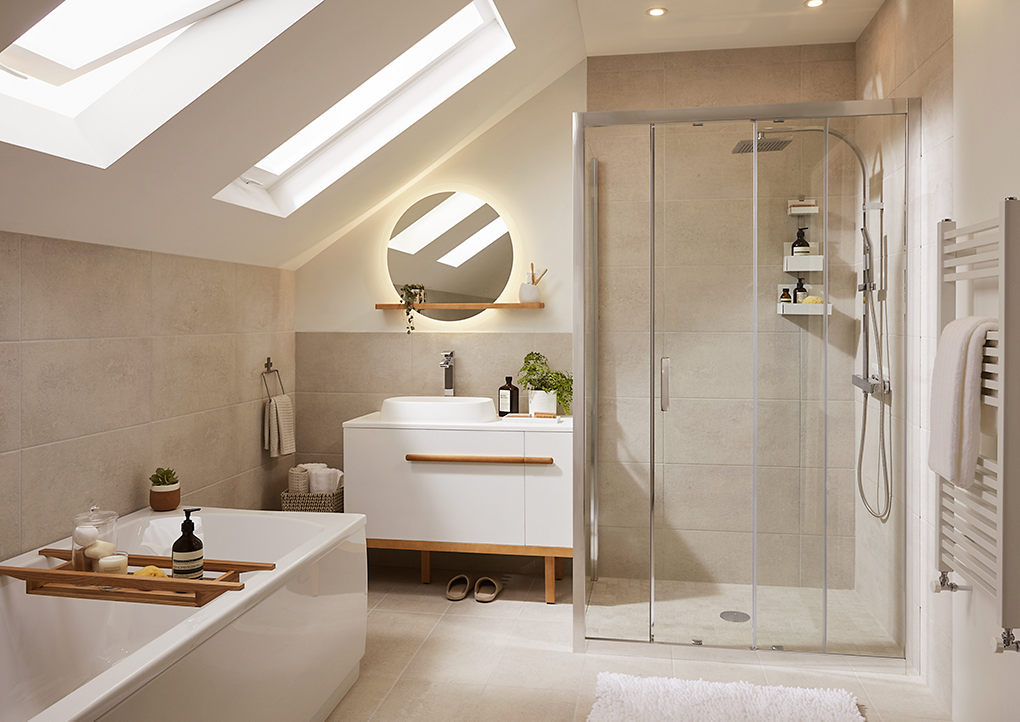 5. The room of requirement
You know the room, we've all got one. It's stuffed with boxes of childhood art projects, filled with clothes that might be fashionable again one day, or piled high with discarded Christmas presents squeezed in corners. So, whilst balancing that laptop on your knees and your cup of tea on the sofa arm, think about what that room could mean for your day.
Now is the time to get clearing, refreshing, and reorganising any space that could be freed up for an office. We have all the essentials, from desks to shelving and storage, to help you transform a room. Remember to add some functional lighting like a lamp with a bright bulb. Check out our range of gorgeous houseplants too, they aren't only great to look at, but can help purify the air.