Painted stairs ideas: 5 ways to step up your style
Decorating ideas for stairs and hallways
Are you looking for an easy and cost-effective way of giving your staircase and hallway a makeover? Then grab your paint brush and check out these staircase decorating ideas for some colour inspiration. A painted stairway looks clean, contemporary, and it allows you to be as creative as you like. From cool monochrome treads to rainbow risers – when it comes to painting your stairs, the sky is the limit!
Skip to…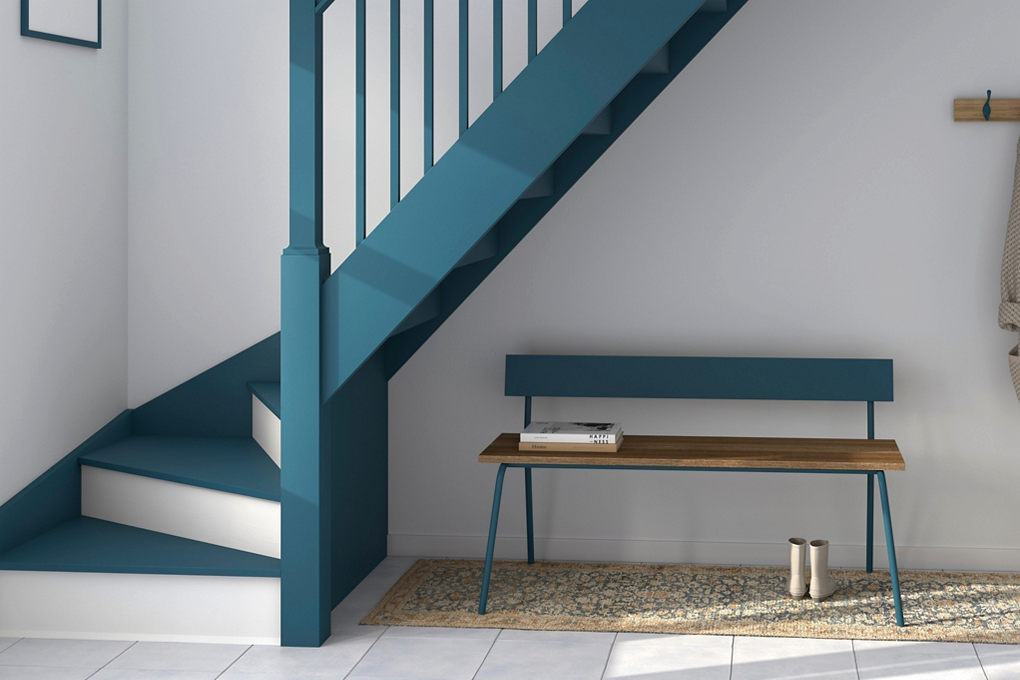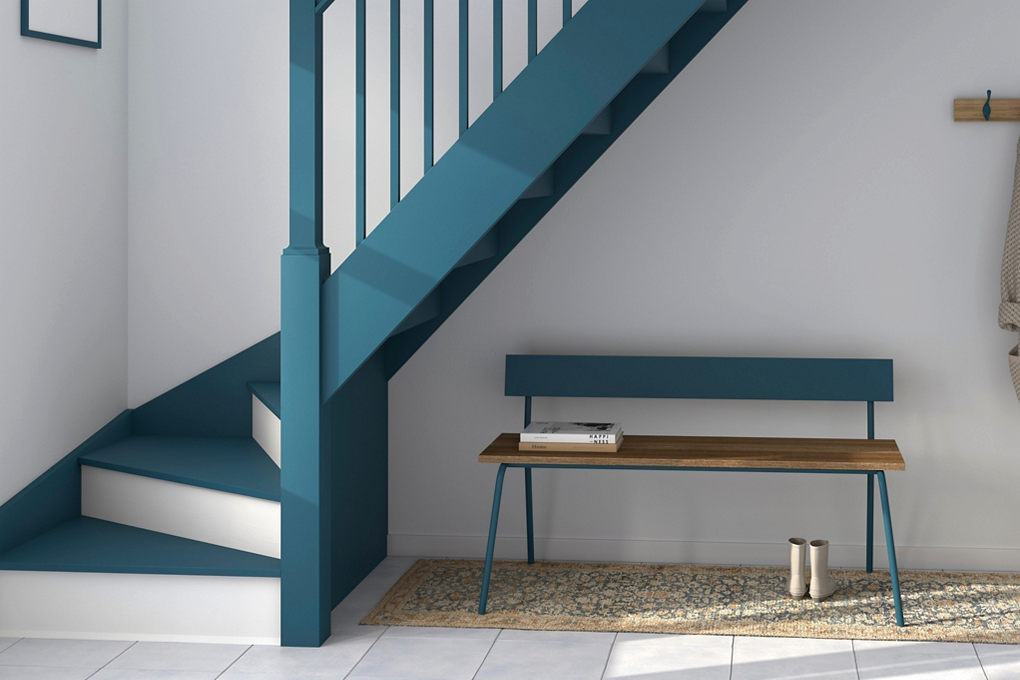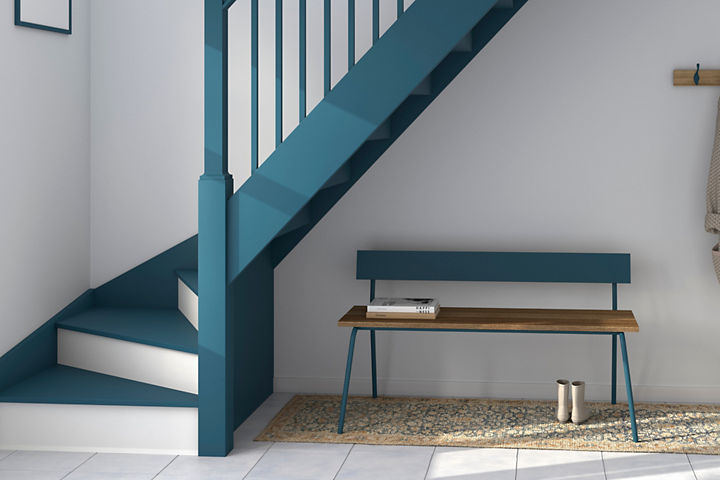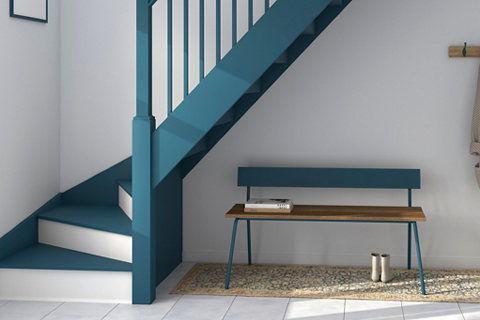 GoodHome floor & stair paint
Want to transform your dull stairway into a spectacular set of steps? Our GoodHome floor & stair paint is just the ticket. It's hard-wearing, resistant to heavy household traffic and super easy to clean. And it's suitable for use on wood (bare, varnished, painted), laminate, ceramic, and stone.
1. Grey painted stairs: hello monochrome
We're absolutely head over heels with this painted grey staircase. A monochromatic shade such as mid-grey helps other elements of the hallway décor stand out. Notice how the colourful abstract wall art stands out beautifully against a grey backdrop? Paired with sleek black spindles and a deep mahogany banister – this staircase design looks effortlessly cool and contemporary.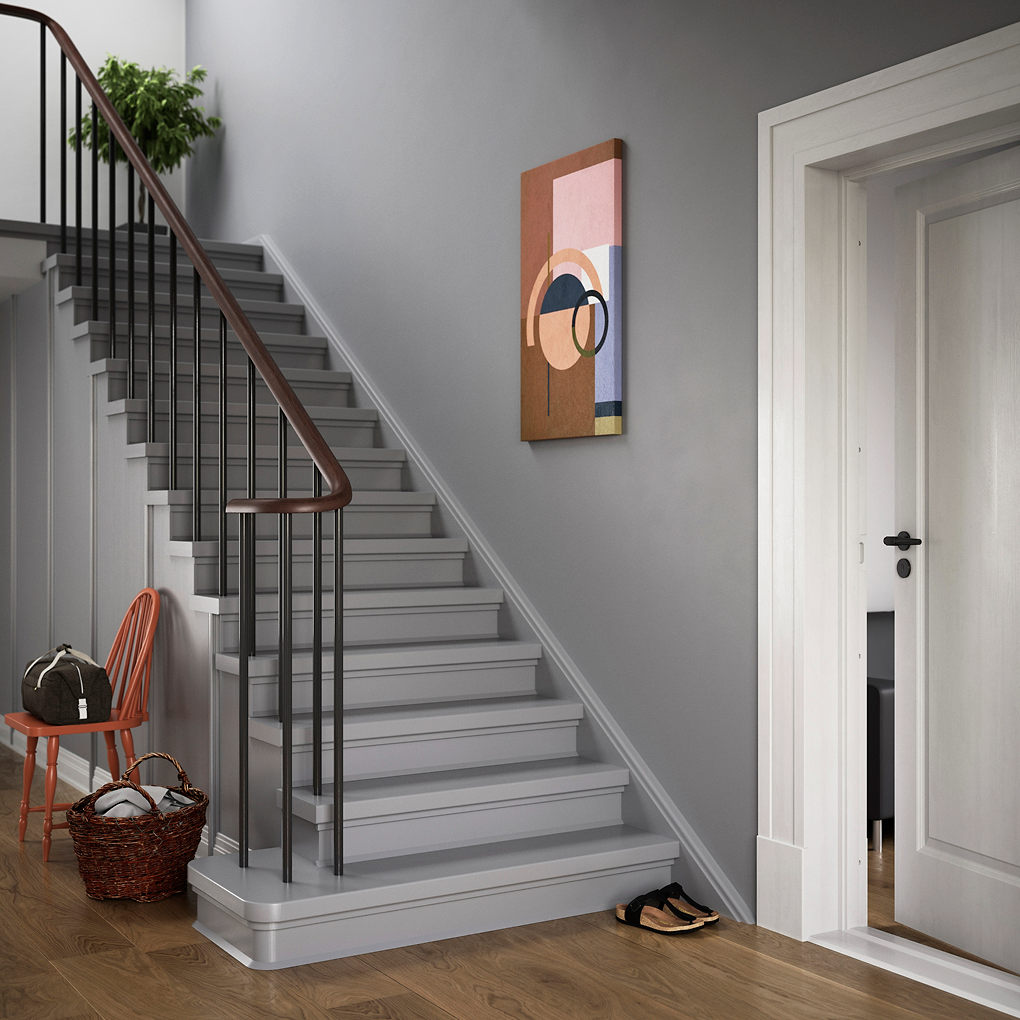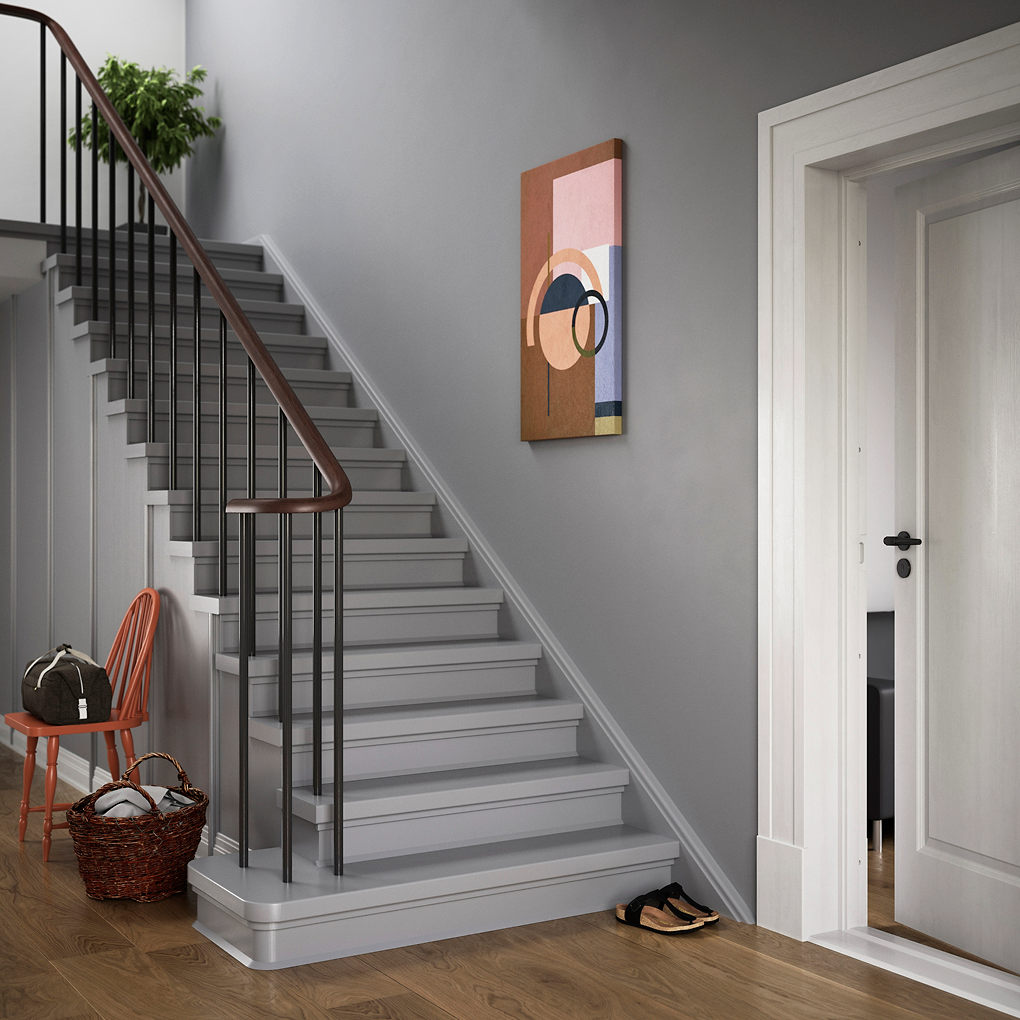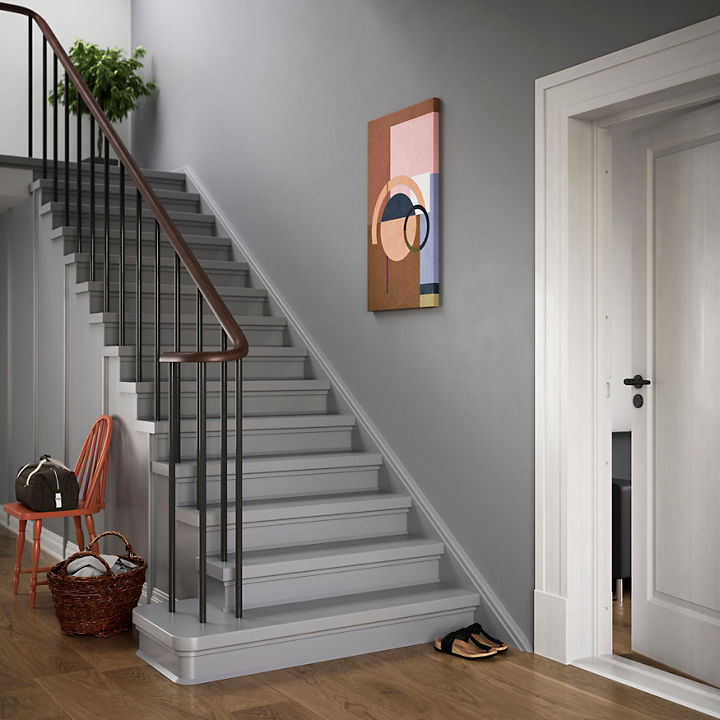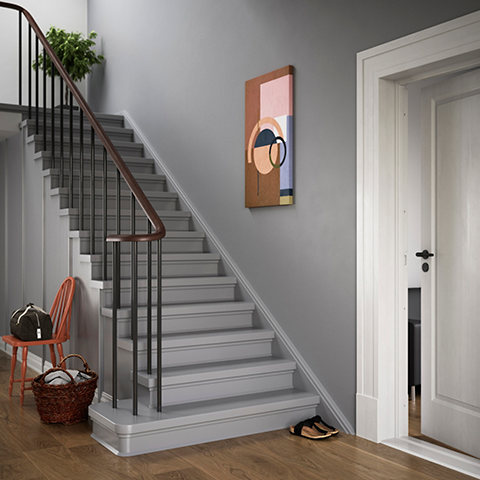 2. B&Q loves: white and grey painted stairs
Cast your eyes on this oh-so-chic staircase. This grey and white stairway has been carefully crafted using a combination of shades. The spindles, banister and stairs have all been painted white, and dark grey paint has been used to create the effect of a carpet runner. A painted runner is an affordable alternative to splashing out on a carpet runner. It's super easy to do yourself. To paint a runner, you'll just need some specialised decorators' tape, a pencil, and a measuring tape.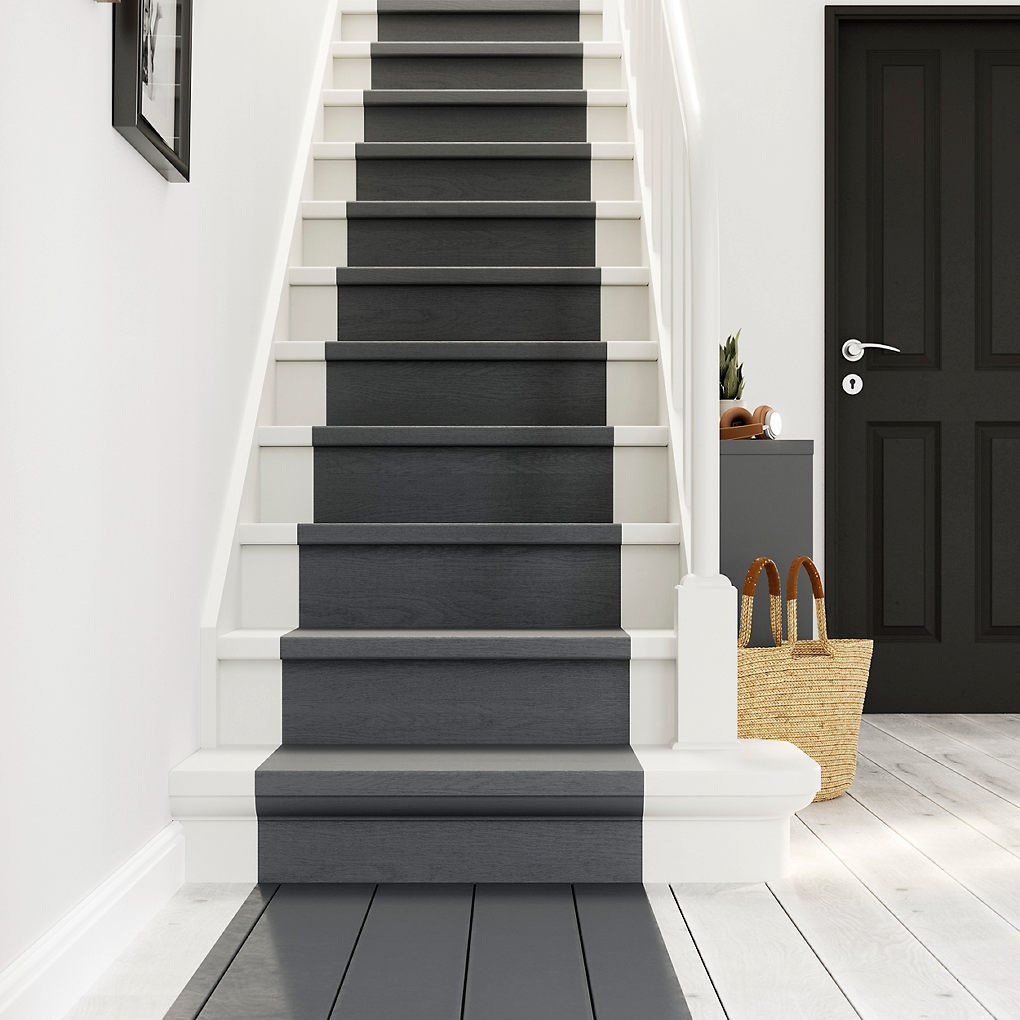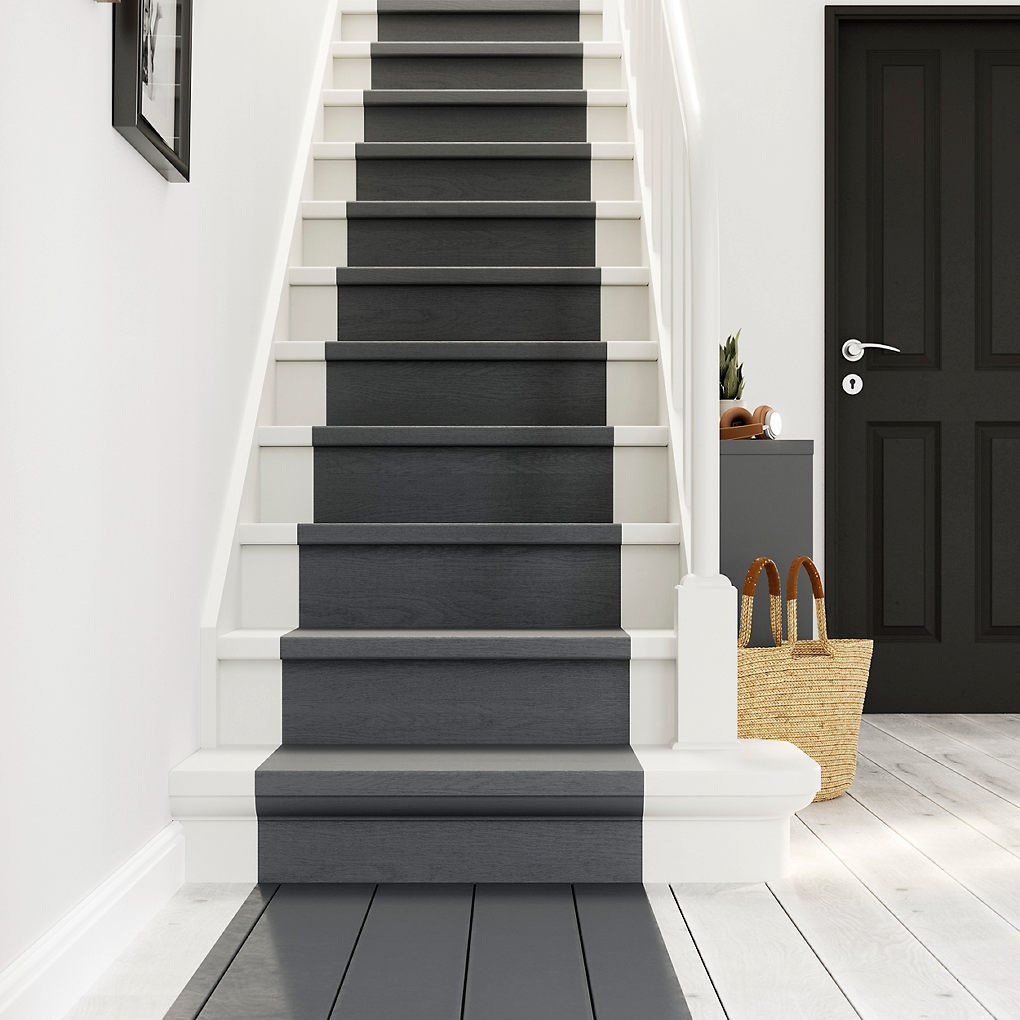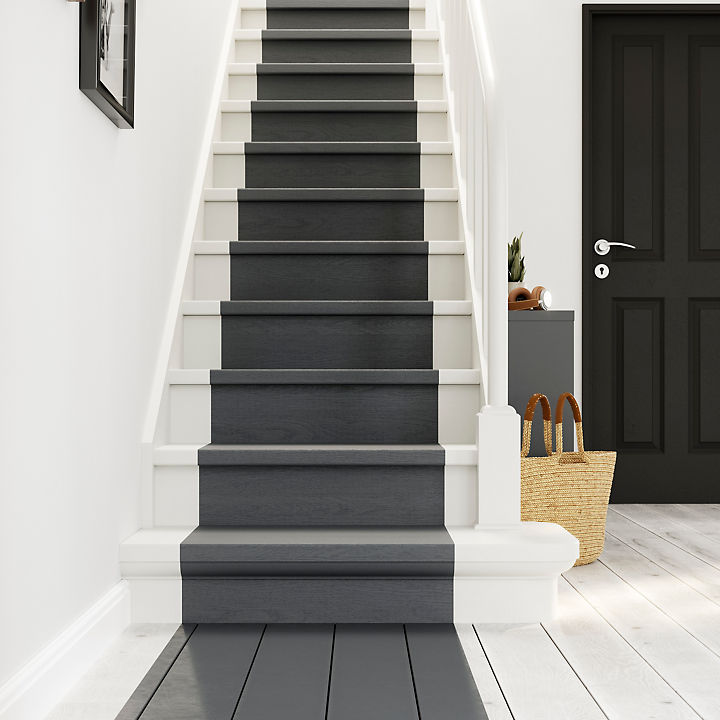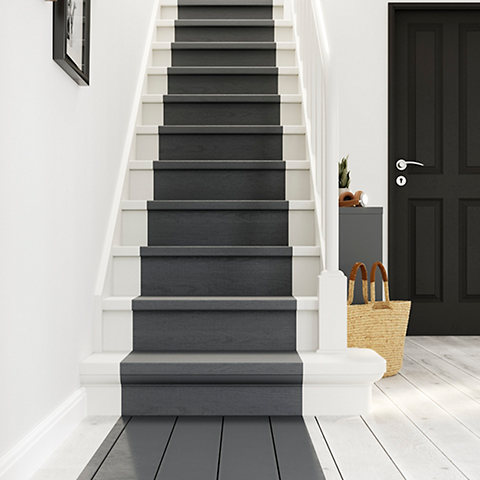 3. Blue painted stairs: a sea of possibilities
This calming hue has long been associated with serenity and relaxation. Your staircase is often the first thing you see when you come home, so wouldn't it be lovely to come home to a soothing shade of blue? This stylish stair design consists of blue treads, spindles, and banister, contrasted by crisp white stair risers. We also love how blue has been used in other areas of the hallway, such as the bench and coat hooks to create a considered and cohesive look.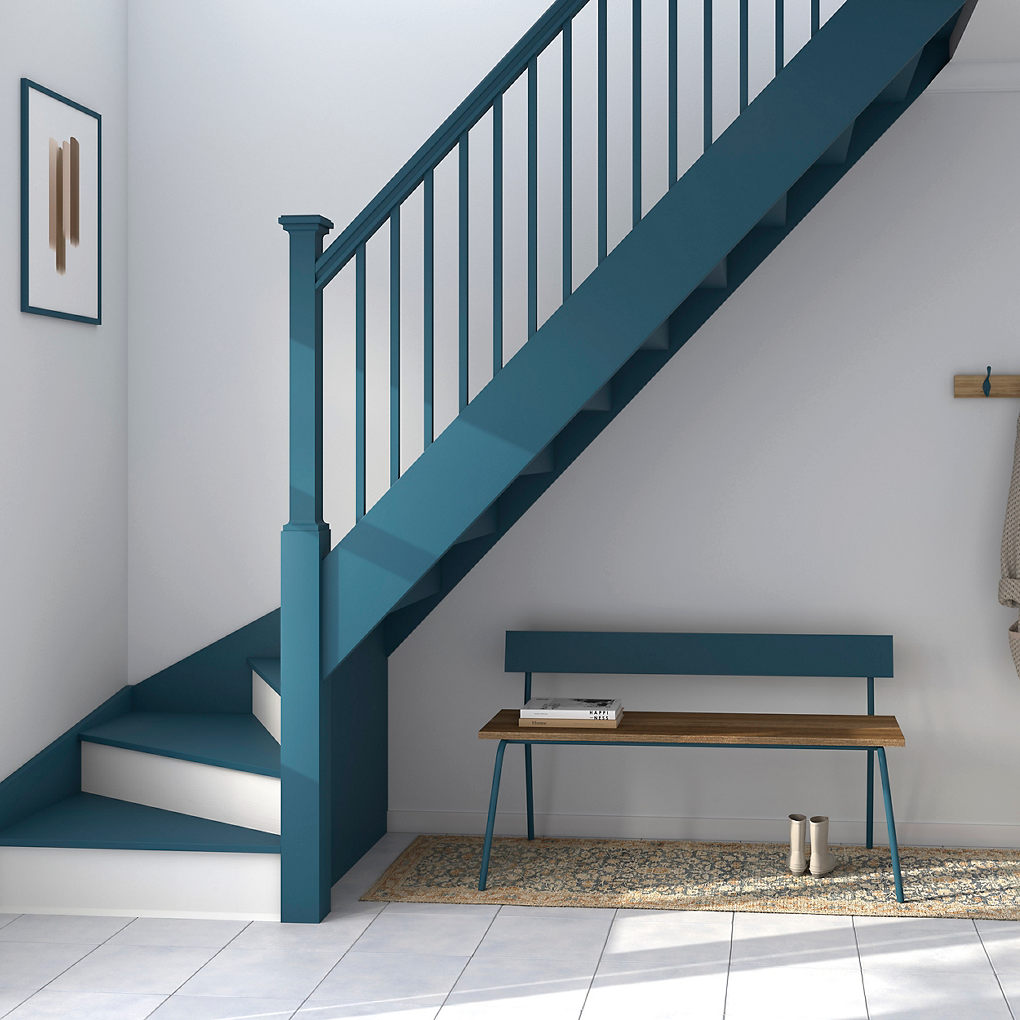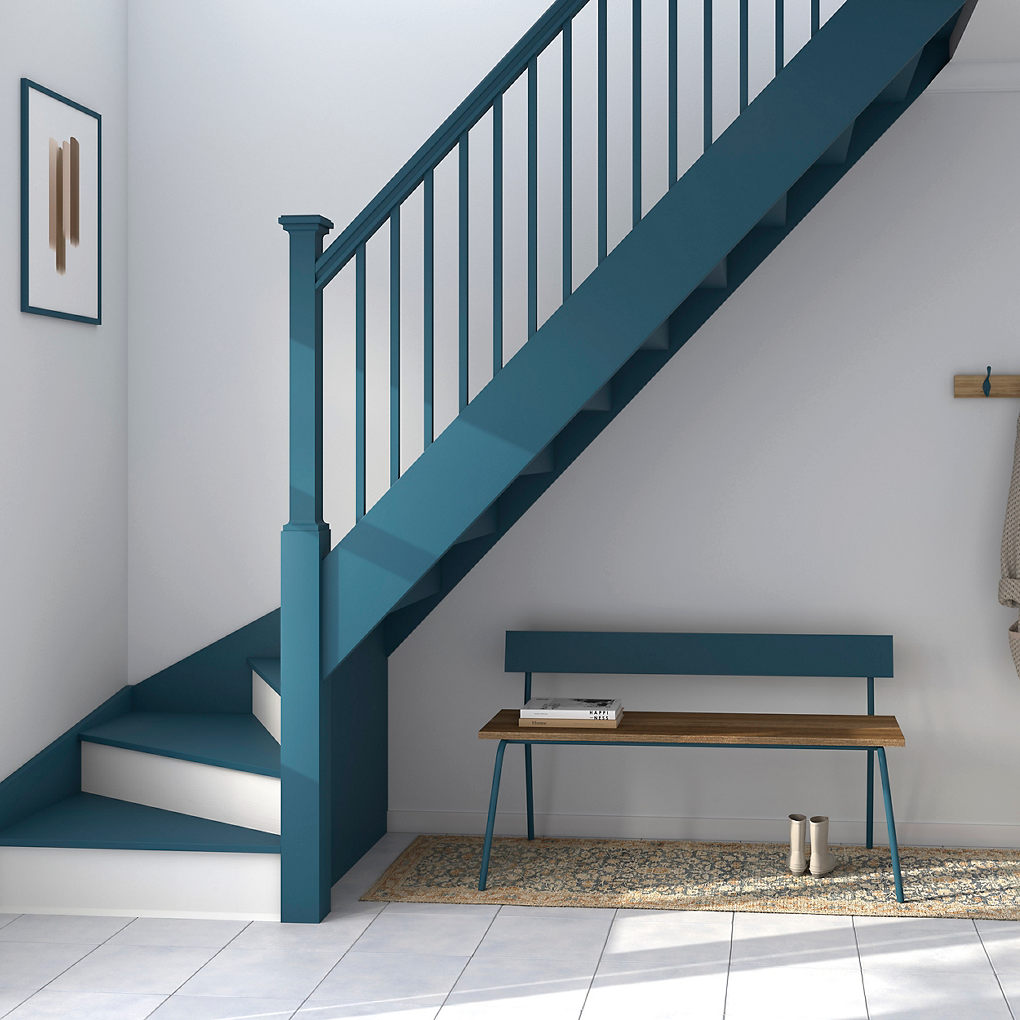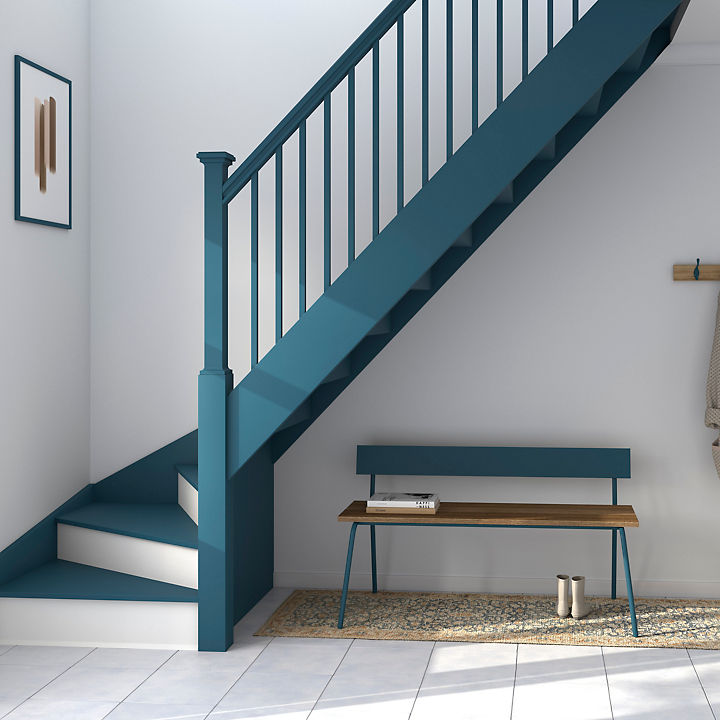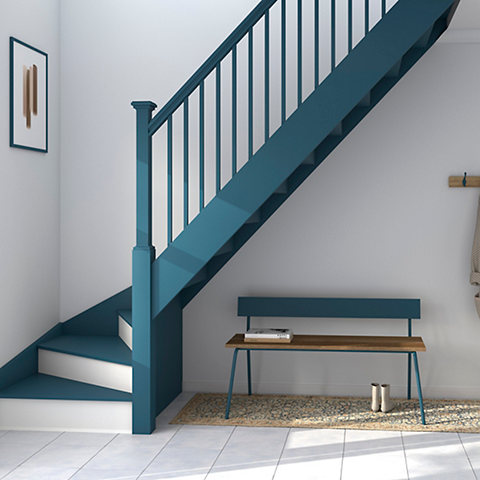 4. Black painted stairs: come to the dark side
Modernize your staircase with a flick of the paintbrush. This stylish black staircase certainly packs a punch, and we're totally here for it. Create even more of an impact by painting the wall beside the stairs in black too. A dark wall makes the perfect backdrop for art prints and photographs. If you're not afraid to make a statement, then a painted black stairway is just for you. It's worth bearing in mind that a dark colour will make your hallway appear smaller, so if you haven't got much space to work with, then you might be better off with a lighter shade.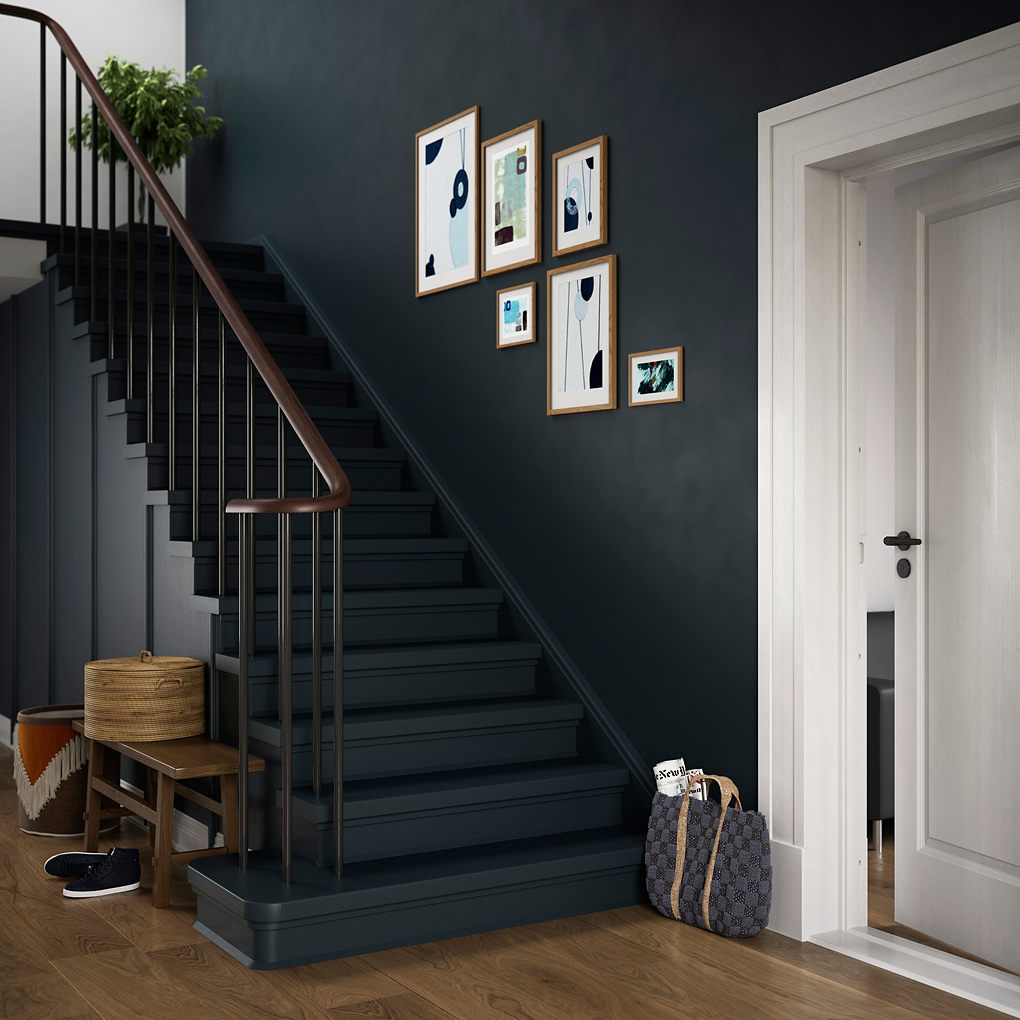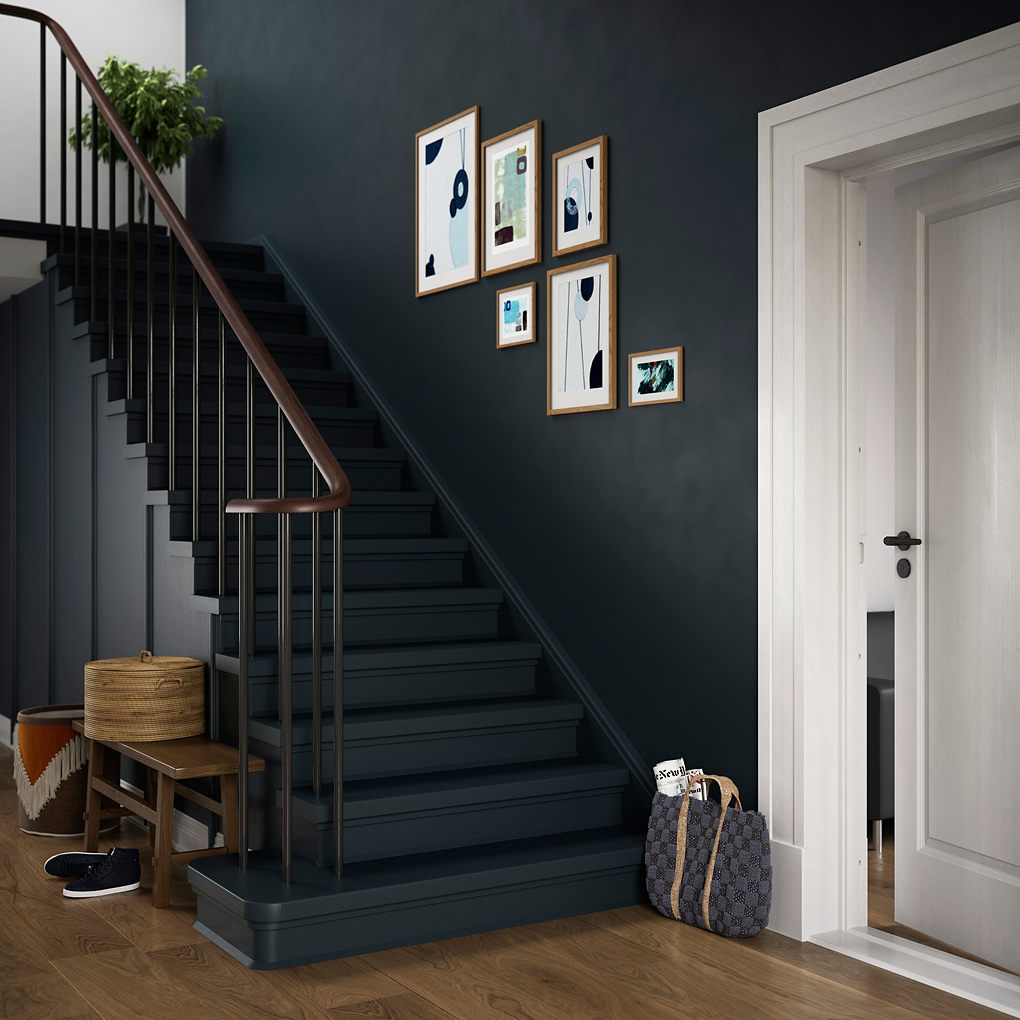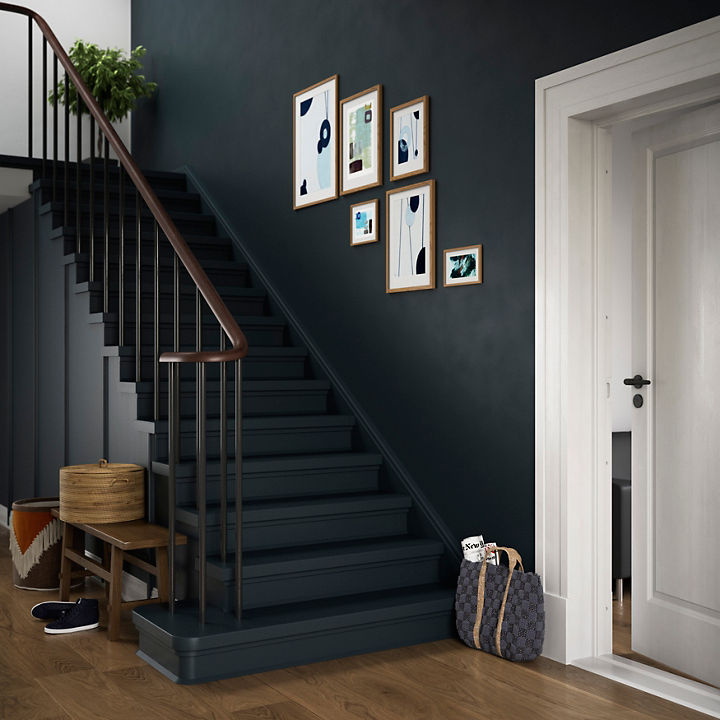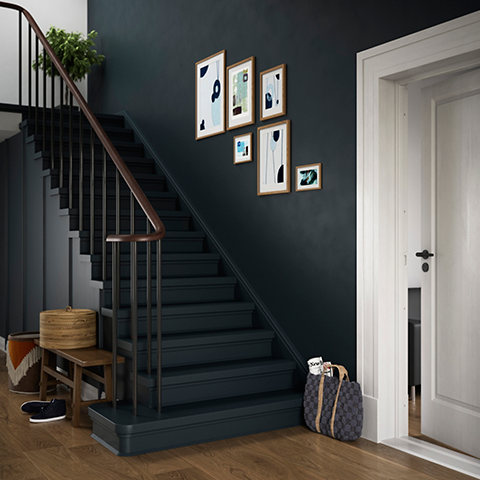 5. Under stairs design ideas
Don't forget to give the space under your stairs some attention too! This vibrant berry-pink home office set up stands out gorgeously against a white painted staircase. We've used GoodHome Himonya to bring this under stairs office to life. Bold colours always look great against a bright white background, and the white desk and chair help to create a cohesive look. We've got a wide selection of beautiful shades to choose from, including lavish purples, golden yellows, and even glitter effect paint.