We remain open and here to help. Customer and colleague safety remains our priority. Whether shopping in store or online, we urge you to follow the Government's social distancing guidelines and to shop responsibly only for what is necessary.
6 creative ways to use sticky back plastic
Transform tired surfaces with striking colours and patterns
Is your home in need of a makeover? Sticky back plastic is a quick, easy and reversible way of giving your décor and furnishings a new look. It has a multitude of uses (yes, it's not just for covering school books) when it comes to home décor. With the help of sticky back plastic, you can smarten up every room in the home. Use it to cover a dull kitchen splashback, or to transform the shelves in your living room.
We've selected six of our favourite sticky back plastic projects. Find some inspiration from our picks, roll up your sleeves and get creative!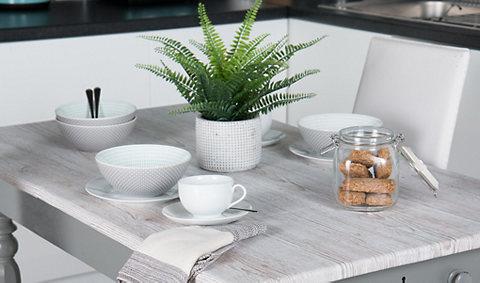 You will need:
Any additional tools will be highlighted on the specific project…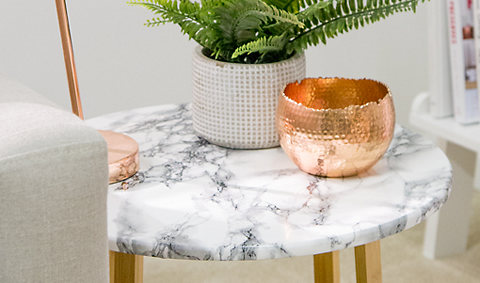 Marble makeover
It's about time we give side tables a little more love and attention. Usually cluttered up with utility bills, mug stains and odd pens – let's help make them shine again. Give your side table a new lease of life with this stunning marble effect sticky back plastic.
To recreate it yourself, you will need the usual tools, a roll of d-c-fix marble film and a hairdryer. First, cut around the table allowing enough overhang to wrap around the sides. Gradually peel away backing paper and use a smoother to stick into place. Use a hairdryer on a low setting to fold and stick the film over the edges (the heat softens the vinyl making it more malleable). Wait 24 hours to allow for possible shrinkage before trimming away excess.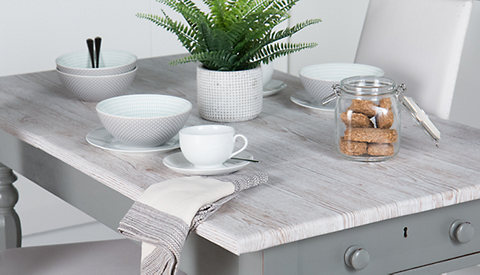 Dine in style
Cover up any scratches, stains and everything else your dining table encounters on a daily basis, with this gorgeous bleached wood effect Pino Aurelio d-c-fix. For this project you will need the usual tools, as well as sandpaper, filler and a cloth.
Prepare the surface to make it flat, smooth and free of dust. Peel away the backing paper a little at a time, smoothing the film out to the sides as you go. Ensure you allow enough to overhang to wrap around the edges. Push out any air bubbles to the side or prick with a pin to release the air. If needed, the film can be peeled back and re-applied during application. Next, cut into each corner and wrap around and stick into place. Trim away excess, and voila you have yourself a brand-new dining table.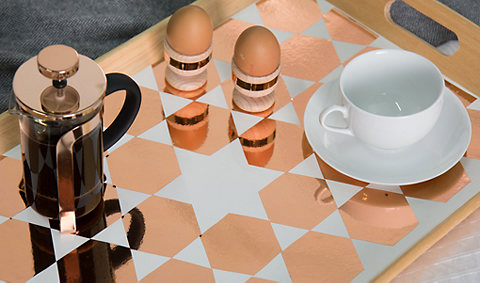 Rose gold geo tray
Metallics and geometrical patterns are all the rage right now. There are tonnes of ways to use sticky back plastic. This method will show you that as well as using the entire roll to cover surfaces, you can also cut the film into shapes to get the finish you want. Transform the look of your breakfast tray with just a few simple steps.
You will need the usual tools, a roll of rose gold d-c-fix and a hexagonal plastic template. Firstly, use the template to draw hexagon shapes onto the film. Cut out several hexagon shapes (you'll want about 30). Peel away the backing paper and apply the shapes flat edge against the tray as a guide. Leave out centre piece to get a star shape in the centre. Why not try this out on shelves too?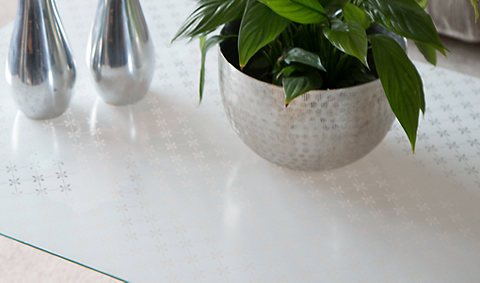 A glassy makeover
Use window film on glass surfaces for an effortlessly chic and classy look. In just after half an hour you can make a lovely statement in your living area.
For this project you'll need the usual tools, a roll of d-c-fix static cling window film and a water spray bottle. Firstly, measure your table, mark out the measurements on the grid on the back of the film and cut. Spray the glass table surface with water, peel away the backing paper and then smooth the film into place. Trim any excess film on the edges using a craft knife.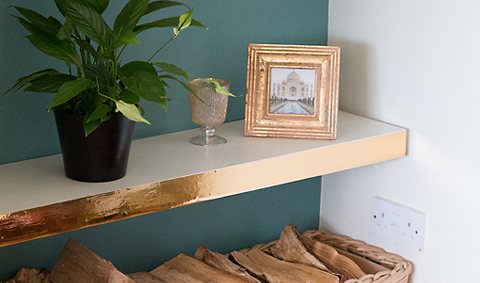 Give your shelves the edge
Feel that your shelves have become dull and lacklustre? Get them looking shiny and new again with a roll of d-c-fix gold effect sticky back plastic.
Make sure you've got the usual tools to hand. It shouldn't take any longer than half an hour to jazz up your shelves! Firstly, measure the length and width of your shelf edge. Mark measurements on grid on the back of your sticky back plastic and cut the desired size. Then use the smoother to carefully fix into place.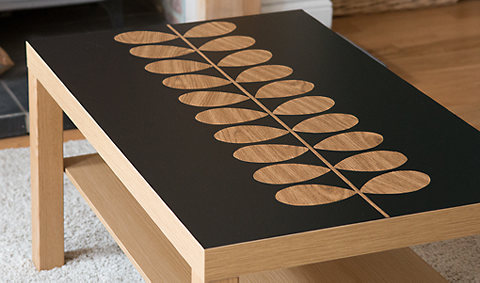 Make a statement
Get the designer look for less with this coffee table. To make this table you will need a roll of d-c-fix matt black and a roll of d-c-fix oak woodgrain sticky back plastic. You'll also need the usual supplies and a cardboard leaf template.
Firstly, measure your table, then measure and cut a piece of the matt black film so it is slightly larger than the table. Start by applying a small section of the film to the table and smooth into place. Trim excess with craft knife. Next, draw around your cardboard leaf template on the back of the woodgrain film. Cut around the shape, peel away backing paper and stick into place. Repeat this process until the whole table is covered.