7 steps to planning a new kitchen
Follow our tips for achieving your dream kitchen
The kitchen is the heart of the home. So, it's important to ensure that the room is functional and practical, however it's aesthetic is just as crucial. Family moments will take place and special memories will be made in this room. You want those moments to happen in a space that you find inspiring and attractive.
We know starting a kitchen project can be daunting. But don't fret, we're here to give you the confidence you need to plan the kitchen of your dreams. With our list of considerations, planning a makeover of this size won't take as long, or cost as much, as you might think. Whether you're looking to start a brand-new kitchen project, or simply want to refresh your cooking space, our Kitchen Hub is brimming with a wealth of knowledge and inspiration.
You're at the beginning of your journey and we're here to help every step of the way. In this article, we'll take you through some key thoughts to help you create your perfect kitchen. Grab yourself a cup of coffee, a pad and pen and start jotting down your thoughts.
Kitchen refresh or refit?
The role of your kitchen
Kitchen priorities
Work that space!
What will it cost?
What does your dream kitchen look like?
Talking to us about your unique 3D kitchen plan
With these steps complete, you'll have a better sense of what you need, and want, from a new kitchen.
Let's get planning…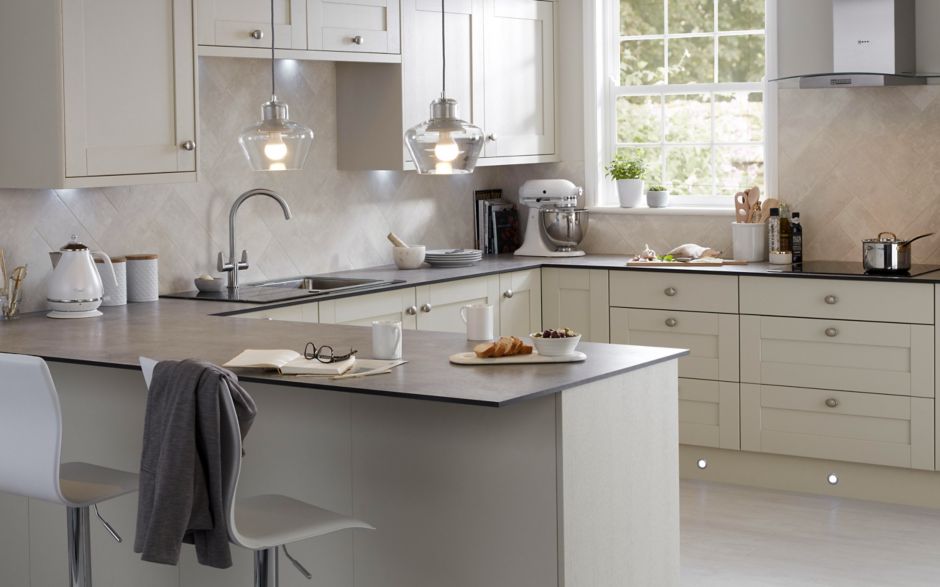 Kitchen planning
What does your dream kitchen look like?
Now is the time to get inspired, and the good news is that ideas are everywhere. Watch home makeover TV shows, muse over magazines, scour websites and scroll through social media, even snoop around the kitchens of your family and friends.
This is your opportunity to think about the look and feel that you want for your kitchen. After all, the prospect of this project might be completely new, or you could have been designing your ideal kitchen in your head for years. Either way, it's time to get a strong sense of how you want to stamp your personality on this most versatile of rooms.
Decide on what materials you want to use. Will you choose a marble effect or solid wood worktop? Do you want a contemporary or a vintage look? What sort of colour theme are you going for? We suggest creating a mood board with a collection of magazine clippings, paint samples and fabric cuttings. That way you can envisage what your completed kitchen will look like.
NB: Our Homefit service will no longer be available from 9 July 2018. Any existing orders will be honoured until 14 December 2018.
With your preferred style of kitchen chosen, it's all about making that dream become a reality.
Articles