Bedroom storage buying guide
Storage solutions for your bedroom
A place to relax, reflect and recharge – keep your bedroom free from clutter whilst remaining stylish. In this helpful guide, we'll talk you through the different bedroom storage options that we have at B&Q, and how to best utilise your free space.
In this guide, we'll be talking about…
Modular wardrobe systems
Wardrobe dressing kits
Freestanding furniture
Sliding wardrobe doors
Decorative shelving
Extras and accessories
Kids bedrooms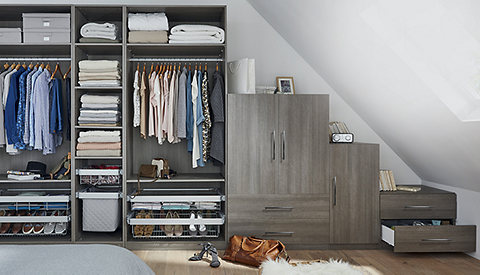 ---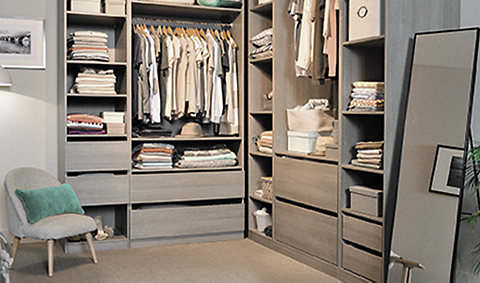 Darwin
There's no 'one size fits all' for Darwin. You can add together as many pieces as you like, creating triple or even quadruple wardrobes. This customisable modular furniture solution allows you to design a unique bedroom set that will suit your individual style and storage needs.
Cabinets are available in white, oak effect and grey oak effect. There are five height and three width options available, perfect for creating anything from a wardrobe to a bedside cabinet. Start off by measuring your bedroom, then pick your cabinet sizes according to your space. After you've decided on your cabinet sizes, choose your internal storage and finishing touches, including drawers, shelves, tie holders, laundry baskets and shoe racks. Use our handy bedroom measurement guide with printable square paper to help you accurately sketch your layout.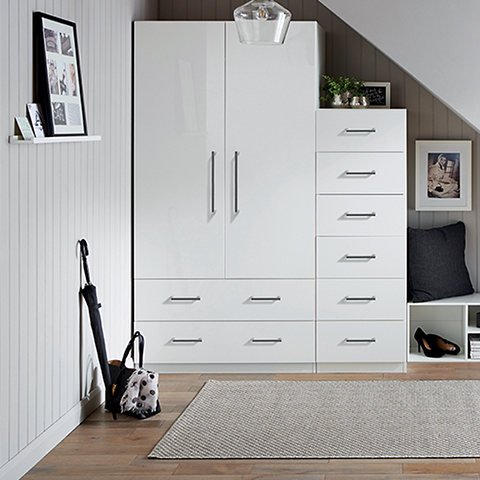 Use doors, drawers and handles to finish off your unique wardrobe. Our external doors are available in a variety of styles and sizes. Why not mix and match your cabinet colours and door fronts? Choose from slab, gloss slab, shaker and shaker glass doors. All the products in our Darwin range are supplied without handles, giving you the flexibility to choose your own. We have a number of options in different finishes to pick from, including wood effect handles, vintage style knobs and steel bow pull handles, and even the option for handleless, push-to-open doors.
If you don't have the time to build your own set – we've pre-designed four of our favourite sets from the Darwin range. Order as individual pieces or as three-piece sets including a wardrobe, chest and bedside chest. Doors and drawers in the sets come complete with handles and a soft close mechanism. The wardrobes include an internal shelf and hanging rail. Bear in mind that all pieces will require assembly, and are not compatible with accessories from modular Darwin furniture.
Our Darwin modular furniture includes discreet levelling feet on all bases, allowing adjustments on uneven floors.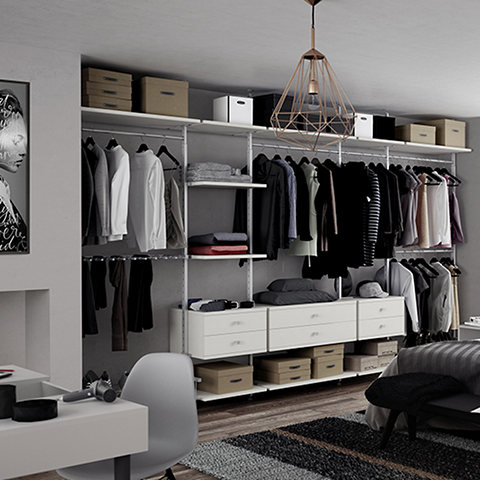 Aura and Relax
Endless possibilities for any situation, Aura and Relax can be built to suit your needs.
The Aura storage system fits floor to ceiling using a simple 'slot' system that allows you to position components every 50mm. Start off by choosing either a small starter kit, or a large starter kit. Then choose any additional components from the range to build your own unique storage system. We have a huge selection of components available, from drawers and shelves to extendable hanger bars and pull out shoe racks.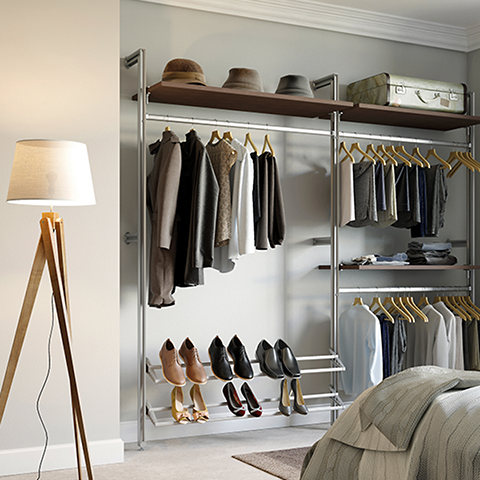 To build your Relax wardrobe interior, pick either a small starter kit or a large starter kit. Then choose any additional components from the range to build your own unique system. We have a selection of components available, from drawers and shelves to hanger bars and shoe racks.
Relax drawers come with a handleless system complete with soft-close, and all components include fitting brackets with each item.
You'll need a depth of 620mm to position Aura and Relax behind our sliding doors.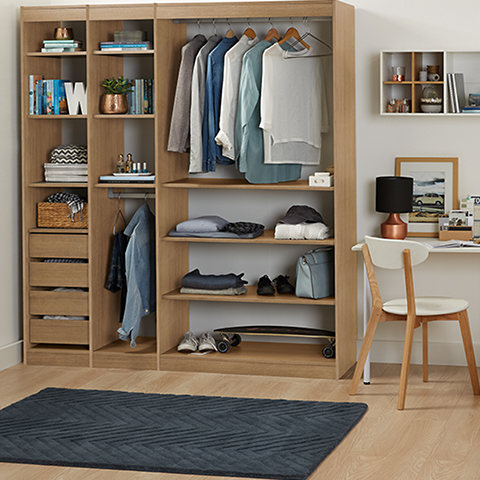 Perkin
Our stylish and customisable Perkin units are hard-wearing and come in a choice of heights and widths to suit your space. The units are supplied pre-drilled making them easy to install, and drawers include soft close. Larger Perkin units must be affixed to the wall for safety and stability. For smaller units, use reinforcement brackets for added strength.
Simply create your Perkin structure by choosing your end panels, top, base, shelf pack and internal panels. Then pick your internal organisation, such as standard drawers, deep drawers and shelves. Complete your project with hanging rails (can be cut to size) and reinforcement brackets. Perkin must be built in the location that it will sit in the room, and it must be assembled vertically.
---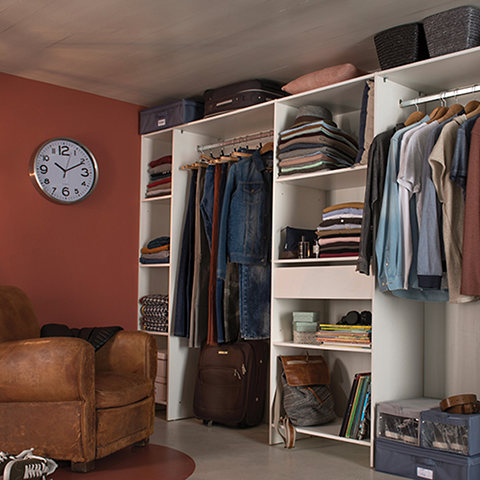 You can combine Pole and Satelit kits for even more storage options. The longer sections are ideal for hanging long garments such as dresses and trousers, while the shelving areas provide great homes for t-shirts and shoes.
Dressing kits are ideal for building a dressing room. All dressing kits can be combined with sliding doors for a sleek and stylish look.
---
Our freestanding furniture range gives you the freedom to move the room around whilst offering a practical and stylish storage solution. Whether you're after a contemporary or a classic look, a natural wood effect or high gloss finish - we'll have something to match your style. Some sets have 2-door and 3-door wardrobe options.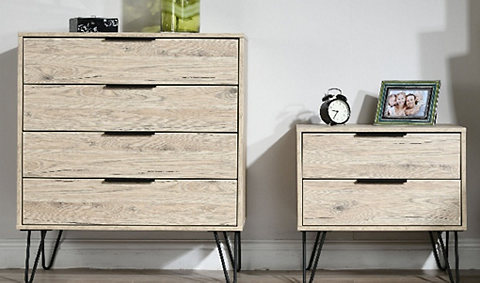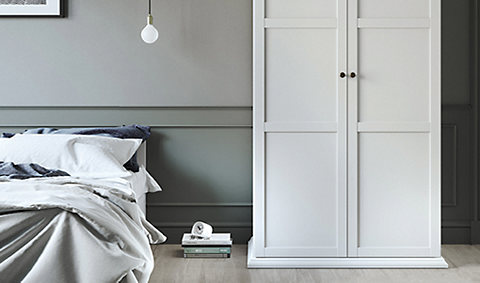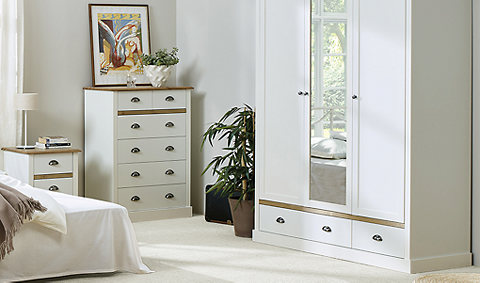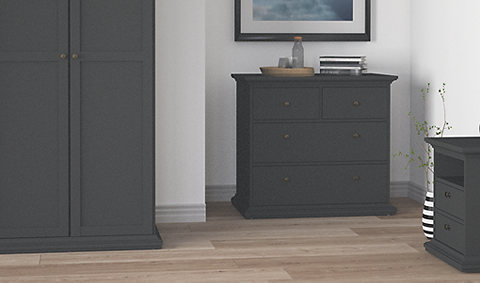 ---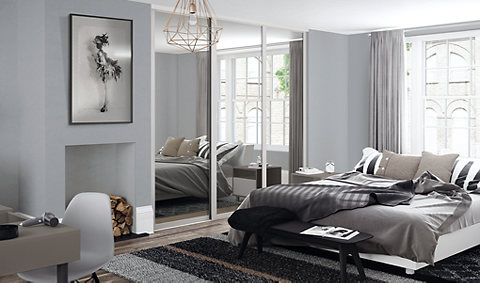 Sliding doors add a touch of class to any room, they're perfect for adding functional storage, maximising your space and making your room appear bigger and brighter. They can be used with Darwin and Perkin, as well as dressings kits, and our Aura and Relax modular wardrobe systems.
Our range of standard sliding doors come in a variety of styles and colours, from single doors to three door kits. Available in an assortment of finishes to perfectly complement your room. To make life easier, our Blizz 2 door kits and Shaker 3 door kits come complete with track sets. If you can't find what you're looking for, we also offer a bespoke made-to-measure service - book an appointment and talk to a colleague about our custom made sliding doors.
Our range includes;
Standard size sliding doors:
Spacepro sliding doors:
Blizz 2 doors kits with track sets
Whether you're after a plain or mirrored surface, the Blizz single door panel will be a stylish addition to your bedroom. Our Blizz white doors can be cut to size to suit your space. All our standard sized sliding doors fit an opening height of 2260mm. If your ceiling height is greater than this, then we have tall sliding doors or accessories to help.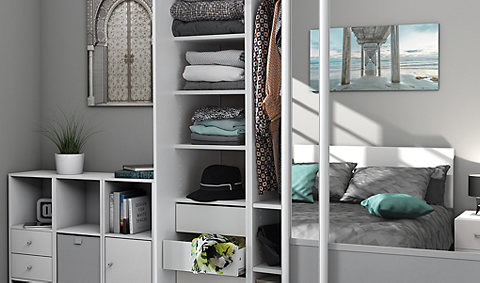 Valla single doors and single mirror doors
Valla single panel doors (excluding mirror) can be cut to size to suit the height of your space. Track sets for all Valla sliding doors are available separately. If you're looking for a mirrored surface, try the Valla mirror doors. Choose from either a white or silver effect frame – and you're able to mix and match with any other doors in our Valla range.
Valla 3 panel mirror doors
Hide bedroom clutter in style with Valla 3 panel mirrored doors. With a partial mirrored surface, you can choose from a range of finishes to complement your look.
Valla industrial doors
With a contemporary design, our black industrial doors are versatile enough to work with several styles and looks. These sliding doors would look great against a rustic brick wall for a Brooklyn-loft vibe, or against white walls for a modern and trendy look. They're also half glazed to allow a wash of bright light to open up the room. Don't forget track sets for all Valla sliding doors are available separately.
Valla and Blizz Accessories
Available to fit all products in our Valla and Blizz range, we have a number of accessories for the perfect finishing touch. From soft close clips to anti-dust seals, they help make life that little bit easier. Our fitting accessories can reduce your opening height by up to 450mm for greater flexibility. Remember to pick up the track sets for your Valla sliding doors – available in either white, silver effect or black.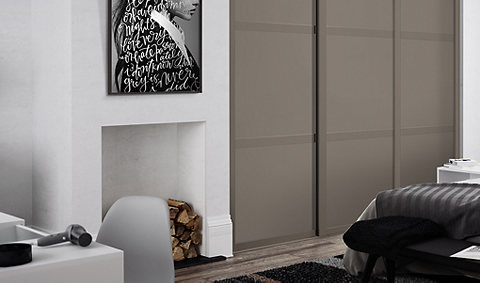 Shaker 3 door kits with tracksets
If it's ease you're after, the Shaker 3 door is the perfect kit for you. With colour matched top and bottom track sets and all the components you need to build it, you can forget having to buy it all separately. All our Shaker standard sliding doors fit an opening height of 2260mm.
Shaker single doors and kits with tracksets
Whether you like minimalist white, or love a traditional oak effect, we've got the style for you. If your room height is too tall or too wide, then our colour matched end panels and fillets will help. They can be easily fitted to reduce your opening height and width. Track sets are available separately – available in white or silver effect.
Minimalist sliding door kits with tracksets
Our Minimalist doors use a slim aluminium frame that maximises the glass/mirror in each design. Available in matt silver and black, this design gives you a striking sliding wardrobe for any modern setting.
Classic sliding door kits with tracksets
Our Classic doors come in a selection of finishes, framed in a simple curved profile to allow for easy opening. Available in a single panel design and multiple finishes, this design offers a simple cost effective solution to all bedrooms.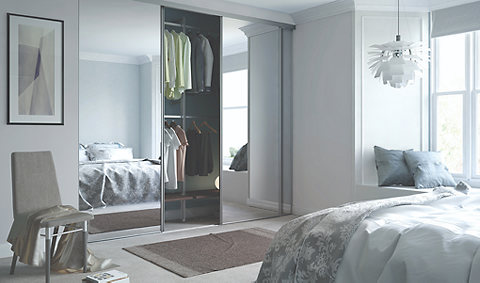 Made-to-measure sliding doors
Our made-to-measure sliding doors are tailor made in the UK to fit any opening from 1.2m to 2.48m high and 1.1m – 4.55m wide - giving you a huge amount of flexibility. Made-to-measure doors are available in a multitude of glass colours and wood effects across three ranges;
Shaker – comes with a range of wood effect frames
Minimalist – comes with aluminium and black frames
Double Sided – comes with aluminium frames
Arrange an appointment in store with a colleague to discuss your options, or visit diy-spacepro to design and order your own solution.
---
---
Keep your clothes and shoes in better shape for longer with the right clothes storage accessories.
Clothes hanger rails
Instead of a wardrobe, why not opt for a clothes hanger rail? Display your favourite garments on a freestanding rail so it's easier to quickly pick your outfits in the morning. You can also hang fabric clothes organisers from the rail to store folded shirts and trousers. We've got a selection of sturdy hanger rails to choose from in a range of colours.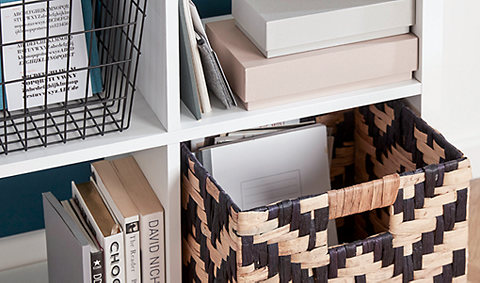 Baskets and boxes
Whether you're looking for plastic storage boxes for under bed storage, boxes to store important documents, or a basket to place on top of your dressing table to store beauty products and accessories - we've got you covered. Choose from heavy duty plastic boxes in a range of sizes, from 1 litre all the way up to 138 litres, as well as stylish metal baskets, wicker and rattan effect boxes and baskets - all in different colours, shapes and sizes.
Laundry bins and baskets
We have a range of laundry bins and baskets, including rattan effect hampers, plastic baskets, wicker baskets and pop up hamper bags which can easily be folded and put out of sight when not in use.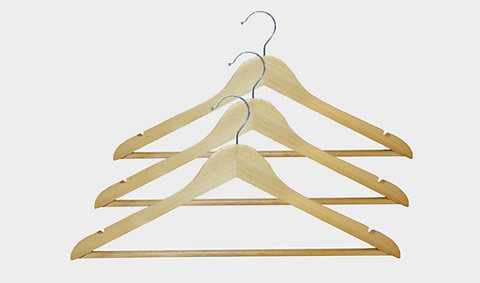 Clothes storage and shoe racks
With our huge range of clothes storage – you'll find everything you need to keep your outfits, shoes and accessories neatly tucked away. Pack winter coats and other seldom worn clothing into our clever vacuum bags and store them under your bed or at the back of your wardrobe.
We have suit bags to keep your formalwear dust and crease-free. Our fabric foldable hanging storage can be hung from a rail in your wardrobe, or from one of our freestanding clothes rails, and we have foldable drawer organisers to keep your socks and underwear all in one place. You needn't worry about losing odd bits of clothing or accessories – as long as you've got our clothes and wardrobe organisers in place.
Store your shoes neatly and safely on a high-quality shoe rack and it'll always be easier to find the pair you're looking for. Choose from wooden and metal shoe racks, as well as a wooden welly rack, so you can leave your muddy wellies to dry off after a walk in the woods. We also sell clothes hangers available in a range of finishes and colours, from wooden to plastic, to flocked hangers in a selection of bold colours.
---
The storage options you choose in a children's bedroom will be much the same as an adult's room. Whether the room is for a toddler or a teenager - we've got a great range of products and useful tips for ensuring your child's bedroom stays organised, clean and clutter-free.
Freestanding furniture
Cube storage
Modular storage systems
Shelving
Plastic storage boxes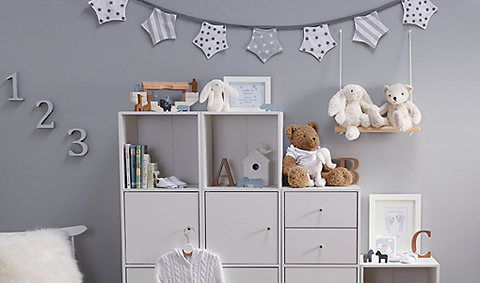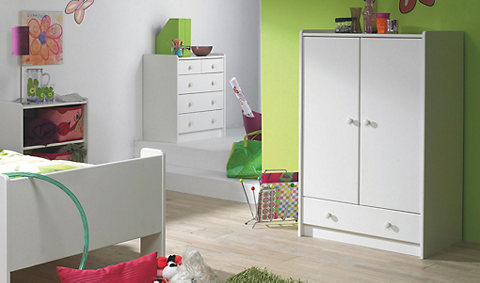 Freestanding furniture
Wizard
With our Wizard range, you'll never need to ask your kids to go to bed again! Ideal for a child or teenagers' bedroom, we have a selection of bunk beds, single beds, desks, wardrobes, bookcases, chests of drawers, cots and even a bed slide that can be attached to sleeper beds, and even beds with built-in slides. We also sell bed tents that kids can use to create their own private den.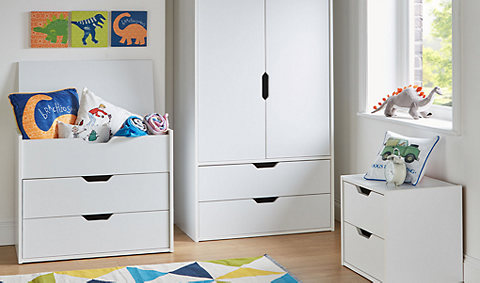 Hartnett
Designed in a soft white with integrated handles and a treasure chest style flip lid, our Hartnett bedroom collection is perfect for children. Available as a 3-piece (2-door wardrobe, 3-drawer chest and 2-drawer bedside table) or 4-piece bedroom set (2-door wardrobe, 3-drawer chest and 2 x 2-drawer bedside tables). Individual items can also be bought separately.
Finish off your kids bedroom with our range of kids décor, including Disney duvet sets and Marvel accessories.
Cube storage
Our Konnect cubes are ideal for children, as they offer a lot of space to easily store away toys, games and books. Low level storage is paramount so that your kids can help to tidy up after themselves. With a variety of colour options and the ability to mix and match accessories and finishes, these are perfect for standing on the floor but can also be wall-mounted.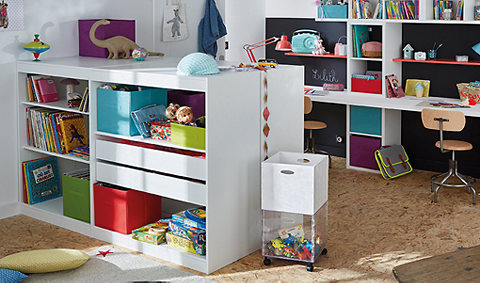 Modular storage systems
A kid's bedroom needs to be able to change and adapt as time goes on – just as your child does. With our Darwin modular storage you can pick the height and width of your unit, and this can be altered over time to suit the growing needs of your children. Choose from a range of colours and finishes – including glass shaker doors, gloss slab doors and even sliding doors.
Perkin would also work well in a children's bedroom. Choose from white, oak effect and grey oak effect. Our Perkin units are supplied pre-drilled making them easy to install, and drawers include soft close for comfort (and to stop kids from harming themselves). Larger Perkin units must be affixed to the wall for safety and stability. For smaller units, we recommend that you use reinforcement brackets to add stability, or if possible also fix these to the wall for added safety.
Decorative shelves
Shelves are ideal for saving valuable floor space, and can be mounted to the wall at any height you want. This means that children will be able to access their storybooks or toys without having to ask for help. Choose from floating shelves, shelf boards and decorative shelves. Our shelves are available in a range of colours and finishes, and don't forget to remind your children that the load should be distributed evenly.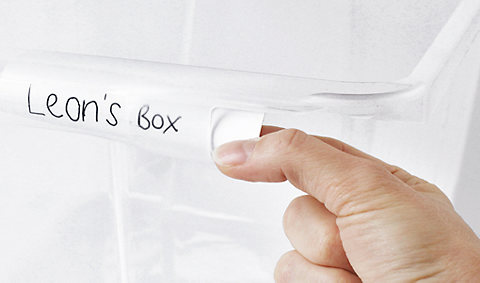 Plastic storage boxes
Plastic storage boxes are useful, functional and versatile. Ideal for storing items under beds or just neatly in a corner. We have plastic boxes in all sorts of shapes, sizes and colours, we particularly love our pack of 10 pink stackable boxes
Our Kaze clear plastic boxes are available in a range of sizes - from 1 litre to 138 litres. They have comfort handles making them easy to carry and are perfect for everyday storage. Kaze can be stacked to create a multi-unit system, and the lids protect items from any household dust. Clip handles are included for easy grip when moving boxes from room to room, they can also be labelled for ease of use.
---
Our installation service
Our installation service makes it even easier to bring your dream room to life. We work with approved installers to coordinate your project from start to finish.
As well as fitting your design to your specification, our installers can complete the finishing touches to save you the hassle.
We provide a 2-year workmanship guarantee in addition to any product guarantees. We hope you'll never need to use our guarantees, but peace of mind is always a good thing to have. Plus, our range of flexible payment and finance options means you can find a plan to suit you.
Find out more about our installation service and book a free planning appointment to get started.