Bespoke worktop buying guide
Made to measure worktops in granite, quartz or solid surface
For the ultimate luxury kitchen worktop, have one custom made. Our bespoke options are completely unique, made to measure and are installed by professional fitters. As well as a stunning finish, they're perfect for kitchens with curved worktops.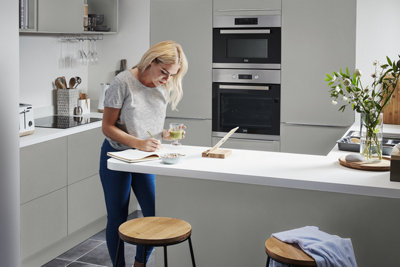 We offer three premium materials for our bespoke worktops - granite, quartz and solid surface (an acrylic material). We offer three different profile options - square edge profile, double 8mm radius profile or bullnose 15mm radius profile.

If you would like to order a bespoke worktop or discuss your options - book an in-store planning appointment to speak with one of our colleagues. You can also use our kitchen visualiser to try out different worktop finishes, paint colours and kitchen ranges.
Granite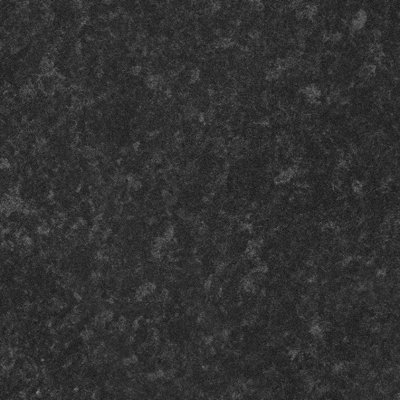 Our bespoke granite worktops are fabricated from 100% natural, solid stone granite.
Each piece is an individual piece of stone
Highly polished finish
Extremely hard wearing
Resilient to staining when maintained correctly
Cladding, panels, sills, splashbacks and legs also available
Responsibly sourced globally
Pan rests and hot rods should be used
Available in a variety of colours
Quartz
Our quartz bespoke worktops are made from 85% natural quartz and 15% man-made materials (resin and colour pigments)
Durable, stable, non-porous and resistant to chemicals
Can be shaped to suit any kitchen design
Consistent in colour, with an even look running through the entire worktop
Pan rests and hot rods should be used
A good alternative to granite
Available in a variety of colours
Solid surface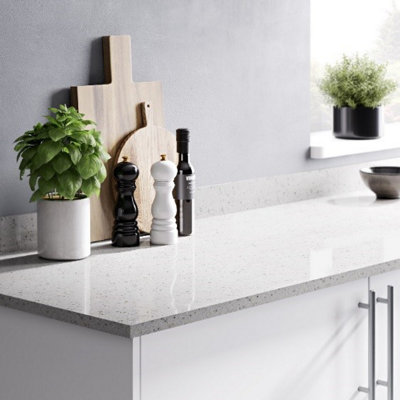 Our solid surface bespoke worktops are made from man-made acrylic materials, comprised of 75% natural mineral and pigments which is set in an acrylic matrix.
Non-porous and non-staining, easy to maintain
Hygienic and warm to the touch
Available with the option to include an integrated sink
Have virtually invisible joints
Optional cladding, sills, splashbacks available
Integrated coved or plant on square upstands available
HI-MACS® solid surfaces can be professionally repaired
Pan rests and hot rods should be used
Available in a range of colours
Dekton
Dekton is an ultra-compact surface made using a process called Sinterized Particle Technology. This high-tech method imitates the change that natural stone undergoes when exposed to high temperatures and pressure over thousands of years.
This surface can withstand high temperatures without burning, scorching or cracking. Hot pots and appliances like crock pots can be placed directly on the surface with no worry of damage. It is also completely stain-proof. Even the most stubborn of stains, like wine, coffee and rust can easily be removed from the surface.
There are many more benefits to Dekton, including:
Highly scratch-resistant
High resistance to fire and heat
Resistant to abrasion
High UV resistance
Waterproof
Colour stability – it has colour consistency from slab to slab, resulting in a long-lasting product that will not fade over time.
Dimensional stability – it is consistent in both dimension and thickness throughout the slab which allows for easy installation.
How to order your bespoke worktop
Book an in-store planning appointment and discuss your requirements with a B&Q showroom advisor. Once you have selected your preferred finish, your kitchen plan can be finalised by our showroom advisor, who will then provide you with a preliminary quote for your custom worktop.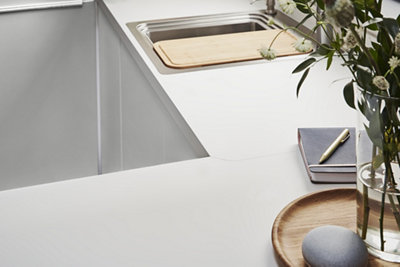 Design and planning
Your kitchen can be planned using our Spaces design tool, which will also create an initial cost estimate. A final price is confirmed once a specialist has visited to measure and template your kitchen.
Digital template
Once your new kitchen cabinets have been installed, one of our specialists will take a digital template of the worktop area. Your bespoke granite, quartz or solid surface worktop will be made, while your kitchen fitters complete the installation of your cabinet furniture.
Installation
5 days (10 days for solid surface) after the design of the digital template, our installation team will arrive to install your new worktop. Then, another visit from your kitchen fitters will follow to connect up your taps, sinks and appliances.
Articles