Contemporary bathroom ideas
Enjoy a modern masterpiece in your shower room, ensuite or family bathroom
Sleek and stylish. The contemporary bathroom is a perfect blend of simple form and high-performing functionality. Monochrome colour schemes, bold curves and angular designs characterise these modern spaces.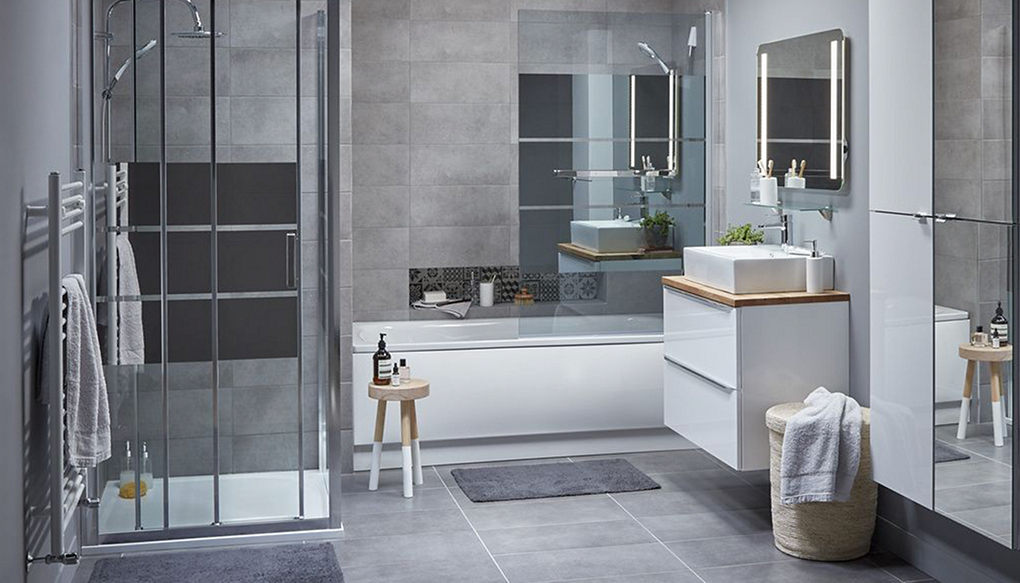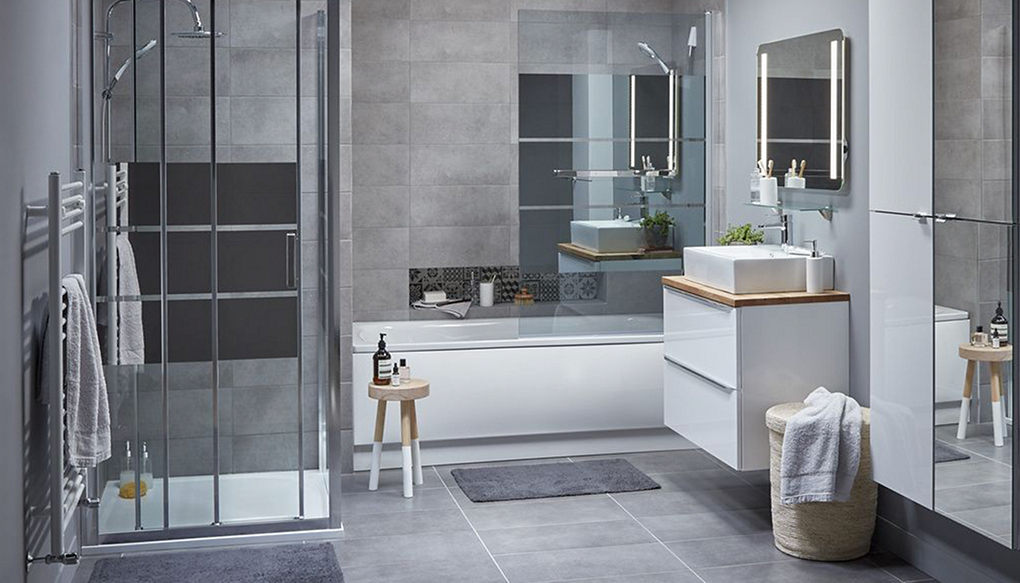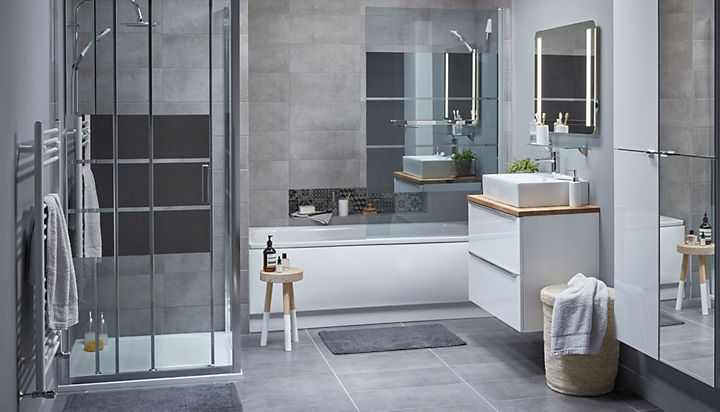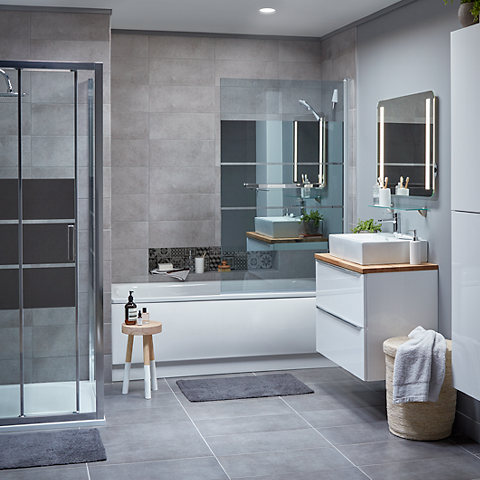 ---
Modern basins break away from traditional detailed shapes. Go bold with strong curves, sharp angles and clean lines.
Wall-hung basins are a staple in contemporary bath and shower rooms. They offer function without compromising on style. Think smooth and rounded basin shapes, like our Helena, or bold and angular like our Ideal Standard Waverley.
Adding a vanity unit brings a streamlined look and minimalistic feel to your bathroom. A wall-hung vanity helps to make a room feel spacious, and is an easy way to hide your everyday essentials. Opt for a high-gloss finish in white, or go dramatic with the darker greys. Try the Ideal Standard Imagine range, with sleek metal handles, and a soft-closing mechanism on all doors and drawers. Add a recessed basin that will blend in seamlessly with the vanity unit. Or choose a striking countertop option that'll free up more room for storage underneath.
Once you've found the right basin, pair it with the right tap. A monobloc mixer tap is a great addition to a contemporary bathroom. Pick a curved or angular design to mirror the shape of your basin. Our Blyth mini basin mixer tap is the perfect pairing for a basin with confident curves, whilst the Osani works with the sharp lines of our Fabienne basin. Why not add a touch of luxury to your bathroom with a stylish waterfall tap? Delivering water in a beautiful cascade for a spa-like experience.
For the ultimate in streamlined modern looks, consider fitted bathroom furniture. You can conceal toilet cisterns with stylish cabinetry. Wall-hung and back-to-the-wall toilets work with these systems, and both help to minimise the amount of pipework on display.
Grey and white high-gloss finishes reflect light making your space seem bigger. We love our Marletti range with its integrated handles and wide range of cabinets and storage options.
Finish the look with a smooth, white toilet seat that blends in with your toilet for a seamless appearance.
When it comes to choosing a contemporary bath, there's a wide range to consider. If you've opted for a basin and toilet with rounded features, choose from a fitted or freestanding bath that echoes these shapes. Our Helena oval curved bath is a great choice. It sits flush against the wall of your bathroom to make maximum use of space, but has a sleek, curved front - making it a real statement piece. It's also twin ended (with the taps in a central position), giving the bath a more modern feel than a traditional bath with taps at one end.
If you've opted for crisp lines and angular designs for your toilet and basin, both straight baths and shower baths can work well with these. Straight baths can be given a modern twist with glossy, flat bath panels. Shower baths are an ideal choice when space is tight, as they'll help you to fit both a bath and shower into your room, without compromising on the comfort of either. Our L-shaped Adelphi shower baths are the perfect complement to more angular bathroom suites. Combine with a sleek frameless glass bath screen for a refined, uncluttered look.
Modern showers seamlessly combine innovation and good looks to offer something that's functional and attractive.
You'll find plenty of choice when it comes to electric, mixer and digital showers with cool contemporary styling. Opt for modern finishes on electric and digital shower units. We love brushed stainless steel effect or frosted glass and chrome-effect shower heads and fittings. For a super-sleek minimalist look, choose a built-in thermostatic mixer shower. It conceals all the pipework and fittings, apart from your shower head and mixer control behind your shower wall. Not only does this option look great, it also makes cleaning a breeze.
Shower trays have come a long way from the clunky white models of the past, and today there's a number of options that will simply disappear into the background of your room. Ultra low profile trays and those with hidden wastes look sleek and sophisticated – and most importantly will allow other features in your bathroom to shine. For even more discretion, opt for a colour that tones with your bathroom floor or a shower tray that lets you tile on top. We love Cooke & Lewis' Piro range that's available in several neutral colours which work brilliantly with contemporary flooring choices. Alternatively, our Liquid shower trays are designed to allow you to lay your own tiles on top so that your shower blends in seamlessly with the tiled floor of your bathroom.
Complement your shower tray with a frameless glass shower enclosure. Not only do they offer streamlined looks, they're also considerably easier to keep clean than traditional shower enclosures - the frameless fittings make it easy to reach every corner. Consider alternative glazing options too, our Beloya semi-mirrored glass enclosures make a striking modern statement in any room.
Making room for everyday essentials and more in a contemporary bathroom is easy with sleek cabinets and clever solutions that make organisation easy and beautiful. Look for modular storage ranges that let you mix and match vanity units with wall-hung cabinets. Our Imandra range combines high gloss doors and drawers with muted colours and slick concealed handles. Add in components from our range of storage boxes that are cleverly designed to slot into the drawers of Imandra vanity units and cabinets, and you'll never lose your favourite lipstick or the family first aid kit again.
For a sophisticated, modern look, a muted monochromatic colour scheme will set off your choice of bathroom suite well. Whites, greys and even black can work well and make a dramatic statement. Using bathroom paint is the easiest way to tie together a decorating scheme in the bathroom, but wall tiles and wall panels can also complement the colour on the walls.
When it comes to wall tiles in a bathroom, they're a practical addition as well as a decorative one. Contemporary bathrooms are the perfect home for larger size tiles, where they'll create a slick, seamless wallcovering that's durable and easy to clean. Matt and gloss finishes both work in modern spaces, but stick to smooth ceramic and porcelain surfaces rather than natural materials to maintain a crisp finish. As an alternative to patterned tiles or borders, experiment laying matching tiles in different patterns such as brick or herringbone, or using a contrasting grey or black grout to accentuate simple shapes. Smaller subway-style tiles can be laid in a variety of designs breathing new life into a more traditional tile.
For practical choice that's easy on the eye, consider bathroom wall panels as an alternative to tiled spaces. Made from high-gloss acrylic, wall panels offer a sleek, seamless surface that's available in a huge range of contemporary finishes – from big, bold colours to subtle stardust sparkle. It's also a simple way to make your bathroom more colourful as well as easy to clean and maintain - there are no joints and grouting to worry about.
Floor tiles remain a popular choice for contemporary bathrooms, and as with wall tiles in this space – bigger is better. Large size ceramic and porcelain tiles in dramatic dark colours, with high-gloss or matt finishes, will look sleek and sophisticated. Seek out those that replicate modern materials, such as our Konkrete polished concrete-effect tiles. Highly polished tiles can also look good, helping to bounce light around your room.
For a seamless finish, try wall and floor tiles that can be used on both surfaces – this will help tie the room together for a super-sleek contemporary look.
With LED technology, there's a myriad of contemporary lighting options for your bathroom that'll make sure it's well-lit for every use.
Start with recessed LED downlights (pictured) or a statement flush light fitting installed on your ceiling for great all-round light. You can then add extra task lighting that'll make your room work harder for you. Above your basin, add sleek chrome wall lights above or either side or your mirror – or add a mirror with integrated LEDs. These are perfect providing a soft glow that'll help to make shaving or putting on make-up a breeze.
Having warm towels to hand when you step out of the shower is one of life's little indulgences that makes a house feel like a home. With a contemporary-style towel radiator, it's possible to make this practical addition to your bathroom a designer statement. There's a huge range of options to suit the size of your bathroom and family. From angular chrome-finish towel ladders available in sizes to fit every room, through to designer models in high-fashion finishes such as copper-effect and matt grey. Black and dark grey choices make a strong statement in monochrome rooms, whilst ladder towel warmers with wide, flat hanging rails add a modern twist in place of traditional curves.
Alternatively, underfloor heating is a sleek, discrete option that works just as well in tight spaces as it does in larger rooms which can be difficult to heat with only a towel warmer. Underfloor heating can be installed under many different types of flooring and makes it easy to maintain a steady temperature in your bathroom, in addition to keeping walls clutter-free for a minimal, polished look.
An essential addition to any bathroom, the secret to using mirrors in a contemporary bathroom is to keep them as simple as possible. Maximise mirrored surfaces to reflect light around the room, making it feel bigger and brighter. Large, rectangular unframed mirrors are an ideal, and budget-friendly, option and can be placed above a basin as well as on any large area of wall. Built-in LED lights are a useful addition if you use your bathroom for getting ready in the morning as they'll provide soft illumination.
Sleek, streamlined and minimalist – the perfect accessories for a contemporary bathroom are less about making a statement, and more about blending in.
Simple chrome or brushed nickel finish hooks and rails make room for more towels and hanging clothes out of the way in a modern bathroom. When it comes to storage out in the open, opt for soap dispensers and toothbrush holders in neutral shades and a matt or glossy finish that matches your choice of tiles.
---