Create a functional work space in your kitchen
Simple ideas to make your life easier
With so much going on in your kitchen, it can be hard keeping everything clean and tidy on the go. But with a little bit of planning, and by making sure you choose the right products, you can make your life a lot easier.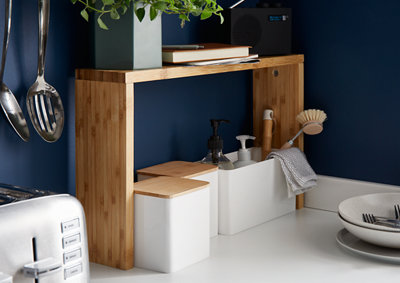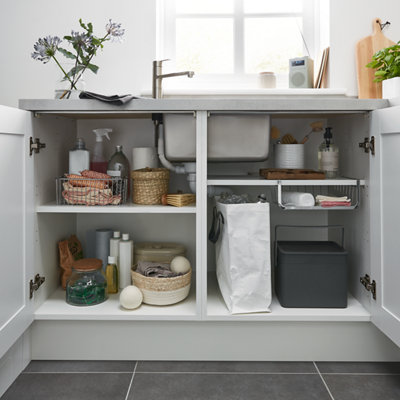 Plumbing
If you're having a complete reshuffle, the first thing to consider when planning your kitchen is whether you'll need new pipework installed. Getting this in place before installing your worktops and cabinets makes it so much easier, and we recommend getting a plumber involved to get you set up.
Clean worktops
They might not be the first thing that springs to mind when planning, but worktops will be one of the most heavily used features of your kitchen. That's why our GoodHome Berberis super-matt laminate worktop is hygienic, heat and scratch resistant, plus it's easy to install.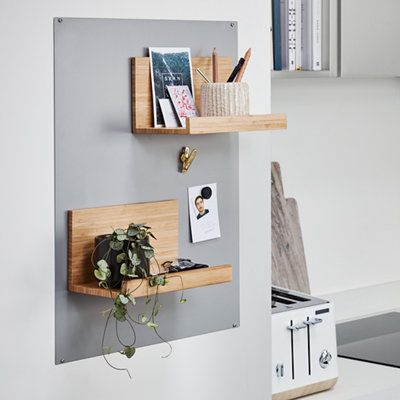 Tidy accessories
To make sure you can clean your worktop with ease, you'll need to keep it free from clutter. Our Pecel magnetic panels help utilise unused wall space between base and wall cabinets. Choose from our handy magnetic accessories and keep utensils and kitchen sundries within arm's reach and off the counter.
Power up
Once your workspace is all set up, it's time to make sure it's well-lit with the right lighting in the right place. When hosting guests, you'll want warming accent lighting to create an atmosphere. And when dicing and chopping you'll need task lighting that's bright enough to get the job done. Our Tasuke integrated cabinet lighting can do both. By replacing the base of your wall cabinet, Tasuke lighting provides a blanket of bright light over your workspace with just a wave of the hand thanks to its intuitive motion controls.
Discover how to create a functional work space below...
Articles