Create a kids chill out zone
A cool area just for the teens
Your home is all about the people who live there. And making each space work for your family in the greatest way. So, when planning your latest project – why not factor in a kids chill out zone?
The kids have a space to call their own – a little oasis after a busy morning playing, or before bed to wind down and relax. And you get to do your thing but still keep an eye on them.
You don't need to anything too flashy to create a cosy corner just for them…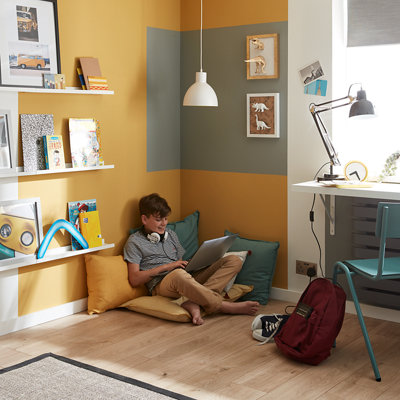 A few ideas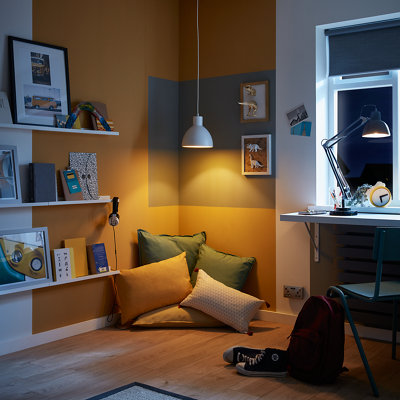 A bright coloured rug and some matching cushions. A blackboard wall. You could add some open storage or use picture shelving for a bookcase. A scaled down table and chairs or a bench.
What about a reading nook with super soft seating such as bean bags? Display their artwork and even showcase it with strings of fairy lights.
And zone the area using paint. Perhaps use elements of nature like mountains or greenery for a totally zen den! Maybe go for a bold, contrasting colour to define the area completely?
Choose your space
You don't have to have loads of space to create a kid's area. In fact, the smaller the better. Do a quick inventory of the least used areas of your home, the awkward spots, the spare rooms and the alcoves. Empty hallways, sunny windowsills, under the stairs is a deliciously cosy space for a kids chill out area. You could even make a DIY fort and fold away your materials when you've finished chilling.
Think about all of the senses when you're planning your chill out zone. A surround sound system or lightweight headphones hung on pegs on the wall. A soothing scent – no candles for little ones. A ball pit. A cool chair that hangs from the ceiling. Sensory lights and textured materials. The options are endless.
Your children are going to love the special area you create just for them. A little place to call their own and to escape to as and when they need it. It might just bring a little peace to your life too!
Articles