Create three spaces in one
Totally transform your child's bedroom
Your child, and their needs, are changing all the time… right? So, their bedroom is a great place to create dedicated areas for the three most important things in their life – sleep, play and study.
No matter what size, shape or layout their bedroom is, it's not too difficult to define areas and totally transform their bedroom.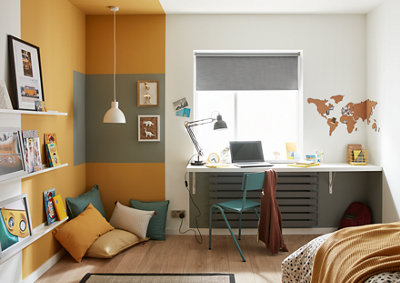 The three zones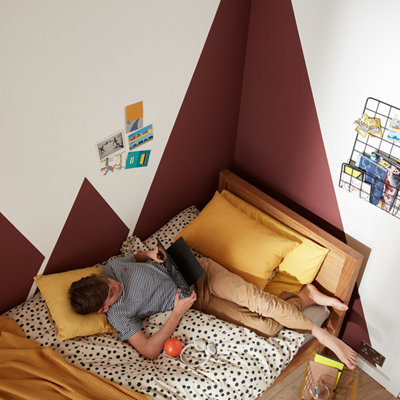 Sleep. It's got to be a tranquil spot. Painting this area a deep, moody colour will help with a successful bedtime routine and a rejuvenating sleep. In contrast, pastel pink, fresh green and pale lemon can be calming colours for bedtime.
Most children sleep better in the dark, so cut out streetlights and sunrise with a good blackout blind or curtains. Invest in a comforting nightlight for little ones who aren't fans of complete darkness.
To create a serene feeling, ban the clutter and chaos by adding some clever storage. Using labelled drawers or tubs makes it easier for your child to take responsibility and pride in their neat and tidy bedroom.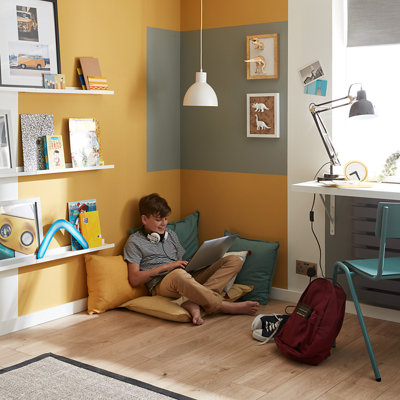 Play. After all of that sleep, wake up all of their senses and go bold with colour, shapes and different paint effects in the play area. You'll want the play area colour to work with the sleep area, not against it. So, choose colours from the same palette for a cohesive feel.
You can draw a line between sleep and play with a floor mat. A road mat is great for stimulating younger children's imaginations. For older children, a deep-piled, cosy rug is perfect for hours of doll playing or building.
You may have totally opposing ideas as your child when it comes to decorating their play area but try to meet somewhere in the middle. This is their very own space within your home. Plus, themes and fads can be easily swapped in and out with decoration and soft furnishings.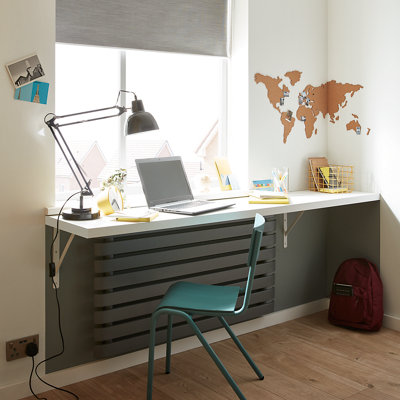 Study. Keep this area fresh with neutral colours, and if possible, next to a window so they get a good source of natural light to help them focus. Nature has an energising quality too, so add some indoor plants. And maybe some motivational wall art.
A floating shelf is great when space is limited. Plus, when the floor space is free of legs and storage, it's adds to the feeling of space and cleanliness.
Above all, make it personal to them. Perhaps find space on the wall for their achievements to take pride of place. Certificates and awards will help inspire hard work.
There you have it! Three spaces in one room for them, and some serious respect for you.
Articles