Designing your kitchen around key activities
Consider these five elements when planning your kitchen
We use our kitchens for all sorts of things – food preparation, cooking, storage, cleaning, and dining. So consider the space and these five elements when you're planning your kitchen.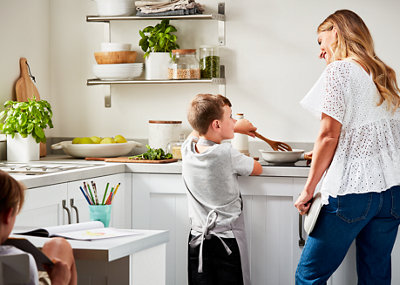 Food preparation
Food preparation areas need to be clean, spacious, and well-lit. Our GoodHome Berberis worktops are specifically designed to be durable and easy to clean, making them the perfect work surface for busy kitchens. We recommend that a preparation area for one person is at least 90cm wide and lit with bright task lighting. Or, why not use something like our Tasuke integrated cabinet light? It can quickly adjust between task lighting and warmer, more atmospheric accent lighting.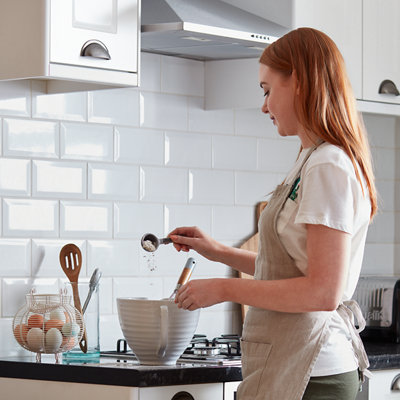 Cooking
Appliances like ovens and microwaves can be installed in a number of ways. We have options that can be built-in to a base cabinet or ones which can be banked in vertical or horizontal larder cabinets. Try to keep cooking appliances grouped together. They should also be away from wet areas and with adequate space around them (30cm for hobs, 40cm for ovens) to give you enough space to set down hot pans or oven trays.
Storage
Storage is crucial in a busy kitchen – with so many different items to put away. From cutlery to spices, everything needs to have a place where it fits, is easy to access when you need it, and easy to organise. Our Caraway cabinets, Soto drawers and Pebre internal storage ranges are all designed to give you maximum flexibility. You can even use them to create clear zones that are specifically designed to store the things you need.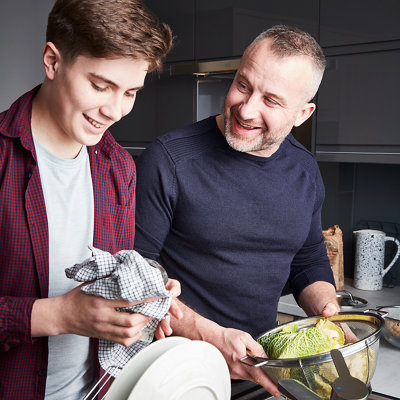 Cleaning
Once you have your dream kitchen, the last thing you want to do is spend every waking minute cleaning it. That's why our products are designed to make your life easier. First off, give yourself somewhere to put cleaning supplies – our Pebre under-sink drawer and Datil sink caddy are both perfect for this. Many products in our ranges have easy to clean features – like rubber aerators on our tap that let you just wipe limescale off as it forms. Finally, make use of our innovative Kora bins range to help you sort waste without taking up too much space.
Dining
If you have enough space, breakfast bars and islands are a great way to integrate a dining area into your kitchen. Make your kitchen more of a social hub by putting your hob on the island so you can chat and cook. Accent lighting and plug sockets in the island are ideal for getting homework done and charging up those all-important appliances. And, when it comes to dining, bar stools create a pop-up space for speedy suppers or why not leave enough space for a dining table?
Carry on reading to find out how you can design a kitchen around these 5 areas...
Articles