Fitted kitchen buying guide
Explore style, finish and colour options to find the right kitchen
You've flicked through countless magazines, whiled away hours on Pinterest and read our guide to planning your kitchen. And yet you're still not sure what fitted kitchen you want. How to decide when there are so many options?
Firstly, let's not press the panic button just yet. Abundance of choice is good. And when it comes to fitted kitchens it's even better. Gone are the days when everyone's kitchen looked the same. With new innovations in colour, design and functionality, modern kitchens can be as distinctive and individual as every other room in the house.
And here at B&Q there's no one size fits all approach. Fancy mixing modern with traditional? Great, let's go for it. Want to mix and match colour? Sure, of course. Remember – there's no right or wrong way to select your fitted kitchen. It's all about what works best for you and serves your needs.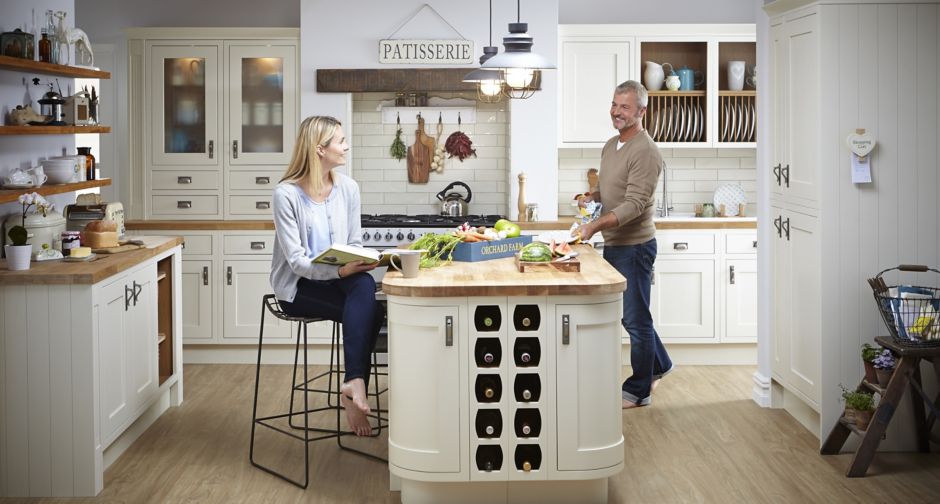 How does the kitchen fit with the rest of the house?
For many of us, the look of our fitted kitchen is the number one consideration. But sometimes it's not as simple as just personal taste, there can be other factors to think about. These include, but aren't limited to:
What's the age of the property? Centuries old homes look and feel different to new builds, so if you're keen that your fitted kitchen suits the rest of your home's character, choose one that complements rather than contrasts.

Does the kitchen have an open-plan design? If so, it can be difficult to stamp a different personality on this space compared to the rest of the room. If you do opt for a separate look, think about how the two will merge into one another. Will it be a gradual change or a more defined stop and start? And while it's important to understand how these, and other, factors might affect your choices for a fitted kitchen – they don't have to limit them. They're just potential factors.
The three big kitchen considerations
At B&Q, we've been helping our customers achieve their kitchen dreams for over 40 years. And in that time, we've learned that choosing the right fitted kitchen often breaks down into three key questions:
What style?
What finish?
What colour?
Here we'll look at these different elements of the fitted kitchen to help you find the right one for your home.
Kitchen styles
In the broadest sense, the kitchen style spectrum ranges from traditional through to modern. And in our planning article, we looked at how to find your signature look with five of our favourite on-trend kitchen designs. But how to find the right fitted kitchen to match your style?
Below, we offer our recommendations on which of our fitted kitchen ranges suit different kitchen styles. Remember that the style scale is incredibly wide-ranging and that there are plenty of options along the way. You can go full-on with one style for a very coordinated look or mix and match elements to create something more quirky and personal to you.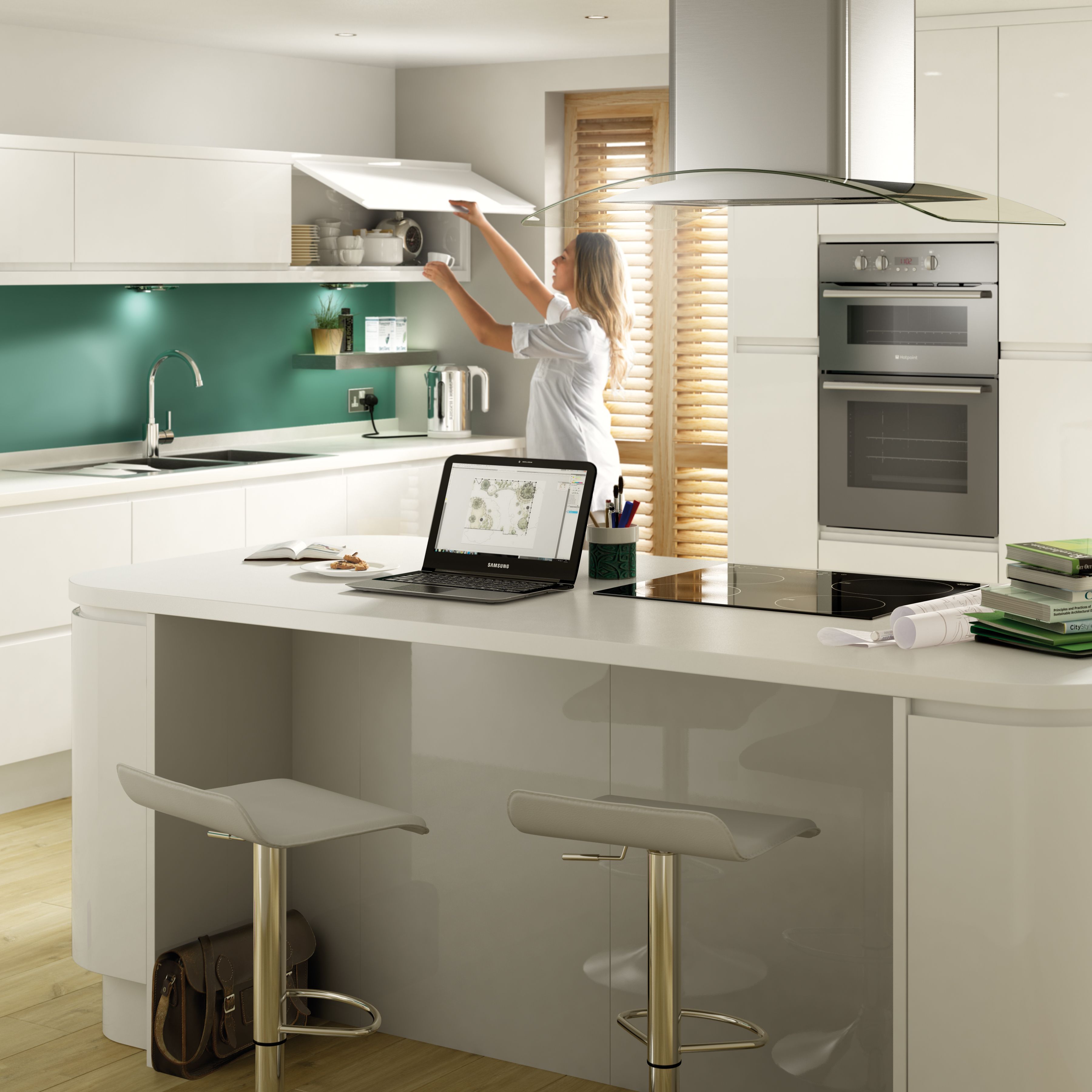 Contemporary kitchens
To achieve a modern look, we recommend a slab kitchen. This features kitchen cabinet doors and drawers with no frame, detail or panelling – just clean, crisp lines.
We offer the following fitted kitchens in a slab style:
The Appleby and Marletti both boast cabinets and drawers with integrated handles for a seamless style.
Traditional kitchens
For a more classic look, we recommend a Shaker-style kitchen. This timeless design consists of kitchen cabinet doors and drawers with inset panels. The panels can be styled in two ways, either:
Flat – the centre of the panel is flat offering a more contemporary spin on Shaker
Raised – the centre of the panel is raised/ has a profile for a more conventionally traditional kitchen
We offer the following flat panel Shaker fitted kitchens:
We offer the following raised panel Shaker fitted kitchens:
The IT Chilton White Country has tongue and groove style panelling for even more rustic charm.
Kitchen finishes
Here's where practical concerns start to merge with stylistic choices, as the finish of your kitchen can be as much about durability and upkeep as look and feel. So think about what balance is right for you.
There are three main choices of fitted kitchen finish – gloss, matt and wood.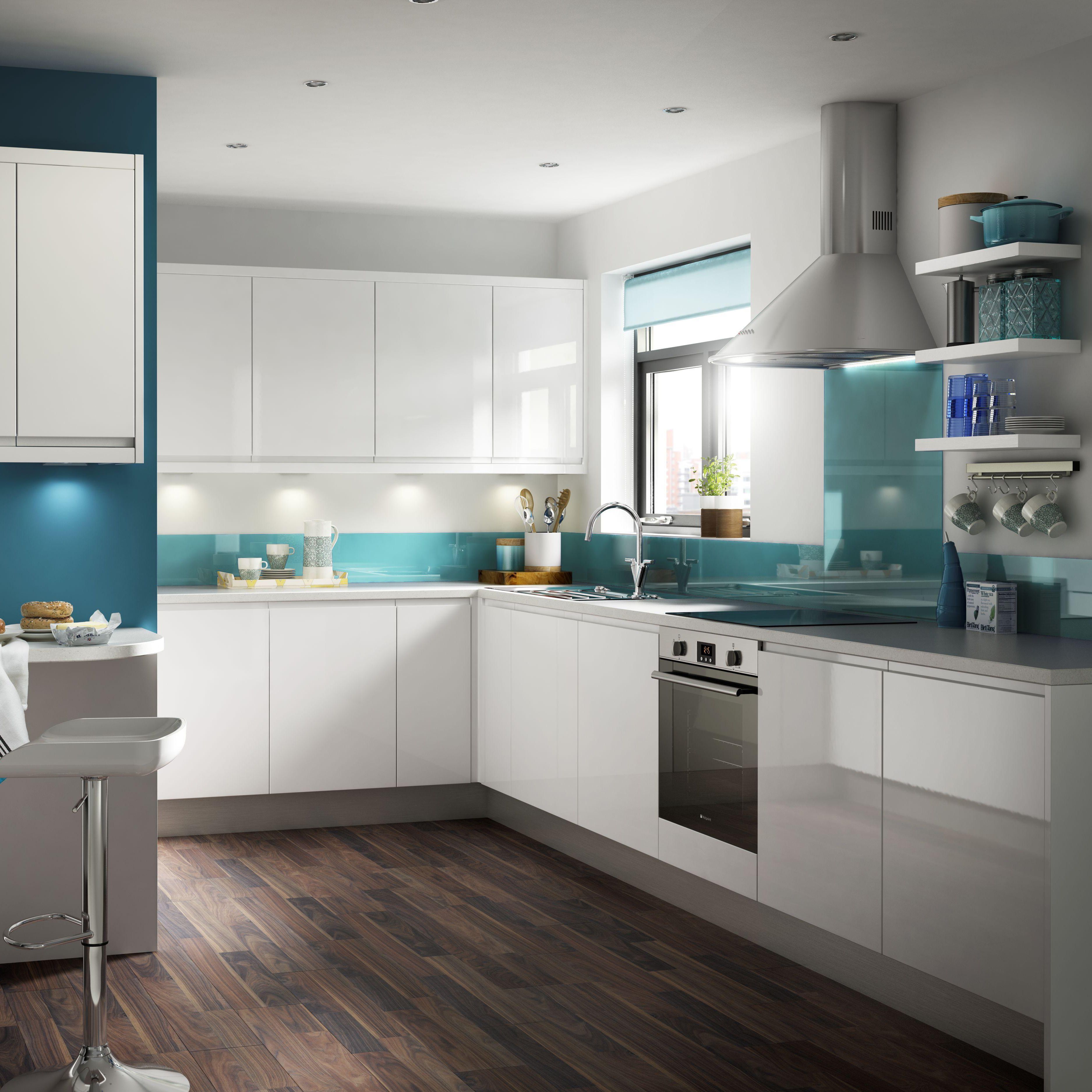 Gloss finish kitchens
This offers a shiny, smooth surface that reflects the light. Because of this, gloss kitchens in paler shades of white and cream can help make a small space seem airy and bright – ideal for compact kitchens.
They're also available in other eye-catching, vibrant shades and complement a contemporary style. The gloss surface is easy to wipe clean, but can show fingermarks – something to think about for busy, family kitchens. For a premium effect, look for an ultra-high gloss finish.
We offer the following gloss finish fitted kitchens: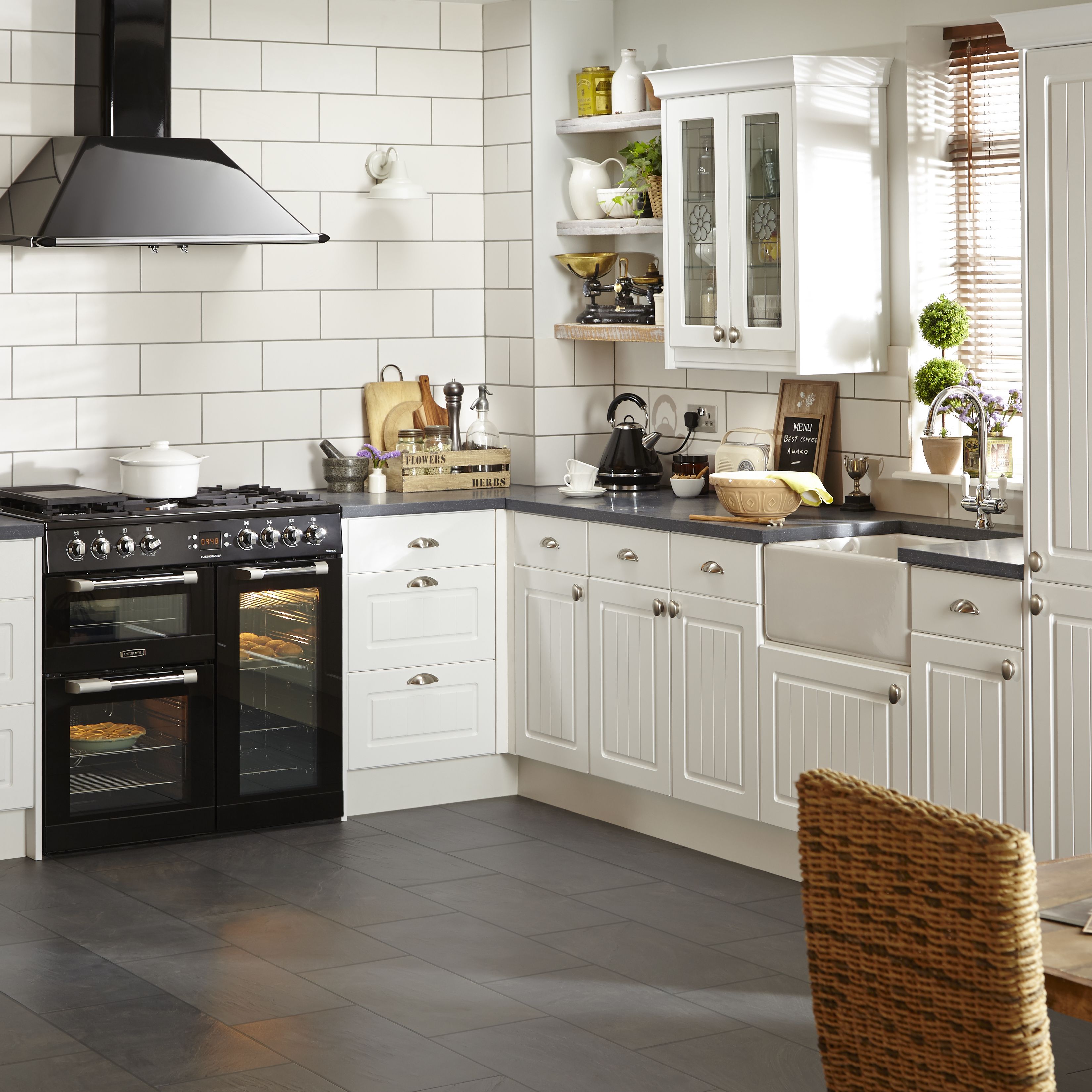 Matt finish kitchens
In contrast to the gloss, the matt finish absorbs the light, rather than reflecting it. This leads to a more muted and understated look. It's more forgiving to fingermarks and is becoming an increasingly popular look for other kitchen items, such as sinks and taps.
The matt finish is also offered in a selection of colours, with sophisticated shades of grey and ivory very on-trend.
We offer the following matt finish fitted kitchens: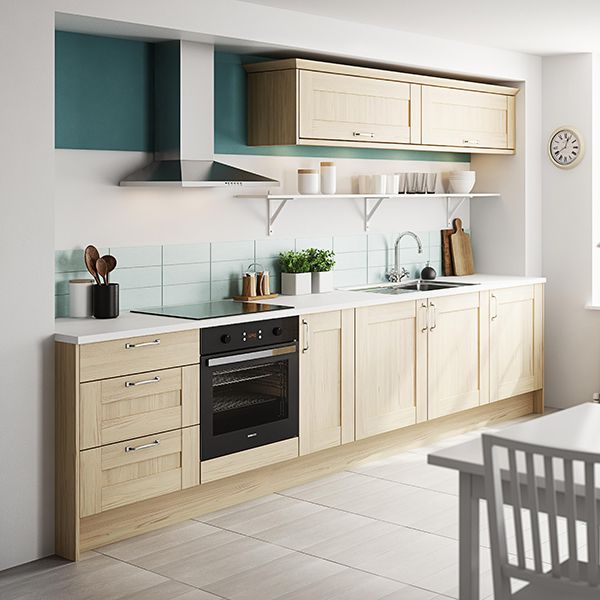 Wood finish kitchens
As the name suggests, this look evokes the natural grain of wood. This rustic feel makes it a firm favourite in country and farmhouse kitchen styles. Choose between those that feature a wooden veneer (great for a consistent, uniform look) or are made from solid timber (complete with knots and other natural imperfections). Wood finishes are hard-wearing and hide scuff marks, and are available in natural shades of wood or painted.
We offer the following wood finish fitted kitchens:
Kitchen colours
Colour gives personality to kitchens, breathing life and energy into the room and giving it a certain ambience. It can be bold or subtle, classic or unconventional, fun or sophisticated. With colour comes mood, so think about the atmosphere you wish to create. This can be heightened further by clever lighting and other decorative touches, but your fitted kitchen establishes the foundation for the kitchen's colour palette.
Go for red or aubergine for dazzling impact; black or grey for urban elegance; or cream and white for timeless calm. If you're looking to sell the property, perhaps consider a neutral shade for broad appeal; or mix and match colours for a look that is bespoke and individual - this works especially well with the Cooke & Lewis Raffello ranges.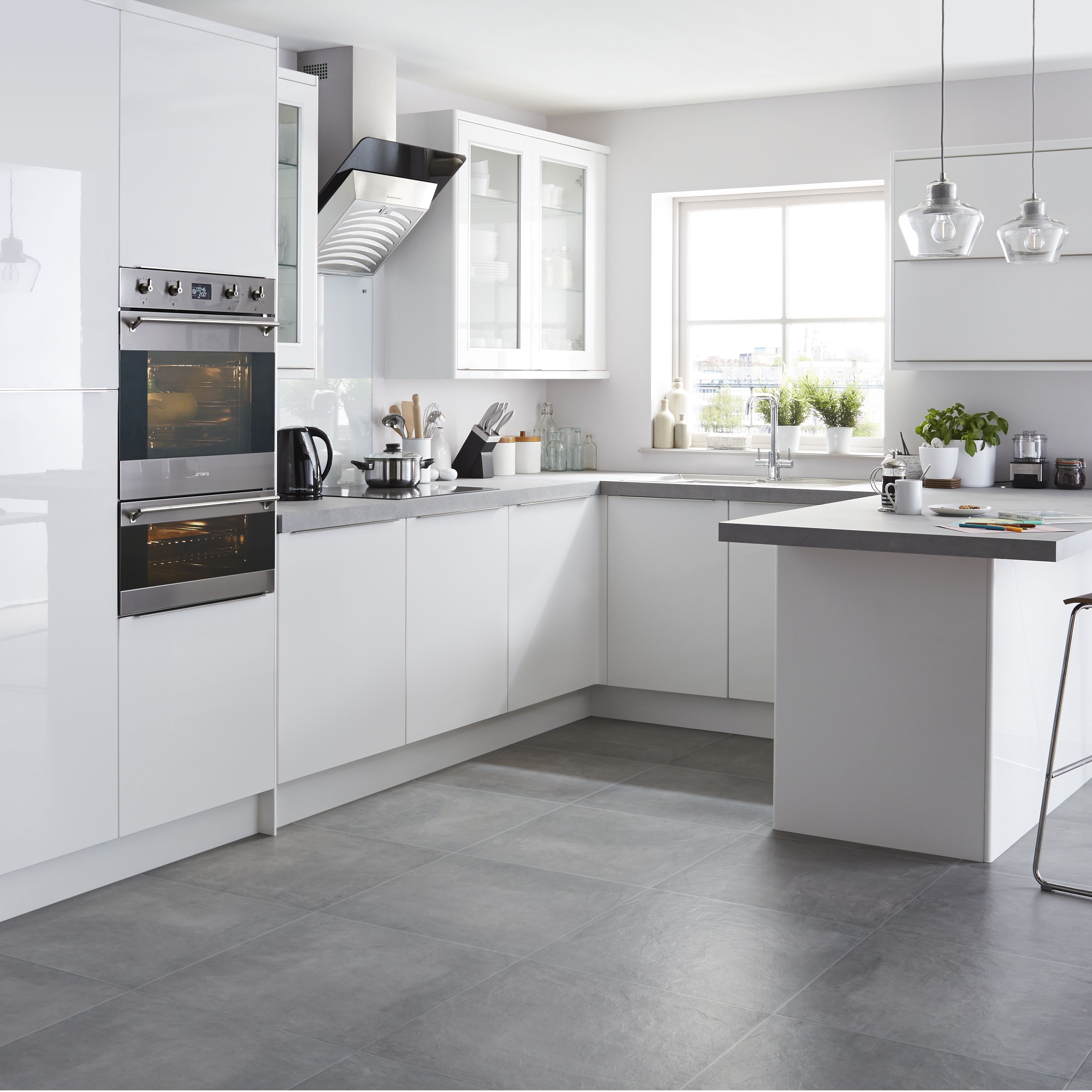 White kitchens
We offer the following fitted kitchens in white: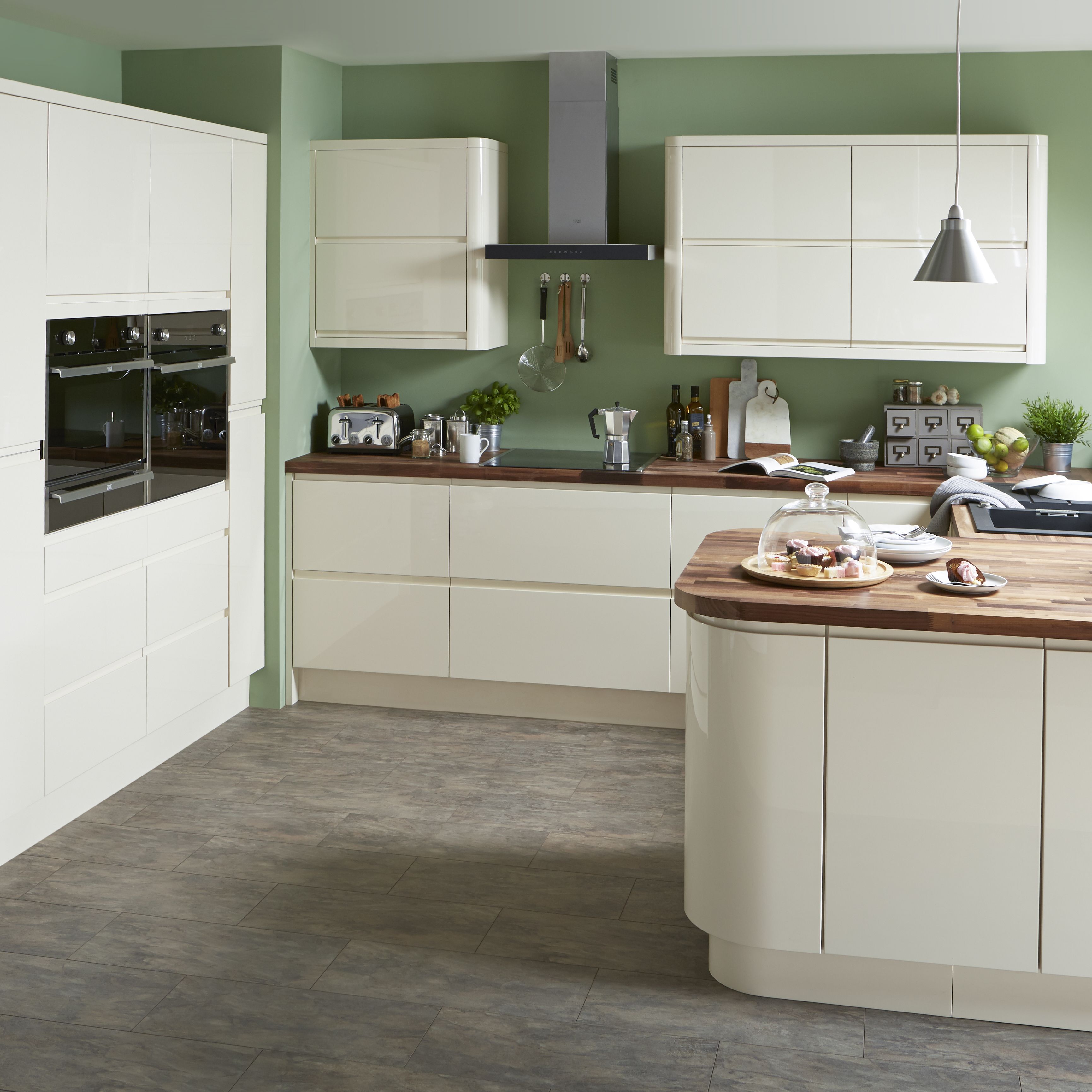 Neutral kitchens
We offer the following fitted kitchens in neutral shades: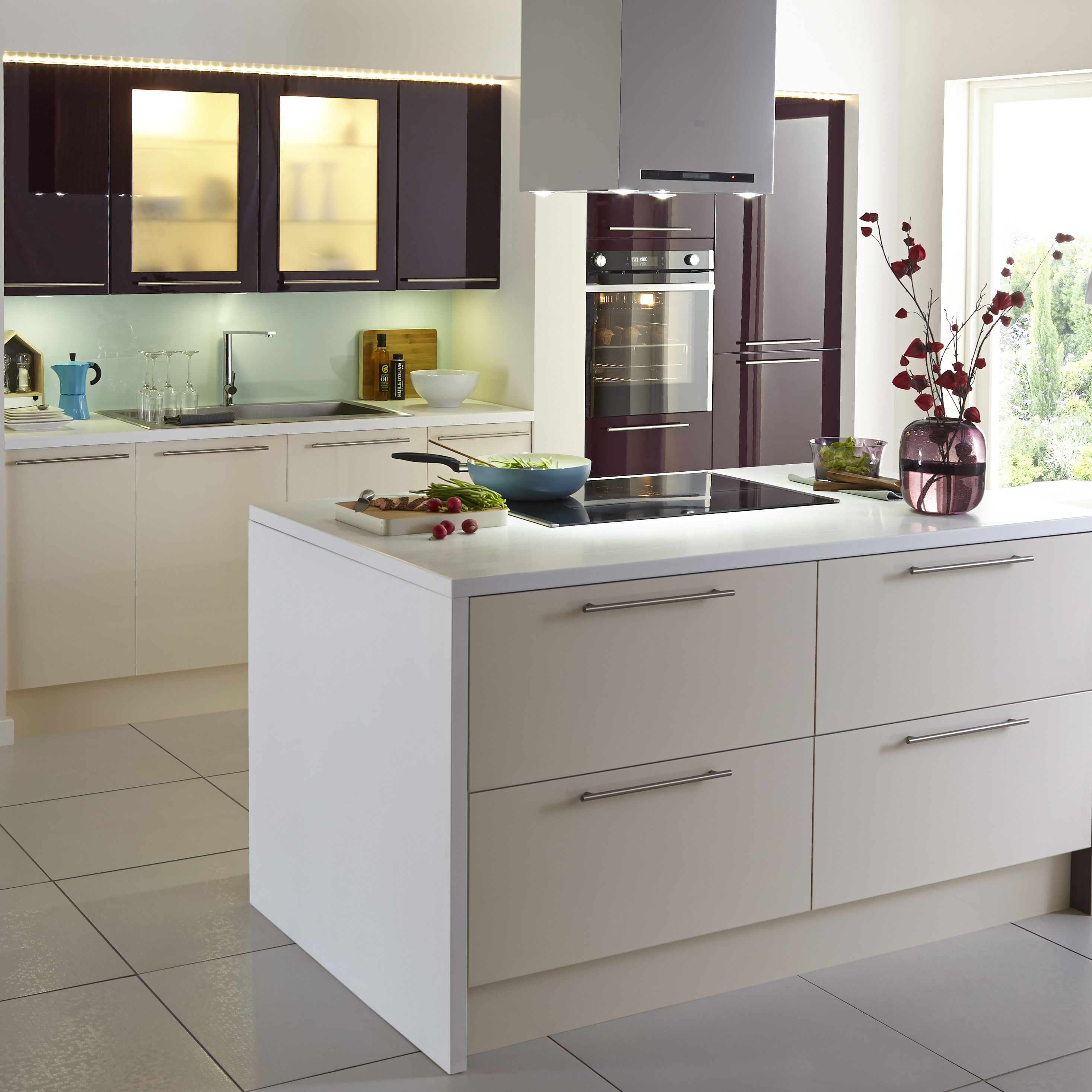 Grey and other coloured kitchens
We offer the following fitted kitchens in grey shades:
Ready to start measuring up?
Now that you're armed with ideas for your new kitchen, it's time to prepare for your free B&Q design consultation.
We ask that you bring a couple of things with you to get things moving as quickly as possible, so please read our checklist in the article (link below) to make sure you're ready to go.
Read How to prepare for a kitchen design consultation
Articles