How to choose mix & match curtain poles
Pick the right curtain poles, brackets and accessories
Whether your home has bay windows, recessed windows or surface-mounted windows – we have the appropriate brackets, as well as the information you need to successfully dress every window.
Read on for expert advice as well as a step-by-step guide to using our mix and match curtain pole range. If you're still at the stage of picking your curtains, voiles or blinds - read our guide to choosing curtains and blinds.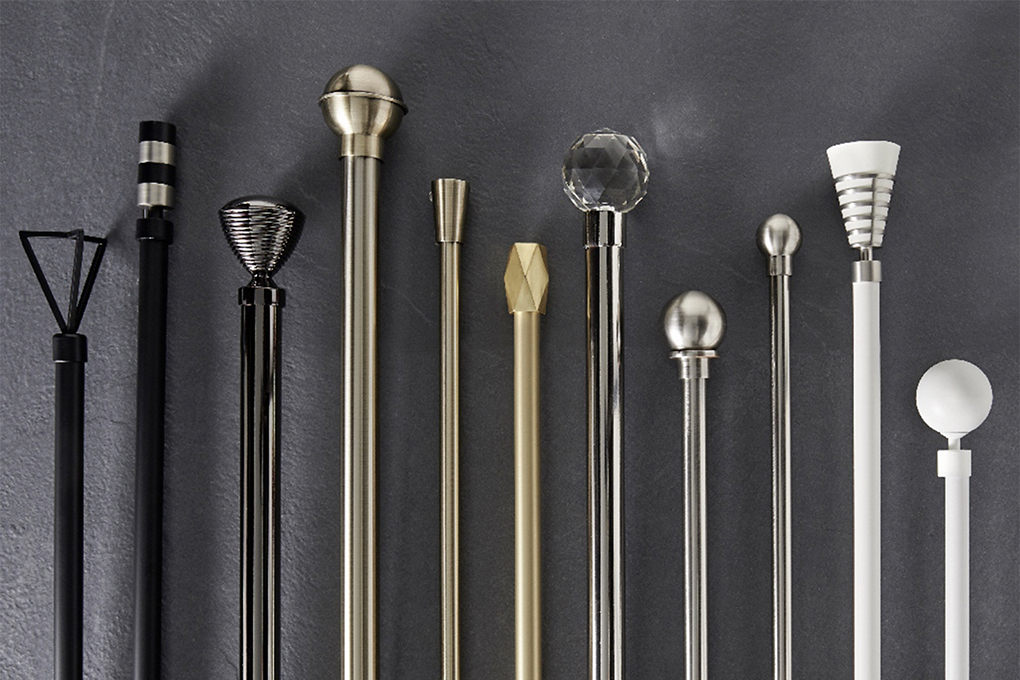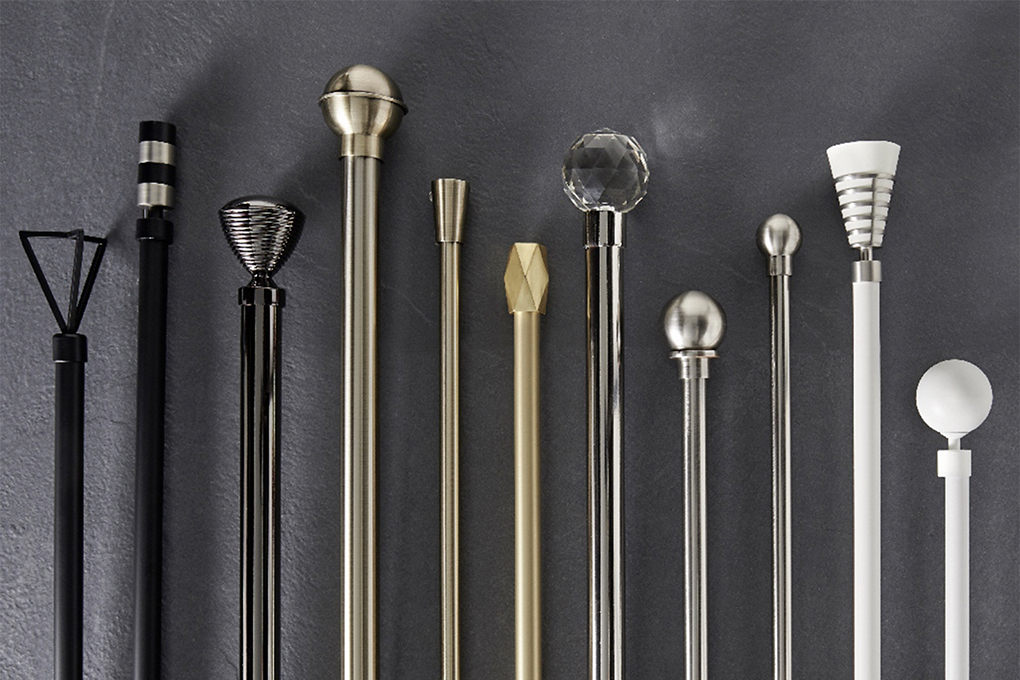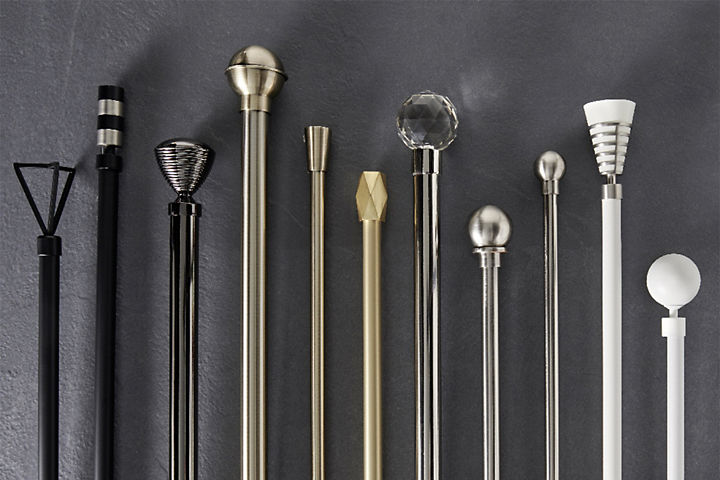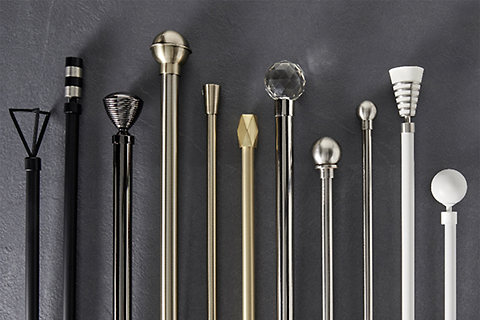 ---
How to measure your windows for a curtain pole
Measure the recess width of the window and then add at least another 15cm for each side. Your new pole length will be the recess width + 30cm. If you're planning to hang heavyweight or wider curtains, consider adding further allowance on either side as the fabric may be bulkier. If you're unsure of how much allowance you'll need, consider extendable length poles and track. And you can always buy a larger pole and cut it to size.
Scratch resistant
Our curtain poles have a good resistance to scratching – when sliding rings or curtains with eyelets multiple times they won't leave a mark on the pole.
Adjust the daylight and privacy levels to your needs
Use a double bracket to layer two types of curtain opacity and adjust the daylight and privacy levels to your needs. (Available for wall and ceiling configurations. Double brackets are only available online.)
Choose from a variety of curtain poles, brackets and finials – all developed for any window type, size and placement to the wall. From the classical surface-mounted to more specific, such as bay or roof windows.
Follow our four easy steps and create the perfect combination to cover your window.
Step 1: Measure your window to get your required pole length
Measure your window/s to find out the length of your new curtain pole/s.
Step 2: Pick your curtain pole diameter
Consider the weight and type of curtains you will be hanging. The heavier the curtains (such as lined, or long length curtains) the wider the diameter of pole you will require. Lightweight curtains can be hung on a 16 mm pole, medium weight curtains with a 19 mm pole and heavyweight curtains will require a 28 mm pole.
16mm – suitable for voiles (light weight)
19mm – suitable for unlined curtains (medium weight)
28mm – suitable for lined and blackout curtains (heavy weight)
Each pole can be easily mixed and matched with dedicated brackets and finials of the corresponding diameter. Or, they can even be mixed with universal brackets compatible with all diameters.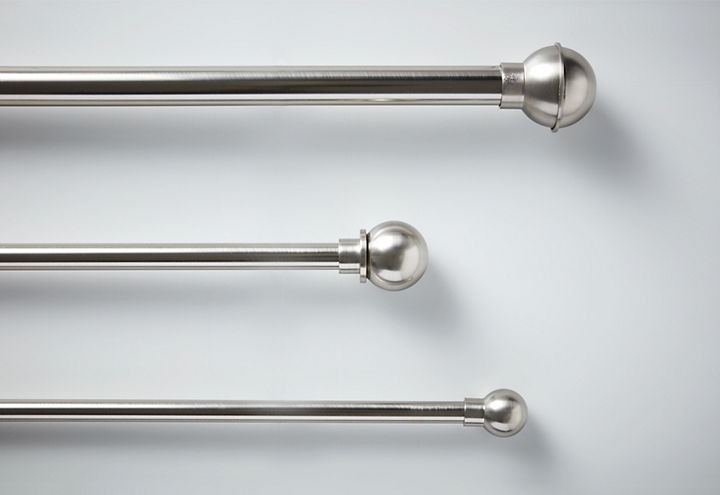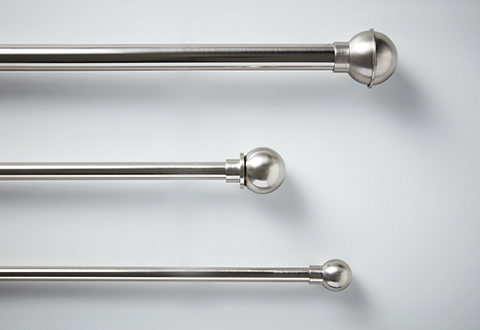 Step 3: Choose your brackets
Work out how many brackets you'll need - we recommend one bracket for every 1-1.5m.
Standard brackets: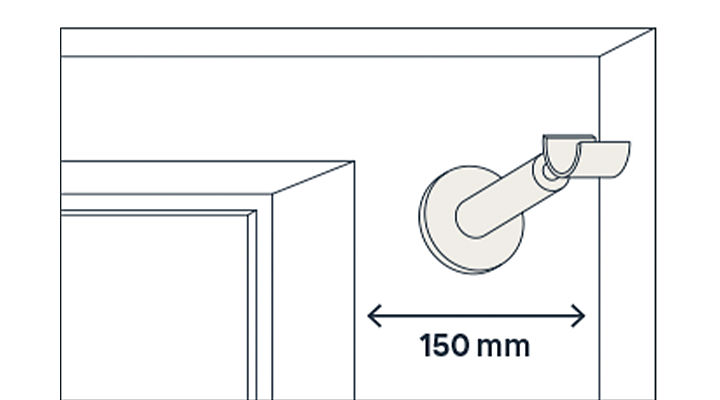 If the space between the window and wall is greater than 15cm use a wall bracket.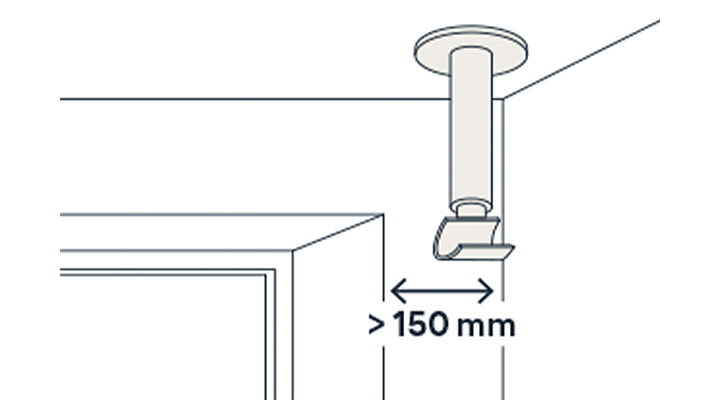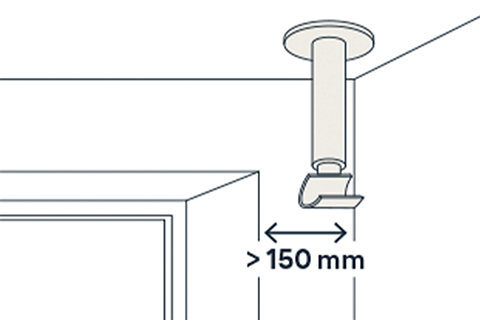 If the space between the window and wall is less than 15cm use a ceiling mounted bracket.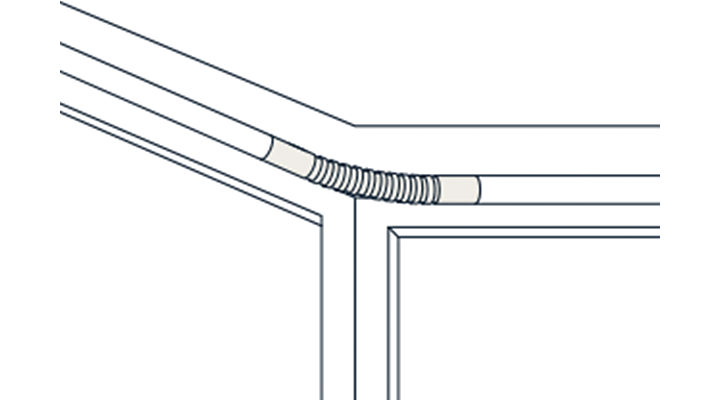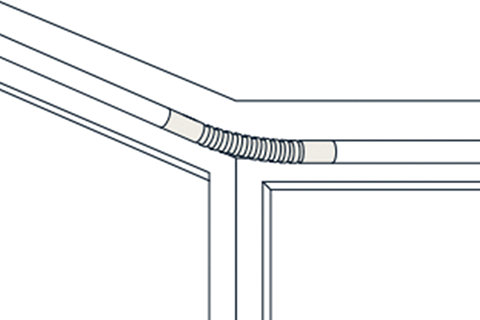 Bay bend bracket
Joins two poles of the same diameter. Bay bend brackets are easy to bend by hand, making them ideal for curved windows. The curved design allows curtains to pull easily. When using bay band brackets for bay windows, make sure to use a metal connector to connect the bay bend to the pole.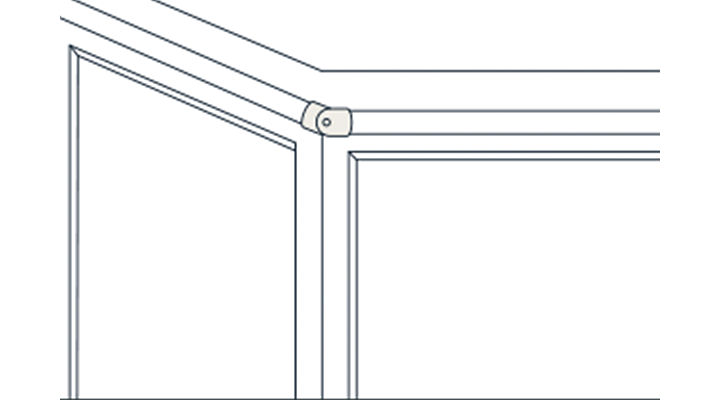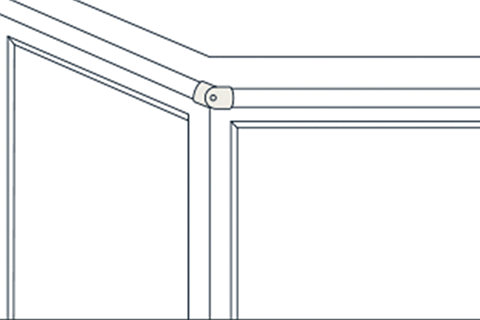 Elbow connector
Joins two poles of the same diameter. They have an adjustable angle making them just right for hanging curtains on bay windows.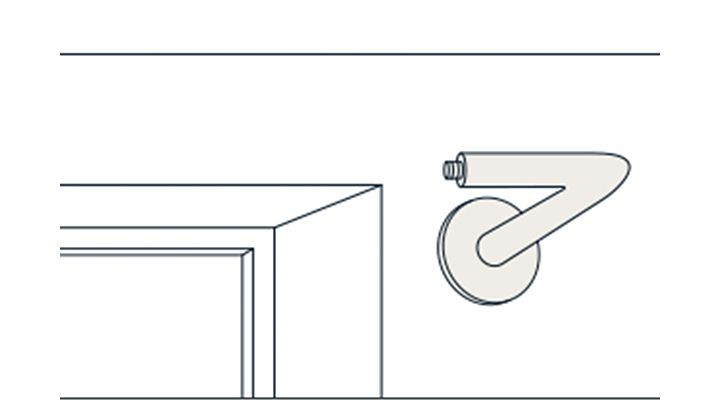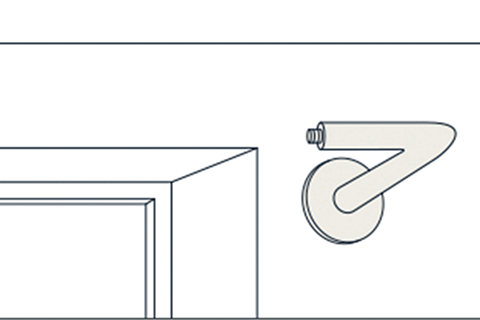 Angle bracket
An angle bracket wraps your curtains around the corners at the end of the pole - so your curtain meets the wall. If you are a light sleeper, you'll benefit from angle brackets as they make the room darker. Available in 19mm and 28mm diameter.
4. Finish the look
It's time to complete the look. We've got a selection of finishing accessories available in a range of colours and finishes. Choose from our finials, tiebacks, rings and rings with clips. Whatever look you're going for; we will have something to suit your style. Don't forget to purchase your fixings.
---
Perfect for non DIYers or renters – simply fit Ikaria to any window frame and hang your curtain. There's no need for drilling and no wall damage. Ikaria is part of our mix & match range - choose your brackets, poles and finish the look with finials.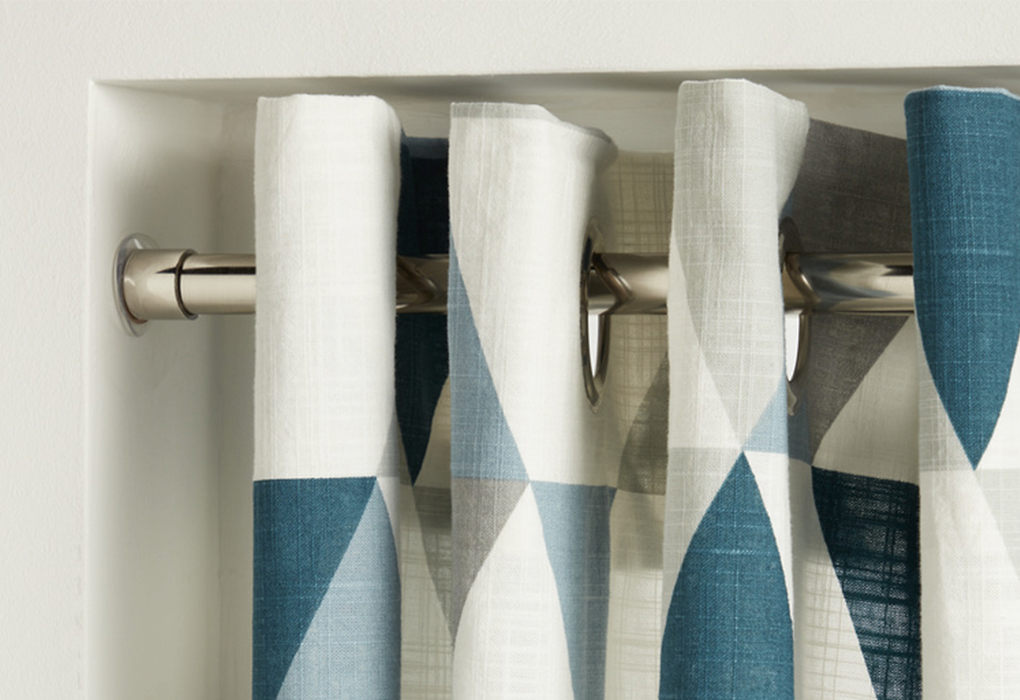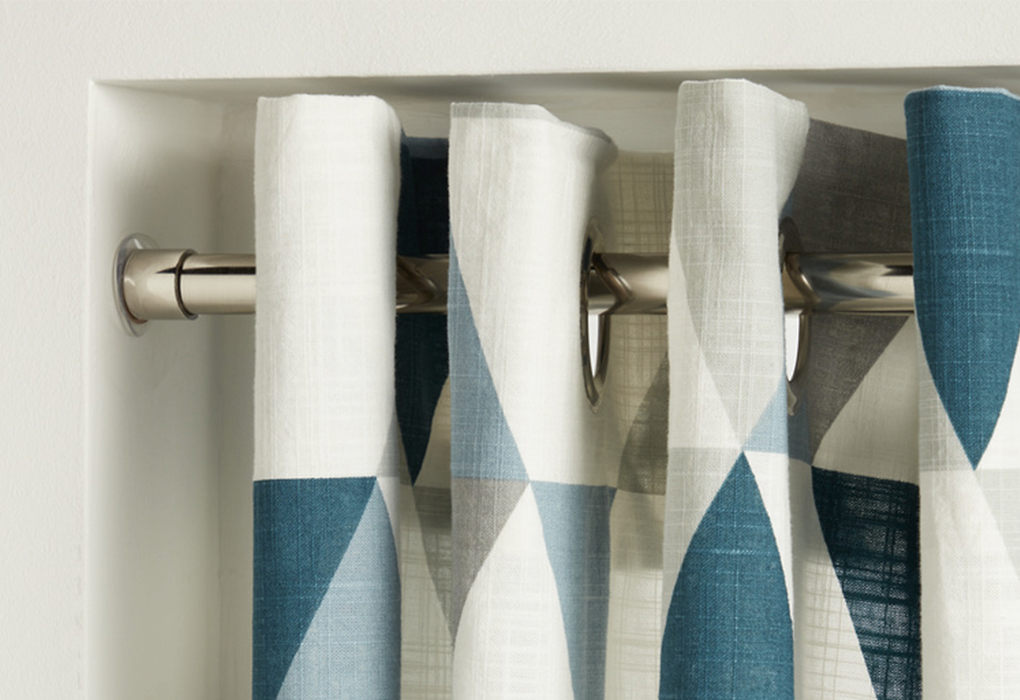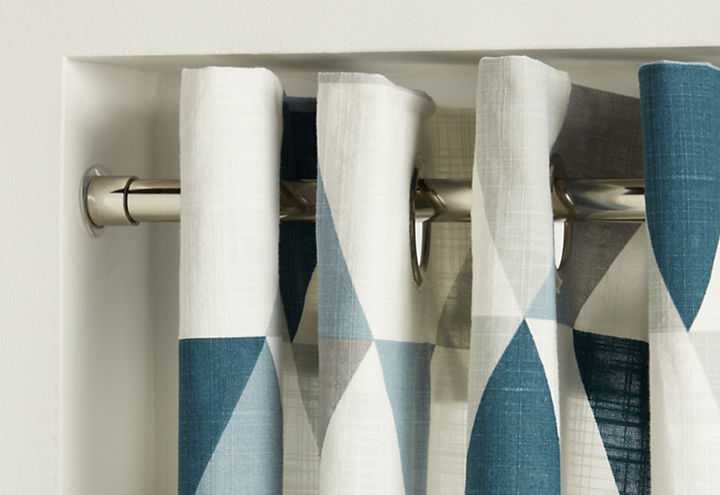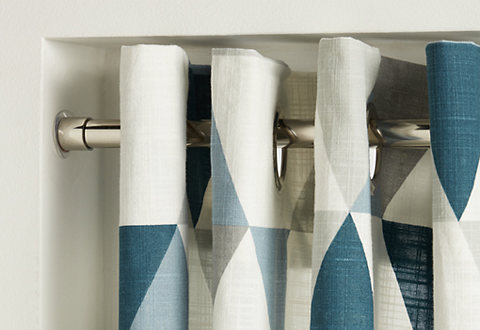 Step 1: Choose your specific brackets
Step 2: Measure your window and choose your extendable pole
Step 3: Finish the look
Browse our Ikaria specific finials to complete the look. It's as simple as that!
---