How to design a kitchen that suits your home
Considering the style and character of your kitchen
Start by thinking about your project as a whole, rather than each part individually. Think about how you use your kitchen. What do you need from it, and what would you like it to have? Try to find a balance between these three things to make the most out of your kitchen.
You then need to think about how they'll all work together. Something as simple as matching metal elements like window latches and taps can pull the room together. When it comes to you and your style, there are lots of ways you can express this in your kitchen. Think cabinet handles, tiles and flooring. Try different positions and patterns – you don't have to stick to the traditional.
Don't forget to think about the character of your home. When was it built? Is it a traditional home with skirting boards and dado rails? Or perhaps it's a sleek, modern home with not a lot of detail. Do you want to show off these elements or perhaps put your own twist on it? We think enhancing the natural features in the kitchen will bring personality and charm to any kitchen.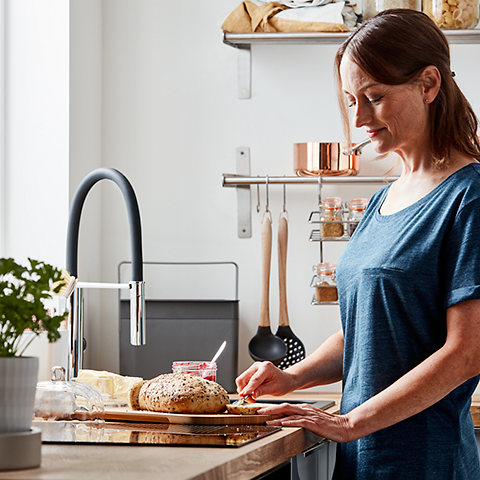 Scroll down to see how you can design a kitchen that suits your home and your style...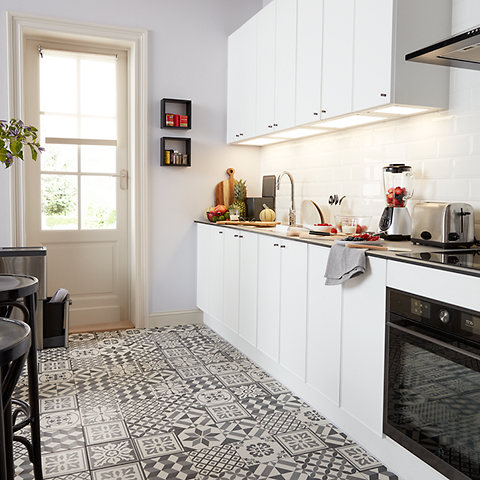 Where to start
When beginning your kitchen renovation, the three main questions to ask yourself are - How do I use my kitchen? What do I need from it? What would I like it to have? If you use your kitchen a lot of the time, or as a home office, make sure it works for that purpose, and that it's functional for cooking and dining too.
Before you begin your kitchen renovation, think of all the elements you need. Consider how they'll work together to create your functional space.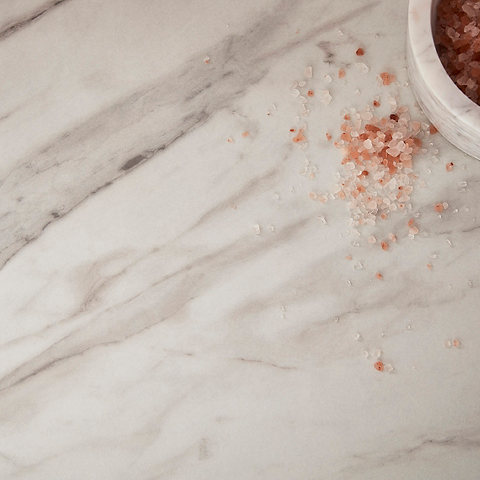 Combining colours, materials and finishes across your kitchen
Your kitchen should work in harmony with your home. Think about everything from the walls and floors, to cabinets and worktops. Pair samples together and layer against the parts you're keeping. See how they all look together, it's always best to do this before you've made your decision.
Consider how much light comes through to the room. This may affect how you decorate your kitchen. Brighter rooms can handle darker paints and finishes. However, we suggest using whites and neutral colours in kitchens that see little daylight. Our fitted kitchen ranges are available in a variety of colours and styles.
Matching your metal finishes like taps, light fixtures, cabinet handles and door handles can really help bring your kitchen project together. If you have an open plan living space, treat the two areas as one space, using the same colour palette and finishes throughout.
Why not book a free kitchen planning appointment to talk through your ideas with a colleague in-store? Not only will this give you a chance to discuss your kitchen design, it will also give you the opportunity to browse our stylish kitchen showrooms.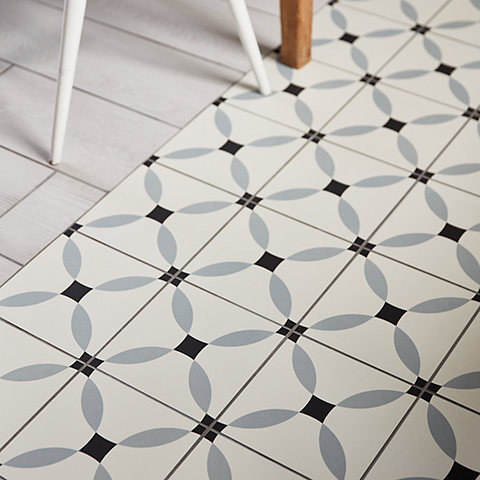 Tiling, flooring, handle positioning and laying formations
Simple changes can make a big difference to your kitchen. Something as small as changing the positions of your existing cabinet handles can give it a whole new look. If you're not sure, you can always use blu-tac before you commit to see how they look.
When you're tiling your walls or floor, you can play around with how the tiles are laid. Once you've bought your tiles, take a few out of the pack and play around to see how they look. There are six different laying patterns you can try out to see which you prefer.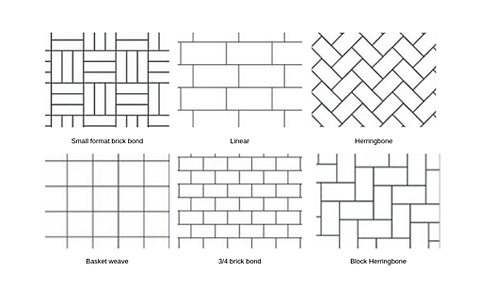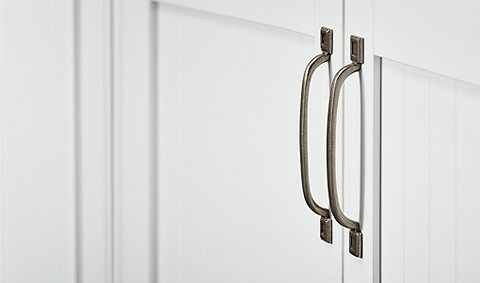 Keeping with the character of your home
Every home has a story. Whether it's been around for a hundred years or it's a new development, there are qualities of your home that connect to its character. Think about when your house was built, and whether you're planning on enhancing elements from the period of your home. Do you have a traditional home and want to use traditional-shaped handles? Or are you sticking to something more modern? Of course, you're not limited to the period and style of your home, but it can really work well with the architecture to make it look like it belongs.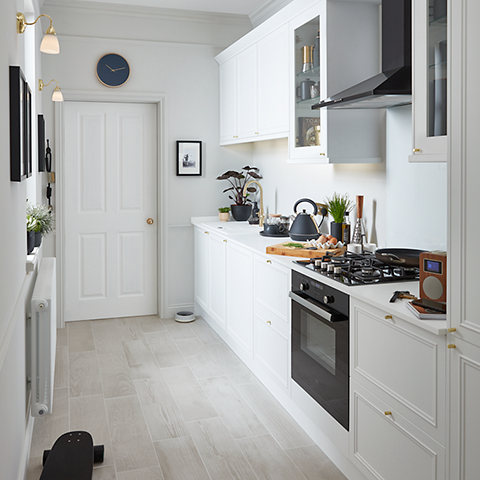 If you have skirting boards and dado rails, it's likely to be an older-style home. Maybe you want to modernise the space. In which case you can hide the mouldings by painting them, the walls, and skirting the same colour. It cleverly tricks the eye and disguises them, without removing the features that give your home its character. But if you want to show off these elements, try painting up to the dado rail one way and leave the rest of the wall blank to really make a statement.
Modern homes are sleeker with hardly any details, so it's a blank canvas for you to unleash your creativity on. If you want to add traditional elements to a contemporary home, experiment with flooring patterns, Belfast sinks, and gas hobs.