How to get your garden winter ready
Keep your garden safe from bad weather
Wet, windy and cold weather can play havoc with our gardens, causing damage to plants and garden buildings as well as creating new hazards like ice and slippery surfaces.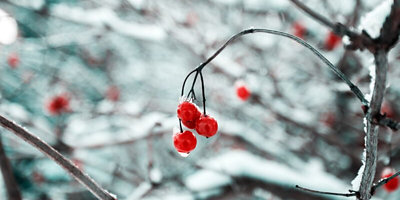 When winter is upon us, there's lots you can do to protect your garden from the elements. Our checklist will help you get prepared before the bad weather hits.
Winter digging
Dig over any ground that will be bare over winter, such as flowerbeds and vegetable plots. If you have some spare garden compost or well-rotted manure, spread it over the ground so it automatically gets turned in as you work.
If you have wet clay soil then don't attempt to dig it now. It's best left until the land starts to dry out naturally in March or April at the latest.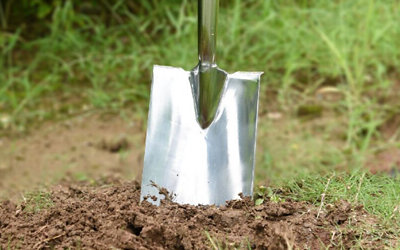 Cold snaps
The odd cold night is no problem for large containers of winter bedding and hardy patio plants, but if a long continuous cold spell is forecast then tubs will need to be wrapped in newspapers or bubble wrap, or moved into a porch, greenhouse or conservatory. Cover plants and young trees that you can't move indoors with horticultural fleece, specially designed for protecting plants during cold weather. Tie or weigh it down so that it doesn't blow away and remember to take it off during the day so that the plants can get light and air.
If safe to do so, remove heavy snow from garden sheds and greenhouse in case they buckle under the weight.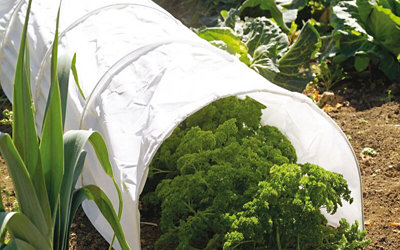 Heavy rain
If you garden on clay soil, or on low lying ground where water gathers, it's worth growing any plants that need good drainage in pots, so you can move them undercover for the winter. Move any tubs of plants against a wall for shelter and stand them on pot feet to aid drainage. Shield garden furniture, barbecues fire, pits and trampolines with outdoor covers to help prevent water damage like rot and rust. Make sure the cover is fitted all the way over the item and that any straps are securely tightened. Move items under shelter if possible, for extra protection.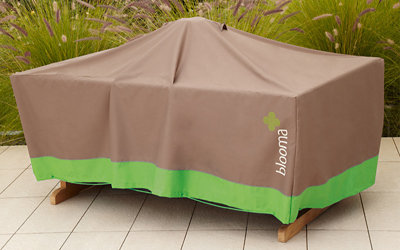 Gales
Strong winds can be a big problem. Move tubs of top-heavy plants that stay outside all winter close to a wall for shelter and for extra security tie them to some trellis or a couple of wall nails.
Tie, or cut back any branches of trees so they aren't touching greenhouses, fences, conservatories or windows of the house to prevent damage in strong winds.
Keep plants, especially potted ones, well-watered during periods of high winds as these weather conditions can be surprisingly drying. Check that climbing plants are tied back to their stakes or trellises.
Garden furniture and play equipment like picnic tables, play tables, sand pits and swing sets (if not concreted down) could be lifted by strong winds. Anchor down and secure to the ground anything that could be lifted with weights, ropes, bungees or stakes. Also consider young trees that could be vulnerable to gales.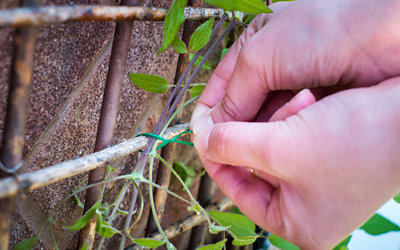 Top tip
Store items such as tools and gardening equipment, in your shed or weatherproof garden storage. Ensure electrical power tools are raised from the ground, for example on a shelf in your shed, to avoid damage if your shed floods or leaks during heavy rain.
Clear fallen leaves
One job that badly needs doing right now is removing fallen leaves from the lawn with a lawn rake or blow vac. They might look picturesque at the time, but when they cover the grass completely, and stay put for weeks, the grass is starved of light and quickly becomes victim to fungal diseases and bare patches.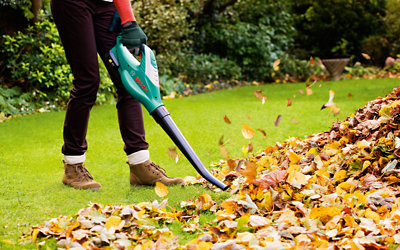 Prevent ice forming on ponds
Float a ball or something similar on the surface of your pond. The movement of this will help prevent a layer of ice forming. It's important to avoid ice formation as fish can be poisoned from methane trapped under the layer of ice, produced by decomposing vegetation. If ice does form, don't smash it as the vibrations can harm or kill the fish. Instead, melt a hole using some boiled water, but don't make the hole too near to the liner.
You can add a tennis ball to your birdbath too to help prevent freezing, but don't forget to provide fresh water daily and top up feeders to help our feathered friends in cold snaps.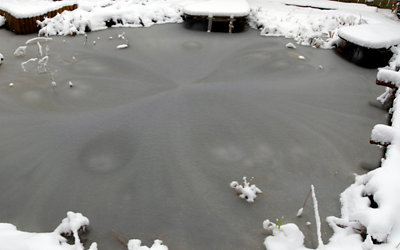 Clear paths and patios
Clean paths, patios and paving with a pressure washer to reduce the risk of slipping. Surfaces can get slippery when lots of rain has washed over soil and leaves. Use a salt spreader to salt your paths, driveways and patios if frosty, icy or snowy weather is due. Adjust the spread width on the spreader to cover a wide area quickly and easily.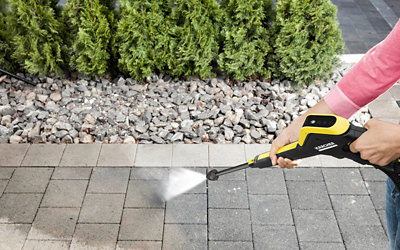 Articles