Learn how to grow your own delicious rhubarb
From delicious crumbles to home-made jams, rhubarb can be used in a whole variety of tasty treats. Growing your own is easy, and a healthy, well looked after plant could be fruitful for 10 years or more.
Quick facts
Best time to plant: October- January
Harvesting season: June-August
Difficulty: Easy, suitable for beginners
Whilst you can grow rhubarb from seed, it's much easier and more common to plant crowns. A crown is a dormant established plant of at least a year old.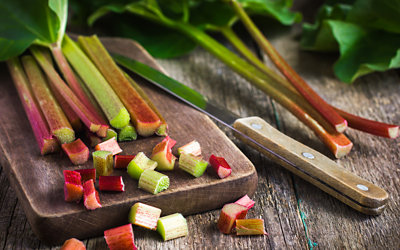 Tools for the job
Choose a spot in your garden that gets plenty of daylight, with moist but free draining soil. You'll want to make sure its somewhere that won't get waterlogged as rhubarb doesn't grow well if it sits in water for long periods of time.
Let your rhubarb grow
Don't be tempted to harvest your rhubarb in its first summer, it needs some time to reach its best. If you harvest it too early you won't get a plentiful crop to enjoy the following year.
How to plant your rhubarb
Dig a hole slightly larger the crown and fork some compost into the bottom. Pop the plant into the hole so the crown sits level with the surface.

Fill the space around the roots with soil and firm it down. Leave the crown uncovered.
Water it in well.
Forcing Rhubarb
If you're keen for an early crop you could consider forcing your rhubarb. As soon as it shows signs of growth simply cover the planted crown with a layer of straw then a bucket or container to block out all the light. The stems should be ready to harvest about 8 weeks later.
How to care for your rhubarb
Rhubarb is an easy plant to grow so just a few simple tips will help you keep it healthy.
Apply a general-purpose fertiliser after the leaves die down each year
Keep the area around your plant weed free
Remove flower heads to stop your rhubarb producing seeds and becoming weak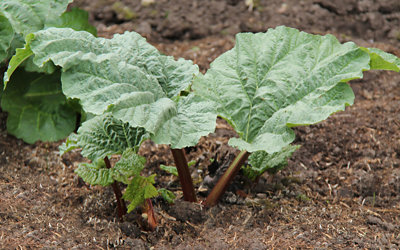 How to harvest your rhubarb
In it's second year you can start to harvest your rhubarb, but don't take all the stems or you'll ruin your chances of future crops. Leaving 5 strong stems on each plant will ensure you'll have a delicious supply of rhubarb year after year.
To harvest hold the stem at the base and gently twist up. Ease it out and try not to snap it off. The leaves should not be eaten as they can be extremely toxic.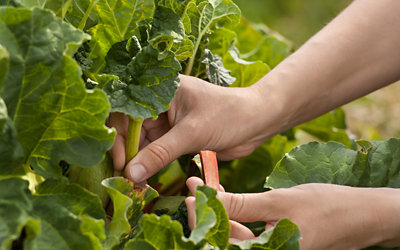 Articles