Grow your own summer fruit favourite
The taste of summer - strawberries are simply delicious whether topped with cream, made into jam or baked in a cake or tart. And home-grown strawberries are best of all, tasting sweeter than those bought in shops and they're cost-effective too.
A fruit that's incredibly easy to grow, strawberries are an ideal starting place for those new to producing their own fruit and vegetables.
So read on for everything you need to know about growing your own strawberries.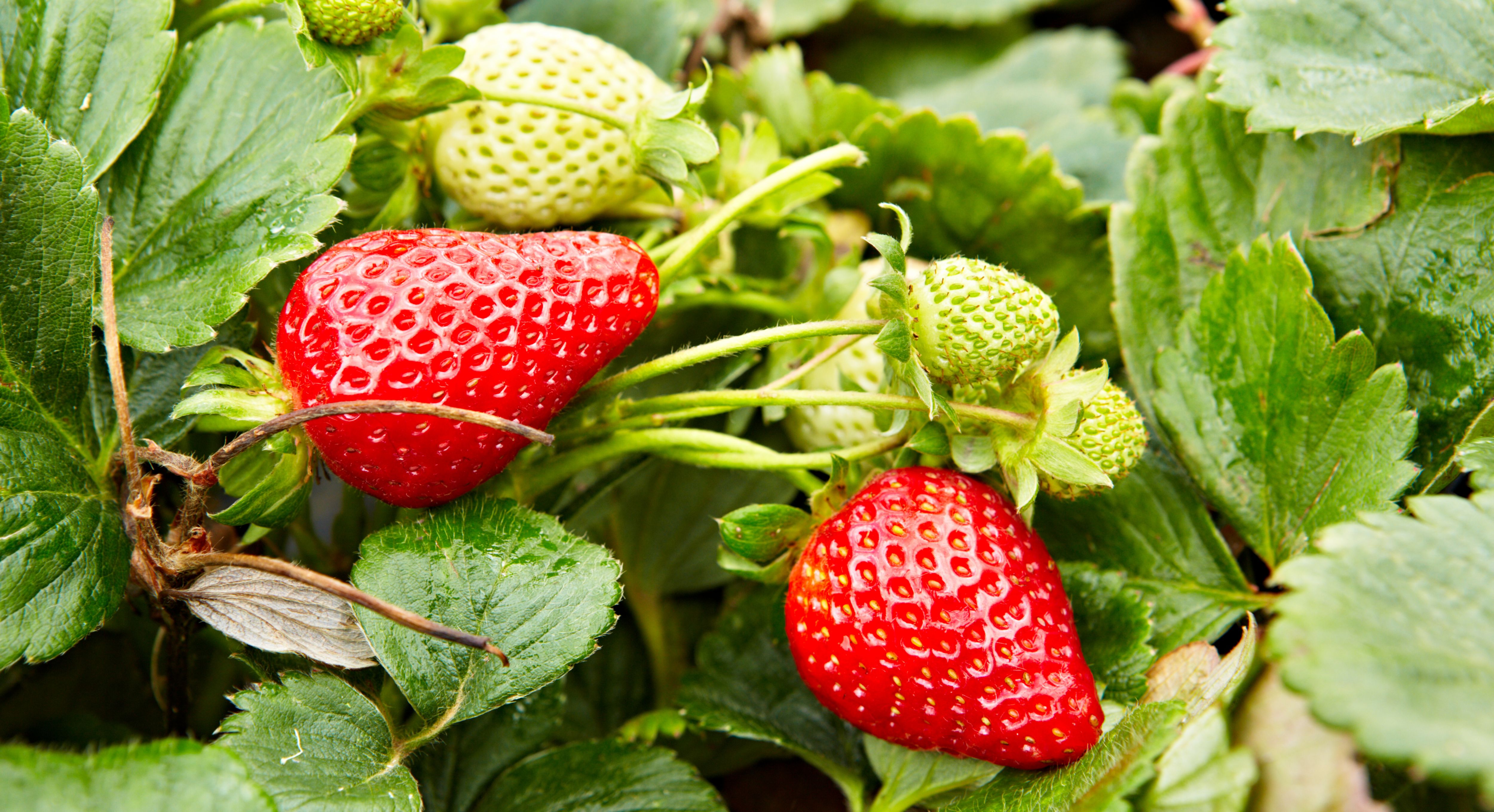 Types of strawberry plant
There are three types of strawberry plants for you to choose from:
Alpine strawberries – produces fruit from July to September. The berries are small and very sweet.
Summer-fruiting strawberries - offers a lot of large fruits in early and mid-summer only.
Perpetual-fruiting strawberries (also known as ever-bearing strawberries) – produces small amounts of fruit from early summer all the way through to early autumn.
Growing strawberries from seed gives you the opportunity to grow more unusual varieties that aren't available to buy as plants. However, they take a month to germinate and will only give you fruit the following year.
So to produce fruit more quickly, we recommend buying strawberry plants. They're usually sold in packs of six, which is a good number to get you started.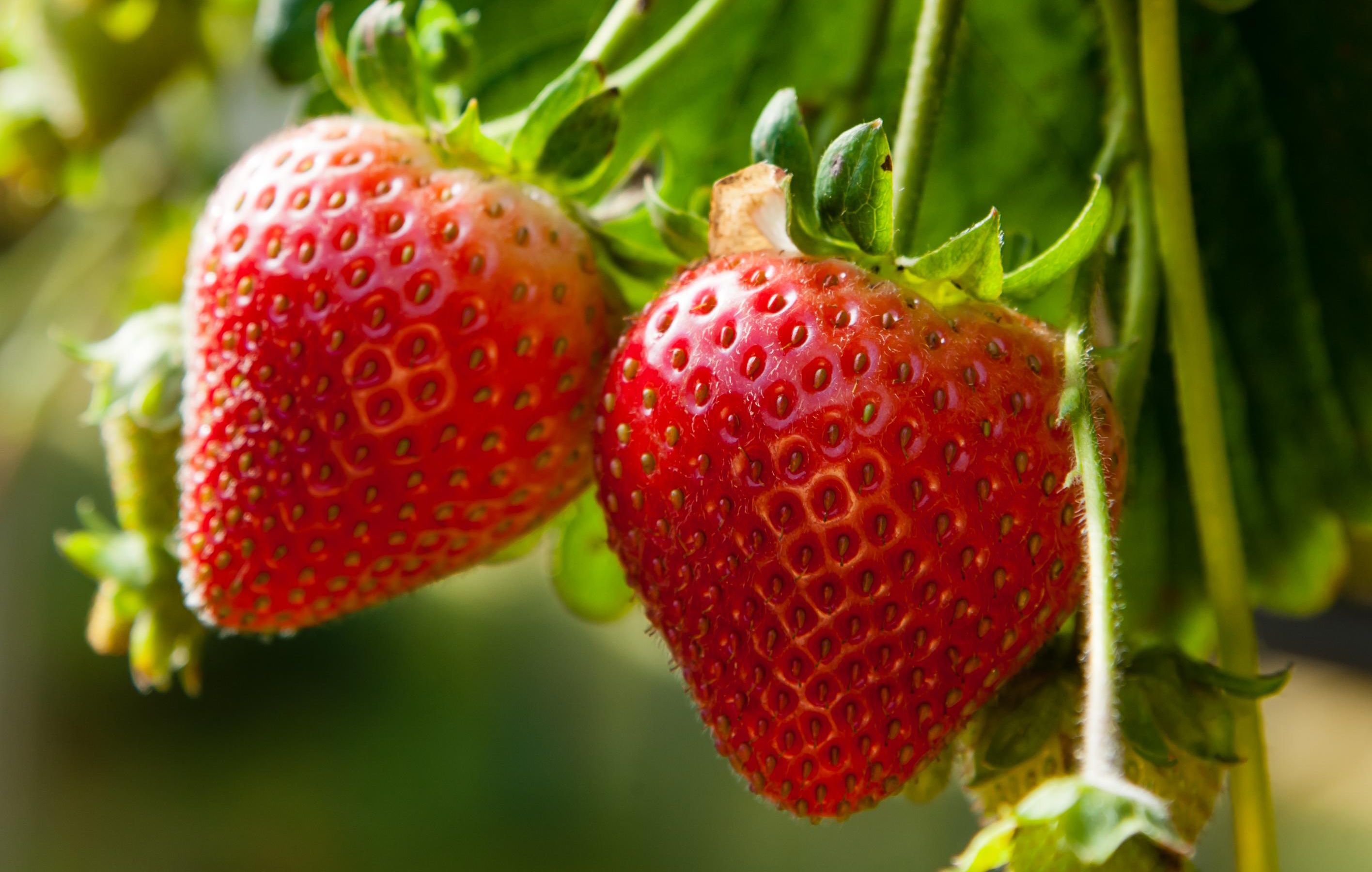 Where to plant strawberries
Strawberries can be grown in any sort of container as long as it's situated somewhere sheltered, sunny and easily accessible for regular watering. They can be planted directly into a vegetable patch if you have one. And if not, other popular ways to grow strawberries include:
Grow bags
A simple and cost-effective way to grow strawberries, grow bags can be laid wherever you like. Simply shake up the bag so that the compost breaks up completely and cut out holes in the plastic. They should be at least 20cm apart and slightly larger than the diameter of the pots that your strawberries are in.
Strawberry planters
A pot with multiple openings, strawberry planters are also ideal for growing several herbs at once. Buy them already planted with strawberries or have a go yourself. It's easy to plant your own and can be a good way to get the kids involved.
When buying plants to go into your planter, make sure you buy enough to fit all of the holes. And only half fill it with compost to just below the level of the lowest holes. When planting, work from inside the pot, making sure the plants are positioned well and gently pushing the foliage through the holes. Be sure to top up the compost as you work your way up.
Pots and hanging baskets
When looking at pots or hanging baskets, remember that as a rule of thumb, three to four plants will need a diameter of around 30 centimetres (cm). And ensure that there are drainage holes in the bottom of the pot or hanging basket liner.
Shop pots and saucers Shop hanging baskets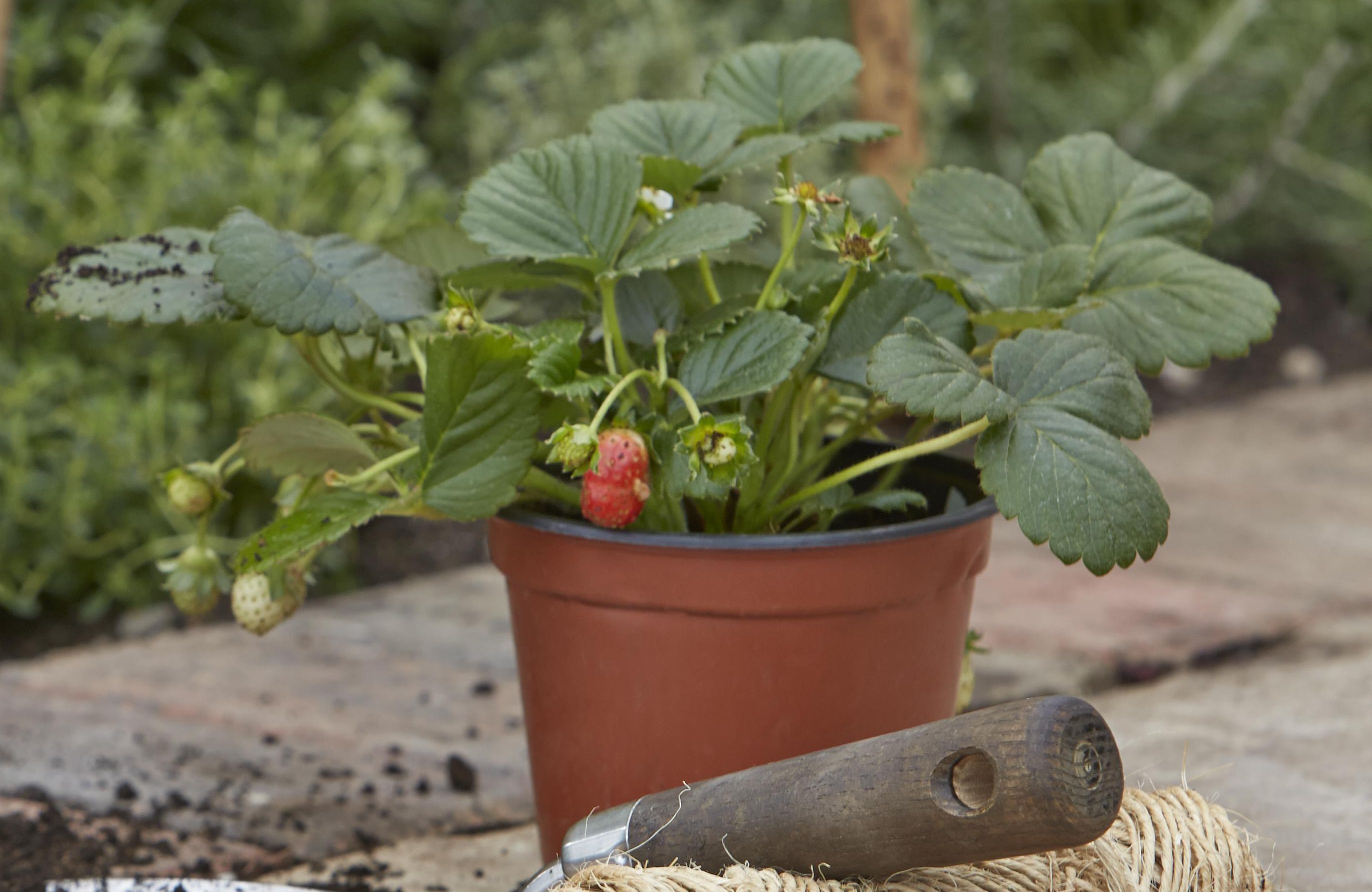 How to plant strawberry plants
Step 1

Make a small hole in the compost.

Step 2

Tease the strawberry plant from its pots and place into the hole, level with the top of the compost.

Step 3

Make sure the root ball is covered with compost and firm down well before watering thoroughly.
How to care for strawberries
Water and food
Strawberries need to be watered well and regularly. Always water directly onto the soil and not overhead onto the plants.
Feed them every week or two when they're flowering and producing fruit.
Ripening
Pick strawberries when they're bright red all over. Harvest when the sun is at its hottest, as this is when they'll be at their most delicious.
Pruning
Once your strawberries have stopped fruiting, cut off all of the leaves and runners to promote growth the following year.
After the second year's crop, runner can be planted into pots to make new plants.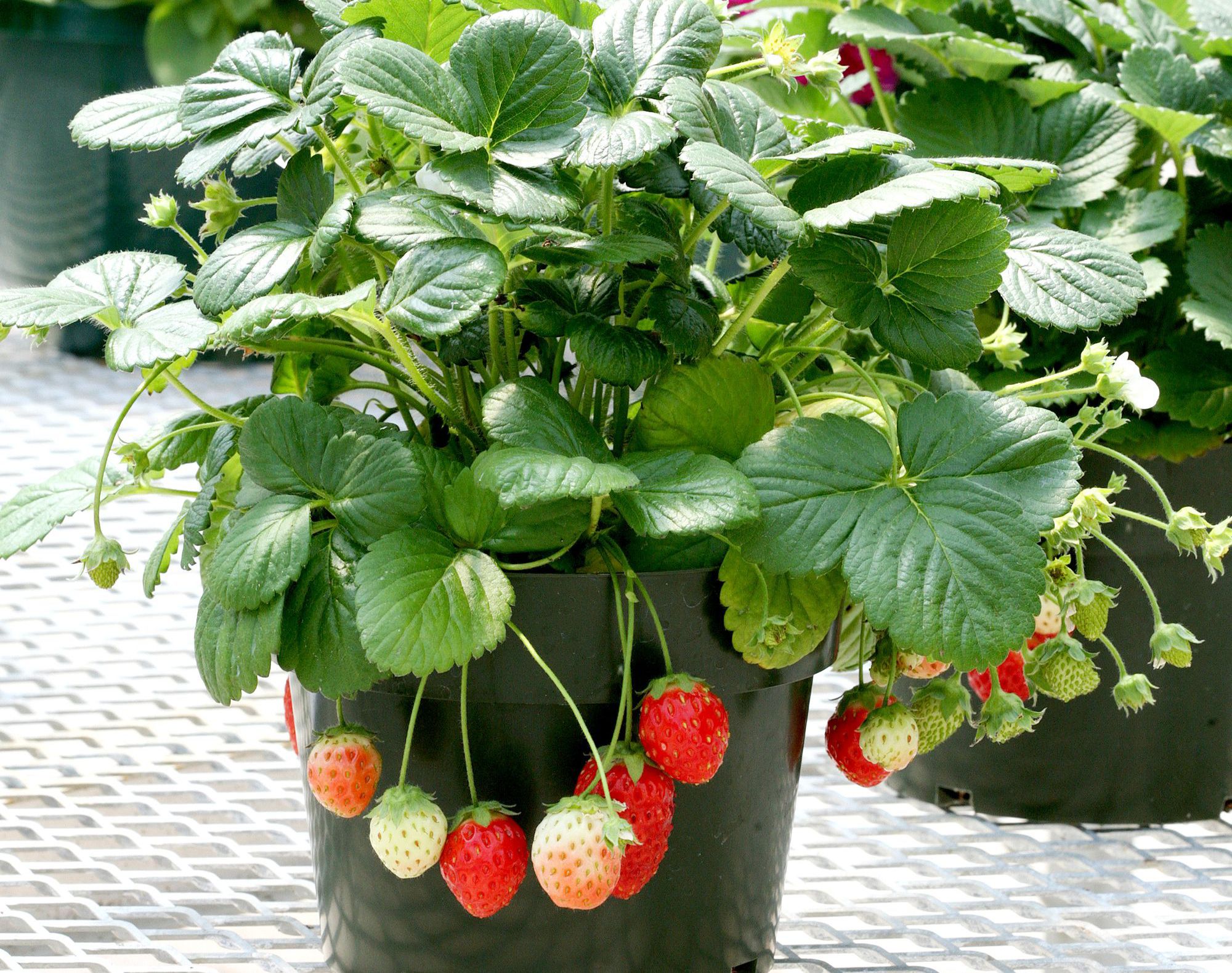 Articles