How to install a garden irrigation system
Keep plants well watered with a water dripper system or water reservoir
A good water irrigation system delivers water only to the plants that need it and at the most appropriate time. Sprinklers are a popular choice and are good for lawns and large areas, but aren't localised and so tend to waste water as they often miss their target. Watering systems are more accurate with little to no waste. This makes them brilliantly efficient - a big win during temporary use bans (also known as hosepipe bans).
There are different watering systems to choose from to keep your garden healthy during hot weather. Here we're going to talk through two of the most popular. These are:
a water dripper system - this waters each plant or container using tiny water outlets or drippers connected to a supply hose. It can be assembled to fit any garden layout and is ideal for pots, hanging baskets, flowerbeds and inside greenhouses.
a water reservoir - these deliver moisture to the soil from a water store and are more of a homemade, budget solution. As such, they can be found in all shapes and sizes and can be used on any plant and at any time of year (though are particularly useful for plants in containers). Less sophisticated than water dripper systems, they work well as more of a short-term fix and require more maintenance.
Read on for our instructions on how to introduce a watering system to your garden.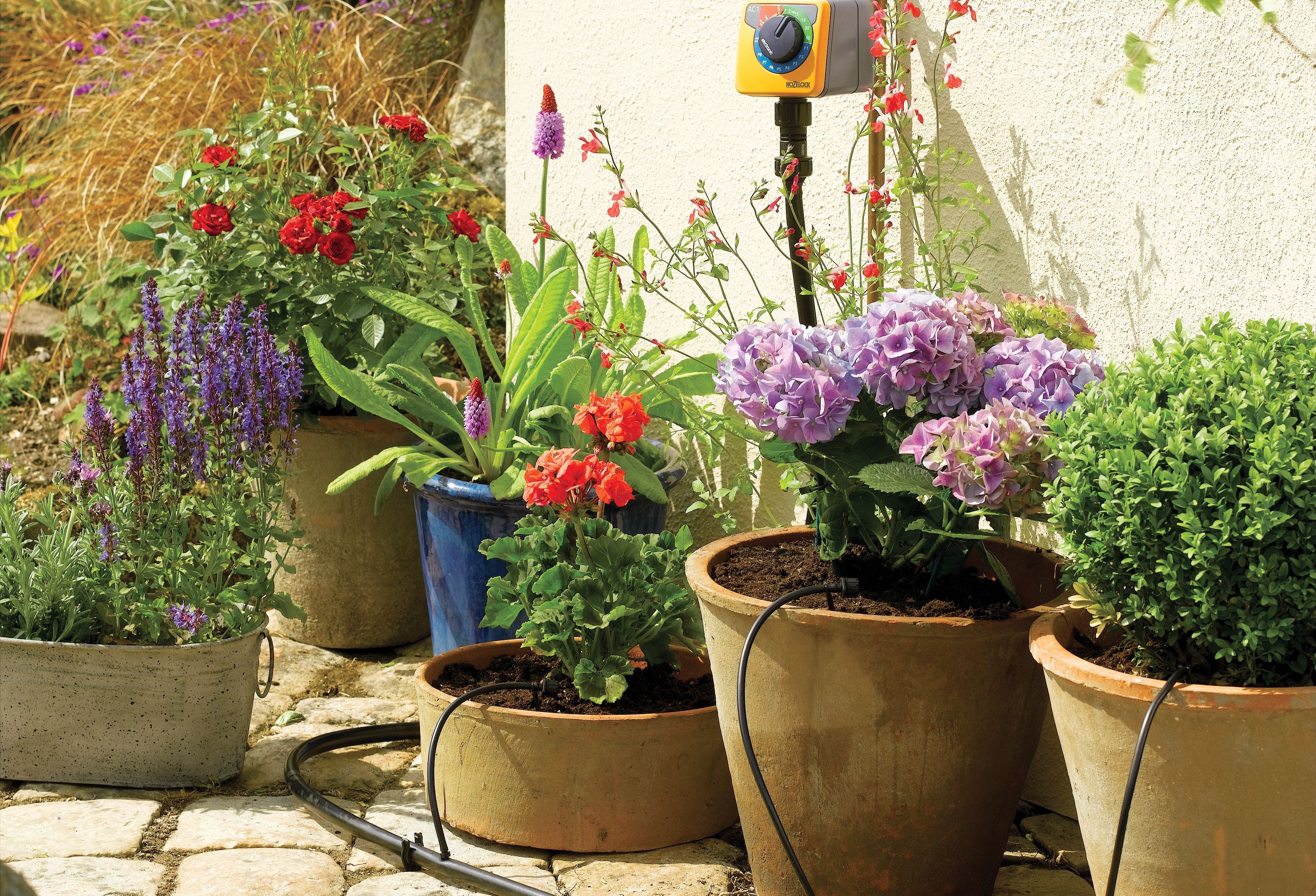 How to install a water dripper system
You might need:
Components
There are two options here - pick up a complete water dripper kit or assemble your own from the below list of items.
Tools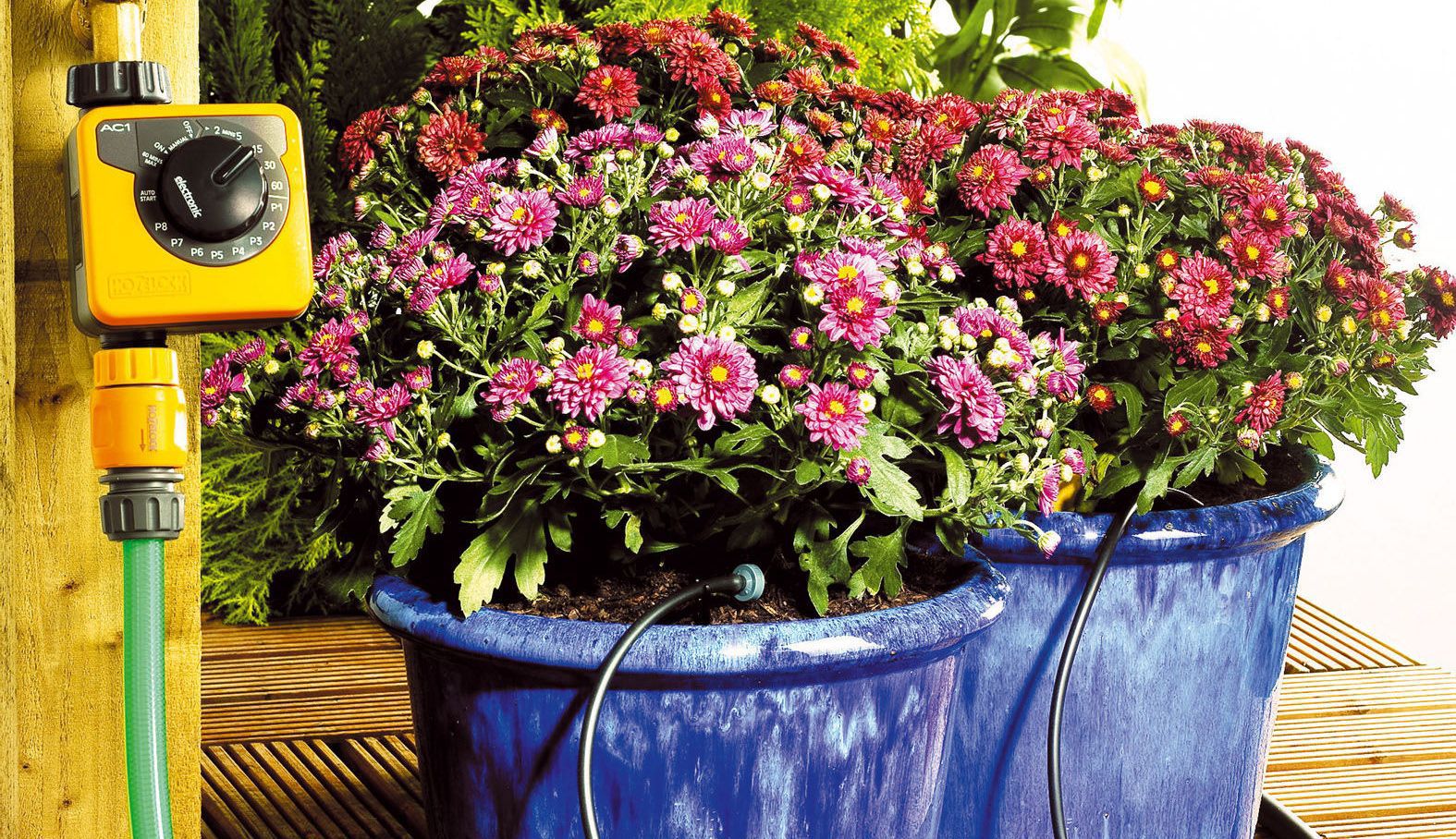 Step 1
Unravel the supply hose and run it around the area you want to water. You may need to work between established plants or around the edge of the beds.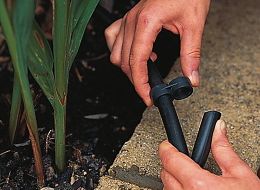 Step 2
Once the supply hose is in place, close off the end by bending it back on itself and through the end plug.
Step 3
Use a hose punch to create a hole in the supply hose wherever you plan to inset a subsidiary hose.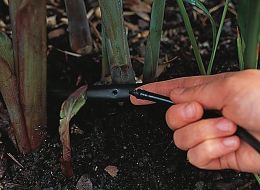 Step 4
Position the drippers, then cut sections of subsidiary hose to length and use them to connect the drippers to the supply hose.
Step 5
Once the dripper network is complete, peg the supply hose into place and conceal the hose under a layer of soil or mulch. Ensure that the drippers remain clear of the surface to help them work properly.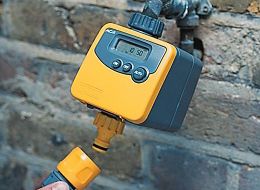 Step 6
Fit a water timer to your water tap.
Connect the supply hose to the tap using a length of standard hose.
Set the timer.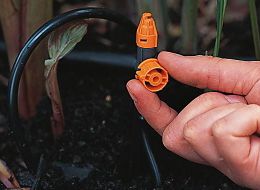 Step 7
Test the system and adjust the drippers if necessary.
How to make a water reservoir
The two most common types of water reservoir are:
up-turned reservoirs - these drip water gradually into the soil
capillary-action reservoirs - these draw up water using a wick (usually a piece of cloth) to help deliver gradual moisture to the soil
Here we'll talk you through how to build homemade versions of both types. They're both quick and easy to set up, require few tools and can be repeated as many times as needed around your garden.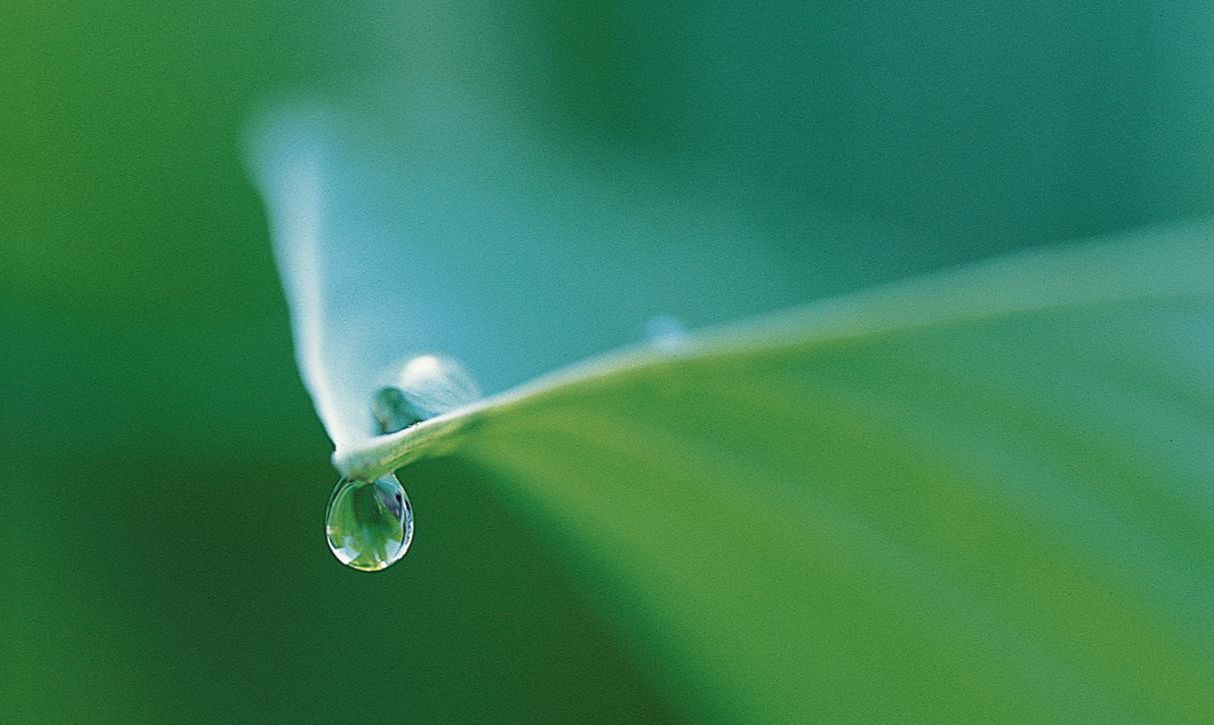 How to make an up-turned water reservoir
You will need:
An old plastic bottle with cap in place
Step 1
Cut off the very bottom of the plastic bottle with a pair of scissors.
Step 2
Drill a small hole through the bottle cap.
Step 3
Push the bottle into the soil with the cap end near the plant, and check that it's stable. Fill with water.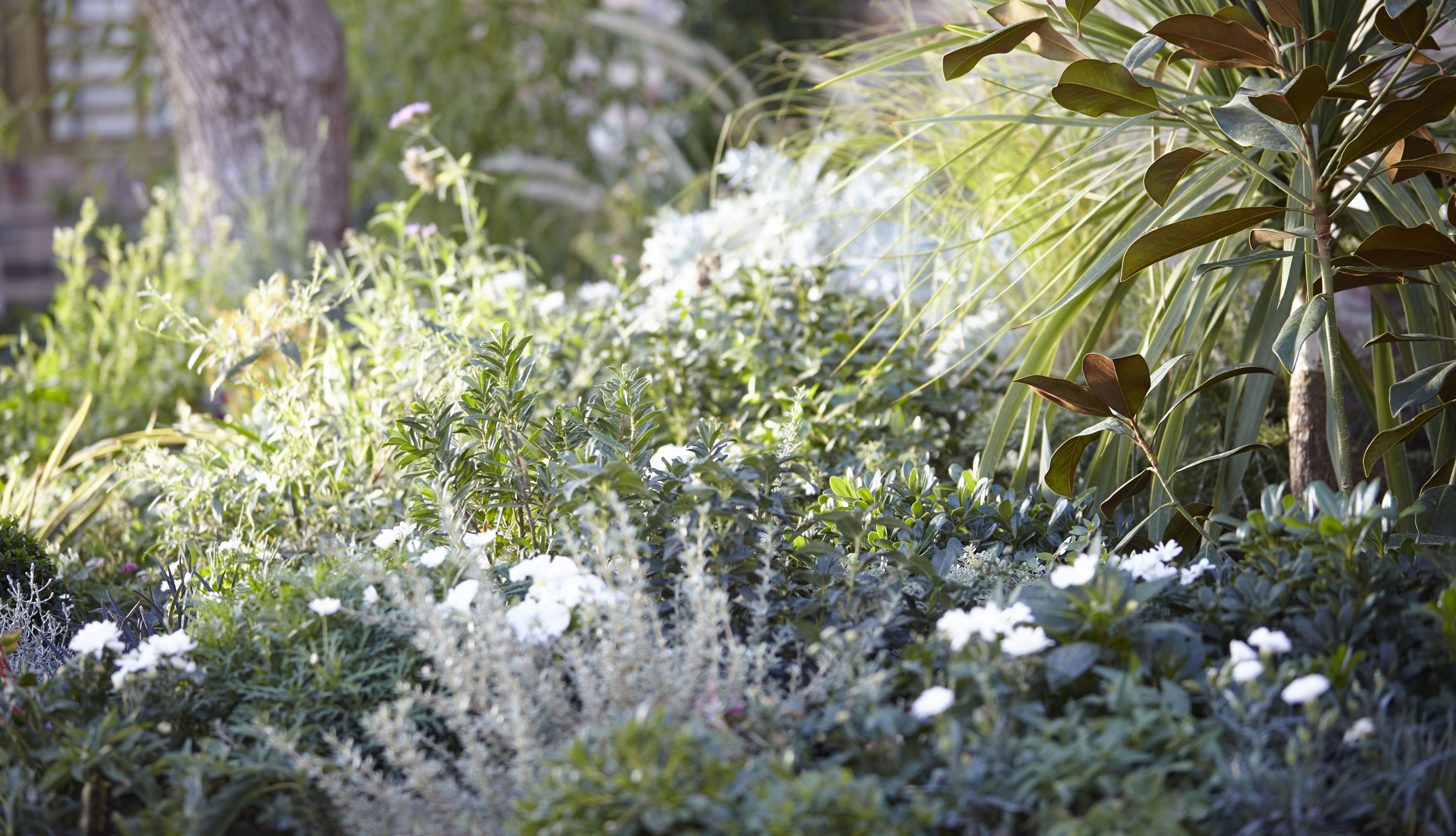 How to make a capillary-action water reservoir
You will need:
Step 1
Cut strips of cloth to size. We recommend a minimum width of 5cm. If watering larger pots, it could be worth doubling this to allow the wick to absorb more water or making multiple wicks. And cut to a length long enough to run from the base of the bucket to several centimetres into the soil.
Step 2
Fill the watering can or tub with water.
Place one end of the cut strips of cloth into the water.
Step 3
Place the other end of the cloth either onto the soil or through a hole in the bottom of the plant pot, making sure that at least a few centimetres are touching the soil.
The water will then be absorbed through the cloth and deposited into the soil to water your plants.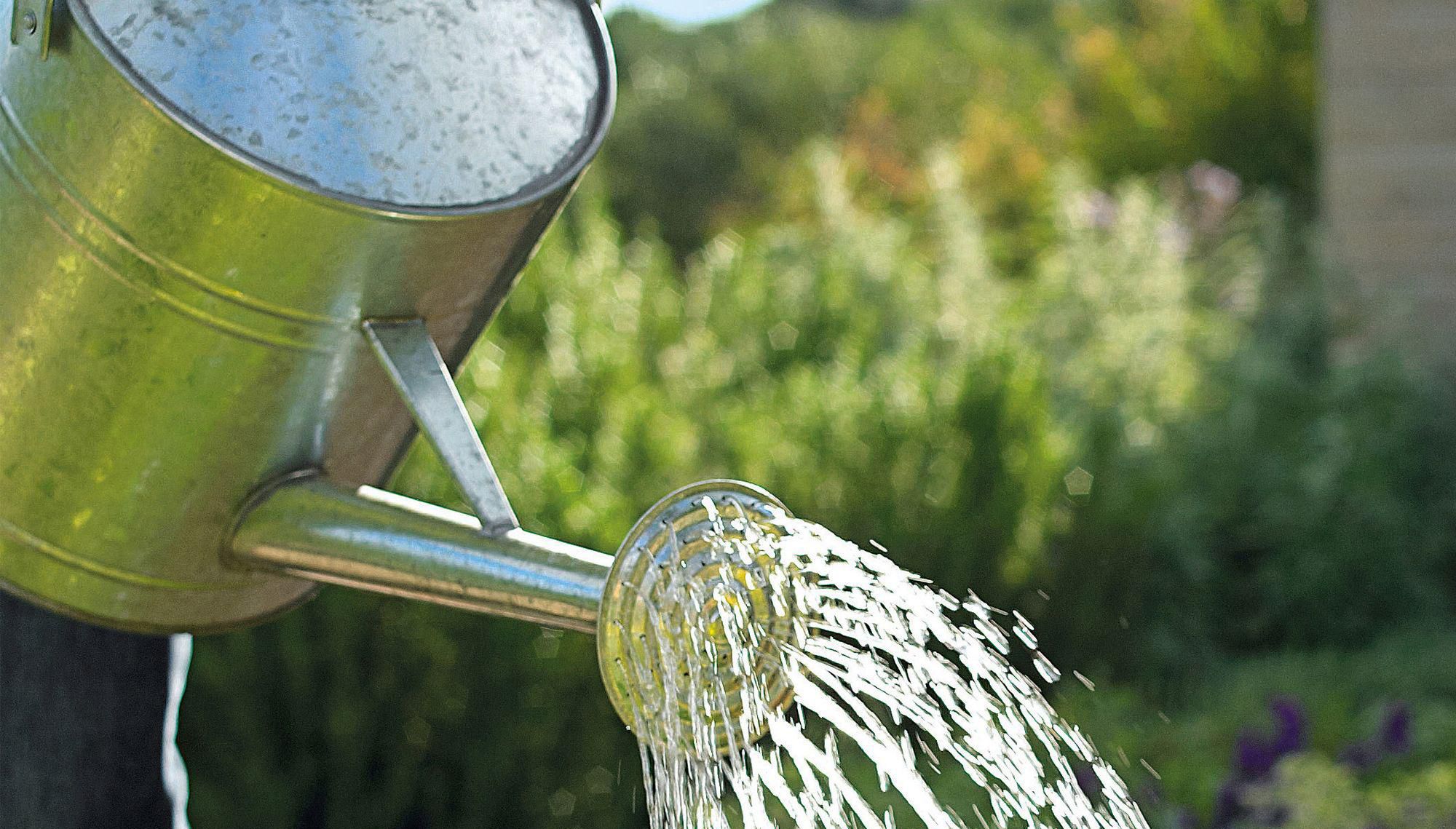 Articles