How to keep cool in hot weather
From hot tubs to fans - beat the heat indoors and outdoors
Nothing delights like a sunny summer day – but prolonged periods of warm weather can make homes feel stuffy and dry, and make staying safe in the sun a priority when outside.
Fortunately, we've got lots of top tips for coping with hot weather inside and outside. Having a couple of essentials – like parasols and cooling fans – to hand, along with taking a few simple steps, will help to make life a breeze even during a heatwave.
We also offer some ideas that you can do at any point during the year to help ready your home for summer.
Here are our suggestions to help you enjoy good weather without getting hot under the collar.
---
Introduce fans and air conditioning
Using a fan or air conditioner can be one of the quickest and easiest ways to lower the temperature in a room. A cooling fan is a great way to introduce a cool breeze on a hot day, and can be placed in different rooms as your needs change during the day. For larger spaces, or to keep rooms cool overnight, portable air conditioning units are an effective and quiet solution.
For homes that heat up easily, consider fitting a ceiling fan. Available in a range of stylish designs you'll find one to suit every home, from the more modern to more traditional. With a built-in light fitting, they're the perfect upgrade for existing lighting.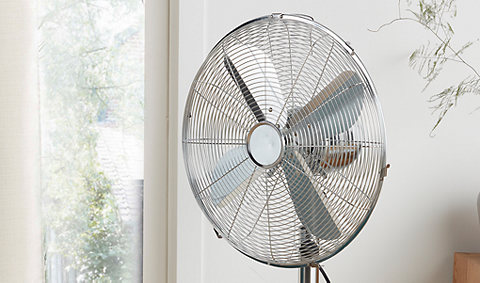 Open windows and doors
Whilst windows let in light, they also let in heat. Opening windows when they're not in direct sunlight will help air to circulate and let in a refreshing breeze. If you like to sleep with a window open, look for window locks with a ventilation setting – this will allow you to lock the window whilst open enough to allow a breeze in, without compromising home security.
Open doors inside your home to allow air to circulate. Door stops can be useful here, and prevent doors from banging in a breeze.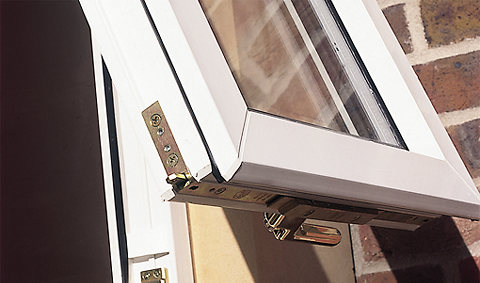 Use curtains and blinds
Opening windows, when they are in full sunlight, will allow warmer air into your home. Instead, keep your curtains or blinds closed at this time – or if you are out of the house - to keep rooms cooler.
Lined curtains work best at blocking out heat, and will do the opposite in winter by trapping warmth in your home.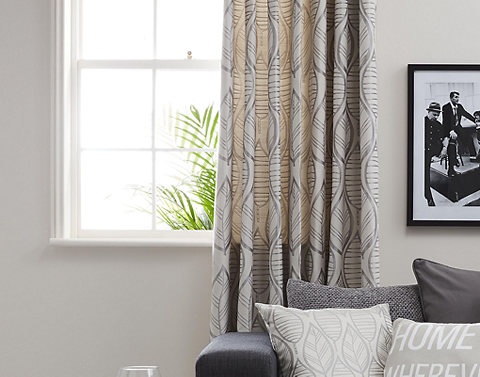 Dry laundry outdoors
Rather than using a tumble dryer, which will generate heat, line dry your laundry outside. A rotary airer or washing line will get your drying finished in no time at all during warm weather.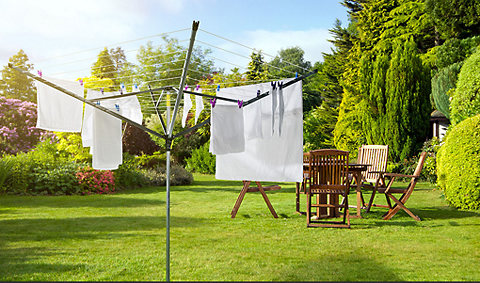 Switch off appliances
Appliances, such as televisions and computers, emit heat when switched on. Rather than leaving these items on standby, switch them off completely to make sure they're not adding heat into your home.
Consider using a smart home solution to make it easy to switch off your electricals (such as the WeMo Plug Socket pictured), or plug your TV and entertainment equipment into one extension lead with master power switch. Turning off the master switch will turn off all your appliances for you.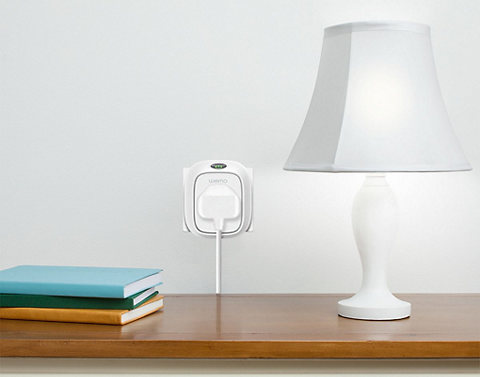 Be temperature aware
A room thermometer will help you to keep an eye on temperatures in children's bedrooms, alerting you to take actions to cool the space down if needed. The Gro-Egg room thermometer doubles as a nightlight and changes colour when high temperatures are reached.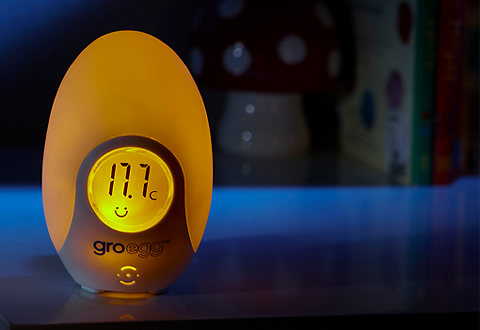 Expand the summer menu
Cooking using your oven generates heat in your kitchen, so consider barbecuing outdoors or opting for lighter meals cooked on the hob for a few days. It's a great excuse to try something new and fire up the barbecue!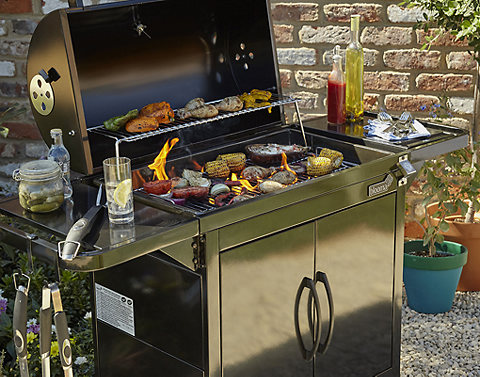 ---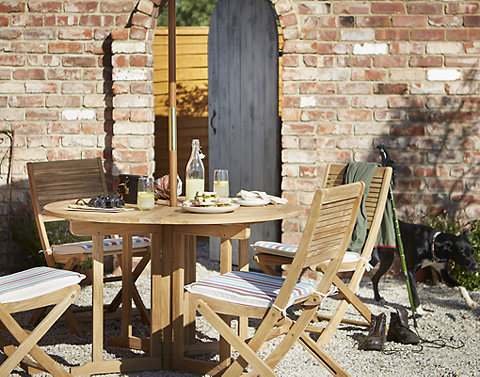 Be sun safe
None of us want summer days to be spoilt by sunstroke or sunburn, so take care to protect yourself and others. Stay out of the sun during the hottest part of the day – between 11am and 3pm – and save strenuous tasks for early or late when it's cooler. If you're out in the sun be sure to wear a hat, use sun cream and cover up with loose layers.
Not sure what the temperature is when busy enjoying the sunshine? Hang one of our thermometers - suitable for indoor and outdoor use - in the garden and check throughout the day.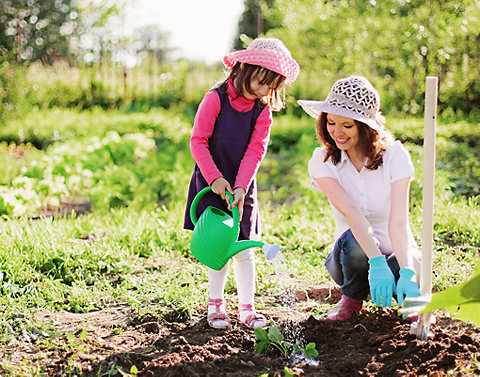 Enjoy some water play
A paddling pool is a fun way for children to cool down on sunny summer days. Position it in the shade to keep the water at a refreshing temperature and ensure that children wear sun cream and are supervised at all times.
As an enjoyable alternative, play games with kids or pets under a garden sprinkler on your lawn – it's a great way to stay active when temperatures rise.
For year-long enjoyment, consider investing in a hot tub. Despite the name, they offer a top way to cool down in hot weather. Simply set a few centigrade lower than normal, leave the spa open and dip your legs in - much like being by the side of a swimming pool on holiday.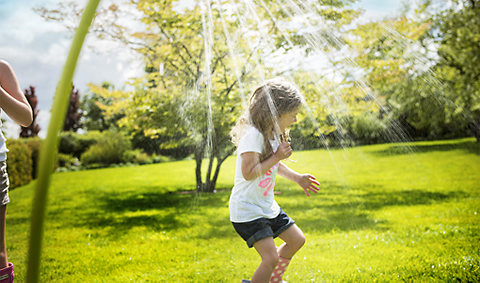 ---
Add insulation
Insulation helps to keep heat in your home during the winter, but also to keep it cool in summer. To benefit year round, add loft and wall insulation. This will reduce the amount of heat absorbed by your home during hot weather.
Read more about which insulation will suit your home best with our buying guide.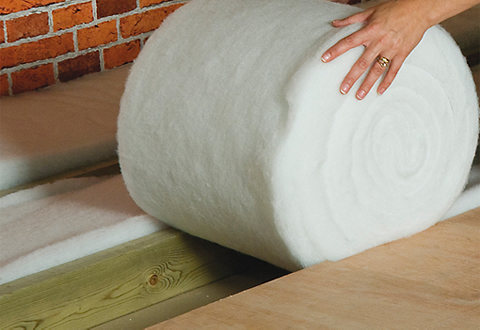 Insulate the hot water system
Your hot water tank and hot water pipes will release heat into your home unless they are insulated. Whilst this can be a bonus in winter, the simple addition of an insulated jacket to your hot water cylinder and lagging to your hot water pipes will reduce the amount of heat that escapes. Not only will this keep your home cooler, your hot water system will be working more efficiently – using less energy to heat water to the same temperature.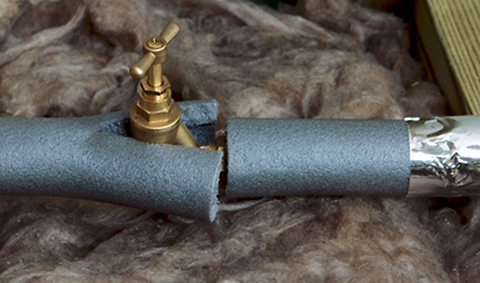 Switch to LED lighting
LED lighting is a more energy-efficient choice than halogen or older-style incandescent light bulbs, and it also produces less heat when switched on. Swapping your light bulbs for modern LED designs takes just a few minutes – but the benefits will last for up to 15 years.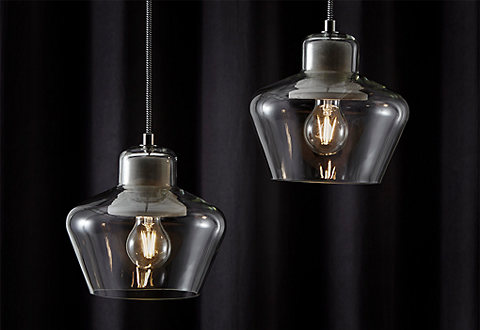 Build outdoor structures
If you enjoy dining and relaxing out of doors regularly, installing an arbour or pergola in your garden will offer a shady spot to sit and relax, or play and entertain, year round.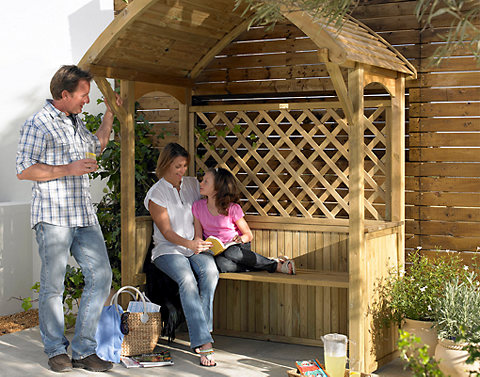 Add planting to the garden
If your home heats up quickly on warmer days, consider the landscaping around your home. Paved and tarmacked areas will absorb more heat than planted areas – so think about adding more flower beds and shrubs close to the house. Introducing trees and larger shrubs to your garden will add shade and shelter with broad-leaved deciduous trees, such as beeches and maples, are great choice. They'll offer dappled shade on a sunny day, but will lose their leaves in winter, allowing light and warmth into your home when needed most.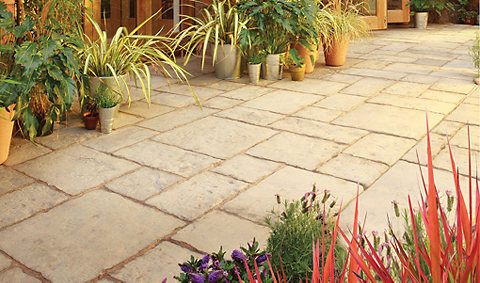 ---