How to keep the garden colourful into autumn
Late-flowering plants for outdoor colour and interest
Summer may be over - but that doesn't mean your outdoor space has to be dull. Keep the colour going into autumn, and beyond, by growing a range of plants that maintain your garden's interest through the colder months.
There is a wide range of hardy shrubs, conifers, heathers and perennials that will keep your garden colourful despite the cold. And a lot of them will keep growing back for several years making them great value for money. So whether you're looking to brighten your borders or replace faded pot displays with something that'll look good on dull winter days, we've got some fresh planting ideas for you.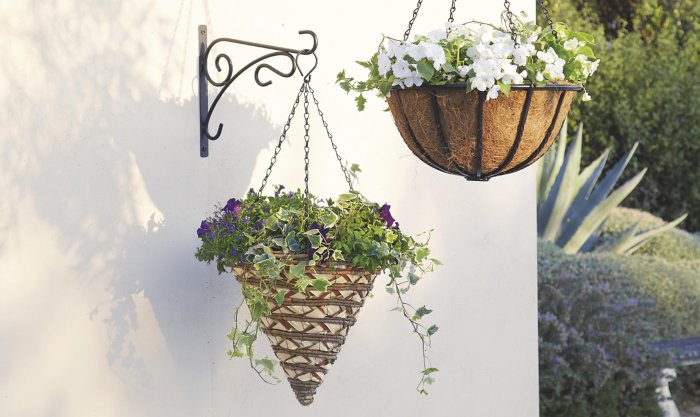 How to choose autumn plants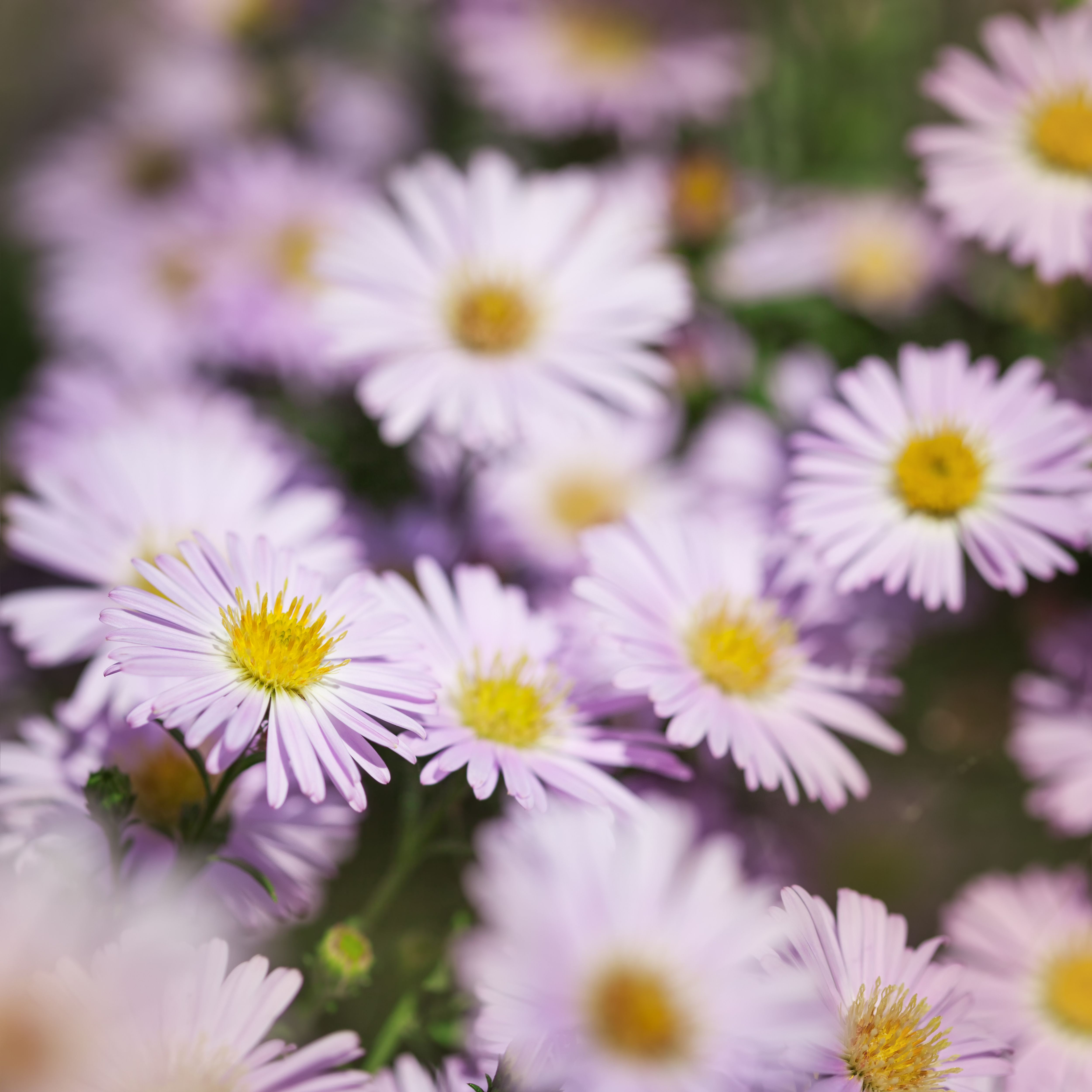 Bedding plants
It's easy to add colour to your garden in the colder months, even though there aren't as many flowering bedding plants available in autumn.
We love Michaelmas Daisies (Aster amellus). These bold, purple perennials are covered in hundreds of daisy-shaped flowers, which spread rapidly and continue blooming well into autumn.
Other options for autumn colour and interest include:

Sedums – flowering from late summer into autumn and loved by bees. If the stems are left over winter, they can look spectacular on a frosty day.
Chrysanthemums – colourful flowers that are easy to grow, and will bloom through October and November
Euonymus – great at any time of year, but its bright variegated (made up of more than one colour) foliage will really help to keep the garden interesting in autumn and winter months
Cyclamen – delicate-looking, but hardy flowering plants that, in most instances, will also bring fragrance into your garden
Pansies – bloom for the longest of all the autumn and winter flowers, they come in a wide range of colours
Primroses – a bright and hardy perennial, primroses thrive in most soils and don't tend to attract any pests or diseases
Many other plants produce colourful fruits and berries in autumn, adding seasonal interest and feeding hungry birds through winter too. Firethorn (Pyracantha), for example, is a favourite for its vibrant yellow, orange or red berries. But be careful – Firethorn is spiky and not ideal for areas near pathways.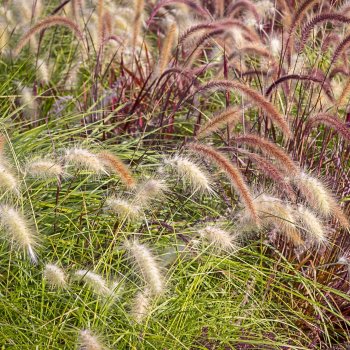 Heathers and grasses
The best autumn displays make the most of hardier types of plants such as heathers and grasses to bring your garden to life, and provide long-lasting colour.
Look for varieties of heather that bloom at this time of year and will give you a good six weeks of colour. They can then be lightly clipped to leave bright domes of foliage to enjoy all year.
Add instant impact to your borders, pots and containers by planting informal, flowing drifts of evergreen grasses and sedges (a grass-like plant that has triangular stems), like Carex 'Evergold' or blue grass (Festuca). Plant in groups for greater visual appeal – garden designers tend to work in odd numbers as it adds more interest than the symmetry offered by even numbers.
We offer a range of other grasses from late summer, including:
Fountain grass (Pennisetum) – an eye-catching variety with impressive, textured flower heads
Sweet Flag (Acorus) - a traditional variety with long slender, spiky leaves
Hook Sedge or Hook Grass (Uncinia) – a striking variety with slim, glossy, red-brown leaves
Overdam (Calamagrostis) – a variety of narrow-leaved, tufted grass with sprays of pale purple flowers
How to group plants together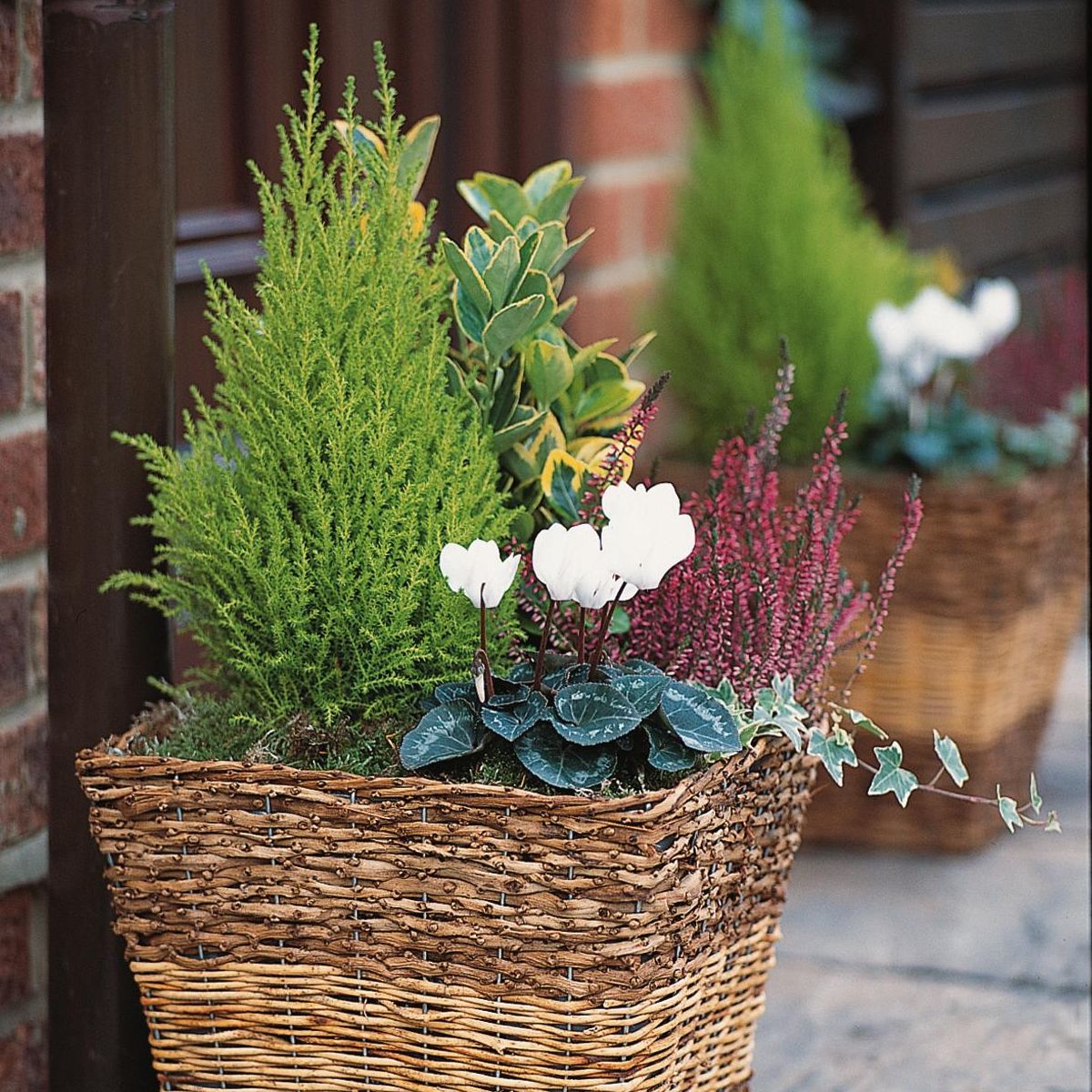 Once you've decided on the plants you would like to include in your borders or pots, it's time to think about how they're going to look when put together.
For this, choose varieties with different growth habits – for example tufted, or rounded or trailing – to add interest to your design. The larger the pot, the more height and depth you may need to create an eye-catching look. And the more variety you can include, the better.
No matter what size your container is, odd numbers of plants look the best. Choose three different plants for a small pot, five for a medium, and so on.
When looking for plants for your pots and containers, mix together:
Brightly coloured heathers and bedding plants for accent colour
Tall, upright or bushy plants to add dimension to the centre or back of the pot. Upright conifers, euonymus and skimmias work well for this
Trailing ivy
Non-flowering colour in the form of Heuchera, which has bright, colourful foliage in reds or greens, grasses for movement and colour or Gaultheria that has beautiful autumn berries
How to prepare pots and containers
You might need:
Step 1

Empty your containers and hanging baskets of all compost and scrub with a brush – this will remove any slug or snail eggs attached to the sides.

Clean with outdoor disinfectant or soapy water, making sure that you rinse thoroughly. Once dry, they are ready to be replanted.

Step 2

Fill two thirds of your container or basket with compost either by hand, or use a compost scoop. Firm the compost down a little.

Step 3

Make tall, upright or bushy plants your centrepiece, or plant them at the back of your pot or container.

Plant smaller remaining plants around your centrepiece, or in front of the taller ones with any trailing types around the edges.

Step 4

Firm more compost down among the roots, keeping the surface about three to five centimetres (cm) below the pot rim, to allow for watering without spilling over the edge.

Water well (about one watering can of water), and allow it to penetrate all the way through the soil.

For more advice on planting a hanging basket, head to our helpful how to guide.

Read How to plant a hanging basket
How to prepare and plant beds and borders
You might need:
Step 1

Turn over the soil with a digging fork or spade. This will aerate it and help to break up any compacted lumps, providing a better structure for roots to grow into and allows for better drainage.

Remove weeds by hand as you go, or with a hoe, and take out any large stones.

Step 2

Mix in a generous load of manure or compost (about a bucket per square metre), to enrich the soil with nutrients to help keep your plants healthy.

Step 3

Fork the compost deeply so that the roots of your new plants will grow down into it in search of moisture and nutrients.

Step 4

You can then begin planting. If you need a hand with this, read our articles on planting for more information;
Articles