How to paint your front door
Paint your door in just one day
We all know what a new coat of paint can do for your walls, so why not treat the face of your house to a fresh look too? Your front door is the first thing guests will see, so take the opportunity to let everyone know your style right from the first step. With this 'Do It In A Day' project, you can give your home some brand new curb appeal in a matter of hours!
Before you start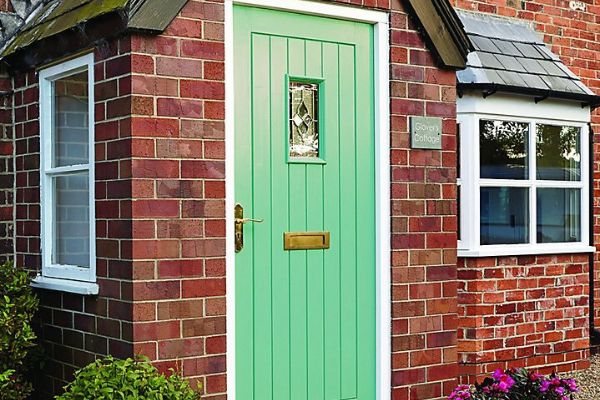 First, decide on a colour.
There's nothing more fresh than classic white always looks fresh and clean, however, if your decor is modern, try something on trend like a cool grey. If you have a period home, you could experiment with a rich pillar box red or royal blue.
Lead testing
Before stripping old paint (especially from before the 1960s), it's very important to check it doesn't contain lead pigments. You can do this with lead testing kit, which is quick and simple to use. If the result is positive, you must use a special chemical stripper and take all the precautions advised by the manufacturer.
Project shopping list
If you can't make it into one of our stores try click + collect. Many of our products are ready in just one hour, and even more are available the next day. Simply pay for your items online, and pick up free of charge from your nearest B&Q store.

The secret to achieving a door to be proud of is to prepare the surface before you start painting. It's worth taking a little extra time to do this otherwise you won't end up with the smooth finish you'll want to show off.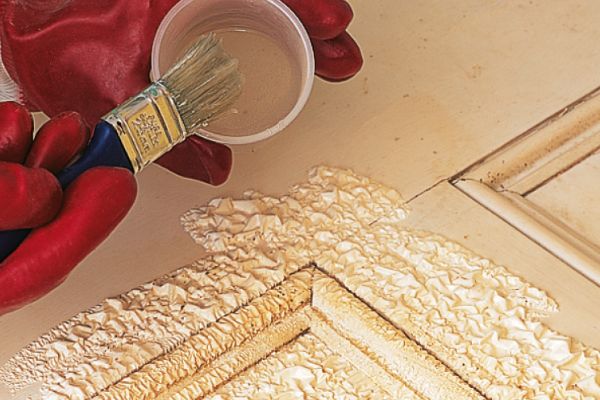 Step 1, 7am: Safety first. Be sure to wear protective gloves and goggles and then apply the paint stripper using an old paint brush. Work it into the mouldings and corners, brushing evenly over the flat areas, and leave it for the recommended length of time.
You'll soon notice the chemical start to react with the paint when the surface begins to bubble.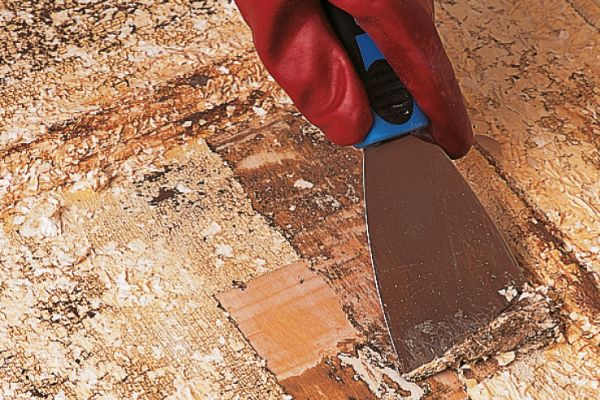 Step 2, 7.30am: On a test patch, try scraping back the paint with a flat-bladed scraper. If the paint is several layers thick, you may need to stipple some more stripper and leave it a little longer.
Once the stripper has done its job, you can scrape back the paint to reveal the bare wood.
Paint stripper
Always read the paint stripper instructions carefully and take all the precautions that are recommended for the product you're using. If you can, take the door off its hinges and work in a garage or workshop, especially if you have small children or pets.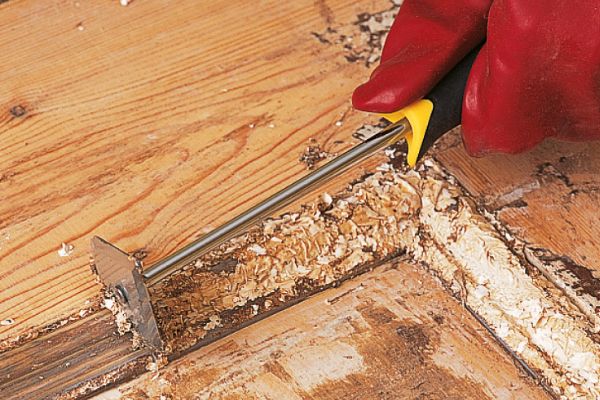 Step 3, 8.30am: Use a shave hook to scrape any paint from the mouldings. Draw the hook back towards you, removing paint from any crevices.
Keep going until you've removed all the paint.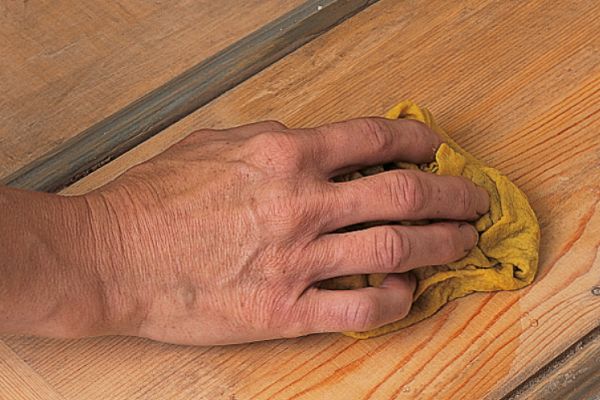 Step 4, 9.30am: Neutralise the surface using either white spirit or water - this will depend on the product so check the instructions.
Work it into the surface with a cloth or brush to remove all traces of the stripping solution. You're now ready to sand and finish your door.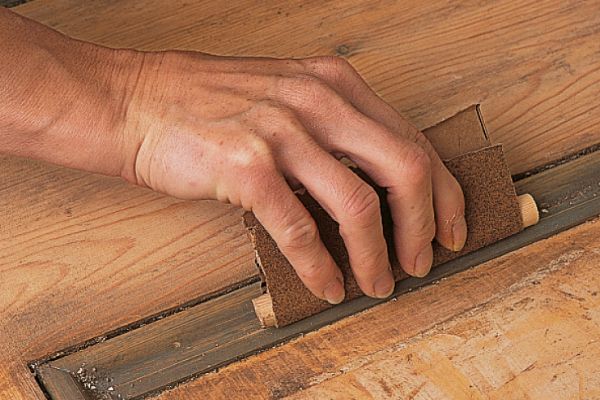 Step 5, 10am: Wear a dust mask and sand the flat panels with medium-grade abrasive paper. Wrap the paper around a piece of wood or use a sanding block and work in the direction of the grain, taking care not to round off any sharp corners or mouldings.
Go over the area a second time using a fine-grade abrasive paper.
Step 6, 10.30am: After you've done any necessary stripping, sanding or filling and your door is fully prepared for painting, detach the handles and wedge the door open. We recommend keeping the handle and spindle in your pocket in case the door accidentally closes!
Step 7, 12pm: All this work is making you hungry. You've got half an hour on the clock, so take a lunch break and refuel!
Step 8, 12.30pm: Time to paint! Our illustration below will help you to paint your door in the right order, depending on the style of door you have.
Painting a panel door Start with the panels (1) and the mouldings that surround them. Next, paint the centre vertical (2). Then paint the cross-rails (3), starting with the top rail and working down. Paint the outer verticals (4), and finish by painting the three exposed door edges (5).
Painting a glazed door You should use masking tape or a paint shield to protect the glass in a glazed door. First, paint the mouldings around the glass (1) with a cutting-in brush. Next, paint the cross-rails, starting with the top rail and working down (2). Then paint the outer-verticals (3), and finally all three exposed door edges (4).
Painting a flush door Divide the door into eight imaginary sections. Start at the top left (1) and work down from left to right. Blend each area into the next, while the paint is wet, finishing with vertical strokes in line with the grain. Paint the door edges last.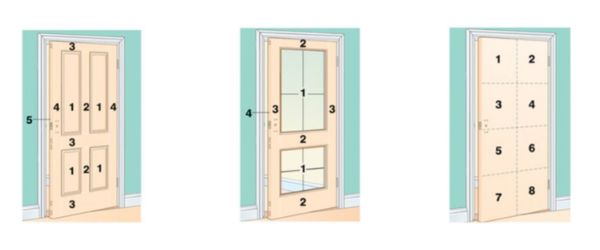 Step 9, 2.pm: Painting done! The only thing you have to do now is leave it to dry. Most types of paint recommend leaving the door open until it's fully dry.
That's a wrap!
Stand back and look at your finished result, all that in just one day! You've definitely earned yourself a pat on the back. We bet you can see the neighbours getting jealous already!
We'd love to see your paint transformations. Share your photos on Facebook and Instagram to show off all your hard work! Remember to use #doitinaday.
If you've caught the painting bug and want to take on more paint projects, check out our other 'Do It In A Day' challenges.
Articles