How to prepare for a B&Q kitchen design appointment
Get ready to come into store for your design appointment
There's a long list of things to consider when planning the design of your new kitchen. But that's why we're here. At B&Q, we take care of all of that, so you don't have to. We offer free kitchen planning and advice – simply come in-store and we can start helping you with your new kitchen.
What to expect at the kitchen design appointment
A 3D design of your new kitchen that you can view and change at home using our B&Q Spaces design tool
A complete quote with price breakdown
An opportunity to chat about, and apply for our finance products. For more on this, head to our Financial Services page.
Read more about our Financial Services
What to bring to the kitchen design appointment
Here's a list of things you might want to bring with you. But if you'd rather come in and chat to us first, that's not a problem.
Your kitchen's measurements - this will help us accurately start designing your kitchen. More on how to take these measurements later in the article.
A sketch of your kitchen's layout
Some photos of your current kitchen
Any photographs or pictures of your ideas - these might be photos torn from a magazine, print-outs of a webpage or snaps on your smartphone. We're not fussy how you show them to us, we're just keen to understand how you'd like your kitchen to look. If you're still looking for kitchen inspiration, check out our guides to hot kitchen trends.
Read Kitchen ideas - on-trend designs to inspire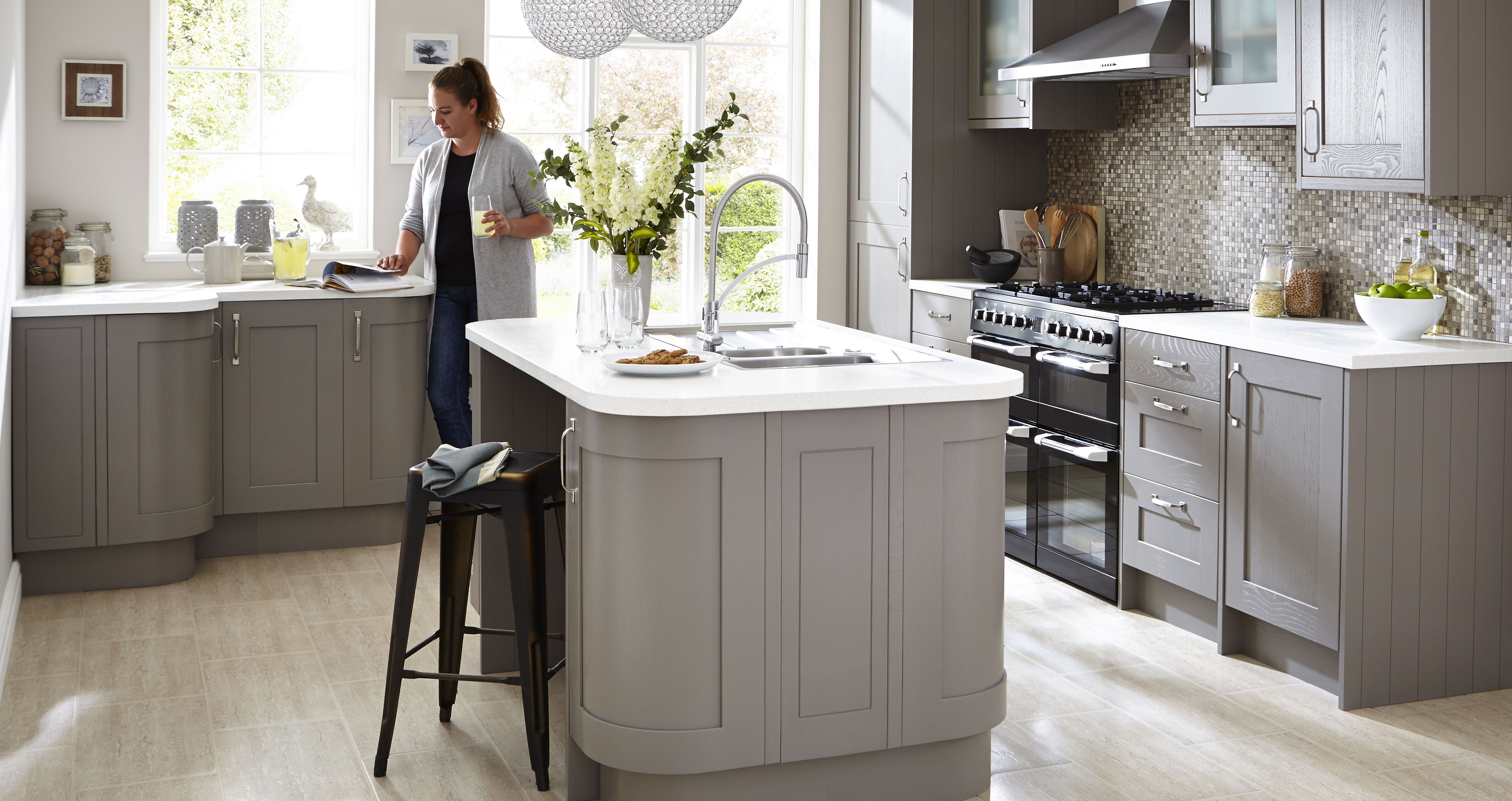 Tools & materials required
How to sketch & measure a kitchen
You will need:
Paper - download our graph paper complete with measuring checklist
Pen or pencil
Watch the video or follow the steps below to find out how to sketch and measure your kitchen.
NB: Our Homefit service will no longer be available from 9 July 2018. Any existing orders will be honoured until 14 December 2018.
How to sketch the kitchen
Step 1
Sketch the overall layout of the room. All you need is the general shape.
Step 2
Mark the location of windows, doors, archways and hatches on your plan. Include the opening swing of doors.
Step 3
Indicate any obstacles that must be planned around, such as the boiler, meters and radiators.
Step 4
Add the entry point of main services, such as electricity, water and gas.
Top tip: Log any changes
Make a note of any structural alterations you may want to make, like moving doors.
How to measure the kitchen
Step 1
Measure between each fixed point – doors, walls, windows. Pick a starting point, like a corner, and work clockwise around the room to avoid missing anything.
When measuring doors and windows, remember to include frames, together with the distance from the floor to the underside of the windows. Measurements should be in millimetres (mm), as anything larger doesn't provide enough accuracy for us to help you plan.
Top tip: Be thorough when taking wall measurements
If you have a period property or one with visibly uneven walls, measure the at the top, middle and bottom.
Step 2
Measure the dimensions of obstacles in the room, such as the boiler or radiators. Remember to include the width, depth and height of each item and its relative height from the floor. Some obstacles and main services could be movable – please discuss this with us in store.
Step 3
Measure where main services, such as electricity, water and gas are and mark on your plan. To do this, measure from the nearest fixed point on your diagram to the centre line of each service. Remember to include sockets, phone, gas, water and TV points.
Step 4
Measure the ceiling heights.
To do this, take two or three measurements to ensure the ceiling is consistent and mark the height in the middle of your survey plan. If there's obstacles on the ceiling, such as stair slope or landing, mark this on your sketch.
Step 5
Measure the dimensions of any freestanding appliances that you're looking to keep.
Top tip: Do a double check
Double check your measurements for accuracy as this will make it easier to start work on your new project.
Step 6
Come in store and see us. Now that your sketch is completed, let's make your new kitchen a reality.
Book a free appointment with our design experts
Locate your nearest showrooms store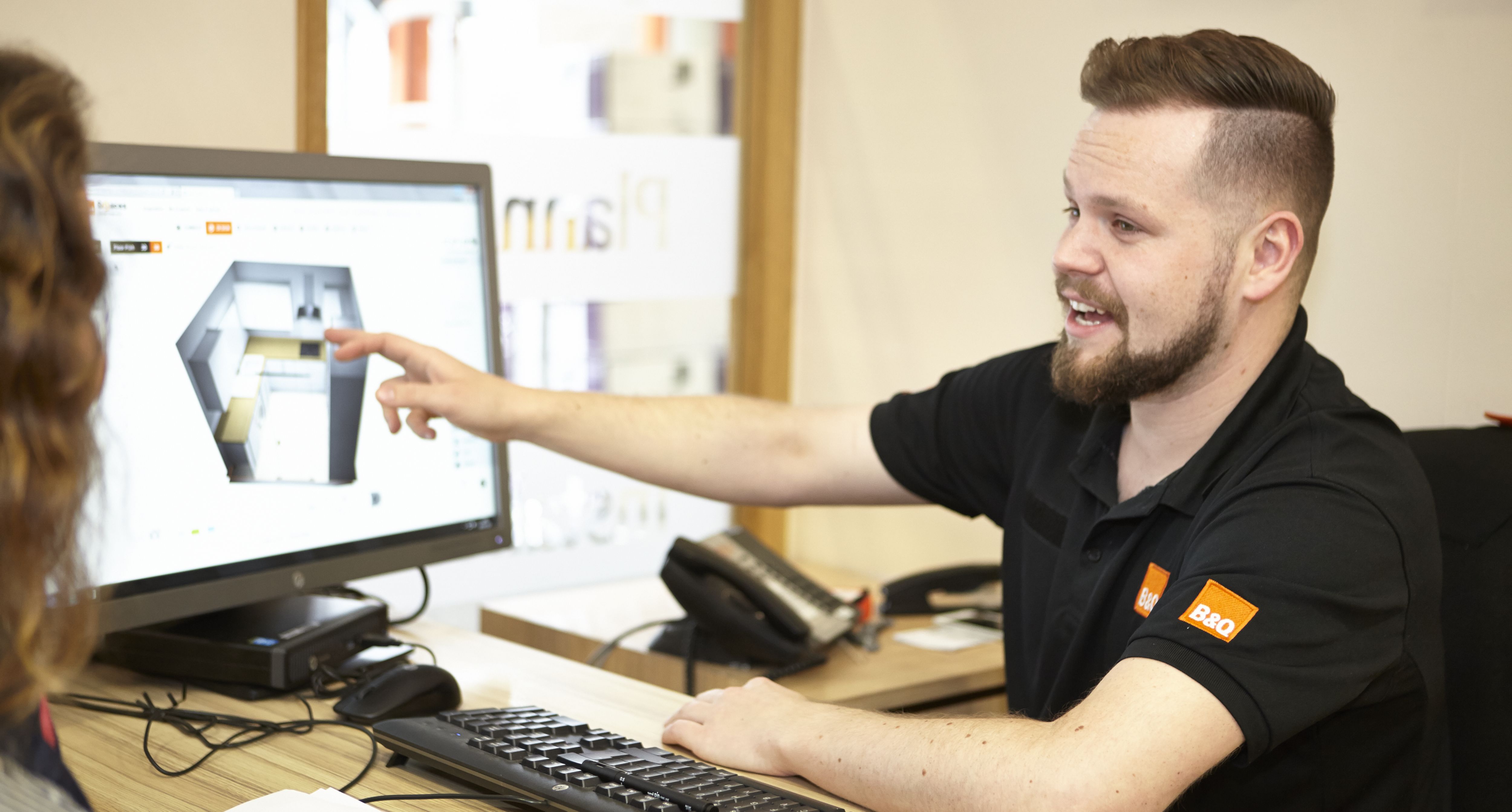 Articles