An easy way to grow your own fruit, vegetables and flowers
A gardening activity that the whole family can enjoy, growing plants from seed gives a great feeling of satisfaction that's hard to beat. But not only that, growing your own flowers, vegetables, salads or herbs is a cost-effective way to fill your outdoor space with colour, scent and delicious food. You can grow seeds almost anywhere – some annual seeds can even be put straight into the ground.
In this guide, we'll talk you through how to sow your seeds in a seed tray. This is one of the easiest ways to get your plants started so that eventually you'll end up with beautiful results.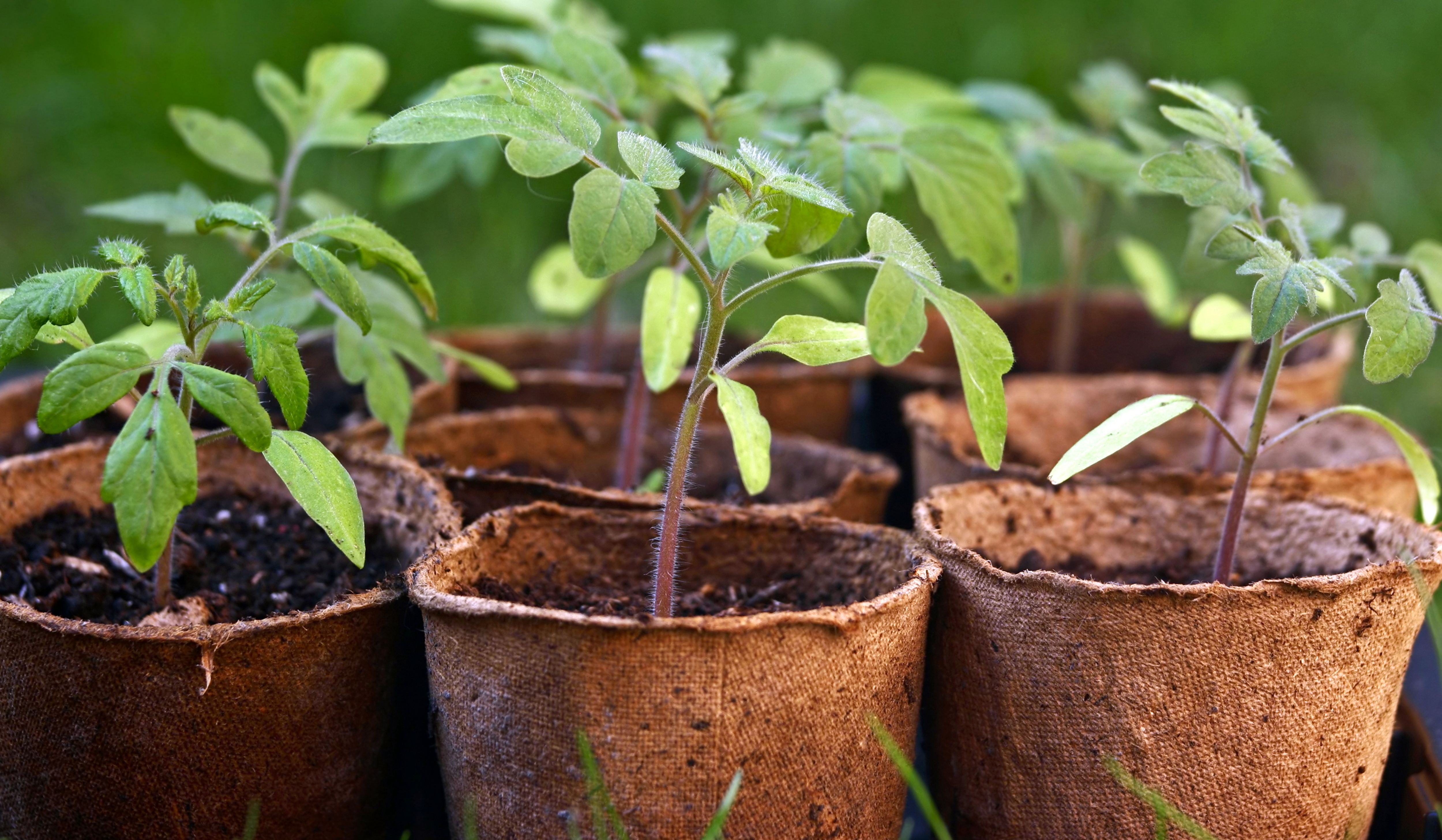 Before you begin
How to choose seeds
When selecting seeds, it's important to find out:
When to plant your seeds (and when you can expect them to bloom)
What conditions they need
How big they'll get
Reading up on your chosen plants will help you check that you have the space and suitable environment to help them thrive.
You might need:
Materials
Tools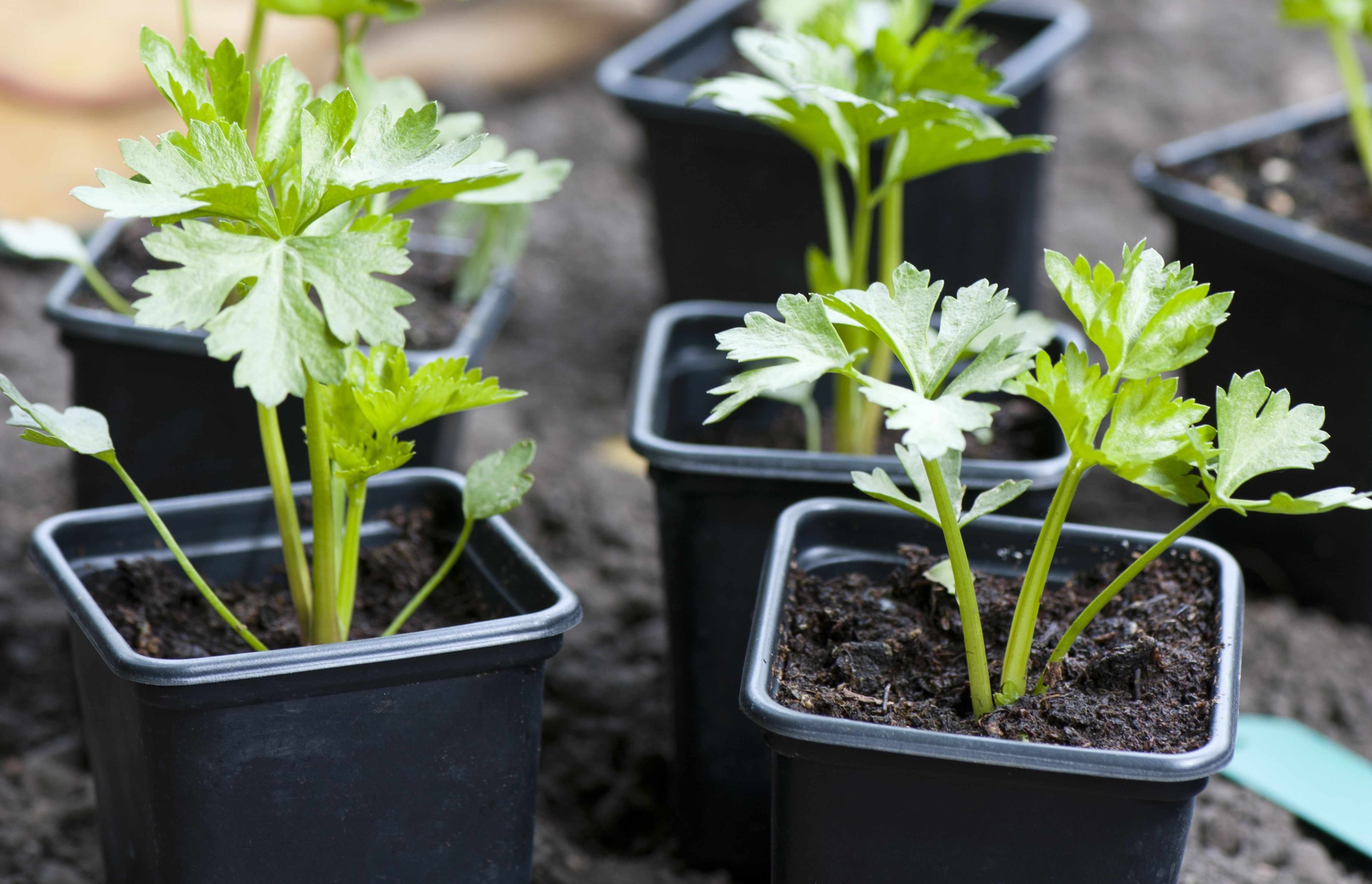 How to sow seeds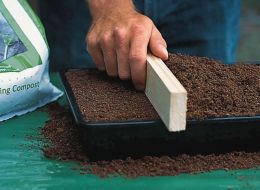 Step 1
Fill a seed tray with compost and level off the surface. Do this by running a piece of wood over it to scrape off the excess.
Use a tamper to gently compress the compost evenly.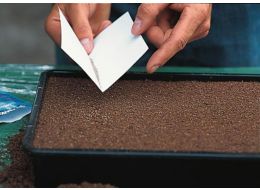 Step 2
Prepare to add your seeds. Large seeds are often found loosely in the main packet, but small ones are usually inside smaller sachets. Carefully open seed packets or sachets by tearing or cutting off the top with scissors.
Place smaller seeds inside a folded piece of paper – this will help you sprinkle them evenly across the compost. Larger seeds can be planted individually, just push them in place with your finger.
Remember not to overcrowd the seeds, as this could prevent them from growing. Space out your seeds at the suggested distance (see the packet for instructions) over the surface of compost, and always avoid sowing too thickly.
Top tip: Save any spare seeds
If you have spare seeds, fold down the edges of packets and place them in a sealable sandwich or food box. Keep this in a cool place, like the salad drawer in the bottom of your fridge.
Remember to check each seed pack for the expiry date - you may be able to keep for sowing next year, or for a second batch of some crops later in the growing season.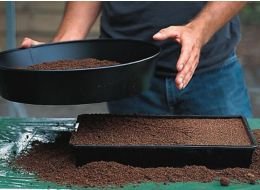 Step 3
Depending on the size of your seeds, sieve compost over the top so that they are lying at the correct depth below the surface. Some of the smaller seeds need light and so should just be on the surface – check the instructions on your seed pack.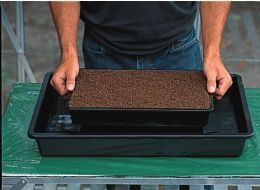 Step 4
Water your seeds.
Use a watering can with rose for larger seeds. For smaller seeds, spritz with a water sprayer or place pots or trays in larger trays filled with warm water (pictured). Leave in place for five to ten minutes to allow the compost to absorb the water. This will also draw the seeds down into the compost.
The surface of the compost will turn a darker colour when the moisture reaches it – this is the cue to remove the pots or trays from the water.
Top tip: Label the seeds
If you have sown a lot of seeds, label them with the plant name and other information, such as the sowing date. You may find this useful later on if you're sowing multiple batches to flower or fruit at different times throughout the growing season.
Step 5
Keep pots or trays in a warm position with a minimum temperature of around 21˚C (70˚F) to encourage germination. Ideal locations include a heated greenhouse (pictured) or heated propagator with transparent lid. And if the weather is warm enough, keep them in a growhouse or a cold frame.
As a budget, DIY alternative, cover each pot/tray with a sheet of cling film. Twist it around the edges to produce a tight seal, or use an elastic band to hold in place. This conserves the moisture, preventing compost around the seeds at the surface from drying out.
Keep indoors on a sunny windowsill, remembering to turn them regularly so that they don't grow lopsided.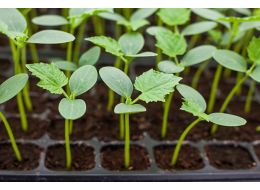 Step 6
Once seedlings emerge, remove the clear film covering the tray/pots and place them in light, avoiding scorching sunlight.
Leave seedlings to develop their first true leaves before gently potting them up individually into small pots or trays, or moving them into a bed or border. Always handle seedlings by their leaves, never by their stems as they are easy to crush and damage.
Top tip: Feed the seeds
Most compost only contains enough fertiliser to keep plants growing well for about four to six weeks. After this it's important to start regular feeding. Add an all-purpose plant food to one watering a week, following pack instructions for the correct dilution rate.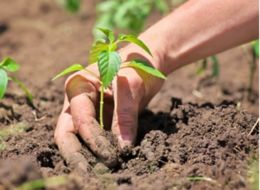 Step 7
Before they can be planted outdoors, the seeds will need to go through a period of adjustment or the change in temperature could kill them. This is known as hardening off.
Start by placing them outside in a sunny spot for part of the day. If you have a cold frame, move the trays or pots into here and open the top for a little while each day.
Gradually increase this time outside, before planting them after the final frost.
Articles