How to understand a water pressure system
Help make the best choice when selecting showers and taps
Understanding the water pressure system that is installed in your home is important when choosing taps, showers and other plumbing fittings for your home. Match the right tap or shower to your water pressure and you'll get great performance – mismatch them and you may find that your taps run very slowly, or hot and cold water runs at different flow rates making it hard to strike a comfortable balance.
Water pressure systems are made up of a combination of a boiler and water storage tanks. Some homes may not have a boiler but will have hot and/or cold water tanks, and others will have a boiler but no water tanks.
Which system do you have?

If you have a cold water tank in the loft and a hot water cylinder elsewhere
This means you have a low pressure water system – and it's quite likely your hot water cylinder is found in an airing cupboard. These are also known as gravity-fed systems. You'll need to choose taps and showers designed to work with lower water pressures, and it'll be helpful to calculate the exact water pressure to make the right choices.
If you have a combination (combi) boiler
This means you have a high pressure vented water system. Your boiler will be wall-mounted and probably located in your kitchen and you won't have a cold or hot water storage tank. Combi boilers are fed directly with mains pressure cold water, which is then rapidly heated and pumped around your home at close to mains pressure. High pressure water systems offer the flexibility of being suitable for use with most showers and taps, so you shouldn't need to calculate your exact water pressure.
If you have a hot water tank but no cold water tank
This means you have a high pressure unvented water system. The water will be stored at mains pressure in a strengthened hot water tank, where it is heated by immersion heaters attached to the side of the tank or a central heating boiler. It'll likely be found in an airing cupboard. You'll have the option to choose from most taps and showers with this set-up.
How do I calculate the exact water pressure in my home?
Water pressure is measured in bar, with 0.1 bar equivalent to approximately 1.45 pa of pressure. With low pressure water systems, you'll want to measure your water pressure precisely to find a tap or shower that will give you optimum flow.
Measure the height between the bottom of your water tank and the outlet of your tap in metres. You might find that this means measuring from your tap to your ceiling, and then from the floor of your loft to the bottom of the tank. Add these two numbers together. If there are floors between your kitchen and the loft, measure the height from floor to ceiling and add this number to the total. You don't need to be really accurate here, but you'll want to know the distance to the nearest metre.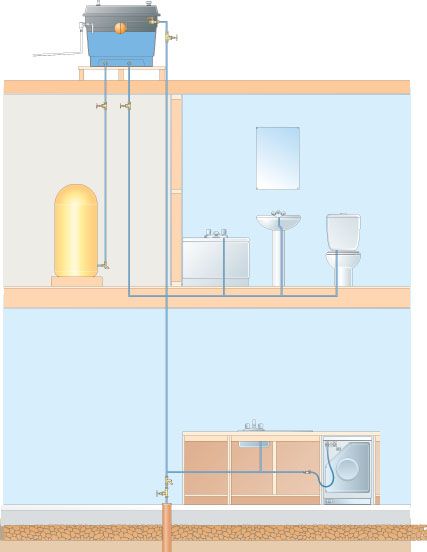 Once you've got your measurement, use this table to work out your water pressure.
Calculate your water pressure

| Distance | Water pressure |
| --- | --- |
| 1 metre | 0.1 bar |
| 2 metres | 0.2 bar |
| 3 metres | 0.3 bar |
| 4 metres | 0.4 bar |
| 5 metres | 0.5 bar |
| 6 metres | 0.6 bar |
| 7 metres | 0.7 bar |
| 8 metres | 0.8 bar |
When you come to choose a tap or shower, you'll find the water pressure it is suitable for will be clearly labelled, use this as an indicator of those which is work well in your home.
Water systems which operate at 1.0 bar pressure or greater are considered high pressure systems.
Those with a pressure less than 1.0 bar are considered low pressure.
What taps are right for my water pressure?

If you have low water pressure
Look for kitchen and bathroom taps which are labelled as suitable for high and low water pressure systems. Check that the minimum water pressure is the same as, or lower than your water pressure.
If you have high water pressure
You can choose from taps which are labelled as suitable for high and low water pressure systems, or high pressure only.
Which shower is right for my water pressure?

A low pressure system offers the greatest choice of showers. Mixer showers (with or without a pump), digital showers (with a pump), electric and power showers will all be suitable.
Adding a pump will help to boost the lowest water pressures to give better performance, and can be purchased and installed separately to the shower.
Top tip - Add a shower pump
If you have a low pressure water system and want a mixer shower, a shower pump will help boost your flow rate. There are two types to choose from: a regenerative or a centrifugal shower pump.
Regenerative shower pumps
If the route from your cold water tank to the pump is around 1 metre away or is complicated by lots of elbows and bends, choose a regenerative shower pump.
Centrifugal shower pumps
These spin faster and produce a faster flow than regenerative shower pumps. Choose a centrifugal shower pump if the cold water tank is at least 2 metres away from your pump, or the route is very direct with minimal bends and elbows.
Whichever pump you choose, it doesn't need to be visible – hide it under your bath or put it in your airing cupboard out of the way. You may still hear it working, though.
Remember that you can't connect a pump to a combi boiler or to a cold water supply that comes straight out of the mains. And to get the most out of your pump, you may need to consider getting a bigger hot water cylinder.
A high pressure vented system will work well with a mixer, electric or digital shower. There is no need to install a pump as the water pressure should already be strong.
If you have high pressure unvented system, choose from our range of mixer showers.
Articles