Kitchen cabinetry and storage buying guide
Clever storage and cabinetry solutions to maximise your kitchen space
Forget the size of your kitchen – storage is always a problem. Whether you have a compact galley or large family kitchen, it's difficult to organise all your kitchen items. There are often hard-to-reach corners that sit empty and unused, while the space that you can access is overcrowded and cluttered. And with this room being the heart of the home for many of us, getting maximum use of every bit of space is a real challenge.
Let us talk you through our different cabinetry and internal storage ranges and show you how each can help really make the most of the space you have.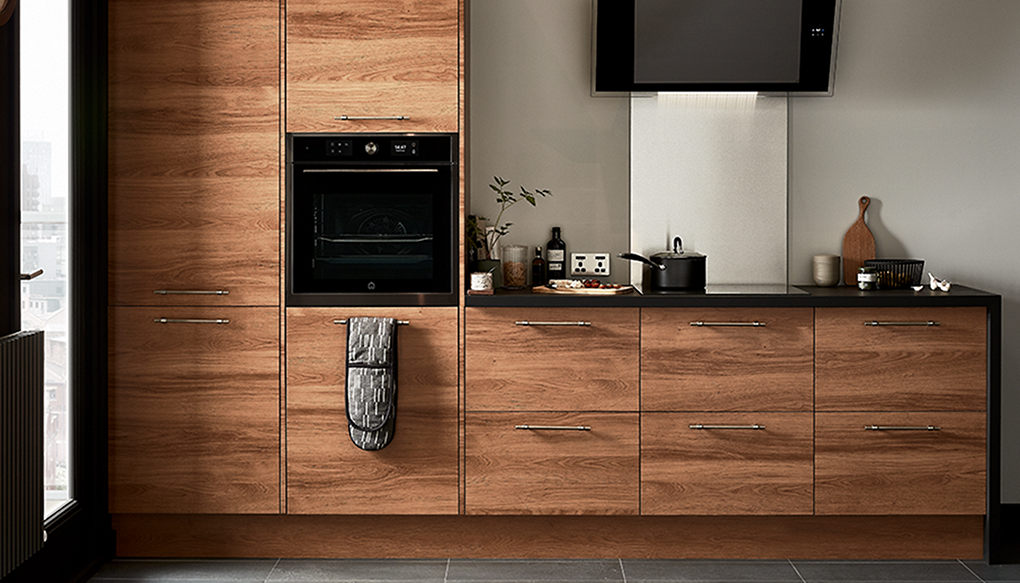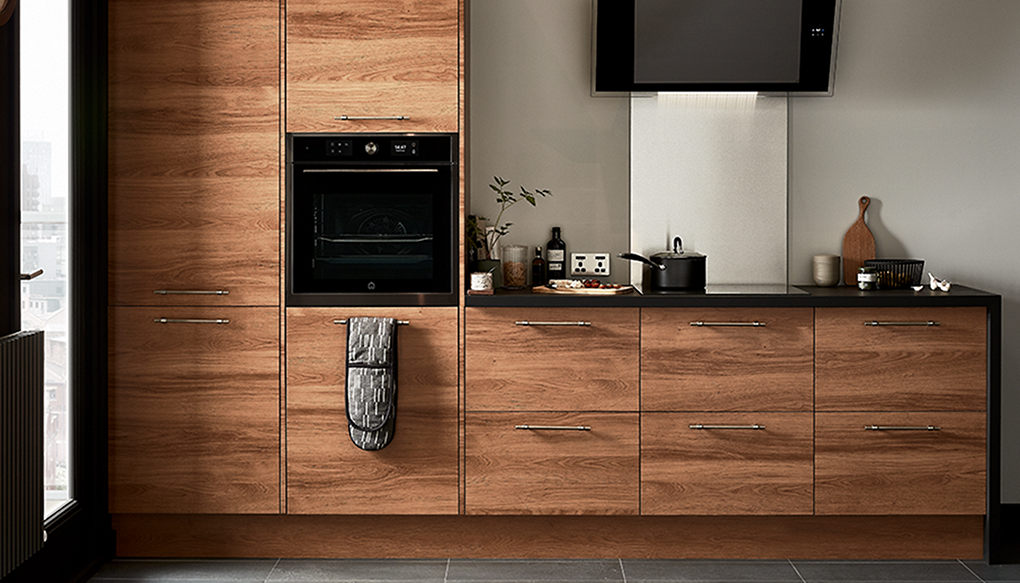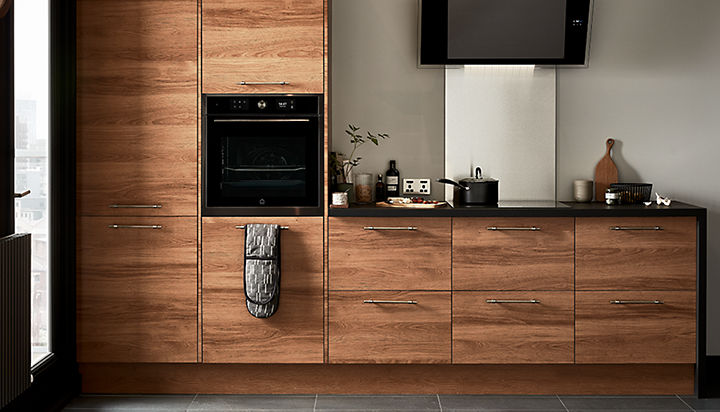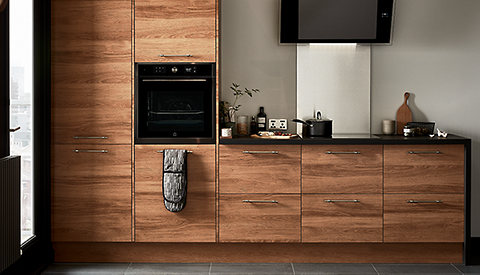 What storage solution is best for you?
Consider how much space you have. Our storage options can work in existing kitchen fittings. So it's essential to measure your internal kitchen cabinet units and drawers accurately before you buy. Remember to measure the dimensions from the inside of the frames, not the outside, as that's where the storage mechanisms will be fitted.
Our kitchen storage solutions can:
Make better use of limited and unused space
Improve access to hard-to-reach corners and areas
Organise and tidy
Free up worktop space
So, let's take a look at our different options and help you find your perfect solution.
---
So much space goes unused in your cabinet units, but there are plenty of ways to claim this back. Our Caraway kitchen cabinets are split into three categories: base, wall and larder / appliance housing. All our cabinets come with the following features as standard:
Sold with a 25-year guarantee
Made with responsibly sourced timber
Constructed from 1.8 cm thick, durable MFC
Built with ABS front edging for protection against accidental damage
Utilise an easy-fit cam and dowel installation system, with comprehensive instructions for easy assembly
Available with additional shelves to suit customer needs
Compliant with FIRA Grade H specifications, for heavy domestic use
Available in multiple dimensions and storage options to create a combination that makes the most of your individual space
Now let's go into a little more detail about each one:
Base cabinets
Our base cabinets are 57 cm deep to provide great storage and are available in two heights – 36 and 72 cm (excluding legs). They're also available in a wide range of widths and our corner units come in 2 options – blind or L-shaped to fit different kitchen requirements. Suitable for use with standard or internal drawers. You can choose whether you want the drawer fronts exposed or hidden behind a cabinet door. When it comes to installation, the 'bag in a bag' fittings make it easier to assemble.
Wall cabinets
Our wall cabinets are available in 3 heights – 36, 72 or 90cm. And can be used as a narrow base cabinet if you use cabinet legs giving you the flexibility to maximise cabinetry in tight, small or awkward spaces. They're easy to level with the adjustable wall hanging brackets and come in 3 corner options – blind, L-shaped or angled for you to choose from.
---
Our larder storage comes in a range of options which can be combined with our Soto internal drawers to create storage towers which maximise available storage space in a larder and create an easy to access solution. Or they can be paired with our Pebre internal storage for a Pull out larder option. There are 2 different heights of larder unit– 201 and 219 cm (excluding legs) and 3 widths so you can find the right solution for your space. The units are pre-drilled to allow for 2 storage tower options and you can customise your unit with shelf packs and larder ends.
---
When planning your kitchen, it's worth trying to include more drawers than shelves. Drawers help maximise the amount of usable space and make it easier to segregate items with dividers. Investing in more drawers at a base level can reduce the amount you need to bend down to reach things at the back of the cabinet. Plus, it can reduce the amount of wall cabinets you need, while full extension drawers give an easier view of fiddly items like utensils or plastic containers.
Our Soto drawers offer two drawer heights (standard and deep) that can be used as external or internal 'hidden' drawers. Standard height drawers are perfect for cutlery, utensils, and other small items – especially with our Nitaki cutlery trays. Choose deep drawers for pots, pans, dinnerware and plastic containers, as well as bulky food items like cereal or rice.
Internal drawers might be a great option for you if you prefer a clean drawer-less look. Our internal fascias make it easy to create different combinations to suit your needs, giving the impression of a full door while maintaining the advantages of multiple drawers. You can also create a plinth drawer to make the most of all available space, even that traditionally below your cabinet. Simply team the drawer box with a plinth bracket kit.
---
Our solutions are used to help maximise space usage in all areas of your kitchen. We've created a number of clever internal storage products like space-saving storage towers, pull-out and corner units with improvements from our previous range:
Easy to assemble, with improved instructions and drill templates
Improved surface coverage to maximise storage space
Maximised load potential for heavier items
Added plastic shelving that's easy to remove and clean
Pre-drilled cabinet holes for easy installation
All designed to seamlessly fit our Caraway cabinet range
Our pull-out units are similar to our larder options – the shelving pulls out from inside the cabinet into the room – so you can easily see and reach everything in one gliding action. They're ideal for narrow spaces and can help with specific storage problems.
In contrast to the pull-out mechanism, corner carousel units rotate and are best suited to corners and awkward L-shapes. Carousels provide easy access to bulky items, like pots and pans and improve access to hard-to-reach corners. Check out our GoodHome Pebre corner carousel.
Alternatively opt for our GoodHome Pebre pull-out corner unit. These consist of two shelves that swing out of the cabinet space for maximum access and are ideal for heavier items.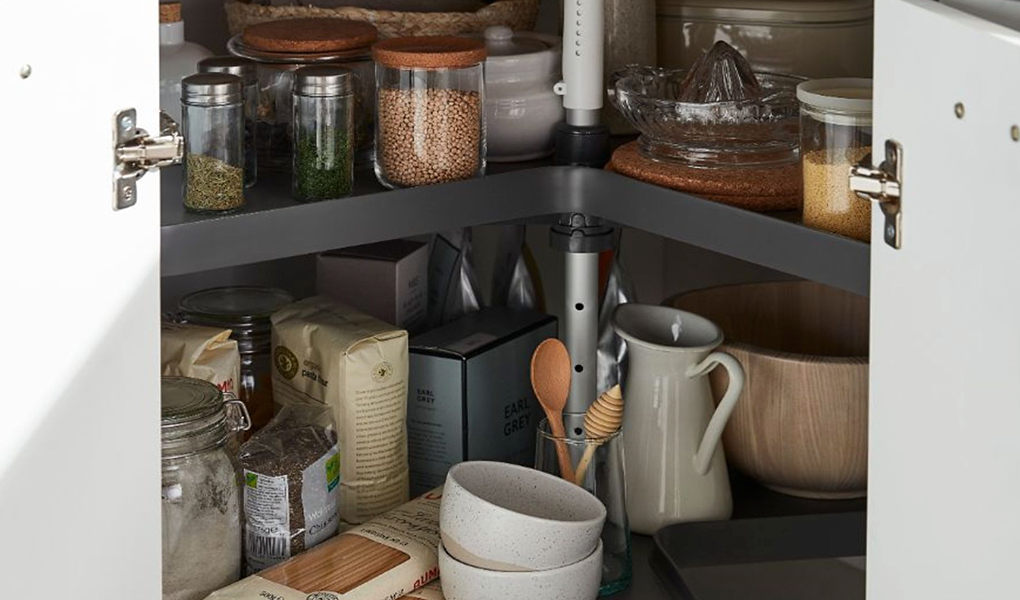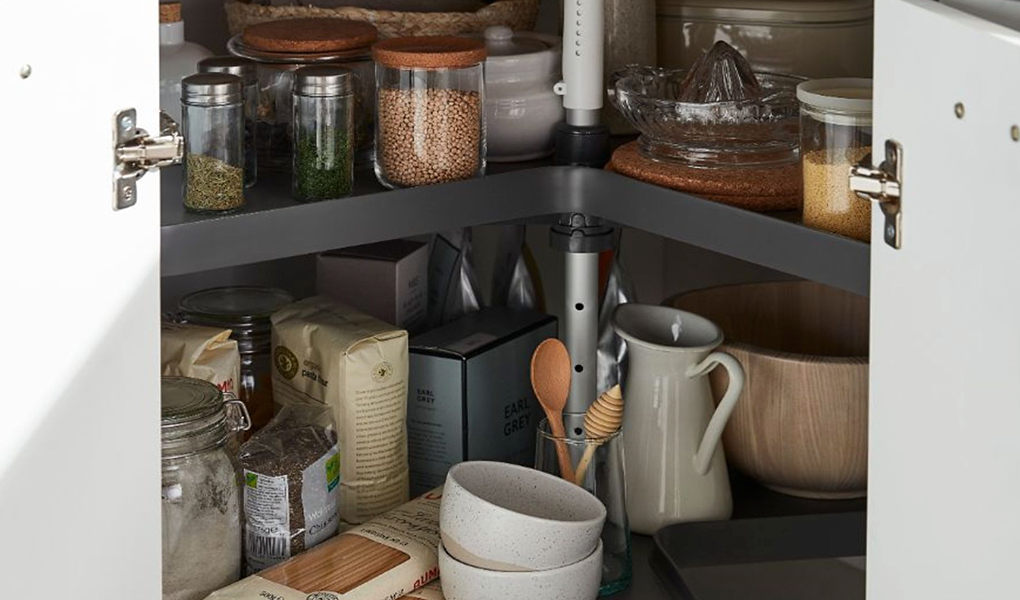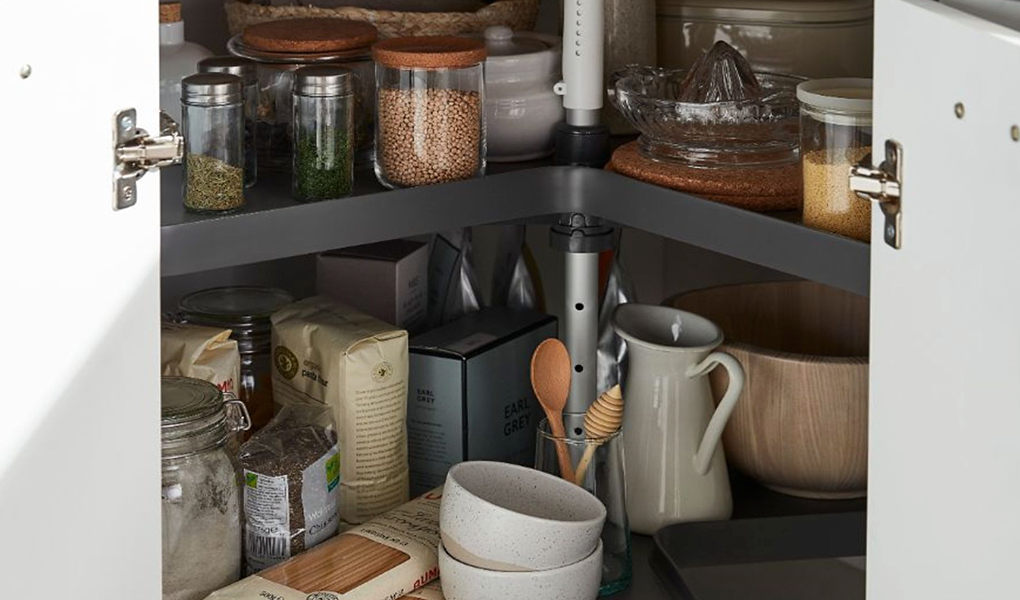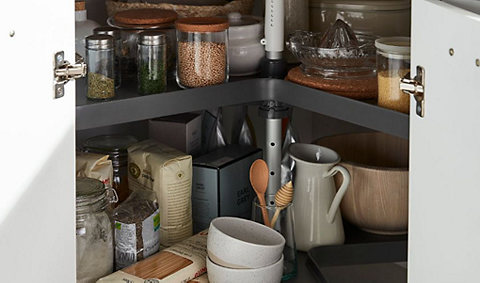 Upgrade even further by doubling up your corner cabinet space with our GoodHome Pebre space corner unit – two complete storage units attached to one another in a single corner cabinet. One is secured to the inside of the door and on opening, automatically pulls the other one forward in a seamless motion meaning all the space is used.
Kitchen drawers often attract all those items that don't have a home and offer superior storage space compared to door fronted cabinets making them a great storage choice. We offer a few clever ways to tackle this untidiness and keep even small storage spaces organised.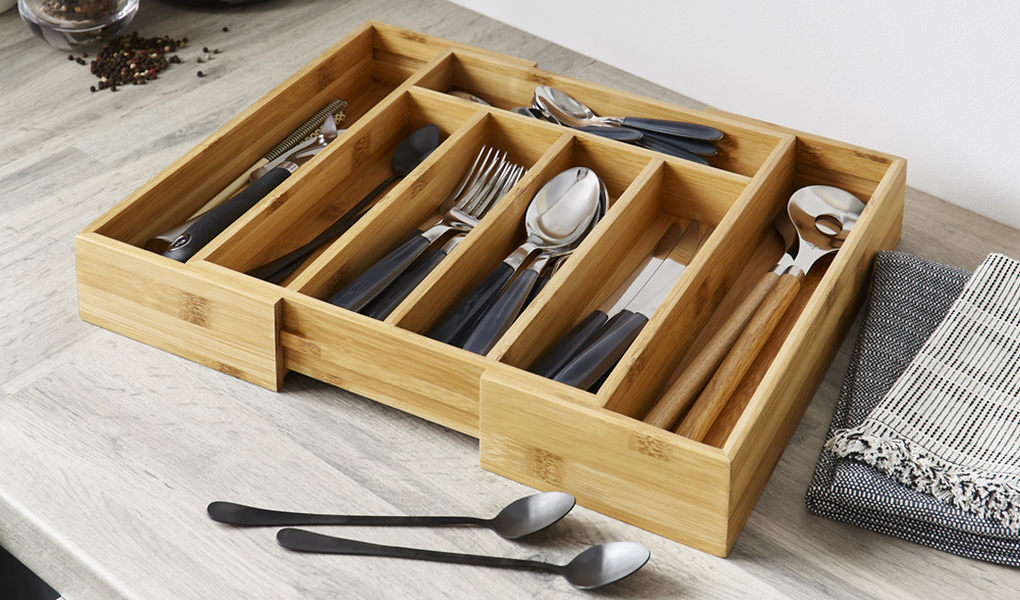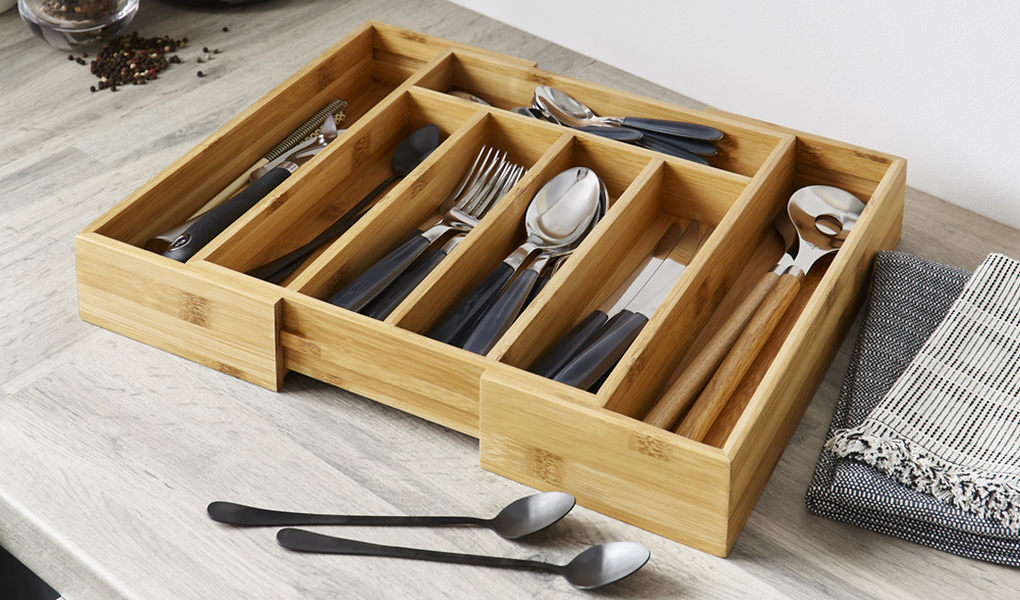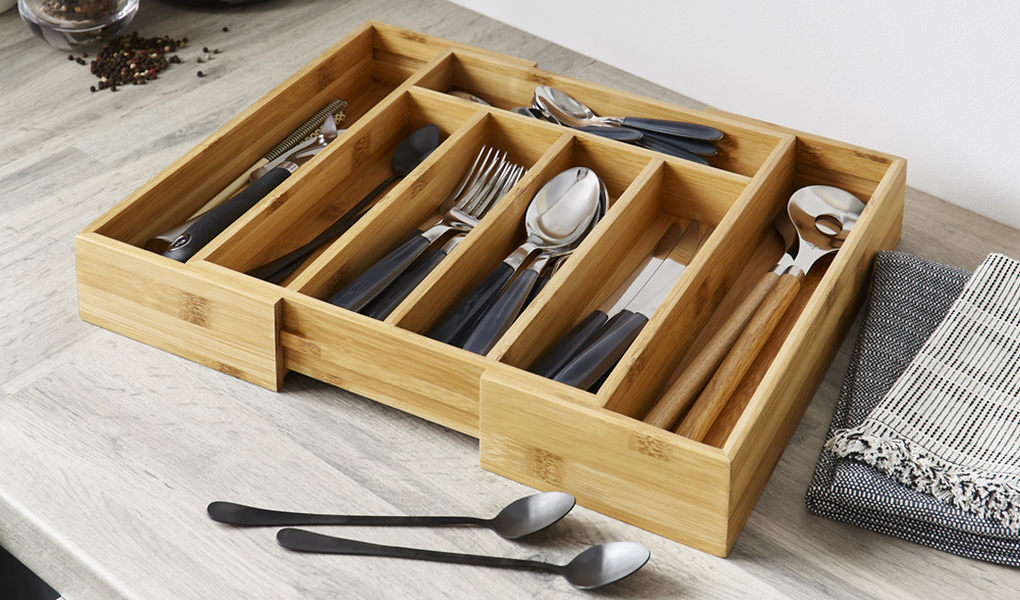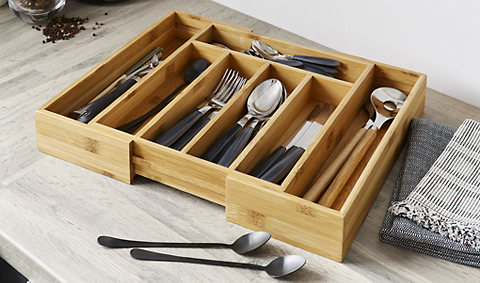 Use dividers
Use dividers to section off areas of your drawers to suit your needs, moving the dividers as and when you need to. Small drawers are great for less bulky food items, such as spices and preserves, while bigger drawers better suit larger and heavier items like pots and pans.
Cutlery trays
It might seem obvious, but a cutlery tray is an important addition to any kitchen – and ours are modular, so you can customise them to suit your needs. Our GoodHome Nitaki range comes in a variety of sizes to ensure a neat and tidy finish.
---