Kitchen storage buying guide
Clever storage solutions to maximise your kitchen space
Forget the size of your kitchen - storage is always a problem. Whether you have a compact galley or a large family kitchen, it's difficult to organise all your kitchen items. There are often hard-to-reach corners that sit empty and unused, while the space that you can access is overcrowded and cluttered. And with this room being the heart of the home for many of us, getting maximum use of every nook and cranny is a full-on challenge.
But re-working your kitchen's storage areas doesn't have to be a big project. We're not talking a complete kitchen re-vamp, just a few tweaks here and there to your existing kitchen. These small changes can add up to make a big difference. And when everything has its own designated space, working in your kitchen becomes easier, quicker and simpler.
What storage solution is best for you?
Consider how much space you have. Our storage options work within existing kitchen fittings, so it's essential to accurately note the measurements of your internal kitchen cabinet units and drawers before you buy. Remember to measure the dimensions from the inside of the frames, not the outside, as that's where the storage mechanisms will be fitted.
Our kitchen storage solutions can:
Make better use of limited and unused space
Improve access to hard-to-reach corners
Organise and tidy
Free up worktop space

Larder storage
Traditionally larders were used to keep food cool and protected, but the arrival of the fridge saw them replaced in most kitchens. Now they have been given a modern makeover and reinvented as a clever storage option.
Larder solutions fit into tall kitchen cabinets or cupboards, and are a series of connected shelves that pull out from inside the cupboard in one motion. Shelves aren't accessed individually, instead the entire system comes out as one, offering instant visibility all of the stored items. The pull-out movement is swift and fluid, with the runners ensuring that all areas are within easy reach.
We offer two larder options - pull-out and tandem larders.
Pull-out larders are installed into the existing cupboard space offering one column of shelves, and are best suited to smaller kitchens.
Tandem larders feature twice the storage space, with shelving on both the inside of the cabinet and the inside of the cabinet door. These are ideal for larger families or those looking for maximum kitchen storage.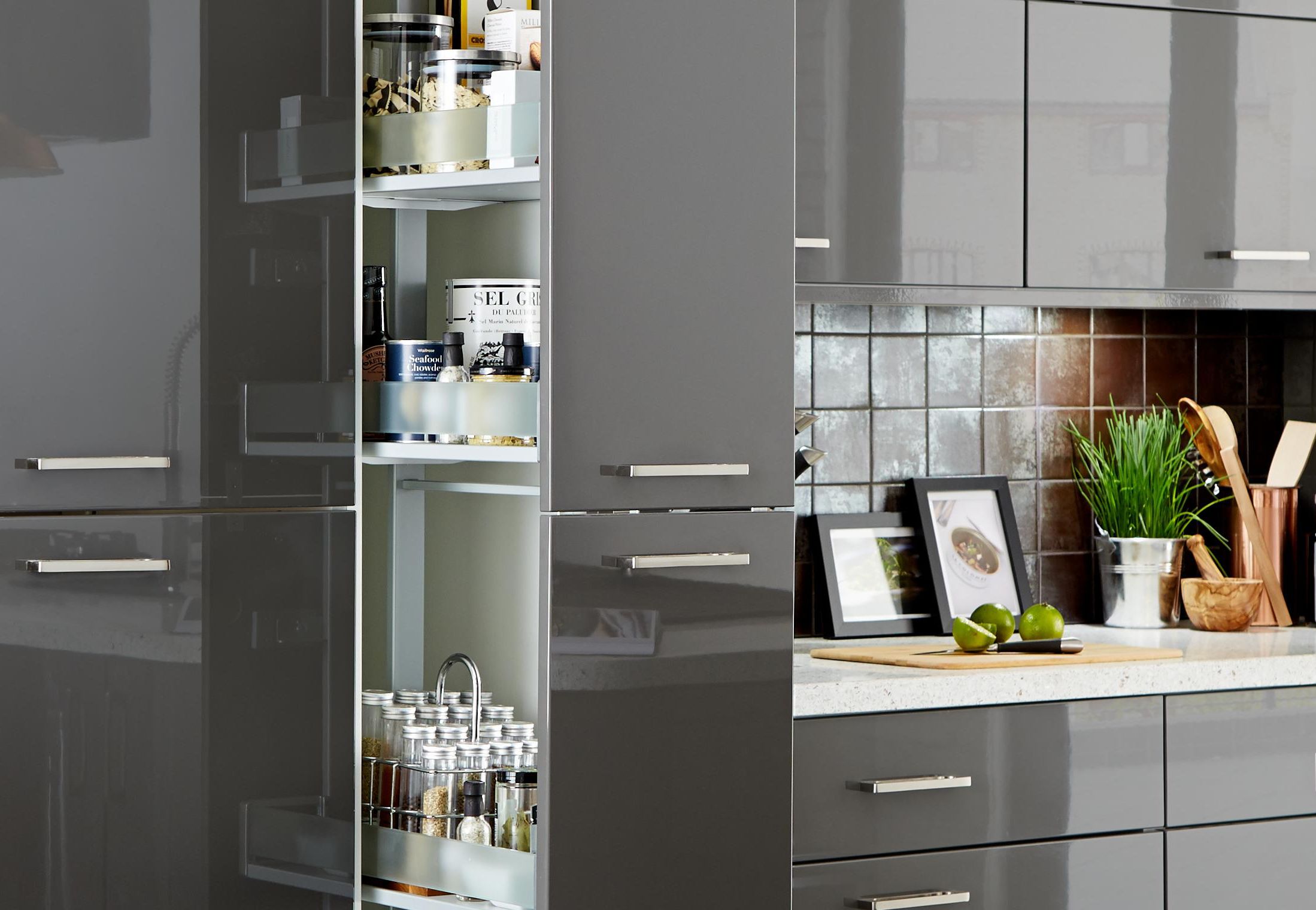 Cabinet storage
So much space goes unused in your cabinet units, but there are a plenty of ways to claim this back.
Pull-out units
Pull-out units share the same principle as larders – the shelving pulls out from inside the cabinet into the room - so you can easily see and reach everything in one gliding action. They are ideal for narrow spaces and some come with soft close for smoother and quieter closing.
Pull-out units can help with specific storage problems, with options including storage for:
Cleaning products and detergents. These are engineered to keep all products upright and secure and can feature dividers for easy organisation.
Cooking utensils. From chopping boards to knives, these sections are sized to fit and safely store a variety of oddly-shaped kitchen essentials.
Bottles. With all bottles carefully nestled in horizontal slots, your drinks collection can neatly and efficiently be tucked away

Corner units
In contrast to the pull-out mechanism, corner carousel units rotate and are best suited to corners and awkward L-shapes. Trays are fixed directly to the cabinet's corner post and they simply swivel around. Carousels provide easy access to bulky items, like pots and pans, and come in half or three quarter carousels. Opt for the half carousel if just looking to access to difficult-to-reach corners, or choose the three quarter for added storage space.
Alternatively opt for a kidney-shaped swing unit. These consist of two shelves that swing out of the cabinet space for maximum access. The shelves are height adjustable and move independently of one another – ideal for heavier items.
Upgrade even further by doubling up your corner cabinet space. Leading storage brand Kesseböhmer offers the innovative 'Magic Corner' - two complete storage units attached to one another in a single corner cabinet. One is secured to the inside of the door and on opening, automatically pulls the other one forward in a seamless motion meaning all of the space is used.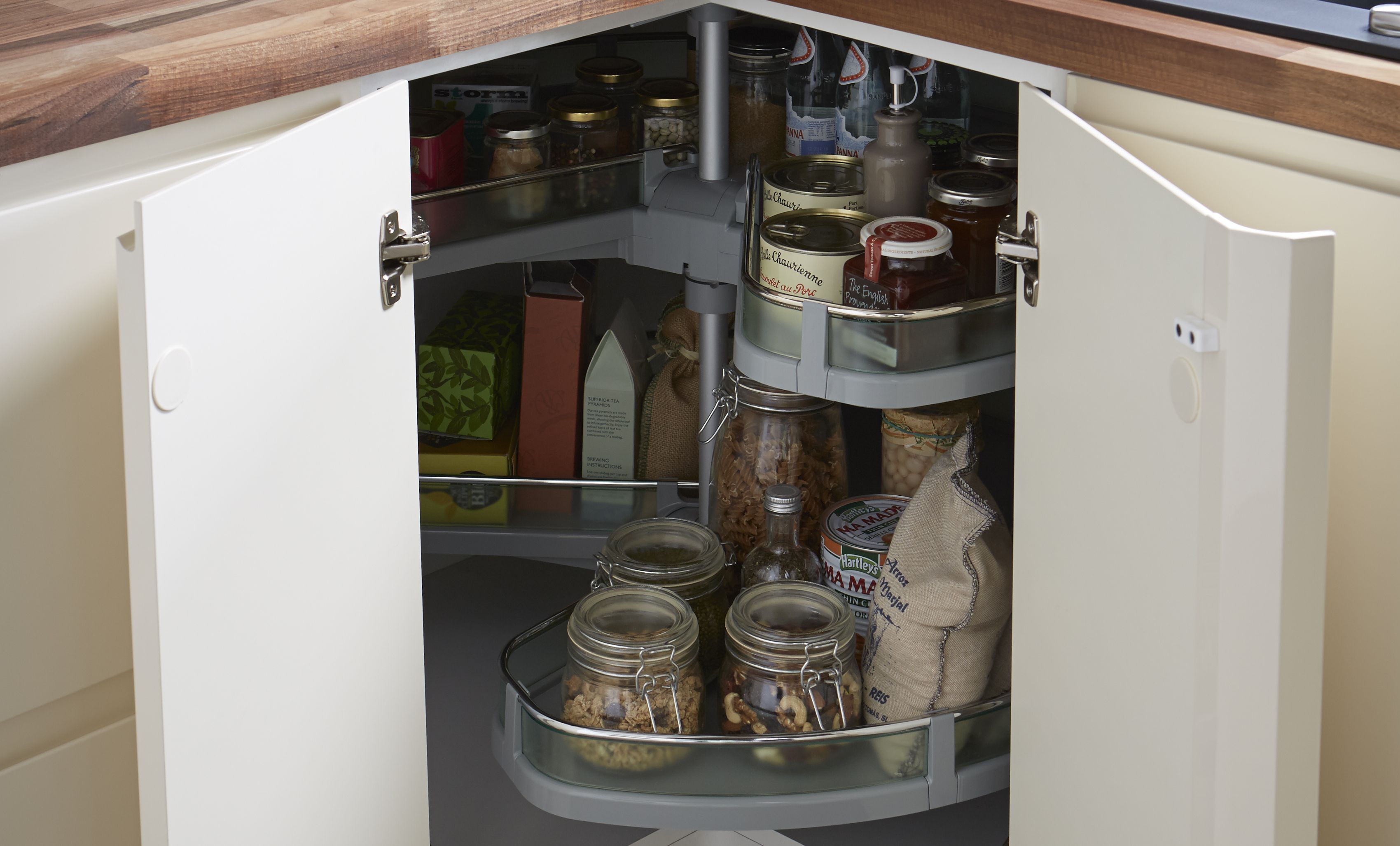 Integrated bins
Hide away your bin by neatly attaching it to the inside door of your base cabinet unit. Nasty smells are contained and it's concealed from curious small children and pets.
And keep every one of your bins at bay, with integrated recycle bins. Offering a larger capacity, these use the pull-out mechanism and come in a variety of pack sizes – ideal for sorting your recycling.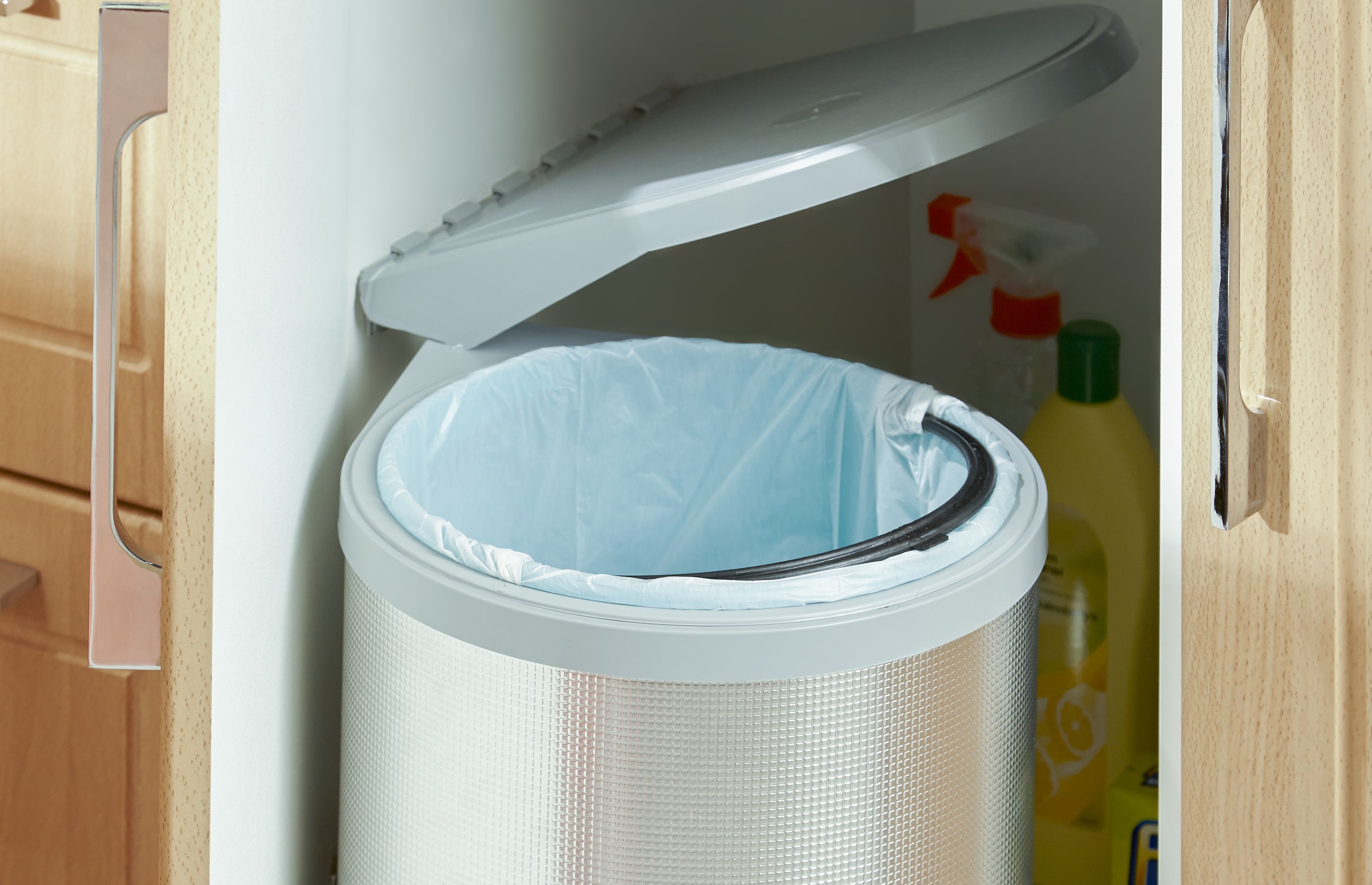 Wicker baskets
Storage doesn't have to be hidden away, instead it can be worked into an attractive design feature. Wicker baskets offer a rustic, natural charm that complement traditional and country kitchens. They're available in two options – one that's fitted on runners to open like standard drawers, and one that can be stored on open shelving or in a cupboard. Great for storing small kitchen items, these lightweight, hand-woven baskets combine smart practicality and vintage appeal.
Please note that most of these storage solutions are to fit in base (under worktop) kitchen cabinet units and are not suitable for wall (overhead) ones. To better use the overhead space, opt for a door shelf. This lightweight shelving framework attaches to the inside of the door and is good for small food items.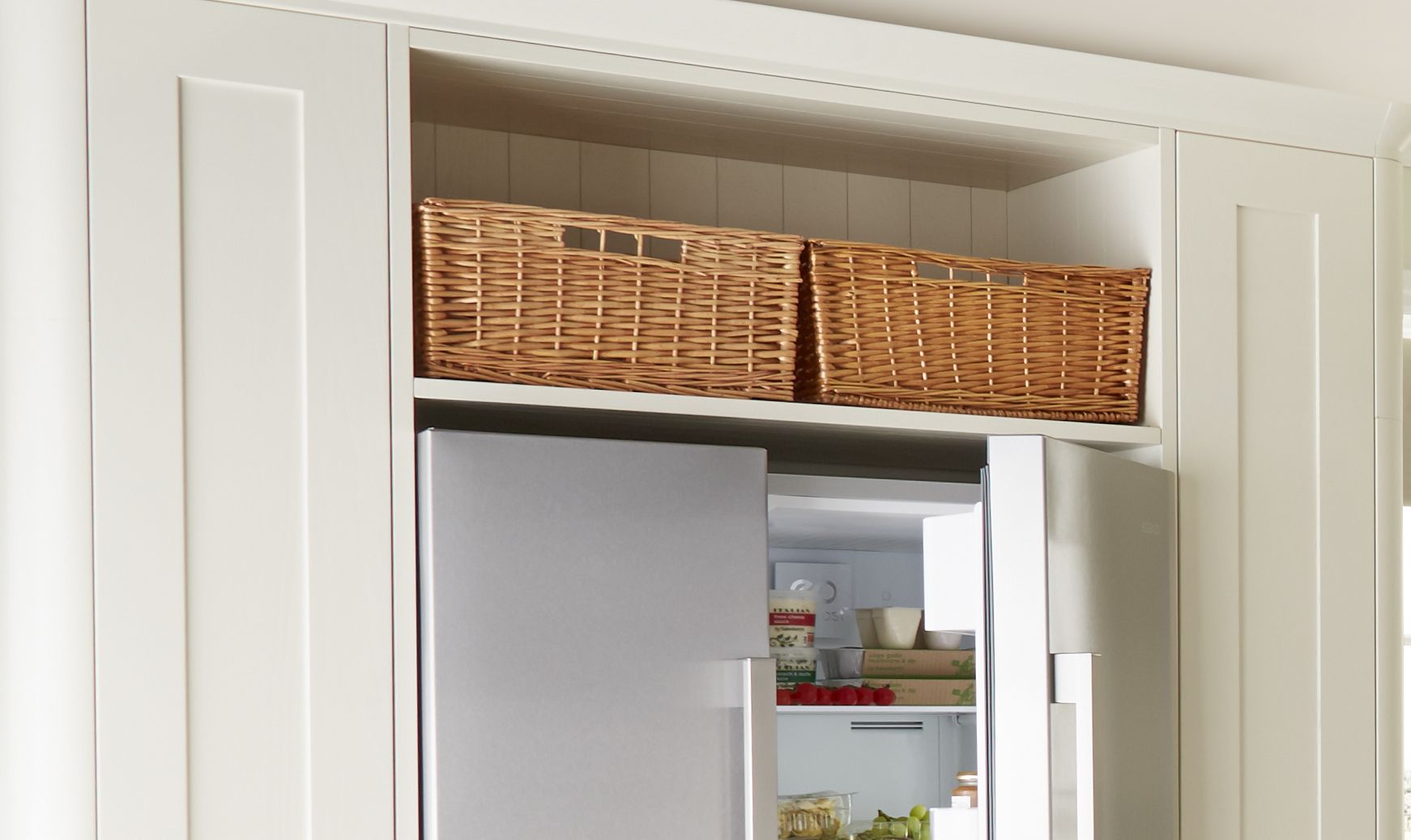 Drawer storage
Kitchen drawers often attract all those items that don't have a home. Because of this, they easily become cluttered and messy, making it hard to find the utensil or item that you're looking for. We offer a few clever ways to tackle this untidiness and keep even small storage spaces organised.
Use dividers to section off areas of your drawers to suit your needs, moving the dividers as and when you need to. Look for those with the soft-close feature for greater ease of use. Small trays are great for less bulky food items, such as spices and preserves, while bigger drawers better suit larger and heavier items like pots and pans.
Cutlery trays – These no longer have to be loose, instead opt for an integrated one that is fitted into your drawer. They come in a range of sizes to ensure a neat and tidy finish. Look for wooden ones to complement a country kitchen.
Utensil trays – Keep all your cooking utensils easily to hand with a utensil tray. They offer moulded slots that hold a range of various kitchen must-haves, from pizza cutters to corkscrews, so there's a place for everything. And if you don't have a spare drawer, go for the pull-down option which simply fits under your wall cabinet unit and pulls out when in use.
Shop pull-out compartment trays and drawers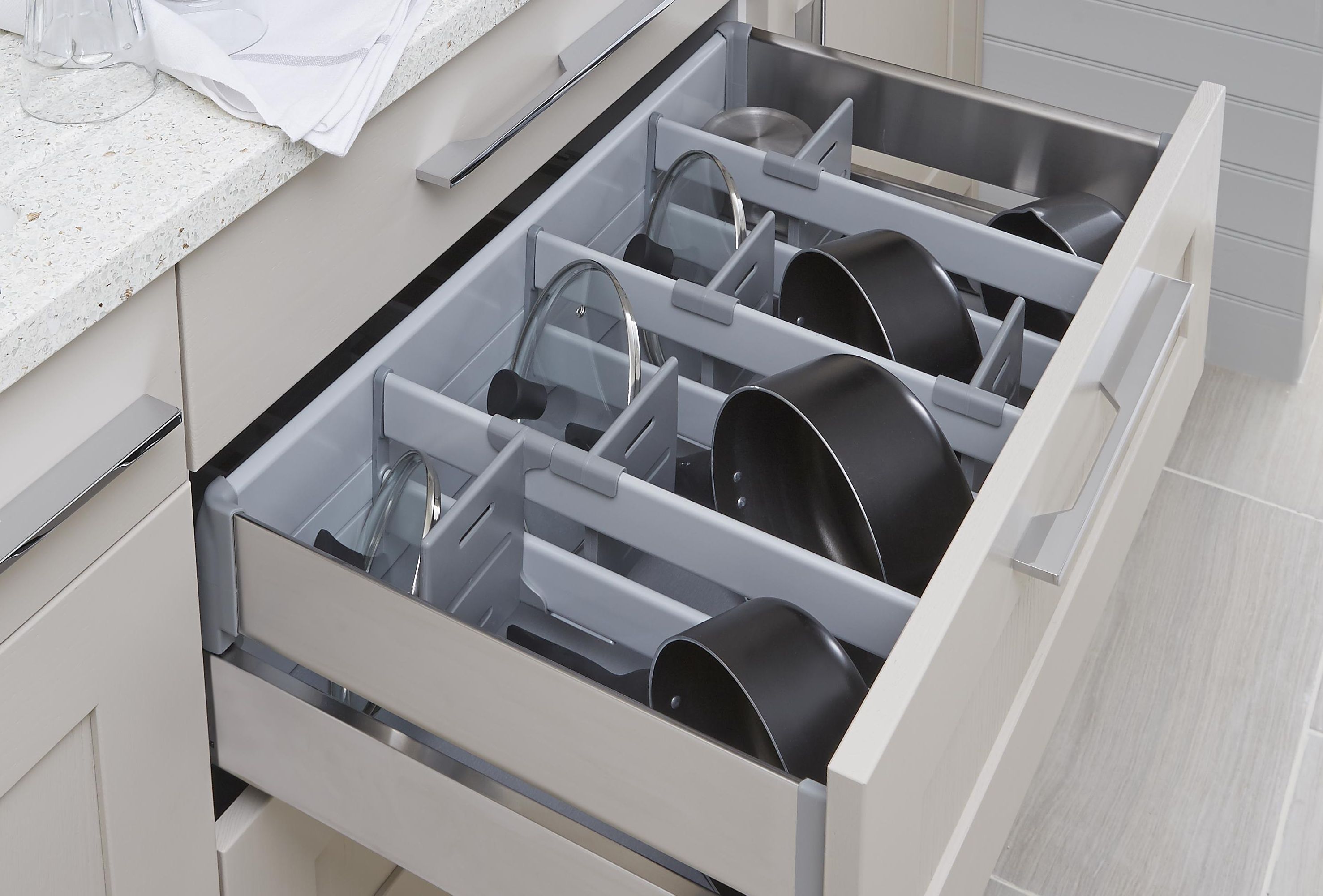 Articles