Making the most of what you've already got
Kitchens are busy rooms – where space is often at a premium. Keeping things neat and tidy, particularly when we're busy, can be a challenge. So, it's no surprise that many of us would love our kitchens to feel more spacious and better organised, helping to make the time we spend there less frantic and more enjoyable.
Adding extra cabinets or extending isn't always a practical solution to small space problems, so we've compiled a list of twelve inspiring ideas to help you find room for the things you need and love in your kitchen. They're all quick and easy, and won't need a lots of tools to complete - so you can make a big difference in a small amount of time.
With a place for everything and everything in its place, you can relax and enjoy your kitchen that little bit more.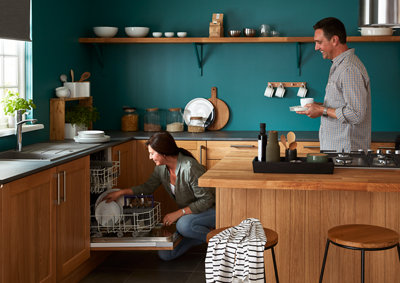 Our top tips
When organising your items, sort them into different 'zones' according to what they're used for:
Food preparation (wall and base cabinets)
Small appliances and utensils (wall and base cabinets)
Cooking (above and below appliances)
Washing & cleaning (below the sink)
Food & perishables (in full-height cabinets)
For the most-used items, store them closer to the centre (at the top of base cabinets and bottom of wall cabinets) so you can access them easily. Items that you don't use as often can be stored at the top of wall cabinets and bottom of base cabinets.
Articles