For calmer, stress-free cooking
If you ask us, there's nothing worse than cooking dinner in a cluttered kitchen. Keeping things neat and tidy can be a challenge (particularly when we're busy).
To avoid reaching boiling point, we've put together a list of clever kitchen storage ideas. We'll help you find room for the things you need (and love) in your kitchen. With an organised space, and everything in its place, whipping up your signature dish will be nothing but a breeze. It's time to make cooking a joy again…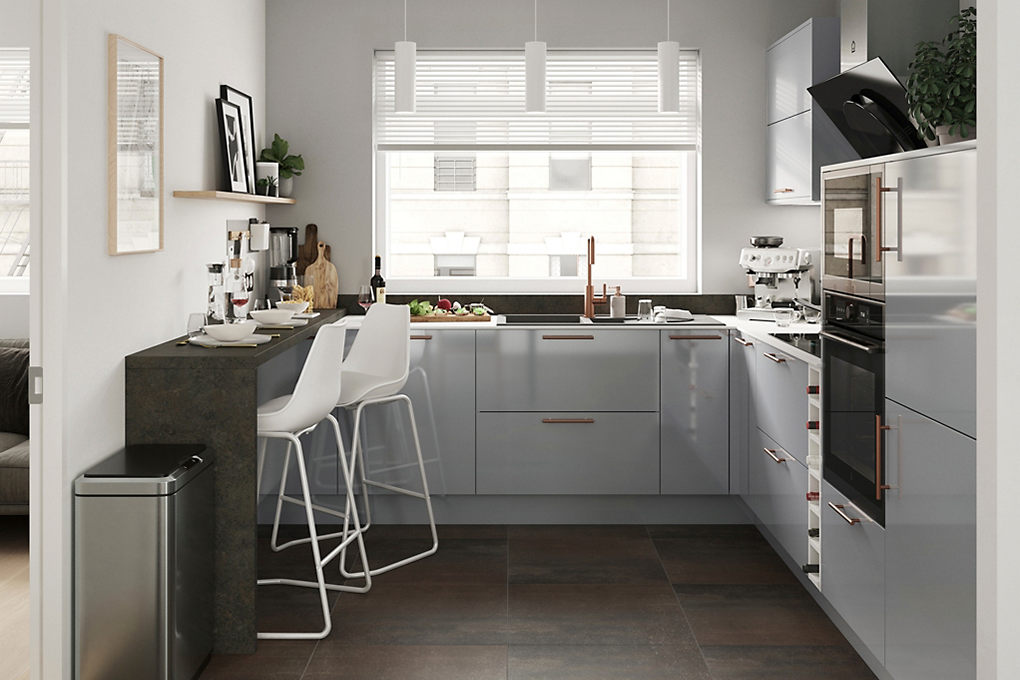 Plan your storage space
In every kitchen, there are items that you use daily, some that you use rarely, and – if we're being honest – some that have sat idle since you got them.
Whatever you're storing, it makes sense to organise them accordingly. Keeping everyday items to hand and sending obscure utensils to the back of the cupboard. We've designed our Caraway cabinets, Soto drawers and Pebre storage solutions to help. They help to give you easy access to everyday items and enough space to store the rest away.
Watch our video for tips on organising a small kitchen space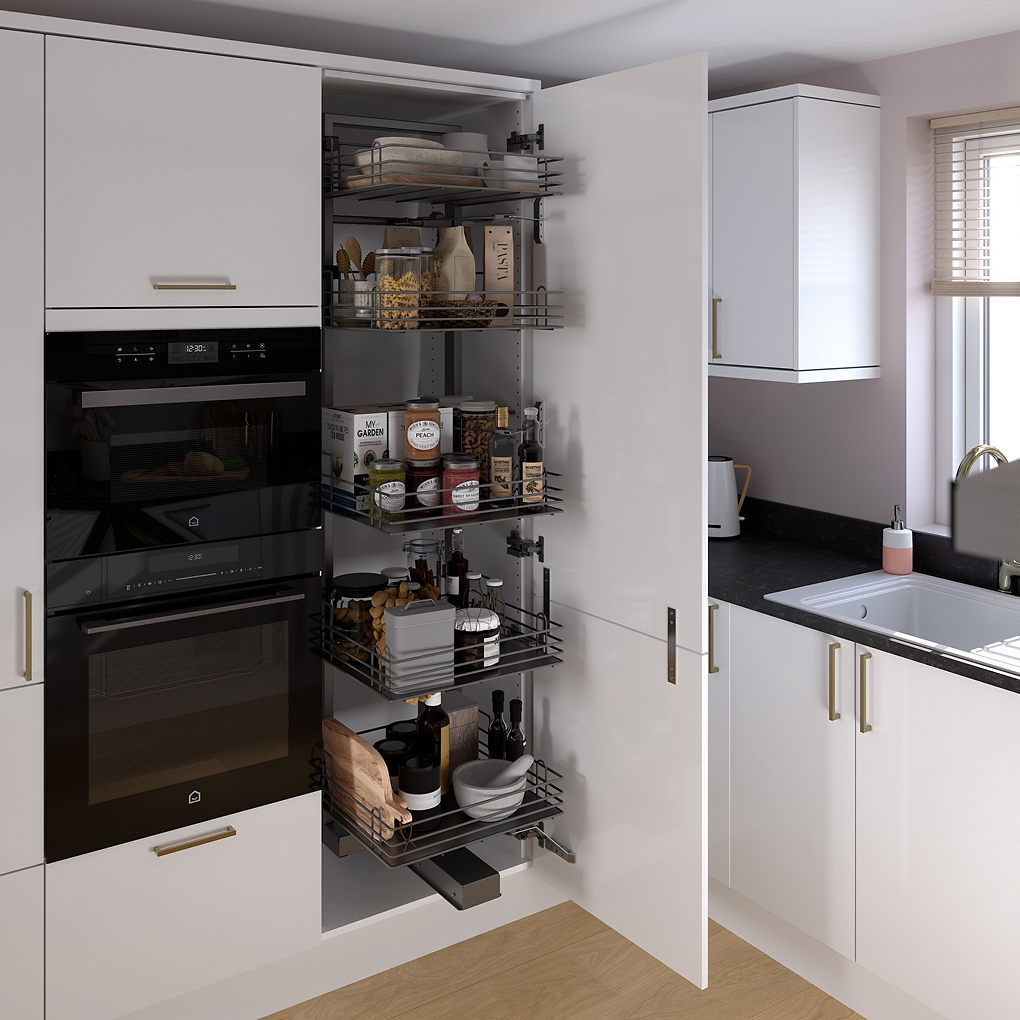 Pick the perfect cabinets
Cabinets are integral to a tidy kitchen. We'll show you how to pick the right type for your space, and organise your kitchen cupboards for fuss-free cooking. When choosing kitchen cabinets, there are lots of options, depending on what you want to store and the space you have to fill.
Tall wall cabinets are a great solution for making the most of the space all the way up to your ceiling. They offer more storage capacity for items you don't use so often.
Larder storage units offer up to 50% more usable space than a wall and base cabinet combination. This is because it makes use of what would otherwise be a worktop or dead space in front of a wall cabinet. You can add appliances, drawers, or shelves – tailor it to suit your kitchen storage needs.
Wall cabinets are shallower, and when used as a base cabinet they can save you floor space whilst still allowing you to use your work surface.
If you want to showcase items in your kitchen, open bridging units and wine racks can help you create that decorative feel. These can be used instead of a wall or base cabinet, and are available in an array of different finishes.
We've put together a short video to demonstrate how Caraway kitchen cabinets can help create space in your kitchen…
Make the most of drawer space
Drawers help maximise the amount of space in your kitchen. Investing in more drawers at a base level can reduce the amount you need to bend down to reach things at the back of the cabinet. Plus, it can reduce the amount of wall cabinets you need. Full extension drawers give an easier overview of fiddly items like utensils or plastic containers.
Our Soto drawers offer two drawer heights (standard and deep). They can be used as external or internal 'hidden' drawers. Standard height drawers are perfect for cutlery, utensils, and other small items. Especially when used with our Nitaki cutlery trays. Choose deep drawers for pots, pans, and dinnerware, as well as bulky food items like cereal or tinned food.
With GoodHome Soto drawers, you can also create storage towers. These are full-height cabinets full of internal drawers, offering a huge amount of storage that you can tailor to meet your needs. We also have a nifty plinth drawer to help you make use of the unused space below your cabinets.
Once your drawers have been installed, it's easy to divide them further with the use of our Soto drawer dividers. Our standard drawers are also compatible with our Nitaki cutlery trays. Available in a mix-and-match range that you can pick and choose from to suit the items you need to store.
Watch our video to find out how you can use Soto drawers in your kitchen...
Food storage tips
Not only will kitchen storage help make your space easier to use, but it will also keep your ingredients fresher for longer too. Bread left on the side can go stale, spices should be kept away from moisture, and sugar can go hard if not stored in an airtight container. Check out our food storage tips below…
Potatoes - store in a cool and dark place. Keep away from onions, as some varieties release gases that can cause them to spoil quicker.
Cheese - make sure you wrap cheese properly in waxed or greaseproof paper and keep chilled.
Sugar - sugar attracts moisture. To prevent clumping, make sure to keep sugars in airtight containers.
Flour - once you've opened a bag of flour, it's best to store in an airtight container or jar to keep it fresh.
Herbs - leafy herbs such as coriander and parsley tend to go bad quite quickly. Trim the bottom off their stems and store in a glass of water covered with cling film. Put them in the fridge and they'll last a little while longer.
Bread - keep bread fresher for longer by storing in an airtight bag at room temperature.
Bananas - pull them apart and wrap the stems tightly in plastic wrap. This will reduce the amount of ethylene gas emitted and slow the ripening process.
Spices - extend the life of your dried spices by storing in a cool, dry place out of direct light. Don't keep them above the hob as the heat and moisture will cause them to lose their flavour.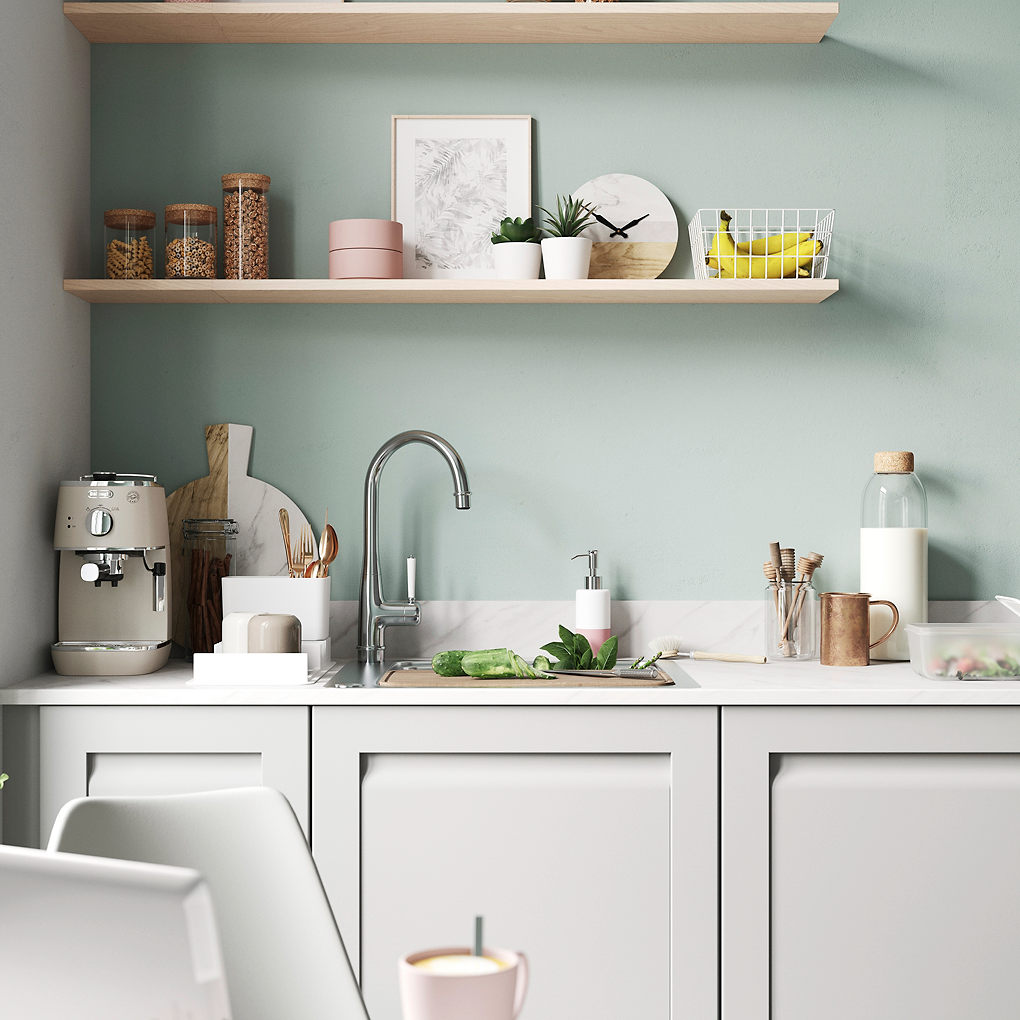 Take advantage of difficult corners
Every kitchen has corners – and they can be one of the trickiest areas of the room to organise, especially when space is limited. However, there's a lot of storage potential in every corner of your kitchen if you utilise them correctly. There are two types of corner in kitchen design terms: L-shape corners and blind corners.
L-shaped corners
You can use base or wall cabinets in an L-shaped corner to allow full access to inside the cabinet. A corner post attaches to the door with 170° hinges, so that they can be opened widely. Use our Pebre corner carousel in an L-shape corner to help organise the space, create more storage, and make everything easier to access by simply rotating the shelves.
Blind corners
Base or wall cabinets can be fitted in a blind corner, however it only provides partial access. A corner post attaches to the door with 170° hinges, so that they can be opened widely. In a blind base corner, you have two internal storage options. Our Pebre pull-out corner allows full access to everything in your cupboard, with shelves that attach to the door and swing out of the cupboard.
Alternatively, our Pebre space corner offers more storage than the pull out but does not pull out of the cupboard fully. So, it will give you slightly less access to what's inside.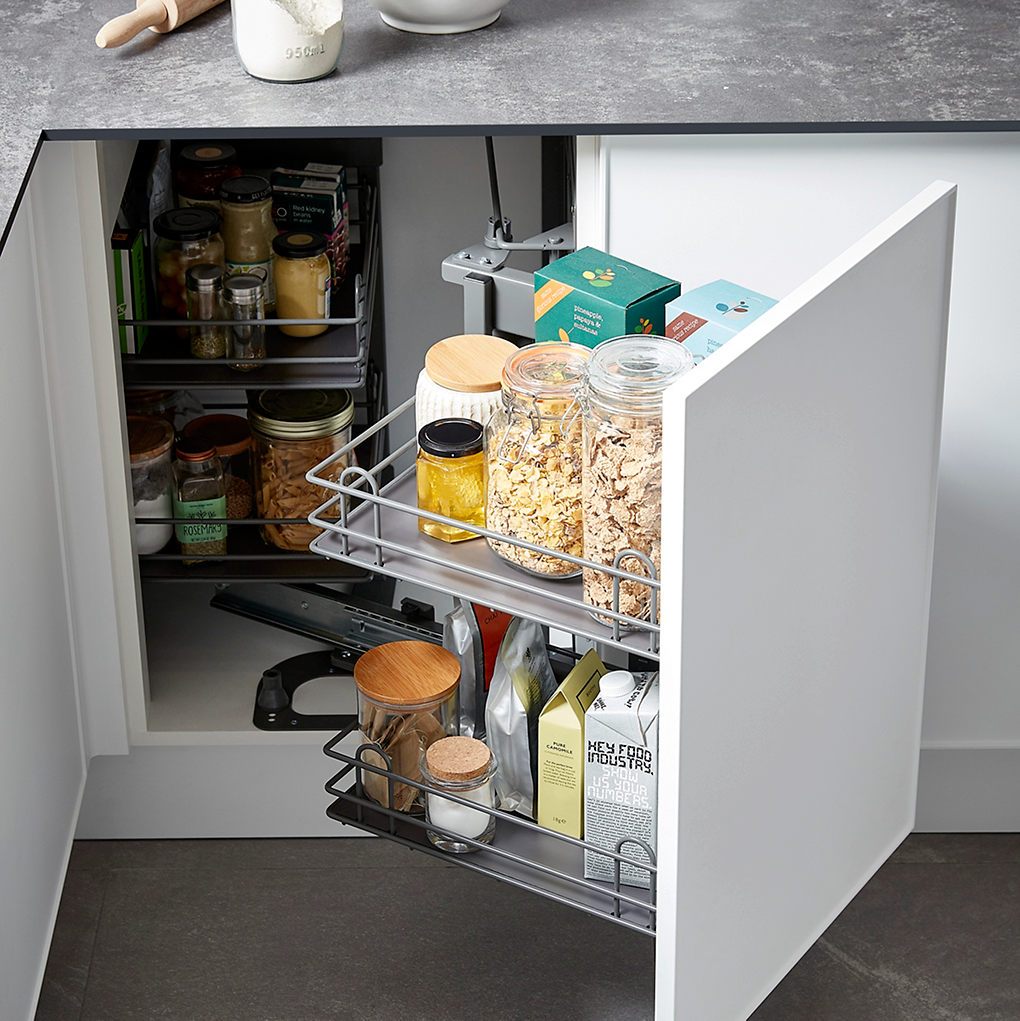 Keep your worktops tidy
Make the most of seldom-used spaces in your kitchen with our Pecel storage range.
Kitchen trollies helps utilise floor space in your kitchen by offering additional flexible worktop space with a built-in chopping board. As well as storage in the form of removable plastic trays. When not in use, it's the perfect height to be tucked away beneath a worktop. It can also double up as a drinks trolley for parties!
Small boxes are perfect for storing small items, such as potato peelers or bottle openers. By using these boxes, you can make the most of available space on your worktop without needing to fix anything to the wall.
Meanwhile, the Pecel magnetic panels help utilise unused wall space between base and wall cabinets. Customise your panel with an array of magnetic accessories. They will help you keep utensils and kitchen sundries within easy reach.
They also work together! Our Pecel pots fit perfectly on the Pecel shelves, and the Pecel magnetic panels can even be fixed onto the Budu trolley. No matter how you use your kitchen, these products will come in very handy for small kitchens.