Explore the hottest new kitchen design looks
We all want to know what the next kitchen craze is going to be. That hot trend that everyone will be talking about and recreating in their homes. But how to find out? Well, put away that crystal ball as at B&Q we have the answers. Introducing our first-ever Kitchen Trends Report – a collaboration with image discovery app Pinterest to identify the 'must haves' for 2018 kitchen projects.
This report is based on the searches and saves of UK users looking for kitchen decor inspiration on Pinterest over the past year combined with B&Q's own sales insights. We present the four key kitchen trends for 2018 and ideas on how to achieve these looks. These are:
Metallic touches
Unicorn-inspired
Getting back to nature
Touches of Morocco
Mike Lavers, Market Manager for Kitchens at B&Q, comments: "Unicorn-inspired kitchens are set to be the 'mane event' for 2018. It's clear Britons are getting braver with their home improvement choices and thinking creatively about how to bring trends to life in their own home. Whilst a full kitchen refurb is one option, simply replacing tiles, handles and giving walls a lick of new paint can help bring trends to life in a more subtle – and affordable – way."
Let's explore the new trends and check out the full Kitchen Trends 2018 Report.
Book a kitchen design appointment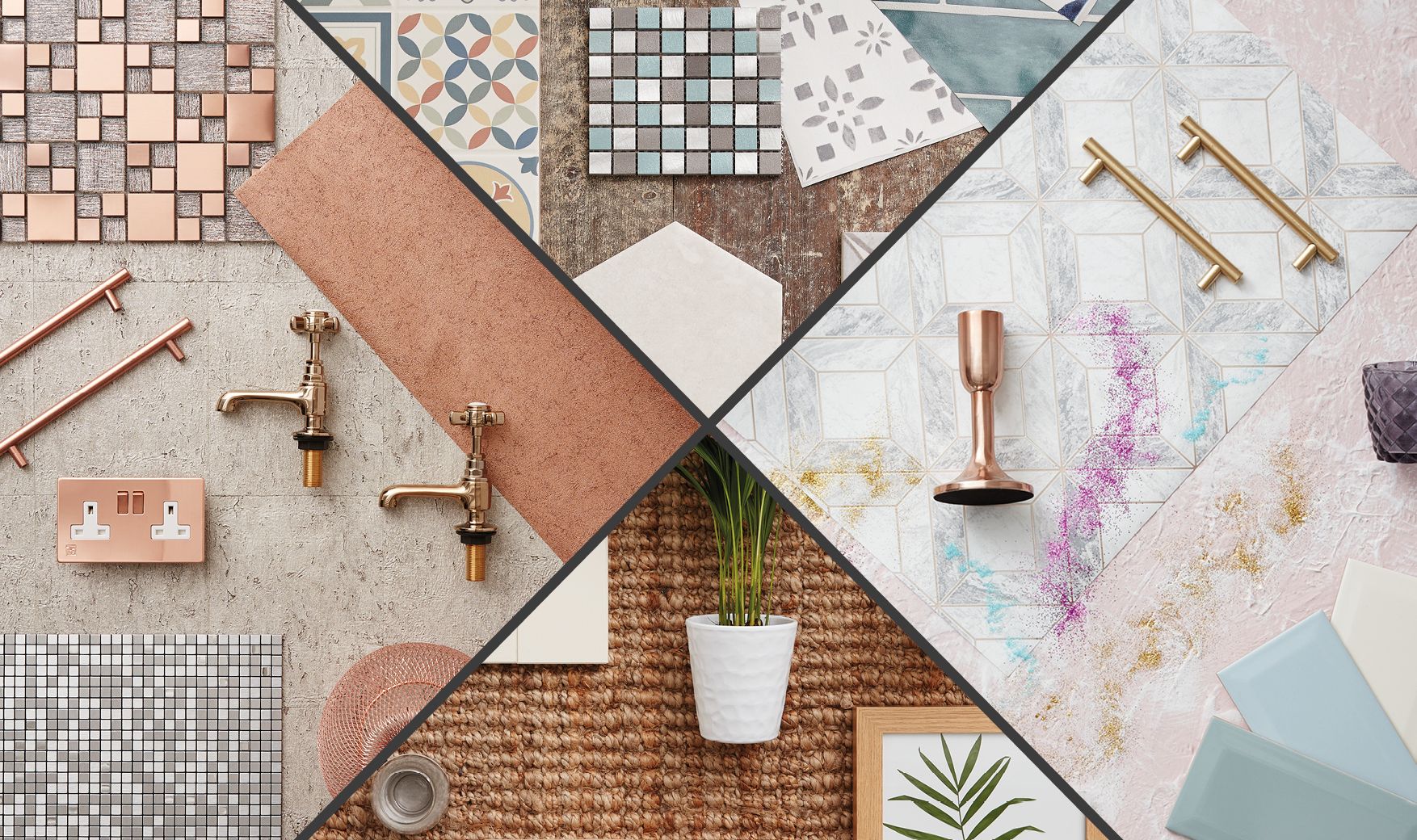 Kitchen design ideas for 2018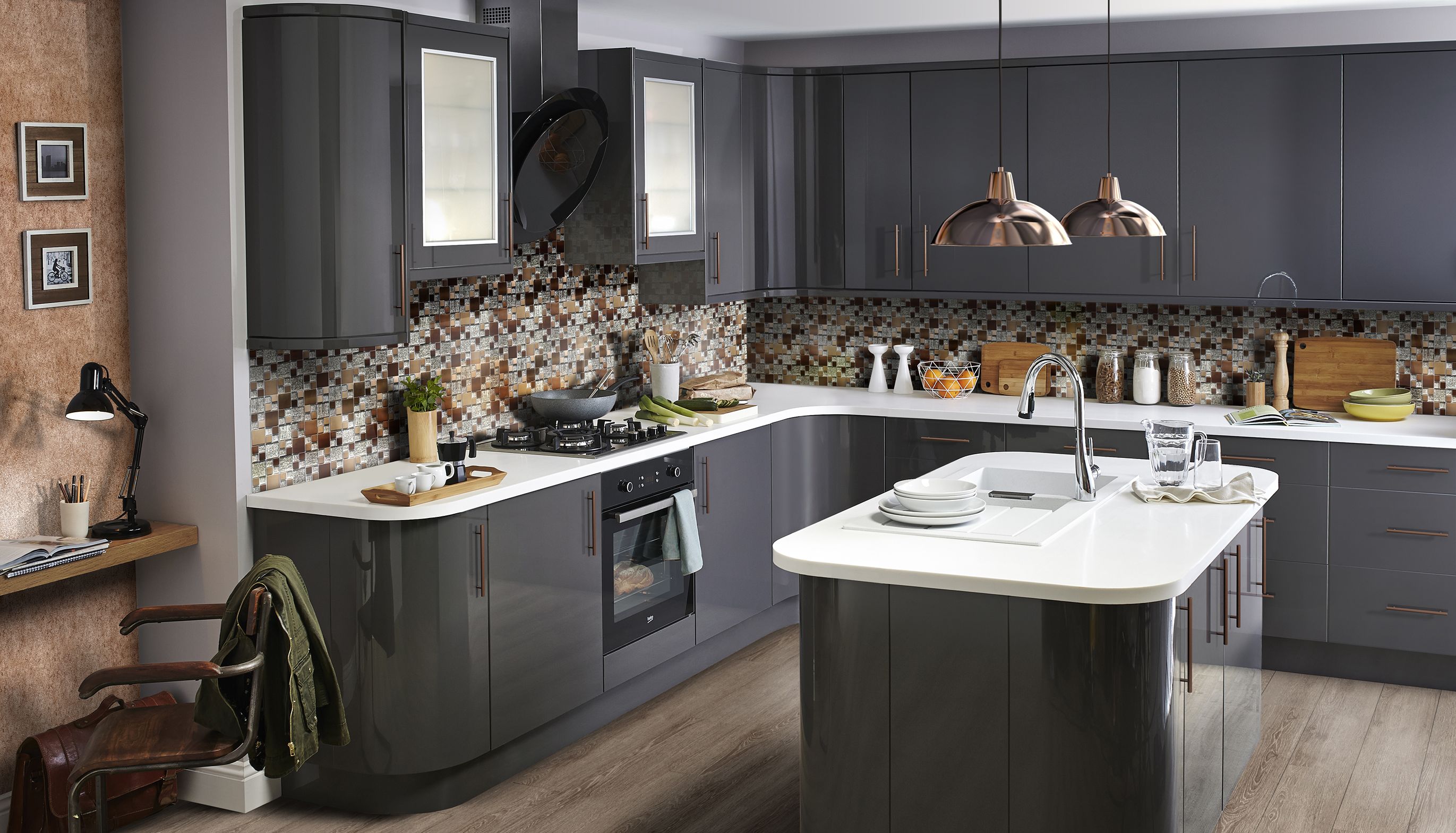 Kitchen trend No. 1: Metallic touches
Pinterest says
Searches and saves have increased by 235% for gold kitchen accessories, 187% for gold cabinet handles and 59% for gold taps.
Understand the trend
This trend is set to take over the kitchen in 2018, and like the edgy industrial kitchen look it relies heavily on shiny metallics. From big statement pieces, such as shimmering ceramic wall tiles and stylish statement lighting, to little touches, like cabinet door handles – welcome to the new ultra-modern, luxurious kitchen.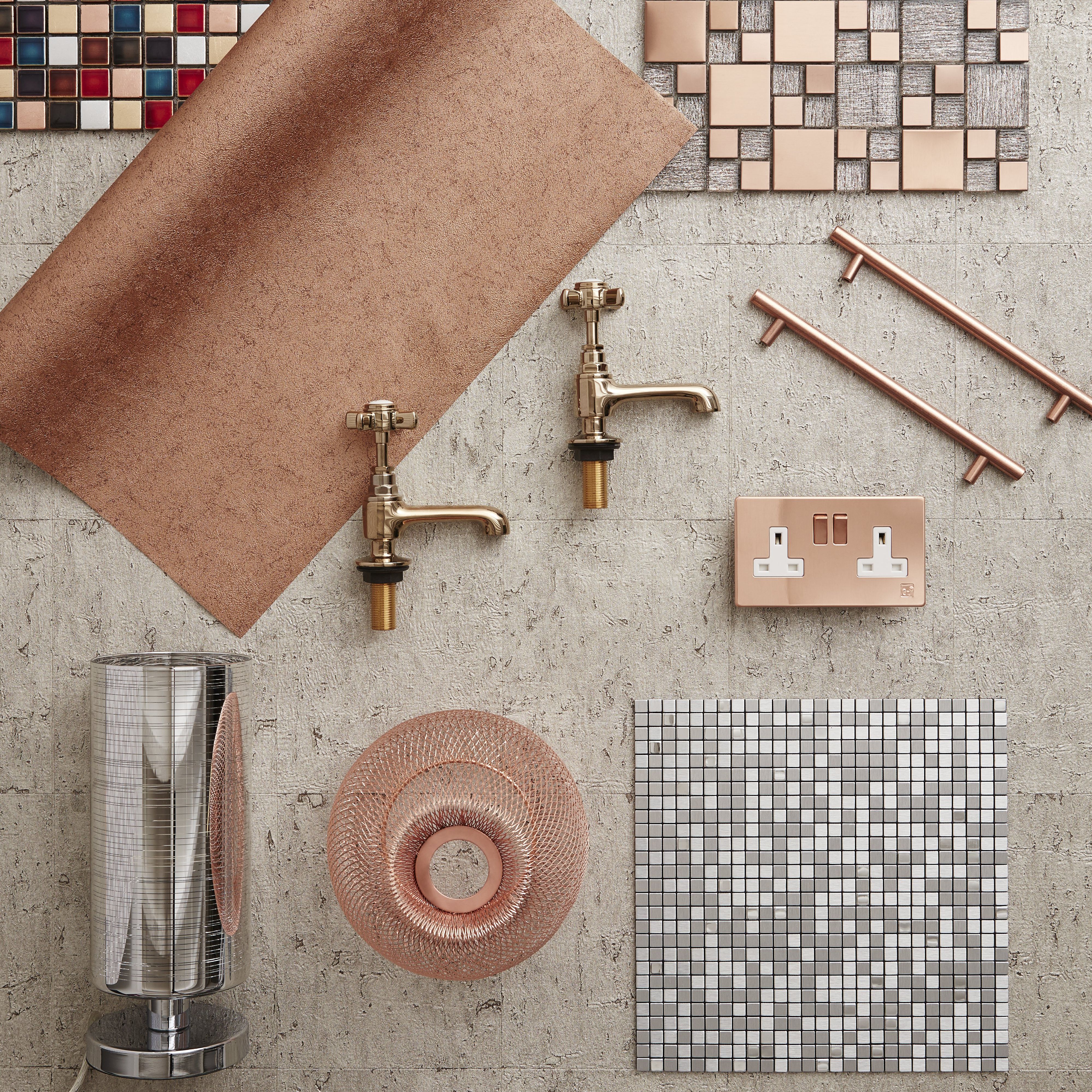 Get the look
Start by creating a sophisticated base with a contemporary high gloss kitchen. We love anthracite, such as the IT Santini kitchen, as the cool, dark grey provides a dramatic contrast to the warm metallics. Decorate walls with these rich tones thanks to our Grandeco Patina Copper Metallic Wallpaper – a mid-sheen paper made from raised vinyl – perfect for a little touchable texture. It's part of our wide range of metallic wallpapers that are certain to create stunning, shimmering walls. Or, if you need to waterproof surfaces, our Copper Luxe Brushed Glass and Marble Mosaic Tiles are practical and super stylish.
Layer the look with other gold, silver and copper kitchen accessories to get just the right amount of sparkle and shine. We've gone for Copper-speckled Straight T-bar Handles for kitchen cabinetry and the Manison Dome Copper Pendant Ceiling Light – a statement piece that's perfect for dining tables, breakfast bars and islands. And if you want to give existing kitchen items a metallic makeover, pick up some Rust-Oleum Gold Metallic Furniture Paint. This works on a variety of surfaces and brings instant bling to everything from tired tables and chairs to small items like kitchen roll holders.
Kitchen trend no. 2: Unicorn-inspired kitchen
Pinterest says
Searches and saves have increased by 234% for pink kitchen accessories, 120% for pink paint, 262% for white cabinets and 235% for gold kitchen accessories.
Understand the trend
Unicorns were big in 2017, and now kitchens are bringing the trend to life in an understated way. Think pastel shades, bright whites and gold accents for a delicate look infused with a vintage-luxe feel. "The hugely popular unicorn craze is cantering into kitchens," explains Mike Lavers. "Brits are embracing the theme and turning to glitter paint, gloss tiling and accessories, like coloured glass tea lights, to add extra sparkle. In 2018, we expect more people to experiment with these subtle colour schemes and introduce stand out furnishings to rejuvenate their kitchens."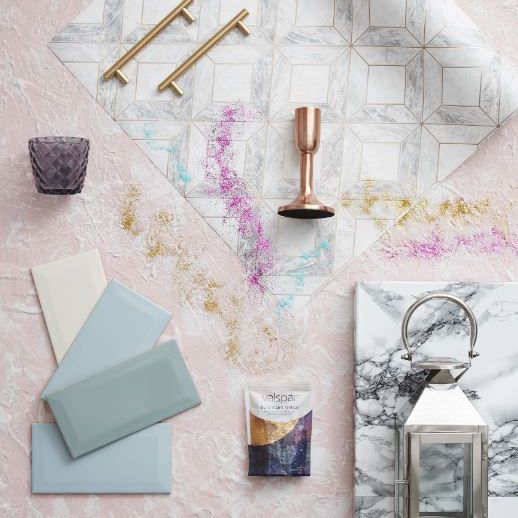 Get the look
It has to be white for your kitchen's cabinets and drawers, and we think the ice white finish of the IT Santini Gloss White Slab kitchen is a perfect foundation for this soft style. Partner it with a pale worktop for a seamless look. We love the Nordic Earthstone Worktop - a speckled grey and white surface that has the luxury feel of a bespoke worktop without the expense.
Bring these to life with pastel shades and a sprinkle of sparkle on the walls. Choose between a glitter paint, such as the Colours Feature Wall Angelic Sparkle Emulsion paint, which already has glittery flecks in the paint mixture, or pick up a separate glitter packet and mix to create your preferred finish. Alternatively, introduce wallpaper to enjoy subtle patterns. Our Contour Grey Marble Marquetry Wallpaper combines two key looks from this trend - a delicate marble pattern and flashes of gold. And for splash zones, mirror the polished finish of the cabinetry with gloss wall tiles in cute shades, such as these Trentie Blue Gloss Ceramic Wall Tiles.
Add further flashes of subtle colour and gold accents to complete your unicorn-inspired kitchen. These Gold-effect T-bar Cabinet Handles are a simple and understated way to work the trend, while the Honow Champagne Pendant Ceiling Light boasts a bell-shaped glass dome in a soft shade of Champagne – a real showstopper. Add further lighting with candles in multi-coloured ribbed glass tealight holders – just the thing for a little twilight magic.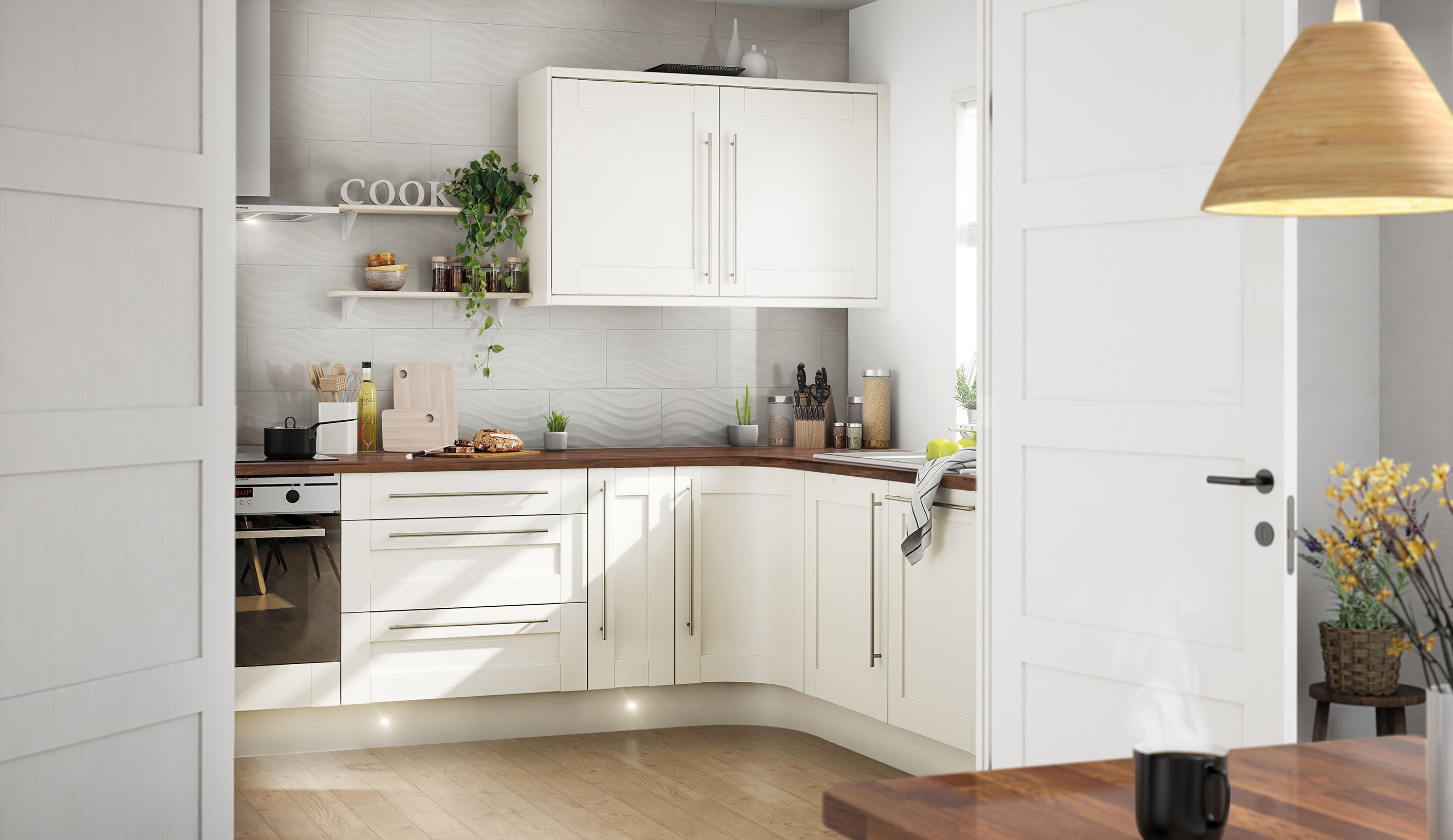 Kitchen trend no. 3: Getting back to nature
Pinterest says
Searches and saves have increased by 164% for eco kitchens and by 139% for organic materials.
Understand the trend
Britain isn't just colour-conscious when it comes to kitchen design and décor, more and more of us are looking to get back to nature and achieve an 'eco look' in our kitchens. Key to this are natural materials, such as real wood, bamboo and plenty of foliage. This look is a modern reworking of the classic country kitchen, combining the rustic spirit with a passion for the great outdoors.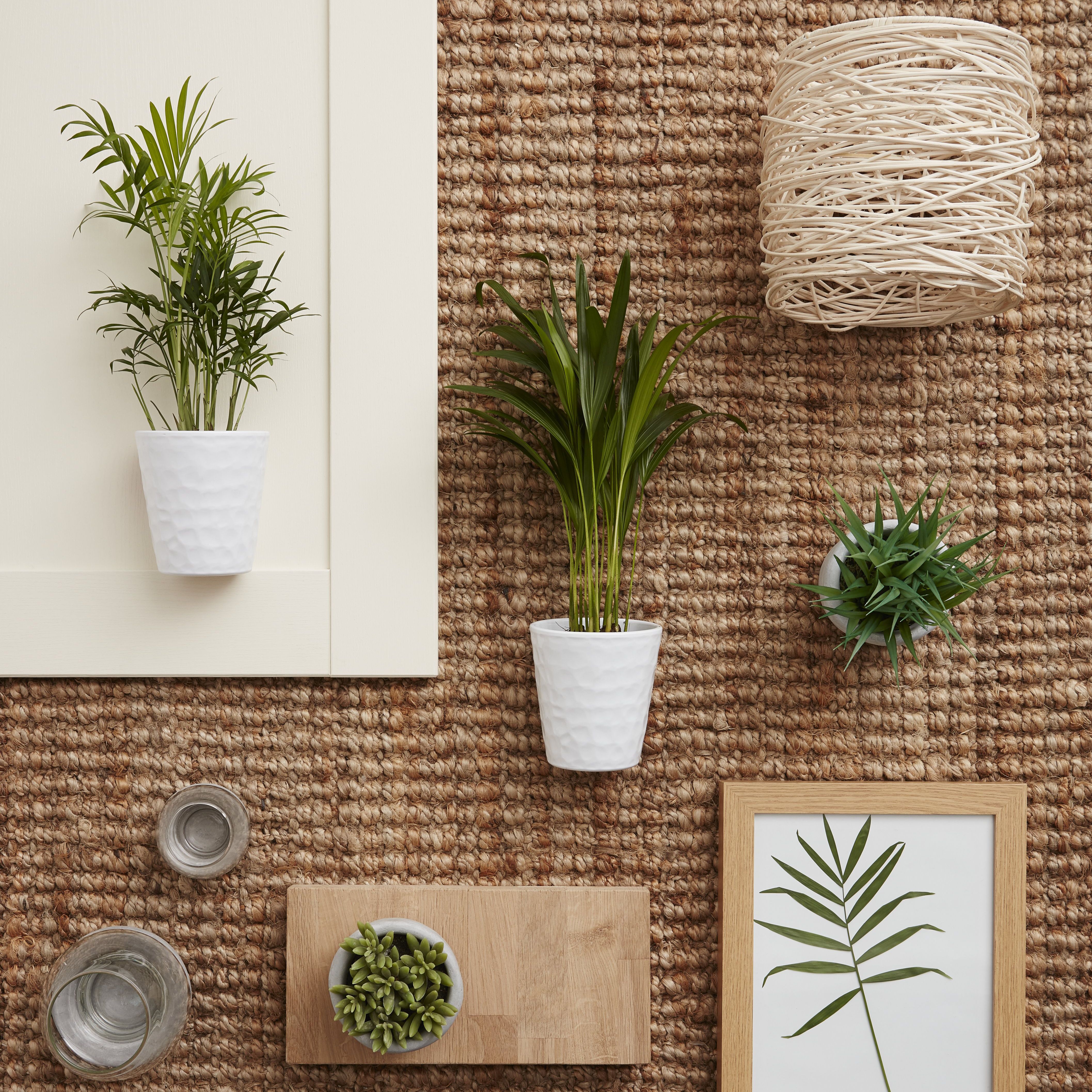 Get the look
Work the natural trend by crafting your kitchen's core around wood. This beautiful material has long been a staple of farmhouse kitchens and all the wood used in our kitchen products is responsibly sourced and approved by the Forestry Stewardship Council (FSC). Read more about our commitment to sustainability at our One Planet Home page.
Choose cabinetry with a wood finish - these make a real feature of the rustic wood grain and are available either painted, like the
IT Brookfield Textured Ivory Style Shaker kitchen
or in natural wood shades. Pair with a
solid wood worktop
, we offer these in four finishes – beech, birch, oak and walnut (pictured). These worktops are pre-oiled to protect against stains and moisture and will look better with age as the colour of the wood deepens over time.
Let the wood steal the show with muted walls in subtle shades. Ceramic tiles make a strong eco-friendly kitchen choice and our Cantanzaro White Gloss Ceramic Wall Tiles look great from worktop to ceiling – not just in splash zones. Finish with a few final flourishes of eye-catching natural materials. Bamboo is a much-loved favourite and the Colours Cruse Natural Bamboo Light Shade offers a quick and easy way to update existing lighting. While house plants really dial up the natural feel. Come in-store to see our range of stunning real plants, or if you like the look but don't have the time to care for a real plant, fake it with our realistic artificial plants.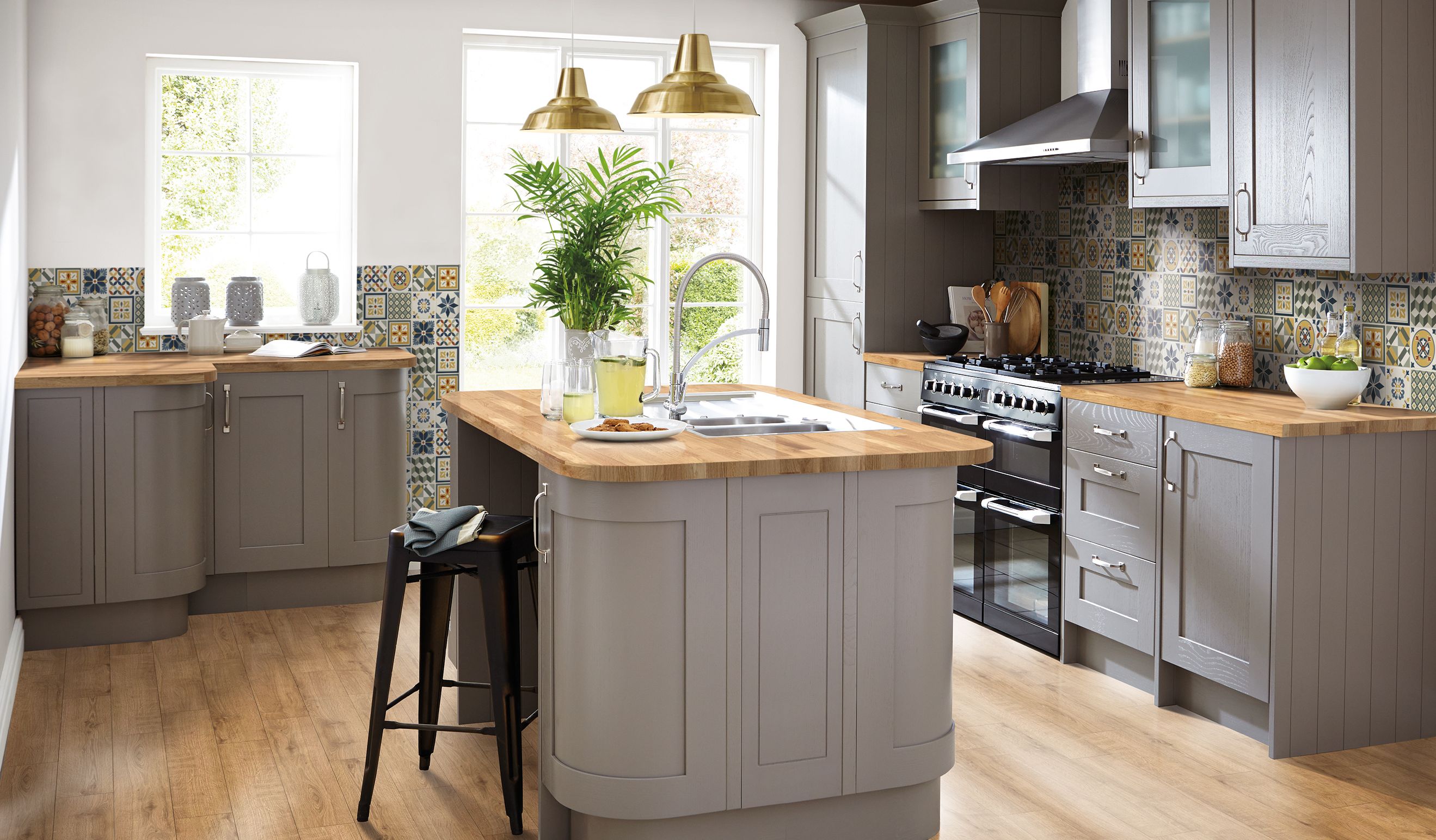 Kitchen trend no. 4: Touches of Morocco
Pinterest says
Searches and saves have increased by 128% for Moroccan-themed décor, 71% for Moroccan tiles and 66% for Moroccan splashbacks.
Understand the trend
Warmer climates are set to inspire next year, with traditional Moroccan patterns and intricate designs giving kitchen centrepieces some serious stand out. Mike Lavers elaborates, "designs from international climates will inspire vibrant colour palettes in 2018. Striking mosaic wallpaper and feature floor tiles will be hugely popular, along with other light Moroccan touches such as chunky wooden worktops, gold lanterns and pendant lighting."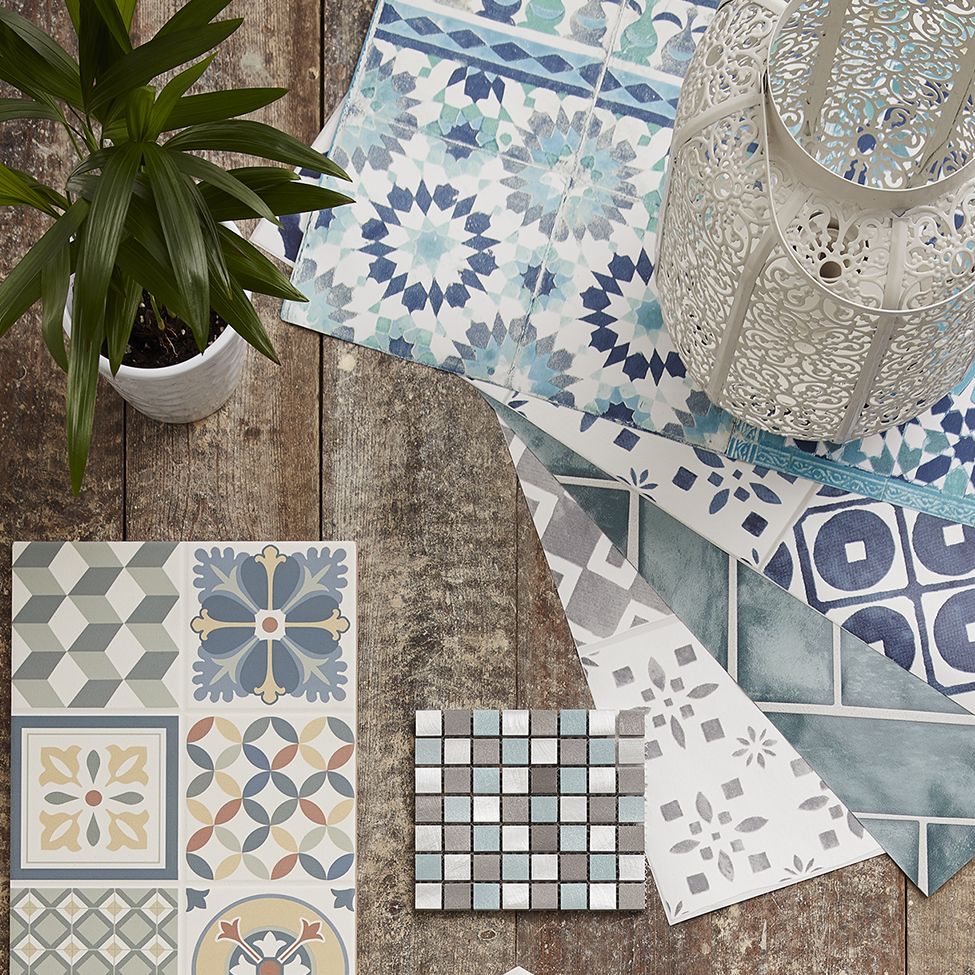 Get the look
Vibrant and bold colour is key to capturing the spicy spirit of a Moroccan kitchen and the most effective way to introduce this is with tiles. Look for ones that offer intricate graphic detailing and geometric shapes. We love these Fusion Blue and White Patterned Satin Ceramic Wall Tiles. Available in packs of 25, they can be mixed with complementary single shade tiles of blue and white for a truly eye-catching look. Alternatively, use a tile-effect wallpaper to create the same look. Our Contour Porches Blue Tile Wallpaper looks just like the real thing and is specially designed for kitchens, so can withstand the moisture and heat from your Moroccan cooking. Or why not opt for a tile that works on walls and floors for a consistent look, like the Lofthouse Grey Stone-Effect Patchwork Ceramic Wall and Floor Tile?
Complement these cool ceramics with the warmth of wood for a truly exotic fusion. Our Cooke & Lewis Carisbrooke kitchen in taupe reveals the natural grain of the wood in an understated grey and works brilliantly with the rustic square edges of the Arlington Oak Laminate Worktop.
Finish the look with kitchen accessories and lighting. Moroccan-inspired décor schemes love soft, ambient lighting layered to create an intimate mood, making the Cayne Moroccan Lantern Table Lamp a top choice. It delicately diffuses the light and its intricate metalwork is a classic staple of the traditional Moroccan look. For kitchen jobs that require task lighting, such as cooking and cleaning, our Colours Tezz Brushed Gold-Effect Light Shade is both practical and offers a flash of gold opulence. And don't forget to add a large, exotic house plant for that final flourish of colour and natural beauty.
Articles