Laminate & wood flooring buying guide
Explore our hard-wearing and stylish hard flooring ranges
Hard flooring provides a classic look that wears well over time. We offer three stylish hard flooring options - laminate, solid wood and real wood top layer - and these are:
hard-wearing
easy to clean and look after
simple to install
warm underfoot - plus real wood top layer and laminate options work with underfloor heating
made from responsibly sourced wood certified by either the Forest Stewardship Council (FSC) or the Programme for the Endorsement of Forest Certification (PEFC). This ensures that the timber used has been produced via the best practices for the environment.
available in a wide range of wood effects and colours – our laminate option also comes in stone effects too
offered in thicknesses ranging from 6 to 21millimetres (mm)
Read on for more help on choosing the right laminate or wood flooring for your home.
Shop laminate and wood flooring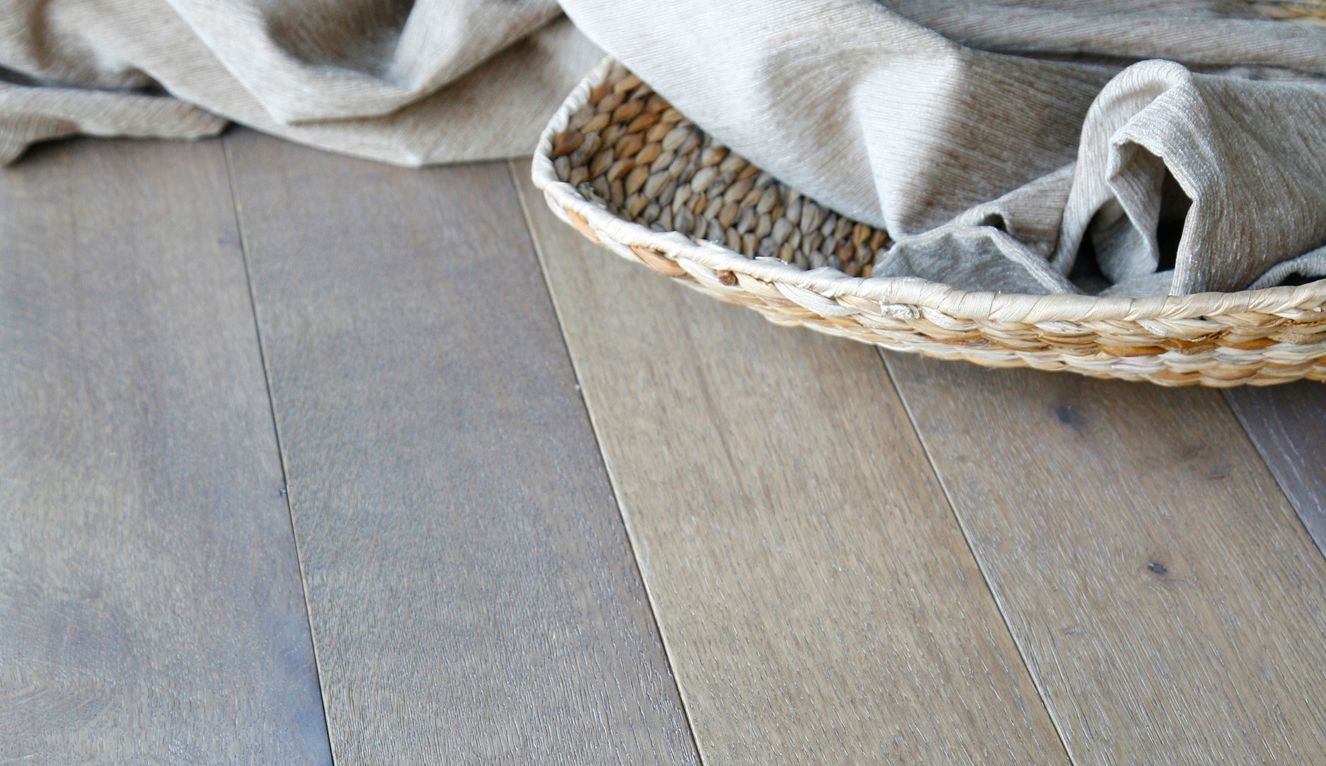 Finishes and fitting systems
Laminate and wood flooring finishes
When it comes to the finish of your laminate and wood flooring, we offer two types - the matt UV-oiled finish and the glossy, lacquered finish.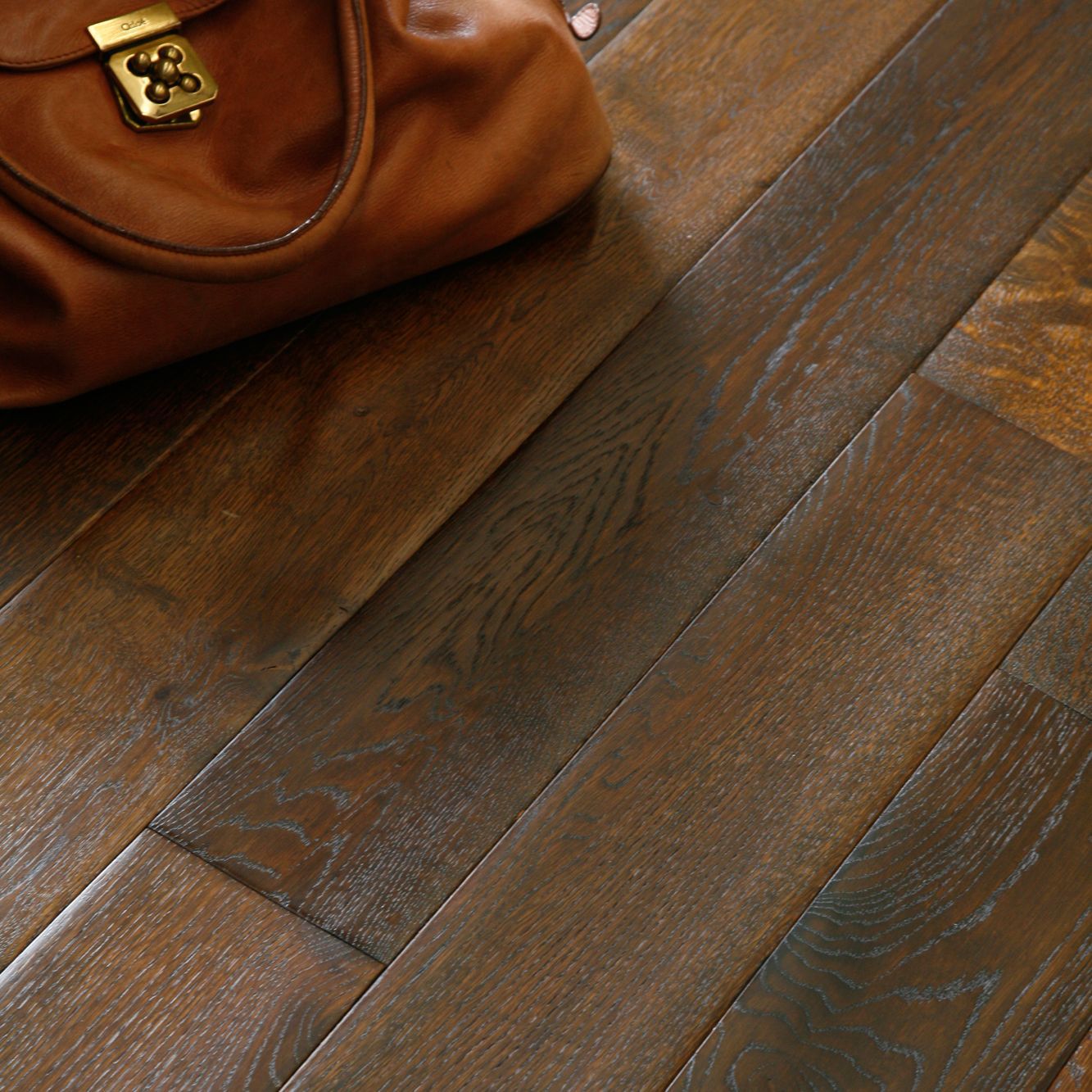 UV-oiled flooring
For a matt look that offers the offers the durability of a lacquer, choose a UV-oiled finish. Oil is applied to the wood before being UV treated for protection. The oil protects the wood both inside and out, seeping into the wood to deliver long-lasting results.
Remember to clean regularly with product that's specially made for oiled floors and you shouldn't need to re-oil it.
Lacquered flooring
For a glossy, hard-wearing and smooth finish, opt for a lacquered finish for your wooden flooring. Lacquered floors don't need much maintenance – just sweeping and vacuuming will keep it clean. And you should only need to reseal if it becomes damaged.
Laminate and wood flooring fitting systems
There are two main ways for your laminate and wood flooring to fit together – tongue and groove and click fittings. These options are simple enough to tackle as a DIY project and don't require any specialist tools. For angle-to-angle click fitting, we recommend enlisting a friend to help lay your flooring.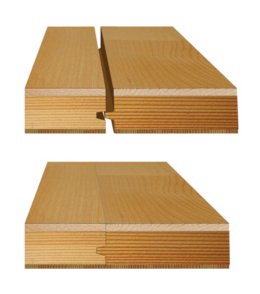 Tongue and groove flooring
With this type of flooring, the 'tongue' from one plank slots into the 'groove' on the next plank. Check that it's firmly in place by knocking it and then glue down. Secure the flooring by either sticking it directly to the subfloor or laying it onto a self-adhesive underlay.
Some of our solid wood options are available with tongue and groove fittings.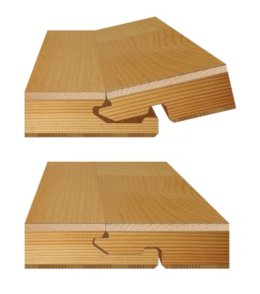 Click fitting flooring
There are two types of click fitting flooring systems - angle-to-angle and Drop-Loc. Both work well if you're covering a large space and the planks can be dismantled easily if you need to get under the floor for any reason. We have click fitting options available for all of our hard wood flooring range.
Angle-to-angle click flitting
This system has angled edges that only fit together with a certain manoeuvre. While it needs two people to assemble, it's quick and easy to do so and won't budge once in place.
Drop-Loc click fitting
With Drop-Loc, the individual flooring planks are angled on the long sides and the short ends are dropped into place. Unlike angle-to-angle fitting, it can be laid by one person.
Underlay
Classed as "floating floors" because they don't fix directly to the subfloor, most wood and laminate floors need an underlay for cushioning, soundproofing and insulation. It can also protect your new flooring from moisture and help even out surfaces.
The type of underlay you choose will depend on the floor you've decided upon and what type of surface you'll be laying it on. And, if you're considering underfloor heating, always check your underlay's suitability before buying.
Let's go through the options.
You might need
Once you've picked your flooring, there are few more final touches to consider. Look for products that colour match the flooring for a neat, consistent finish.
Articles