Cook up a storm with a practical, efficient and stylish oven
Whether it's to be head chef and cook for a dinner party, bake a showstopper cake or simply reheat a meal, the oven offers it all in one appliance. A feature of many modern kitchens, an integrated oven fits seamlessly within the cabinets and with the design and layout of the room. With so many features and functions available, finding the most suitable oven in your budget can be a complicated process.
Read our guide to find out all about the benefits and features of our range, and work out which model is the best fit for you and your home.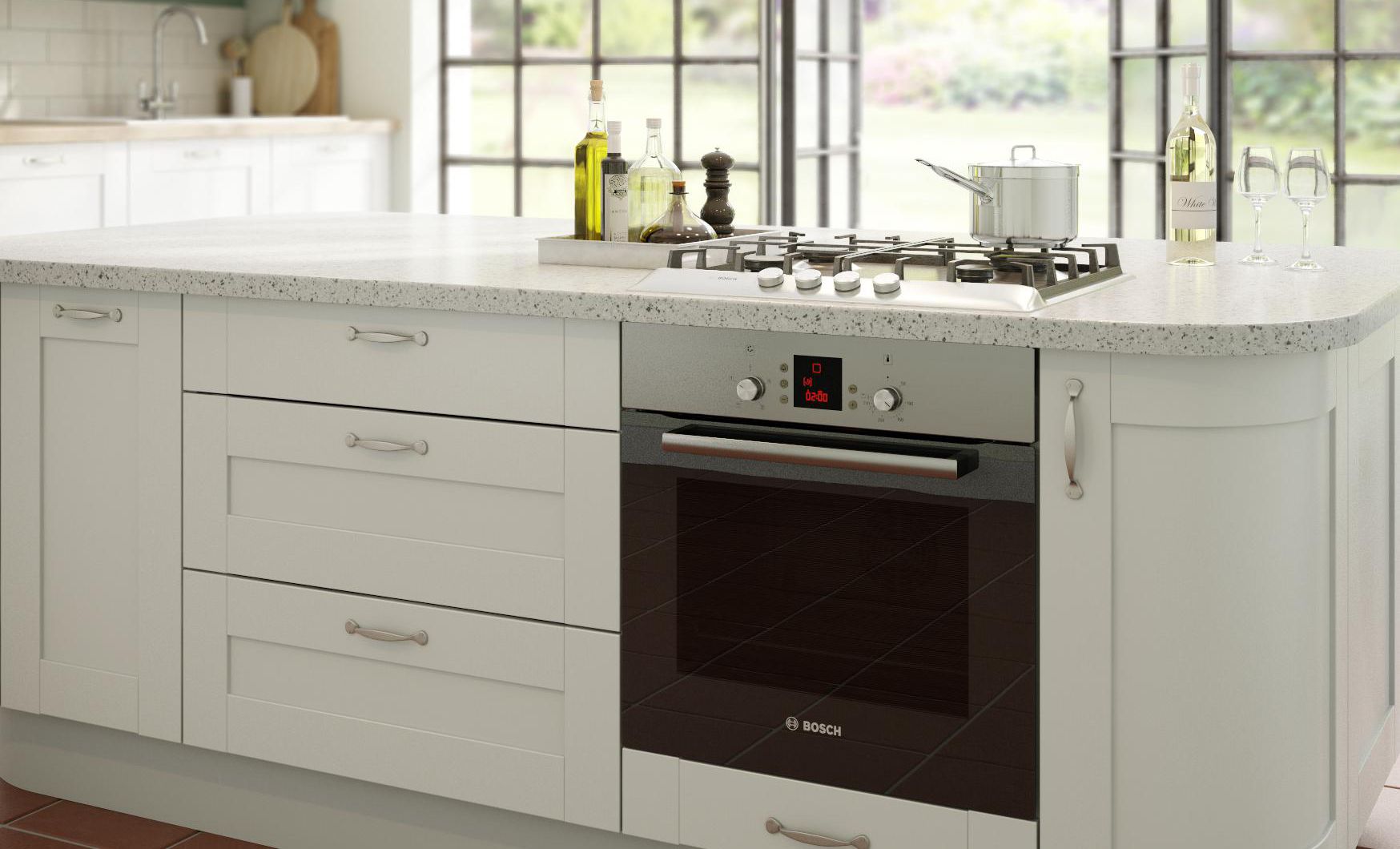 Oven considerations
Before you buy your oven, there are several factors to consider to establish the best oven to suit your cooking needs.
Where is the oven going?
Think about where in the kitchen would be best to install the oven. Make sure you have a power supply close enough to where you want to put it.
There are different types of ovens, depending on where they go in the kitchen: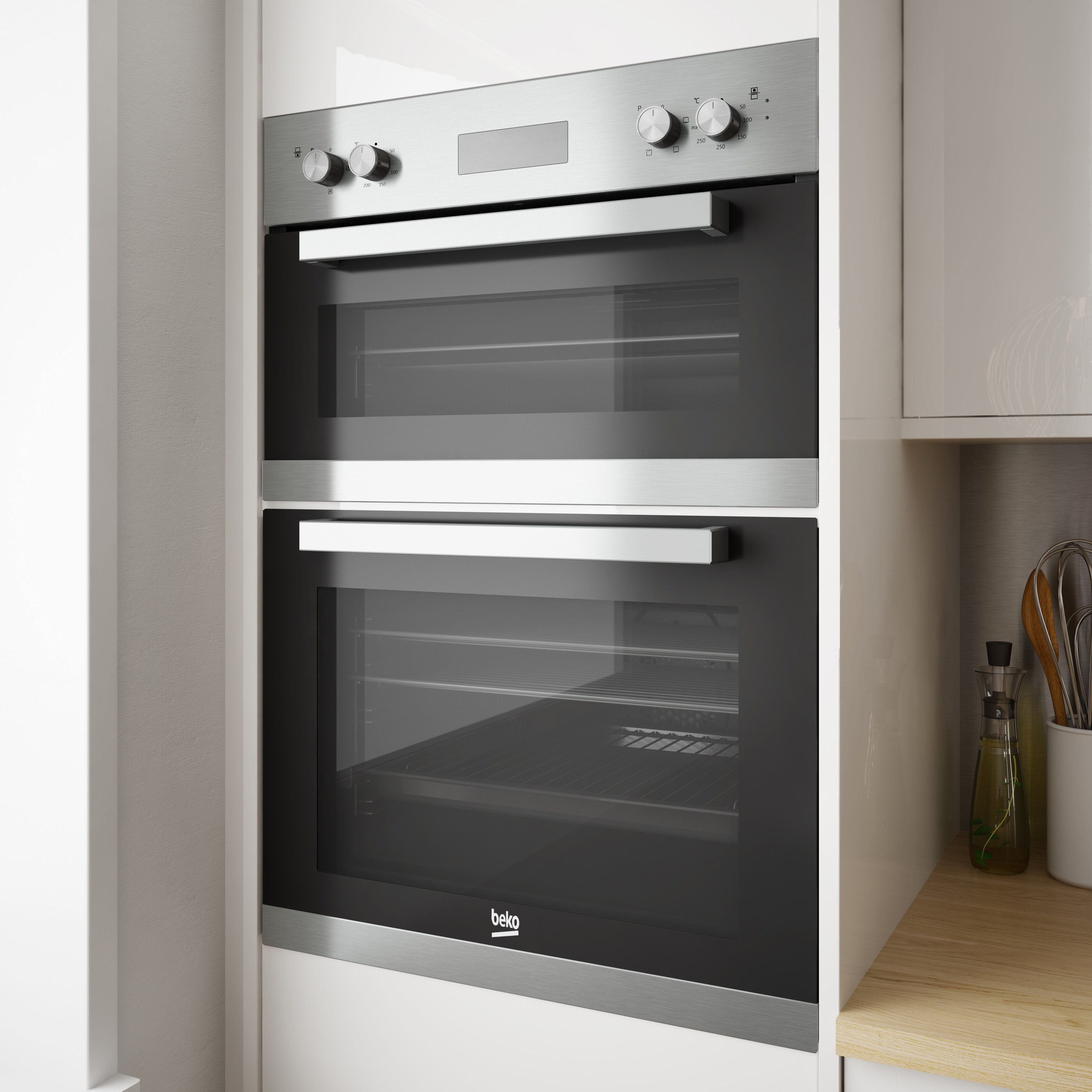 Built-in ovens (pictured) are integrated into cabinets, often at eye-level to make it easy to get food in and out of the oven without having to bend down. Also suitable if you have children or pets, to avoid any accidents.
Built-under ovens go underneath the worktop and fit alongside kitchen cabinets. This type is limited to larger, taller ovens in order for it to fit comfortably under the worktop. We'll talk about the built-under options in the 'Oven types' section.
An alternative to an oven is a freestanding cooker or range, an all-in-one appliance containing an oven or multiple ovens with hobs on top. Cookers are designed to be placed in between kitchen cabinets, unlike ovens which are integrated into the kitchen cabinets or under the worktop.
If you're replacing an oven you'll need to take the measurements in order to get the same size oven. To do this:
Make sure the power supply is turned off.
Loosen and remove the screws in the side of the oven.
Pull out the oven by 4 to 5centimetres (cm). Do not pull it by the door. We recommend you get someone to help you with this.
Use a tape measure to measure along the top of the oven, to get the width.
Do the same along the side to get the height.
The standard depth of most ovens is 548millimetres (mm). If you can reach in to measure the depth of the oven you're replacing then do, so you can check it is the standard depth.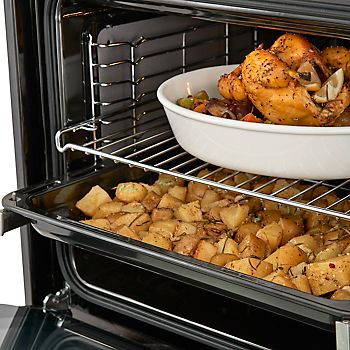 How much cooking will the oven be used for?
The more people you need to cater for, the more cooking space you'll need. If you tend to host large dinner parties, where you prepare several courses, you will want to choose an oven that can accommodate lots of dishes at once, or combine two or more different types of oven. We'll explain more about combining multiple ovens in the 'Oven types' section.
If you tend to only cook for yourself, or only one other person, you can explore smaller size options.
What type of cooking will the oven be used for?
If you do a lot of cooking you may wish to explore options that can offer different temperatures and/or functions at the same time. These functionalities are also ideal for those who like to experiment in the kitchen, as they will allow you to prepare a wide range of dishes. Some ovens have functions designed for specific meals, for example baking, pizza and roast dinners.
If uncomplicated cooking or reheating is more your thing then consider a simpler oven with fewer functions and features that you're unlikely to use.
What fuel type?
Ovens can be either electric or gas, however electric ovens are more common so you will you have much more choice. Electric ovens heat up faster than gas, give you more control over the temperature and offer even heat distribution. Some electric ovens have a plug but most need to be hard-wired.
For either type of oven, we recommend that you have it installed by a qualified electrician. It is possible to replace one fuel type with another but again you'll need to get a professional to do this.
Oven types
There are three types of oven to choose from, which vary in size. We'll take you through the options in our range:
Oven tech specs & features
Ovens have a number of technical specifications to look out for.
Cooking types
When choosing your oven, choose from conventional, fan-assisted or multifunctional cooking types:
Conventional ovens – these supply heat from two heating elements, usually at the top and bottom of the oven. This can lead to less even heat distribution; however a conventional oven is best for cooking food in high-sided and covered dishes like casseroles as the oven warms from above and below the dish.
Fan-assisted ovens – also known as a convection oven. These ovens speed up your cooking time as they circulate heat around the cavity. This means the temperature gets hotter quicker so your food doesn't need to be in as long as it would with a conventional oven. The circulated heat also means that the food is cooked evenly.
Multifunctional ovens – have the choice of either fan-assisted or conventional cooking.
Cooking features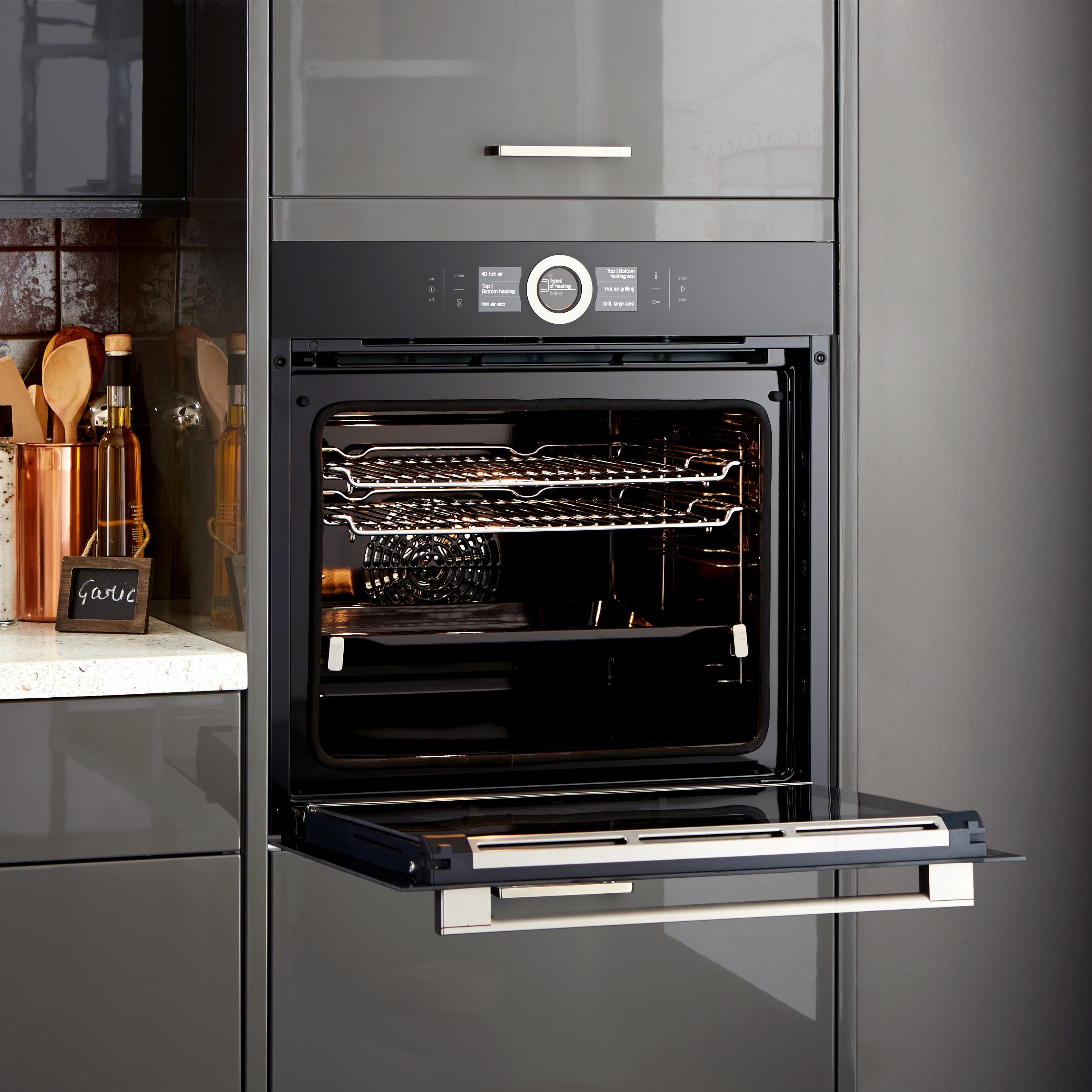 These features are cooking functions designed to make the cooking of the food as easy and efficient as possible.
Grill – A heated element at the top of the oven to grill food. Usually the door needs to stay open when grilling as the high temperature can lead to overheating. However, some modern ovens have a built-in cooling fan so the door can remain closed when the grill is on – check the product specification. Grills are available in most single and double ovens, and some compact ovens.
Defrosting functions - A pre-set to defrost frozen meals.
Recipe functions - Many ovens offer pre-set recipe functions that set the optimum time and temperature for common cuisines such as pizzas, lasagne and roast dinners. Many also have pre-set baking functions.
Steam assistance - Some high-spec ovens include steam assistance, which fills the cavity with steam during cooking. The steam adds moisture to food so that it doesn't dry out. Great for roasting, baking and reheating.
Cleaning functions
Advanced technology has meant that modern ovens are now easier to clean. Self-cleaning ovens have been developed so that the oven does all the hard work to get the grime off the sides of the oven, which you just need to wipe away after.
Removable glass panels - Some of our ovens have glass doors that have removable panels, for easy cleaning.
Steam cleaning - Available in some of our Beko and Bosch ovens. Put some water in the bottom of the oven and set it to steam clean and it will fill the cavity with steam. This makes any grease and fat easy to wipe off with a cloth.
Catalytic self-cleaning function - These ovens have liners on the sides and back that are coated with a chemical that absorb fat and grease spills. When the oven is heated above 200 degrees Celsius (°C) then the grease is burnt off.
Pyrolytic self-cleaning function - The oven heats up to over 400°C to reduce any residual grease and food stuck to the sides of the oven to ash. Once finished, you just need to use a cloth to sweep out the ash. This is the most comprehensive self-cleaning function as it is built in to the oven, rather than needing liners within the cavity.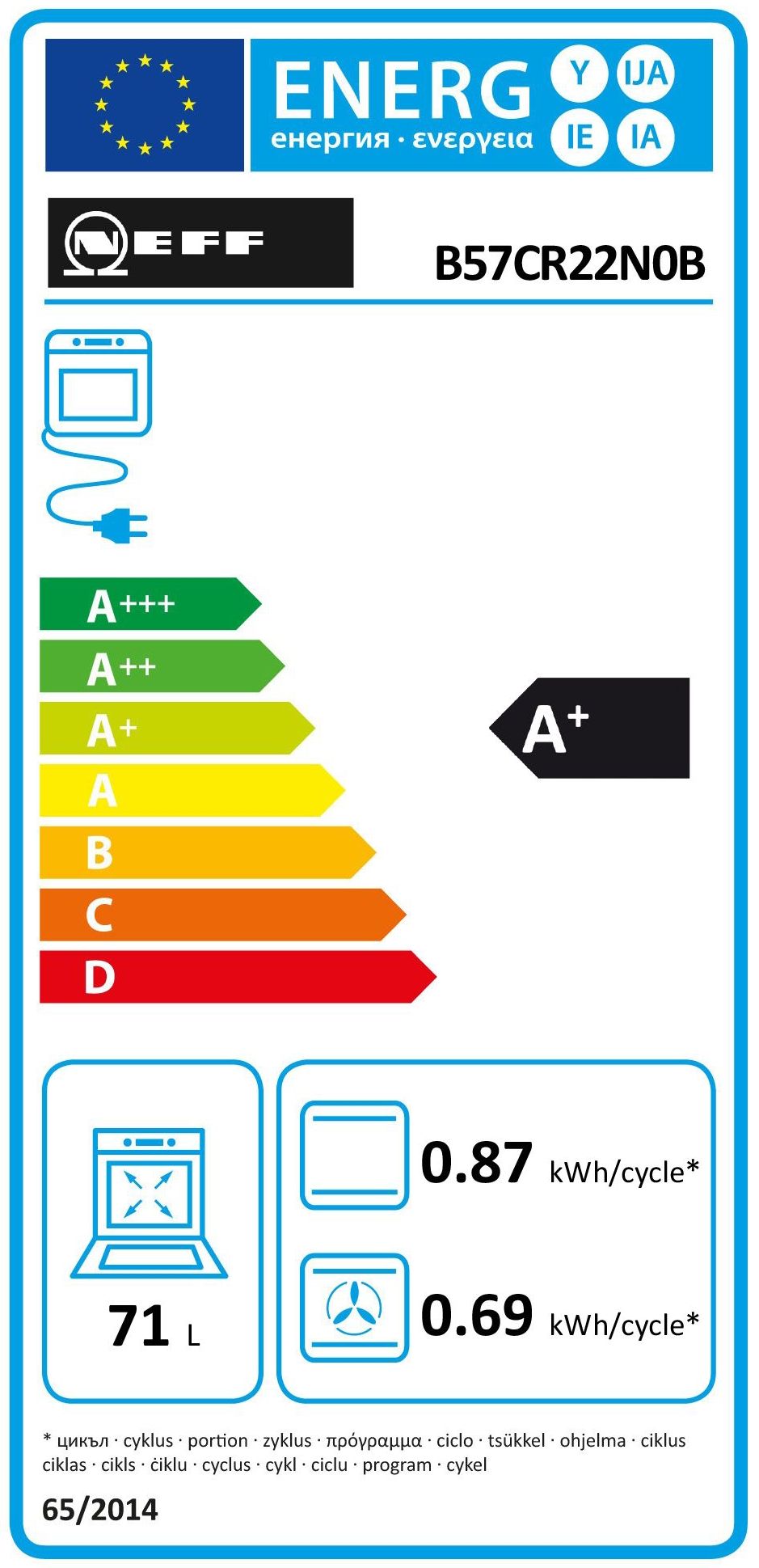 Energy rating
Energy rating is an indication of the energy efficiency of the appliance, with A+++ being the most energy efficient. All of our ovens have an A rating or above. An electric oven with a rating of A+ will use 40% less energy than an oven with a B rating. The energy rating can be found on the label on the product (example label pictured).
Energy consumption
The energy consumption per cycle is listed in the bottom right of the energy label. For electric ovens, it is listed in kilowatt hours (kWh) - the lower the number, the cheaper it is to run. The top number in this box gives the conventional consumption, and the bottom shows the consumption when the oven is fan-assisted (one or both will show, depending on the type of the oven). For gas ovens, there will also be a number stating the energy consumption in megajoules (MJ).
Additional oven features
Modern ovens often come with a number of features, some of which will be useful to you, depending on your style of cooking and your lifestyle. We'll go through the different ones available with our ovens and explain what they are and what they are useful for.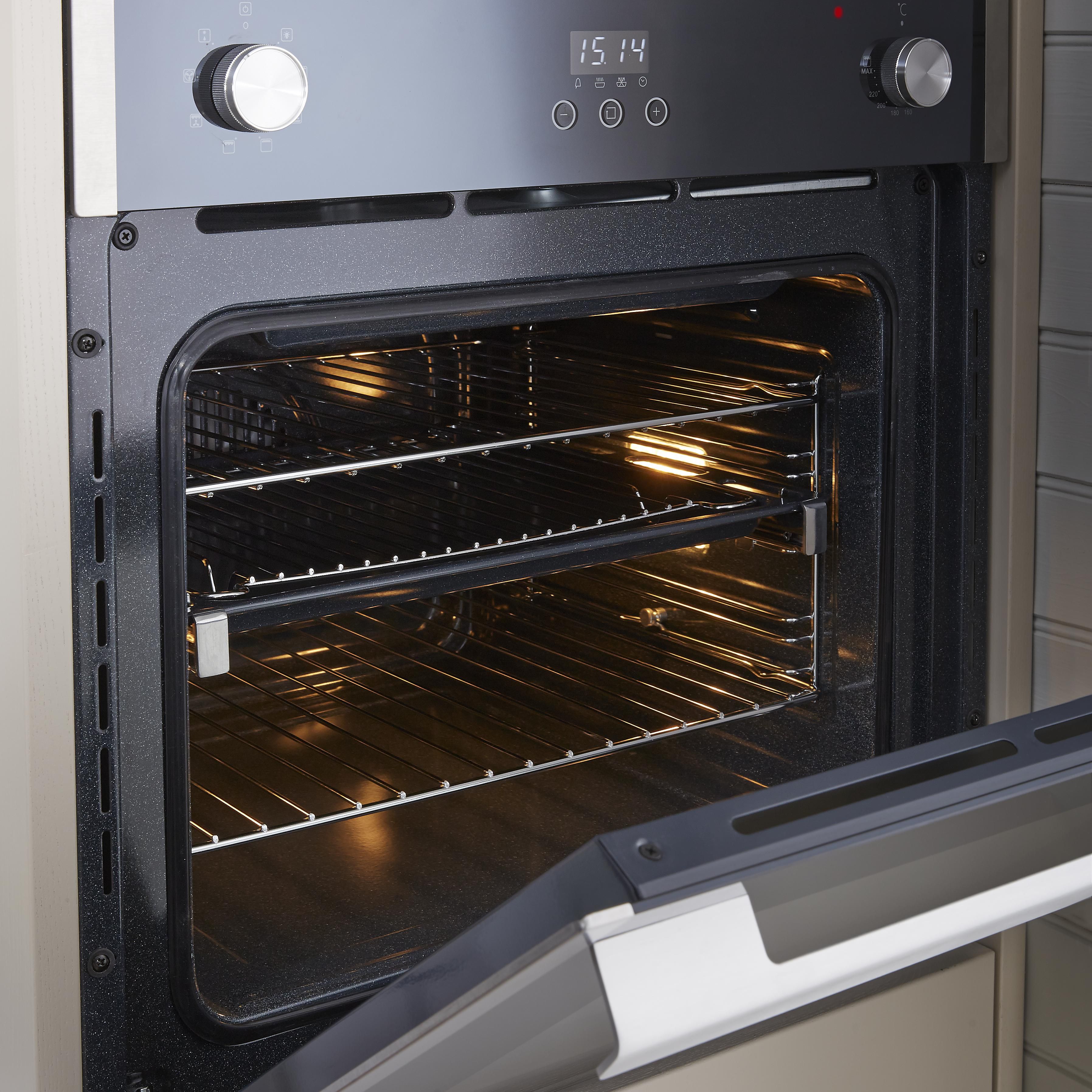 Glazing types
All ovens have glass panels in their doors. The number of glass panels varies, we'll explain why.
Double-glazed oven doors - All our ovens have at least double-glazed doors, to keep the heat safely inside.
Triple- and quadruple-glazed oven doors - Some of our pyrolytic ovens have triple-glazed or quadruple-glazed doors because the oven is heated to very high temperatures . The extra glazing means that the heat is kept safely in and the external glass doesn't get too hot.

Ease of use features
An oven should offer easy access and be easy to use, and there are many additional features available to make using the oven as practical as possible.
Timers and controls
Timer - Also known as a minute minder. To set a cooking time limit and the timer will alert you when the time is up.
Programmable timer - Set the oven to begin cooking at a specific time, up to 24 hours in advance.
Touch control LED display - LED display panel for ease of use. Makes it simpler to set the temperature and function than the traditional dial knob.
Smartphone control – Bosch's HomeConnect function enables you to control your oven using smartphone or tablet. Available in our Bosch HBG656RS6B single oven.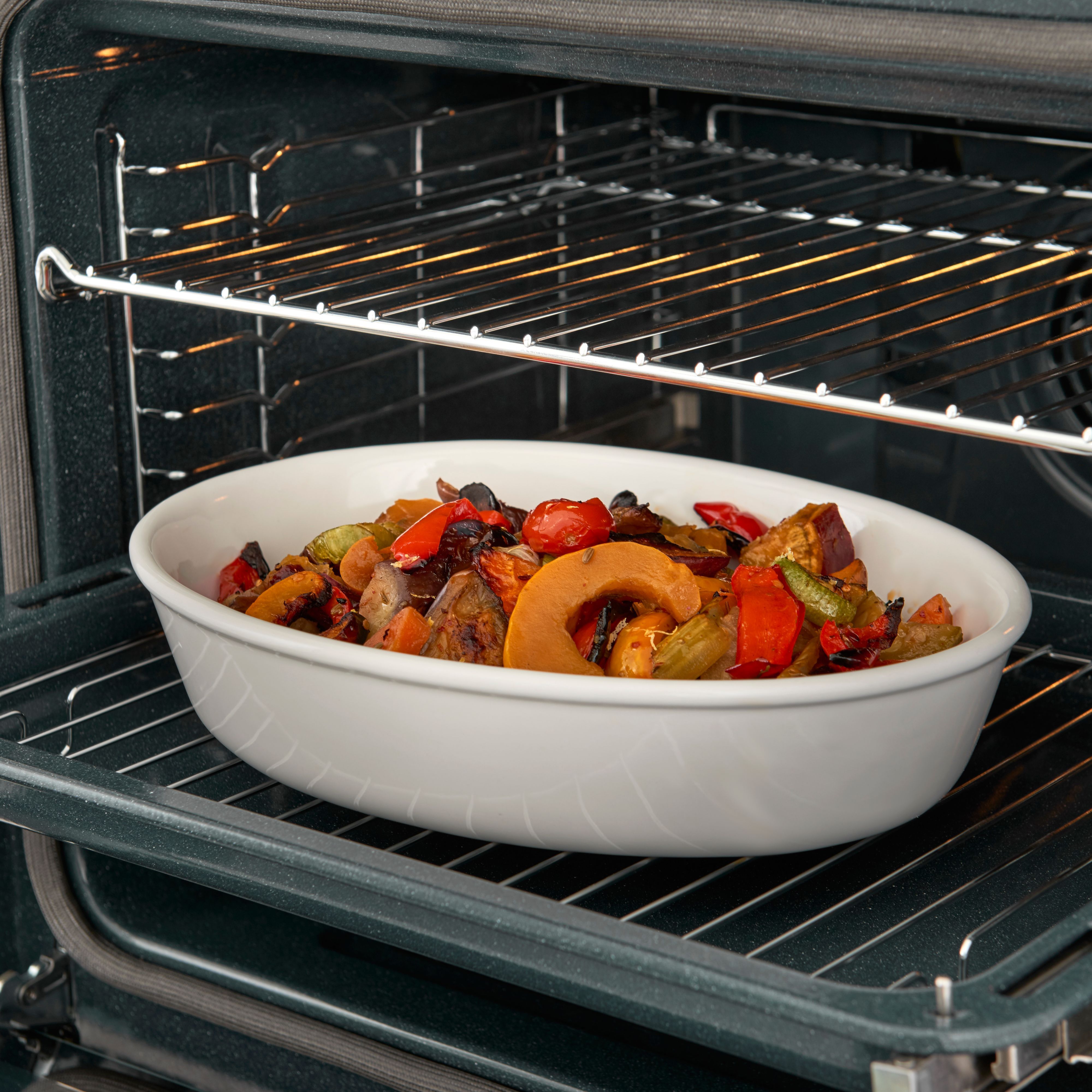 Shelves and accessories
Provided pans and accessories – The majority of ovens will come with shelves (also known as combination grids) and at least one pan - check the oven details. Ovens with grills will include a grill pan and some will include a grill pan handle to get the grill pan out when hot.
Multiple shelves and shelf levels – Our ovens offer various shelf level options, so you can adjust where in the oven the shelf sits.
Telescopic shelves - These shelves extend out for easy access, allowing you to remove trays and pans effortlessly.
Doors and handles
Soft-close doors - Doors that are easy and quiet to close.
Slide & Hide door - A door that slides to disappear into the bottom of the oven, making it easier to access the cavity to get food in and out. Unique to Neff ovens.
Safety features
To ensure that ovens are as safe as possible, particularly around children and pets, many offer additional safety features.
Automatic shut-off - A function to automatically turn off the oven after a period of time. Most ovens with this function are set to turn off after 12 hours (but this can be overridden).
Child lock - Ovens with lockable control panels so that a child cannot turn it on accidentally.
Cool-touch doors - Oven doors that stay cool even when the oven is heated up. Ideal for built-under ovens that young children can reach.
Colours and finishes
Ovens come in various colours and finishes so you can choose one to match the colour scheme and style of your kitchen. For some ovens there may be only one colour available, but for others there may be multiple colour choices for the same model.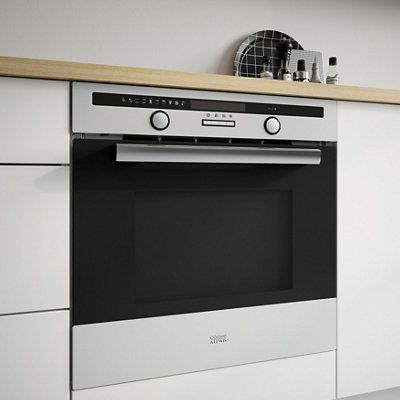 Our ovens are available in the following colours:
And the following finishes:
Brushed steel
Stainless steel
Mirrored
You might need
There may be some extra items you need to complete your oven project, including cleaning products, hobs and cooker hoods.
Cleaning
Maintaining and cleaning your oven is essential to keep it lasting longer. No-one loves cleaning an oven, but we offer cleaning products that help make tackling the job quicker and easier. Try our well-reviewed Nilco Professional Oven and Grill Cleaner Spray, sure to get your oven looking shiny and new again.
In addition to your oven, you might also need hobs and a cooker hood for the full cooking equipment range.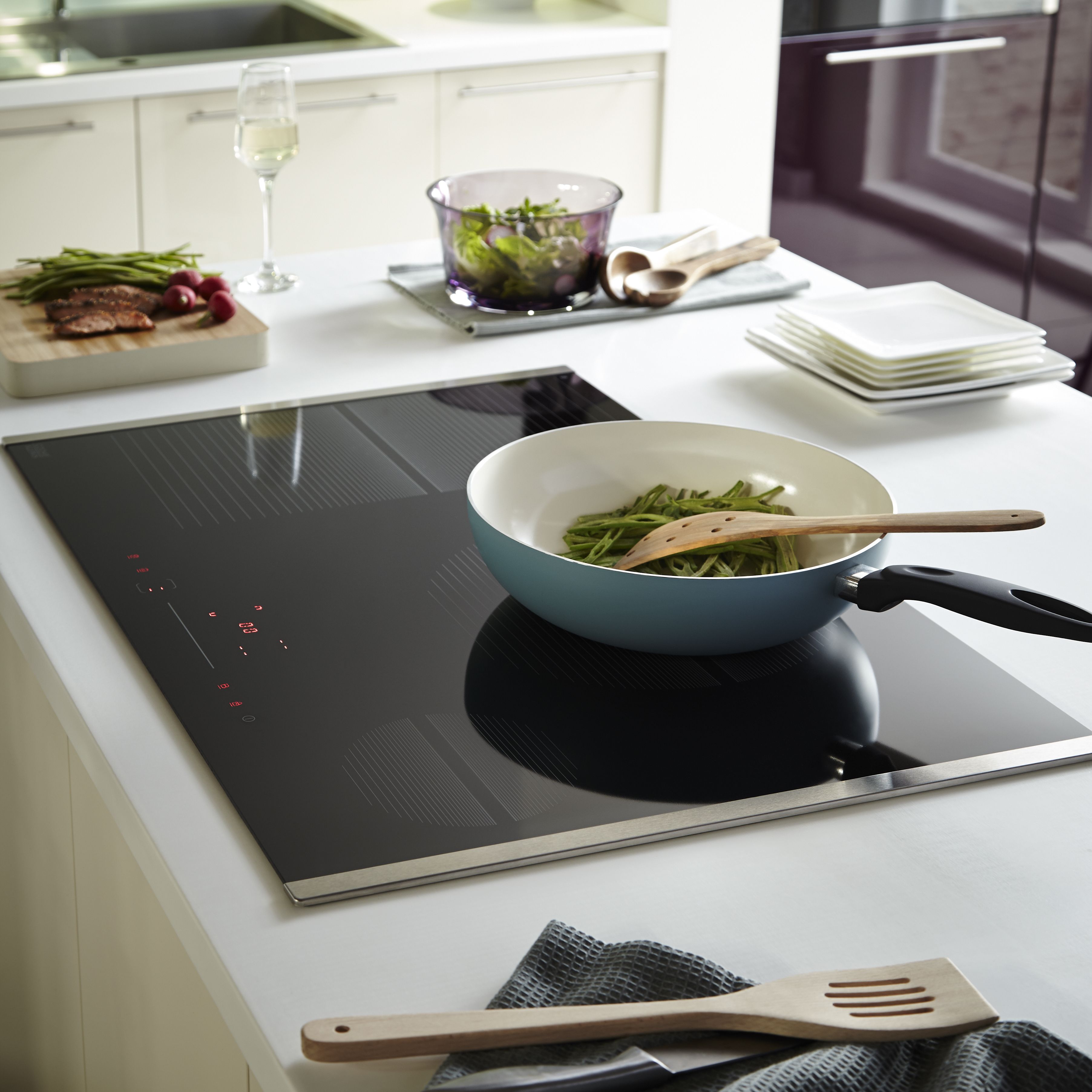 Hobs
Traditionally placed above a built-under oven. However, with a built-in oven there is more flexibility on where you put the hobs in the kitchen. Consider putting your hob on a work surface away from doors and windows, or even on a large kitchen island.
Our range includes five different types of hob:
Gas hobs – Uses gas to produce a flame. Easy to control, energy-efficient and quick to heat up.
Gas on glass hobs – Easier to clean than standard gas hobs as the burners sit on glass, rather than stainless steel.
Ceramic hobs – A flat ceramic panel with heated burners and touch controls for easy use. Simple to clean, just wipe down when it has cooled down.
Induction hobs – Use circular coils underneath the surface to transfer heat directly to a pan or metal object, through electromagnetic energy. This means that the hob itself doesn't get hot, so it's much safer than other hob options.
Solid plate electric hobs – A more traditional-style hob, with four individual electric plates. Slower to heat up than other hob types.
Our hobs come with differing numbers of burners or cooking zones, from two to six. Choose the size and number of burners to suit your kitchen size and the amount of hob cooking you're likely to do at one time.
We offer hobs individually or as a pack with a single oven – ideal if you're building your kitchen from scratch.
And you don't need to stick to one fuel type for both your oven and your hob – you could have an electric oven and a gas hob if you prefer.
Shop hobs Shop oven & hob packs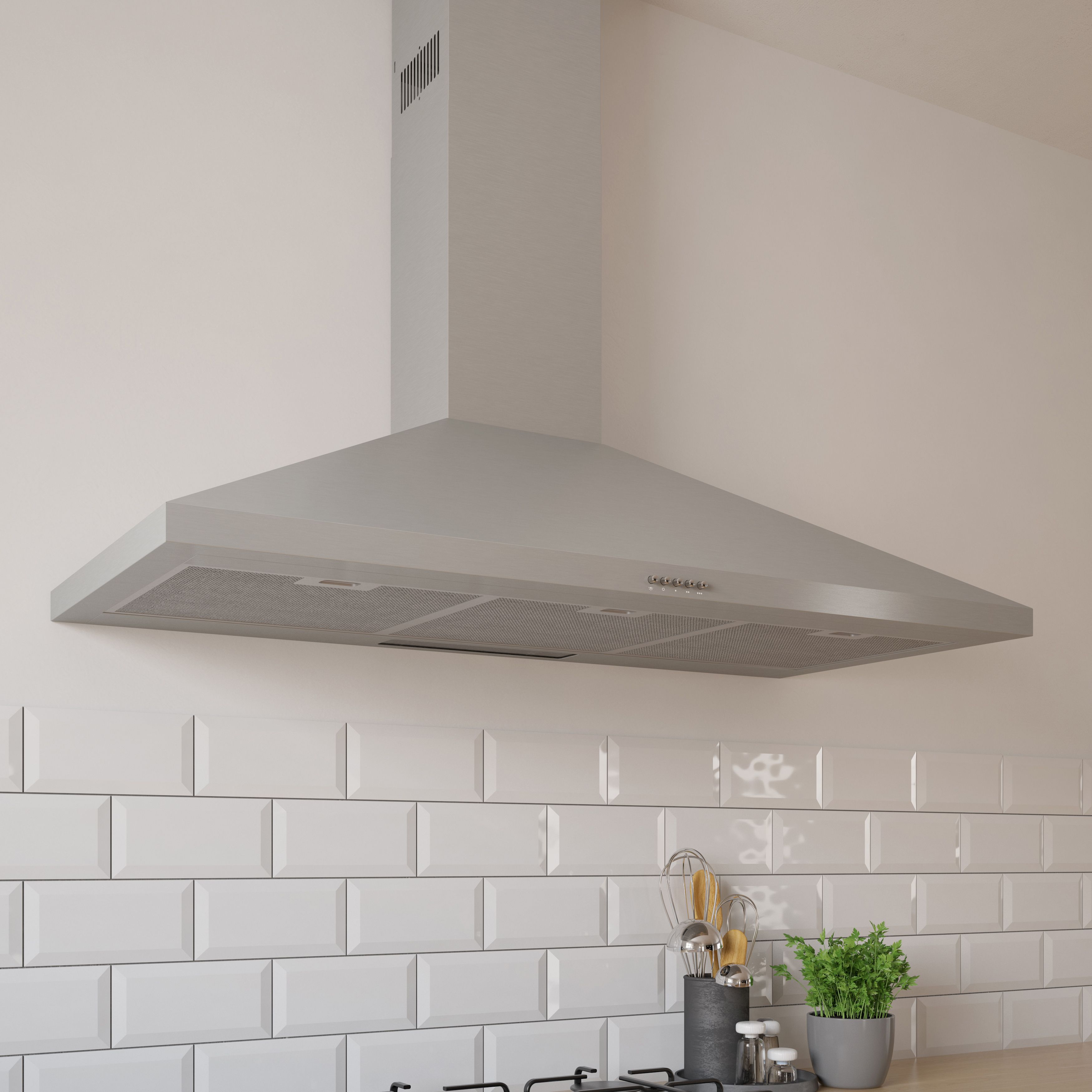 Cooker hoods
With a hob we recommend adding a cooker hood to extract fumes, smoke, steam and airborne grease from the air in order to ventilate the room. A cooker hood also reduces smells from cooking. Many modern cooker hoods come with additional functionality like integrated LED lights and different extractor fan speeds. Newer-style hoods have been developed to be quieter-sounding than older models.
Our cooker hoods come in different sizes and styles so you can choose the best to suit your space. Most feature removable and cleanable carbon filters. Styles include:
Integrated cooker hoods – A cooker hood that is fitted into the cabinet above the hobs, making it the most discreet option.
Chimney cooker hoods – Making more of a statement, these hoods are fixed to the wall above the hob and come with buttons on the front to control the extractor fan speeds and lights. Available in steel, glass or a combination.
Island cooker hoods – Fitted on the ceiling above a kitchen island, creating a stylish focal point.
Downdraft cooker hood – A cooker hood that integrates into the worktop. It rises when needed and can be hidden when not in use.
We offer cooker hoods in different finishes to match your kitchen including stainless steel, black, white or black glass.
Articles